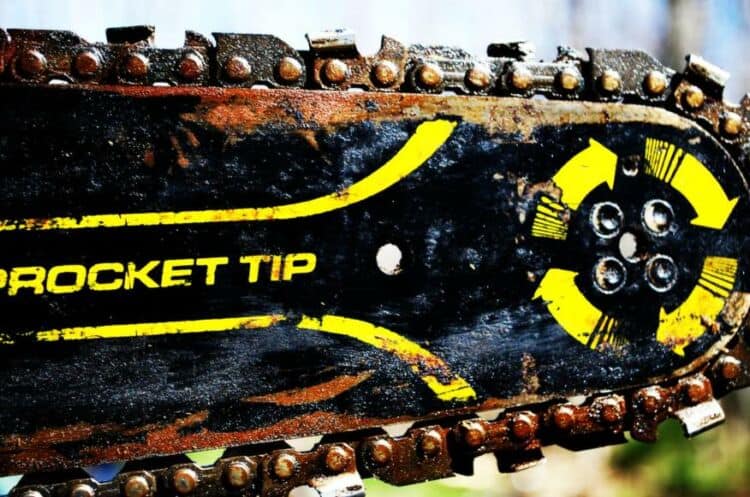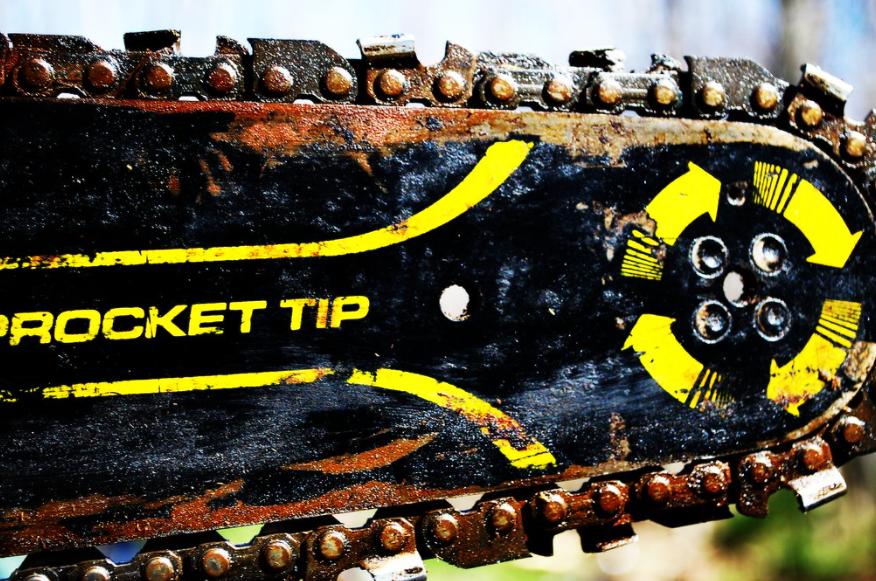 People often focus too much on their chainsaw's motor or engine size as the most vital factor. They often underestimate the importance of the parts doing the actual cutting: the saw's bar and chain.
Not all bars and chains are compatible with every chainsaw, though. For instance, a longer chainsaw bar works best with a more powerful saw. This is the case because a longer bar takes more energy to drive. And it's why electric saws use bars no bigger than 18".
Likewise, chainsaw chains are only compatible with some bars. If you fit a chain to a bar that's too long or too narrow, you won't be able to cut anything. The combination won't work at all.
The chainsaw's manual will undoubtedly tell you which replacement chain and bar to buy. But what to do if you have misplaced your owner's manual or you're working outdoors with no internet connection?
No problem. It's easy to measure both the bar and chain and figure out which replacements you need to buy.
Measuring The Chainsaw Bar
As we noted earlier, not all bars are equal, so you need to measure your chainsaw's bar to determine the size you need. To do so, you need to measure the bar's usable length or cutting length. Some people may also refer to it only as the length.
To obtain an accurate measurement, measure from the chainsaw bar's front tip back to the closest cutter beside the body. Round up your measurement in inches to the closest even number. For instance, a bar you measure to be 18 3/4 inches will be rounded up to 20 inches.
You can safely go shopping for a 20-inch replacement bar.
Measuring The Chainsaw Chain
You are in luck. There are two methods of measuring up for a replacement chain when you have lost the owner's manual. First, you can measure the chain yourself. Or look for the dimensions stamped on other parts of the chainsaw.
DIY chain measurement method
To arrive at your chain size, you need to get two numbers:
The pitch: This is the distance between individual links on the chain drive. To measure the pitch, you need to measure how far it is between any three groups of rivets. Then divide this figure by two. The rivets are the fasteners that hold the chain's links together. Measuring from the first rivet to its neighbor two along gives you the figure that you need to halve. Typical pitch measurements are .325 and 3/8".
The gauge: This is the groove width where the bar and the chain fit together. To arrive at your chain gauge, search in your pocket for a penny, a dime, and a quarter. Using a bar cleaning tool or a flat-bladed screwdriver, remove as much dirt and debris out of the bar's groove as possible. Slide each coin into the groove one at a time to see which is the best fit. A penny is equivalent to .058 gauge; a dime, .050; and a quarter is .063.
Where else to find chain measurements?
The information you need may be hiding in plain sight on a stamped plate. Dimensions can usually be found at the rear of the bar, where it joins the saw body.
For example, if the plate says the chain's pitch is 3/8", gauge .050, and 72 drive links, you are in luck. These dimensions are all the information you need to buy the correct replacement chain with confidence.
Buying the best parts for the job
Quick calculations like these are incredibly handy if you need to get a replacement bar or chain for your saw quickly.
The other advantage of working out bar and chain measurements yourself is that it opens up new options. You could, for example, consider a laminated bar if you want more rust resistance. Or maybe you want to consider upgrading to a chain that's carbide-tipped to tackle heavier work?
With a little know-how, you can buy your chainsaw's crucial cutting edge parts without a manual. Or even a WiFi connection to search online. And better still, whenever and wherever you happen to be at the time.