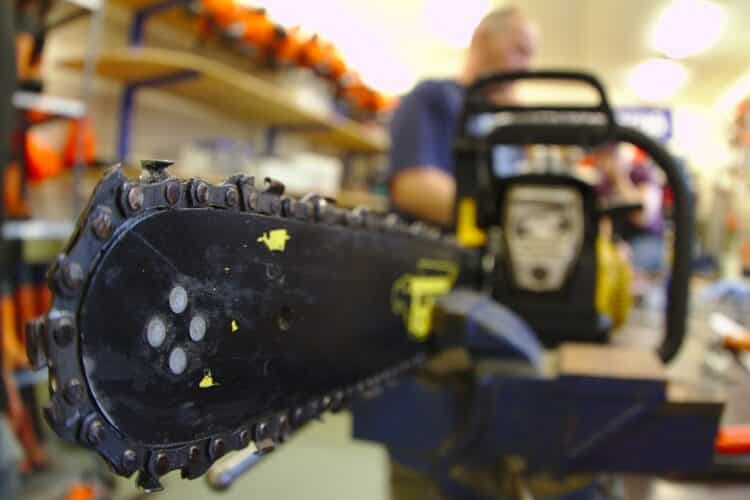 It's no secret that the chain is one of the most critical parts of a chainsaw. The right chain can be the difference between a job well done and a disaster in logging.
As a chainsaw enthusiast, you are probably wondering how many varieties of chainsaw chains there are.
It can get confusing since there are many chainsaw chain types.
Whether you would like to know what options lie ahead for you or you want to find the perfect chainsaw chain for a task at hand, this guide is for you.
Read on to find out more.
Chainsaw chain types
There are several chainsaw chain types. In this guide, we will separate them into three categories. The categories include the tooth's design, the sequences of the chain, and special types of chainsaws. Let's jump into it.
Type of chain according to tooth design
There are at least three types of tooth designs you can get in a chainsaw chain. That is the low profile chainsaw chains, the semi-chisel chainsaw chain, and the full chisel chains.
There are also variants of the semi-chisel cutters, such as the chipper cutter.
Semi chisel chainsaw chains have a more rounded edge work best at slower speeds.
You do not have to worry about the wood being dirty or overly dry when you set to work because these cutters do not dull easily.
That is the most significant difference between semi-chisel and full chisel chains. Plus, these cutters are excellent for cutting down softwoods.
But you can still use it on all kinds of trees, even in the harshest of environments.
That's because they tend to be more durable. It is also beginner-friendly because of the lower risk of kickbacks.
Low profile cutters are excellent if you stay in dirty and cold environments and you need to cut down a softwood tree.
And if you are a beginner in the world of sawing, this tool will work perfectly.
It's more straightforward to use and readily available.
Plus, its design makes it safer to use for a first-timer than the other chainsaws because of the special elements inserted in the middle of each chain.
That is what prevents a kickback.
Like semi-chisel cutters, these cutters have round edges. And you will need to sharpen it and follow maintenance guidelines.
Full chisel cutters are the best chainsaw chains when you have a hardwood in mind that needs felling or bucking.
They have square-shaped edges and can cut at high speeds. The shape of the edges also makes it to cut with a rough finish.
Therefore, it would be best if you considered using it in instances where you do not need to level the surface after a cut.
These cutters are also best left to the professionals due to the kickback making it more complex for a beginner to control at high speeds.
These are the ultimate power tools for professional lumberjacks—the only downside to these great chains in the sharpness.
The chains grow dull quicker than other chains, and using it on a rough or dirty wood will only make it dull quicker. You will need to maintain and sharpen it often.
Type of chains according to the sequences
The chain arrangement can also determine the type of chain. Like the previous category, you will also have to choose between three kinds of chainsaw chain sequences.
Here we go.
Full component chains are readily characterized by the number of teeth they have (fewer) and the bar's size (large, no less than 24 inches).
That is why you can find one in larger sized chainsaws.
Don't let the fewer teeth fool you, though. What they lack in the number of teeth, they make up for it in speed.
These chains feature a faster speed operation and cut through wood effectively.
The significant teeth spacing makes these chains effective at getting rid of wood from trees faster and with incredible force.
That makes them perfect when you have a significant wood size to cut through at a limited time.
However, they cut roughly and may not be the best option if you need smooth and level cuts.
The typical arrangement is the skip sequence. Unlike the type of chain before it, it features more teeth (the most actually).
Another difference is the cuts it makes. Where the full component makes rough cuts, this one makes the smoothest and most level cuts.
However, it lacks in speed. It is the best option for builders and other projects that require smooth wood.
You can get these chains readily, and they can fit up to 24 inches bar.
Semi skip sequences are a more professional kind of chainsaw chain and thus less common.
You can compare it to the other two as the best of each, and it doesn't have too few teeth or too many. Instead, there's a chain-link or two between each chain of teeth.
That equates to better speed and more level surfaces, and smoother cuts.
However, if you need a considerable amount of wood sawed, this is not the chain's best choice as it's still slow.
Special types of saws
Two types of special chainsaws require honorable mentions in this article. That is the square ground chainsaw and the ripping chainsaw. Let's explain each in detail.
Ripping chainsaws have a more unique angled cutter of only 10 degrees and feature the semi-chisel cutter.
However, the cutters are shallower than all other chainsaws in existence (hence the smoother cuts).
This single cutter chainsaw is particularly a mill kind of saw and can cut many planks at high speeds.
The square ground chainsaws are professional tools with a full chisel and square-edged cutters.
They cut more effectively and are excellent when you have a considerable amount of work to do.
The only downer is that you need to do routine maintenance and sharpening even though it doesn't grow dull fast.
If you have trouble sharpening it, then a bench grinder or more professional tools can do a better job than standard sharpening tools.
How to choose the perfect chainsaw chain
Now that you know your way about different types of chainsaw chains, it's time to delve into choosing one that suits your needs. Here are some useful pointers.
• Consider your skill level while choosing – if you can recap from the list of types of chains, some are more beginner-friendly than others. You could choose a chain that makes operating a chainsaw easier for you.
• What's the cutting project you are handling – some projects may require you to produce wood with smooth and level cuts, while other projects do not consider the types of cuts. According to what your project is about, you can pick a chainsaw chain that works for you.
• The length of the bar on your chainsaw – if it's a chain replacement you are looking for, then the bar length can determine the kind of chain you choose. For instance, a full component chain can go up to 24 inches.
If the bar length is 24 inches, then the chain is compatible with the bar.
• The amount of work you need to complete – choosing a slower chainsaw chain may not be a good idea if you have a considerable amount of work to finish before calling it a day. The faster the chain, the sooner you can complete your work.
• Type of chainsaw you have – sometimes, a chain may not be compatible with a chainsaw for numerous reasons. You should first find out if yours are compatible before making a purchase.
It would be best if you kept in mind that chainsaw chains are not universal, and they all vary depending on one aspect to the other.
• The ease of handling – some chains can cause less kickback than others. You should find out the force of the kickback a chain can produce.
That way, if you are inexperienced in controlling chainsaws, you can pick the chain with little to no kickback. These are safer and easier to handle.
All these factors are crucial when picking your chainsaw chain. It would be best to remember that the chain gauge and pitch are factors you have no control over (predetermined).
You may have some degree of choice when picking the chain length.
However, it is always wise to use the recommended size.
Don't gamble on a very slack chain especially if you're going to be sawing wood that is extra tough.
The aspects in your choice include the chain arrangement, style of the cutter, and the cutter's material. You can make a wiser decision based on these and get the perfect chainsaw chain.
Final words
Picking out a chainsaw based on the chain type is no longer a hassle. From the tips and chainsaw chains explained in the article, you can make a more informed choice.
Before settling for a chainsaw chain, consider the type of cuts it makes, the speed it operates under, and the level of beginner friendliness it has.
That way, you can get the chainsaw of your dreams.