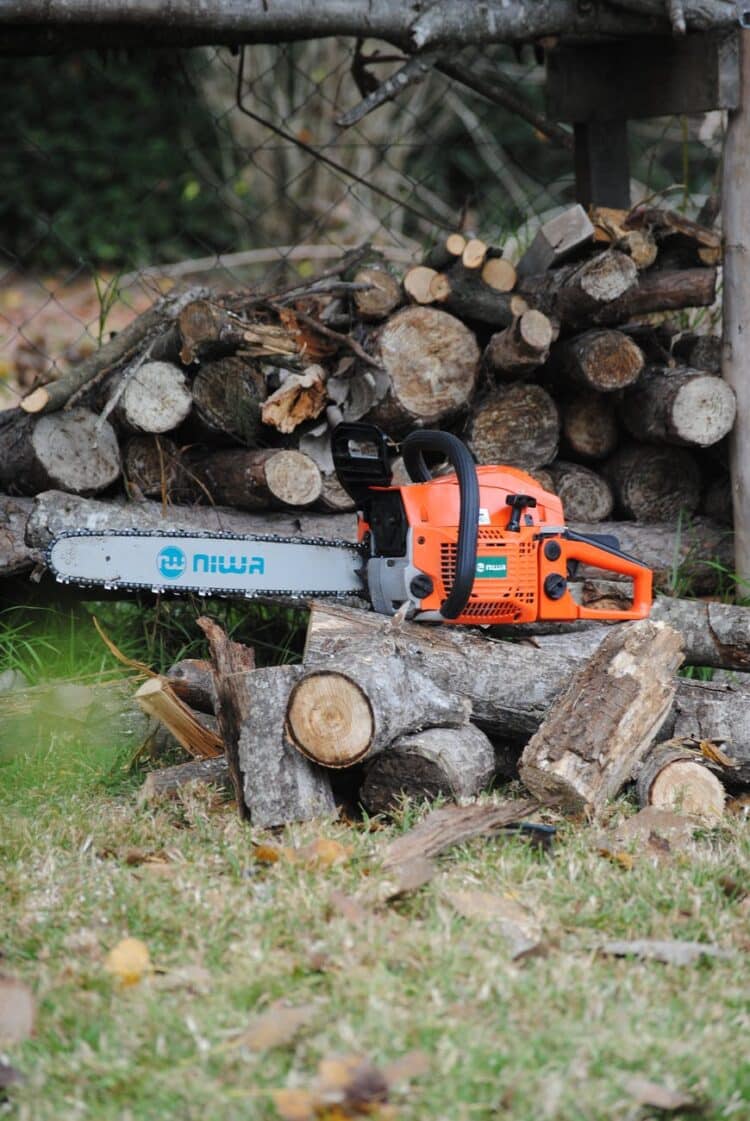 Chainsaws are one of the most robust gas-powered instruments that the typical homeowner can purchase and use with only a tiny amount of instruction. At the very least, this is true in the majority of situations. If you have ever asked What can I use for chainsaw bar oil check out the full range of options you have available to you below.
Lubricating the chainsaws, on the other hand, is not as simple as operating the equipment. Using the incorrect chainsaw bar lubricant can cause damage or even the complete destruction of even the most durable chainsaws.
Chainsaws may reach speeds of up to 50 miles per hour. When traveling at that speed, replacing your bar lubricant is an absolute must. But what do you do if you run out of the oil suggested by the manual?
Precisely that question will be addressed in this post, which will go through each chainsaw bar oil alternative in great detail.
Get the engines revved up and start this post, which will reveal the top chainsaw bar oil alternatives!
How To Choose The Best Chainsaw Bar Oil Alternative?
You must read about the chainsaw's specific needs since all chainsaws have their own characteristics.
Bar oils and chainsaw chains must have unique characteristics that distinguish them from other types of oils to be effective. This is true for both electric and cordless chainsaws and gas-powered versions to function correctly.
The oil must be "sticky" to remain on the chainsaw chain as it moves since chainsaw chains spin at a rapid rate. Oil will likely be flung off the chain if it is not correctly sticky, causing the chain to dry out.
The oil must possess the property of "slipperiness," performing successfully as a lubricant. It allows it to slide effortlessly across surfaces.
Therefore, an excellent chainsaw oil should have the ideal balance of stickiness and slipperiness.
Take note that oil's viscosity (how thick or dense it is) fluctuates with temperature. Certain oils that have ideal stickiness and slipperiness at warmer temperatures may be inappropriate at lower ones.
The last point to mention is that chainsaw oil should be ecologically friendly because most of it will fall off the chain as you work and end up in the environment as waste.
Using an alternative to specialist chainsaw chain and bar oil is a good idea, but you should first check your user handbook to see which sort of oil they suggest. With this information, you may then choose an alternative oil that is the most similar to the previously advised one.
What Are The Reasons For Choosing An Alternative Oil?
There are two primary reasons consumers opt to use alternative bar oils: first, they are more environmentally friendly. The second is they are less expensive.
Those who use chainsaws regularly, ranging from professional architects and tree enthusiasts to homeowners who do firewood work, are divided on whether or not to use alternative bar oils.
The cost of living will vary depending on where you reside in the globe.
Depending on the country or state, chain bar oil may be purchased for very little money. It has a price that is equivalent to alternative oils. In this situation, it is preferable to just use natural chain bar oil.
Other places of the globe, on the other hand, have the potential to save a large amount of money. In this scenario, you would need to evaluate the various advantages and disadvantages of utilizing a substitute chain and bar oil against each other.
Many people consider the environmental component to be essential.
Every drop of oil you put into the bar and chain chamber is released into the atmosphere. Thousands of tiny particles are dispersed throughout the air. You can see it in the sawdust, on the wood, and discharged into the environment in the direction in which your saw is oriented.
Regular bar and chain oil is non-biodegradable and pollutes the environment when it is used. Breathing in this air is also not pleasant.
What Are The Top Best Alternatives For Bar Oil?
Canola Oil
When used as a lubricating oil alternative, canola oil, derived from rapeseed, offers many of the same benefits as vegetable oil in terms of health and environmental benefits.
It is ecologically friendly, can be used to prune living trees, is economical, and is widely accessible. It is a good choice for many reasons.
Since it is thinner than standard vegetable oil, it will tend to fly off the chainsaw more rapidly. But, since it has a more acceptable viscosity at lower temperatures, it may be used as a substitute for chainsaw oil. This is done when it is too cold for vegetable oil to be used.
It should be noted that it is derived from the seed of the rapeseed plant, which is a yellow blooming member of the cabbage family.
It's one of the most commonly utilized bar oil alternatives since it's readily available in most households and is relatively inexpensive no matter where you reside. There are certain areas where it is up to 50% less expensive than genuine chain oil.
Canola oil is a little thinner than standard chain and bar oil, which is a good thing.Those who advocate for the use of canola oil for chain and bar oil claim the following:

It helps to keep the bar and chain cleaner
Less expensive than ordinary oil
More environmentally friendly, as it is better for plants and animals
Flows more quickly and has a low freezing point, allowing it to pour appropriately at low temperatures
Because the chain extends less, it does not taint garments to the same extent as other oils.

Cons of utilizing canola oil as a permanent alternative include the following:

Oil is not as sticky and may require an additional application, resulting in a probable warranty void.
Oil may also attract rats.
Canola oil has the potential to spoil.

For extended periods without using your chainsaw, it is advised that you put one or two loads of natural chain bar oil through it first. This is to ensure that the chainsaw will operate adequately. This will prevent the canola oil from becoming rancid or spoiled.

Vegetable Oil
Bar and chain oil can be replaced with a variety of other vegetable oils than canola.
The advantages and disadvantages of utilizing alternate vegetable oils are much the same as using canola oil. Keep in mind, however, that each oil has a different viscosity and, as a result, will behave slightly differently in your chainsaw than the others.Other types of vegetable oils that are often used in chainsaws include as follows:

Soybean oil is more viscous than canola oil.
Olive oil is thicker than canola oil. However, it does not perform well at low temperatures.
Sunflower oil is thinner than ordinary chain oil and has a higher melting point.

Those who use these lubricants have little anxiety about the wear and tear on their saws and are content to use them continuously.
Except for the remark that you may require one more bar and chain throughout a decade's worth of chainsaw use, there aren't many other concerns.
Vegetable oil can also be used as a replacement while slicing up an animal, such as a moose or a stag, which is another common practice. It should go without saying that motor oil or standard oil would not be appropriate in this circumstance.
Some people also use chainsaws to cut up hay bales and other animal feed supplies into smaller pieces. When doing these operations, it is always preferable to utilize biodegradable and edible oils.
Some individuals utilize reclaimed canola oil as a final option. This sort of oil would require extensive filtration before use. It is possible to obtain free bar and chain oil in this manner, but it is not encouraged!

Motor Oil
Following vegetable oils, motor oil is the second most commonly used alternative for chain and bar oil.
This chain and bar oil alternative has sparked more debate in the forums and Facebook groups than the original.
Some individuals have been using it for years and would not alter a thing. Some believe it is the most ludicrous notion ever proposed. Before even going into the issue over whether or not to use old motor oil as chain and bar oil, consider the following:Note: this is not advised by many.The most significant advantages of utilizing motor oil are that it is less expensive and may help to keep your saw blade cleaner.
Motor oil, on the other hand, is derived from petroleum and hence is not ecologically friendly. As the chainsaw spins, minute droplets of oil fly off the chain. As you use the chainsaw, all of the oil previously stored in the reservoir is released into the environment, contaminating the ecosystem.
Another downside is that it will hurt the trees if you are trimming live trees because the oil is not organic.
Suppose you are genuinely stranded and need lubricating oil. In that case, another option is to utilize old motor oil from your car and filter it. Ideally, you should harvest your engine oil when it is still warm from the engine, as this aids in filtering and helps to prevent contamination.
The disadvantages are that it isn't as sticky, that it will most likely violate your warranty, and that it may create more bar and chain damage over time.
Take note, however, that no matter how well you purify your car's oil, it will still include small metal particles. These particles can harm the bar and chain of your chainsaw, so this should only be used as a last resort.
You should use summer oils such as SAE30 in warmer weather and winter oils such as SAE10 in colder weather if you have the option. This is due to the fluctuations in oil viscosity that occur due to temperature changes.
Drained Hydraulic Fluid
Although hydraulic fluid may be used as a substitute, it does not receive the same attention in the chainsaw community.
If you have a surplus of it near your house or farm, it could be worth your while to experiment with it.
Like motor and vegetable oils, this oil is devoid of a tackifier, which means that a smaller amount of oil will make it around the bar and chain. This is one of the factors that might cause the bar edges and chain to break down more quickly.
Another disadvantage is that it tends to dry up more quickly than other chainsaw oil replacements. This now requires you to use more of it to keep your chainsaw lubricated and running smoothly.
Biodegradable Chain and Bar Oil
The last oil alternative I'd like to share with you is a biodegradable chainsaw oil that has been specially formulated for this purpose.These are the types of oils that are specifically developed for use in chainsaws, and they include:

High-quality
Usually made from vegetables
They are simple to pour, perform well throughout a wide variety of temperatures
They are less likely to cause damage to your bar, chain, and oil pump than other types of oils.
Chainsaw and lubricant manufacturers produce a wide range of oils for use in these applications.
What Alternative Oil Should You Not Use?
Liquid waste that has been drained from your automobile or boat should never be used.
Make sure that the oil in your chain saw's bar oil reservoir is new every time you fill it. This is made regardless of whether you're using bar and chain oil, regular motor oil, or a vegetable oil-based lubricant.
It is never safe to attempt to replenish your bar oil reservoir while your chainsaw is running. It is also never safe to use your chain saw when the bar oil reservoir is empty. Keep in mind that safety comes first.
Essential Things To Keep In Mind When Using Substitute Oils
Chainsaws are constructed such that the gasoline and oil run out at the same time. This reduces the chance of accidentally using a chainsaw without lubricating oil.
However, you must use the proper oil, or the oil may be used up considerably faster than gasoline. So, you could unknowingly keep operating an unlubricated chainsaw after the oil runs go.
To avoid this, fill both the oil reservoir and the gasoline tank simultaneously when you use a replacement oil. In this manner, you can observe how rapidly the oil is used up and plan accordingly.
And suppose you see your chainsaw using considerably more gasoline than usual. In that case, it may be due to increased friction between the bar and chain.
This means your chainsaw is not lubricated, so make sure you have oil in the storage and switch out the oil if it's not working.
What Warranty Issues Will I Be Having If I Use An Alternative Oil?
Using anything other than the manufacturer's specified bar and chain oil may void any warranties or service claims, and it is vital to note this.
Among other things, the Stihl limited warranty policy excludes the following items from coverage under their limited warranty:
Repairs necessitated by insufficient oil buildup, maintenance, or lubrication
Maintenance and repairs that are required because of inappropriate oil mix proportions or the use of oils and other lubricants that are not indicated in the product's instruction manual
Any failure resulting from the use of lubricants that are not supplied or approved by Stihl.
Conclusion
Thousands of individuals have used these oils to extend the life of their chainsaws. All have had nothing but wonderful things to say about their effectiveness. It is improbable to damage your saw and allow you to go through the rest of the day.
The most refined oil for your chainsaw is almost always the one recommended by the manufacturer.
However, suppose you don't have any on hand or want to save a little money. In that case, there are alternative options available and many of them can perform virtually as well as the genuine article.
Preserving the proper lubrication of your chainsaw is essential for safeguarding your investment. However, if you do not have regular chainsaw oil available, you should not be unable to use your machine.