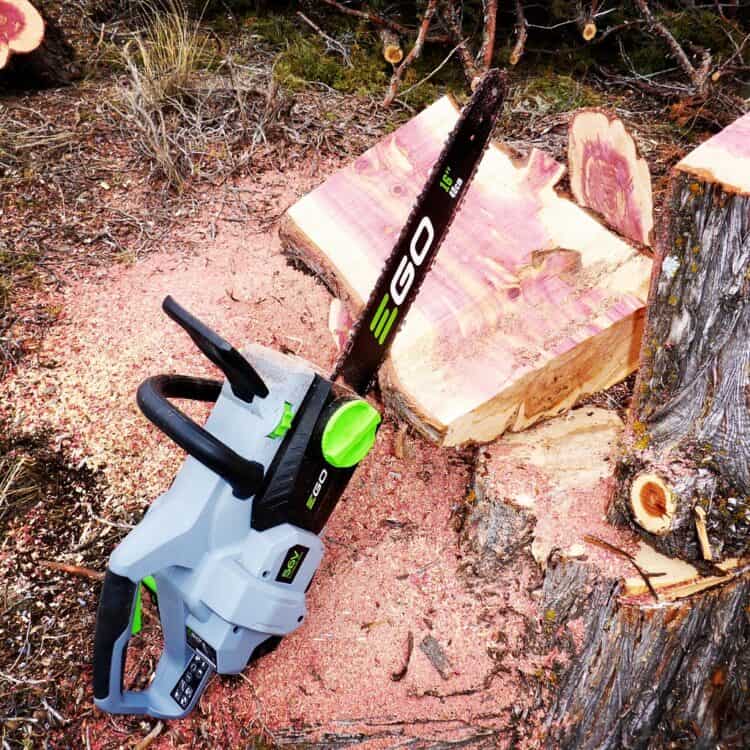 A chainsaw is an important tool for most households to have because they help when it comes to trimming and cutting tree branches.
It allows you to spend less time trying to prune, fell, limb, and buck trees, but it is also one of the most dangerous power tools that you can obtain without a license.
To minimize danger and reduce the likelihood of accidents, you have to understand the basics of how to use an electric chainsaw.
Kickbacks are very dangerous when you're using a chainsaw, and anything that comes into contact with its fast-moving chains will be damaged.
Electric chainsaws are more powerful when compared to petrol chainsaws. They can also be more environmentally friendly because they don't need gas to run.
There are some variations to electric chainsaws: Battery-powered chainsaws and corded chainsaws. Each has its own advantages, and it's up to you what you really want to achieve with your chainsaw.
If you want to cut down trees that are huge in comparison to most trees, a corded chainsaw may be the best option for you because it can withstand more power.
But then again, battery-powered, cord-free chainsaws allow you to move around much better and give you a freer range of movement because you aren't hindered by the presence of a cable.
In cases where work may take you in a remote location, it is best to take a battery-powered chainsaw with you.
Battery-powered chainsaws are best for small tasks such as trimming trees by cutting their branches off. Most people only need the smallest type of chainsaw.
You'd only need to bring out the big guns if you are a professional lumberjack.
This article will tell you how to use an electric chainsaw while observing proper safety protocol for the good of you and everyone around you.
Benefits of using an electric chainsaw
If you're still debating the pros and cons of buying an electric chainsaw over a gas-powered chainsaw, then look no further.
We will be outlining a few benefits of using an electric chainsaw:
1. They are easier to maintain
Most of what you have to maintain when it comes to an electric chainsaw is keeping the chain nice and oiled.
You don't have to prime an engine or maintain its fuel tank. All you could do is plug it into a wall socket, turn it on, and start using it.
Since an electric chainsaw does not have an engine or a fuel tank, it is also lighter. This allows you to wield them more easily as you go about your work.
2. You will experience less kickback
A kickback happens when the nose of your chainsaw snags on a piece of wood, or the ground. Kickbacks are very dangerous because they can make even the most experienced chainsaw user lose control.
It could also harm the people near the vicinity if a kickback is violent enough.
Electric chainsaws have safety chains which lessens the number of kickbacks that could happen.
And since they have lesser power compared to their gas-powered counterpart, kickbacks are significantly less violent and easier to control.
3. You don't need to buy fuel
Thanks to their batteries or use of electricity, electric chainsaws do not need to be refilled and maintained with gas. It is environmentally friendly because less contaminants are released into the air.
It also prevents incidents such as gas leaks, which can damage your chainsaw over time. Plus, you cut on costs associated to buying gas.
4. They are significantly quieter
Electric chainsaws are much quieter when compared to gas-powered chainsaws. In terms of decibels, there is about a 16 dB difference between both chainsaws.
While gas-powered chainsaws have been recorded to emit a sound measuring 106 decibels to 117 decibels, electric chainsaws only emit 90 decibels to 102 decibels of sound.
Your eyes are more protected, and your neighbors aren't as disturbed by the sound of you using your chainsaw.
5. They can be stored easily
Usually all you have to do for an electric chainsaw is wash it off and place it back in its case. With a gas-powered chainsaw, you would still have to drain the gas out of its tank, oil the plug, and remove it if you're preparing for a long storage period.
What are the different types of chainsaw kickback?
A kickback happens when the chain snags on something, or the nose of the chainsaw starts hitting wood or ground.
It is very dangerous because it can cause you to lose control of your chainsaw. However, there are ways to prevent a kickback from happening, and one of those ways is sharpening the chain regularly and by always keeping them below shoulder level.
You could also try checking the chain's tension to make sure it isn't too tight or too loose. Familiarize yourself with your chainsaw before attempting to use it.
Below are examples of the chainsaw kickbacks you will have to avoid:
Rotational Kickback
This is the most dangerous and unfortunately, the most common form of kickback because its direction is headed straight at you. To prevent this, make sure you don't let the nose of the chainsaw touch anything.
Linear Kickback
This happens when the chain is pinched in between wood and can't continue rotating around the guide bar. Again, the kickback is going to be directed towards you.
Pull-in Kickback
This type of kickback happens when something inside the wood causes it to be yanked forward, away from your grasp. To prevent it, ensure that the piece of wood you are cutting doesn't have any nails nailed into it.
What are some reminders before using a chainsaw?
1. Chainsaws can only cut wood.
That's what they are meant for. They should not be used for any other sorts of materials.
2. Wear the proper safety gear when using a chainsaw
This includes chainsaw gloves, earmuffs for protecting your hearing, safety googles, boots, and heavy-duty clothes. On some occasions, you may need to wear a hard hat.
3. Hold the chainsaw between both hands.
Your left hand is usually placed in front, and the handle has to be where you wrap your thumb around. Your left arm should be held straight, and your elbow locked tight.
Your right hand should be on the rear handle, with your arm bent slightly.
4. Maintain a stable position
Keep your feet apart, sometimes you may find it easier to place one foot in front of the other.
Stay on the left side of the chainsaw in case a kickback occurs.
5. Chainsaws are not meant for use on ladders or for cutting anything above the shoulder
That's just asking for trouble. If you use a chainsaw while on a ladder, you are not in full control of your position.
In the case of a kickback, you would have no way of stabilizing your ground, and the most likely scenario ends with the ladder tilting away, and you falling along with it.
Similar to using a chainsaw to cut something above your shoulder, you are not in full control of your balance. Even if you are on solid ground, it is very easy for a chainsaw kickback to smack you in the face.
Worse comes to worse, the chain also smacks you in the face, earning a trip to the emergency room.
If you are cutting a tree on a hill with an obvious incline, start cutting through it from uphill so that the tree doesn't fall on you.
How to use an electric chainsaw
1. Know your workspace
You should be prepared for any emergencies that might happen. Never work alone when you have to use any sort of chainsaw.
Plan ahead when you're planning to fell a tree. Know which direction you have to go to, know what to do in case the tree doesn't fall in the direction you'd initially planned.
2. Wear all your gear
You have to wear the proper safety gear in order to ensure you are well-protected from any untoward incidents that may come your way.
Wear your chainsaw gloves, steel-toed boots, safety goggles, ear mufflers, and if possible, a mask to protect you from any debris that flies around from your cutting.
Also make sure your clothes are heavy-duty.
On top of your gear, you have to check your chainsaw's chain. It needs to have just the appropriate amount of tension—not too loose, and not too tight.
If you can pull a little bit of it from the guide bar and remove the links from the nose, then it is too loose. Tighten it.
Refer to your machine's manual when doing this so that you are sure you're know what you're doing. A chain that contains just the right amount of tension can have a little bit of give from the guide bar but should not be pulled right off of it.
3. Press the throttle or the trigger to start the chain rotation
Electric chainsaws only need one press from the electric switch to flip it on. But even though you've started its engine, the throttle or trigger won't move.
Before you press the throttle, make sure you are standing in a stable position with your feet planted firmly on the ground, and your hands gripping the saw firmly.
To get the chain rotating around the guide bar, press down on the throttle or the trigger. The harder you press this, then the faster it will rotate.
This means, the harder you press down on the throttle, the more power it will exert to start cutting.
4. Release the brake for the chain and press down on the throttle
To being cutting, release the chain brake, and fully press down on the throttle. Place the saw over where you want to cut and let the chain do all the work for you.
Once you start cutting using the chainsaw, make sure the saw is at your side, or at the very least you angle it away from your body so that you have less chances of an injury when it kicks back.
There is no need to push down on the saw for it to start cutting, because the chain and blade's momentum will push it deeper into the wood.
In case you're using an electric saw with a cord, always keep a close eye on the cord to make sure it doesn't get in your way.
5. Keep a strong grip on your chainsaw
Never let go of your chainsaw while your throttle is fully engaged Maintain your position and only release it once you're done with your cut.
After you release it, just remove the blade away from the cut.
6. When you're done using it, power it off
Using an electric chainsaw comes with the added benefit of easy storage. All you'd have to do is switch and off and wait for it to cool down.
Some models allow you to wash down your chainsaw's chain and guide bar to remove dust and debris that could get stuck in the chain.
Once it has cooled down, place it back in its case, or at the very least cover its guide bar so that the chain remains free from dust and debris.
Conclusion
Most electric saws can sharpen themselves as you use them so there is less to think about when it comes to maintaining the sharpness of its little teeth.
But it is important that you regularly check the tension between your chain and guide bar so that you reduce the risk of damaging your machine, and any other accidents that may occur.
Once you get the hang of how to use an electric chainsaw, it will get easier and easier to handle the chainsaw as you start to get to know your device better.
Do not skimp out on maintaining it. Check out its manual for more information, because some models need more maintenance than others.
Remember to always remain vigilant, and it is better to stay safe than sorry when it comes to using a chainsaw—be it electric or gas-powered.
Safe and responsible chainsaw use starts with you.