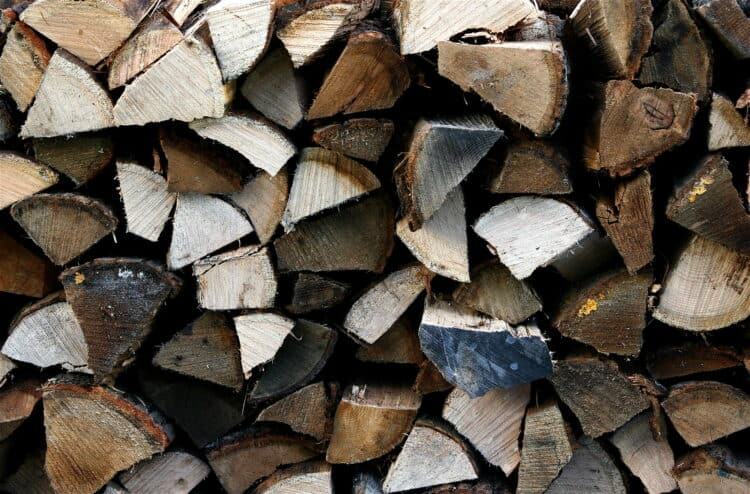 More smoke than the heat coming from your fireplace, is a sign that your wood isn't well seasoned.
Seasoning your firewood will not only make it burn better. But also, your chimneys will look cleaner.
And more so, your home will no longer smell like a campfire.
Fresh wood makes splitting more difficult. Plus, it adds to the creosote in the chimney which, causes chimney fires.
It is also heavier for you to carry it for stacking. And it's quite challenging to start or ignite a fire with it.
Still, even if the fire ignites, it burns with a lot of soot and smoke. You may feel like your eyes are burning anytime you are near it. But how do you pick the perfect firewood to season?
Here is the right way to do it.
Pick the right wood to age
Some types of seasoned wood burn better than others.
And it is best to pick those for curing before you use it. Wood from oaks offers an excellent choice.
That is because the wood is dense and burns hot. But, you need to season your oak wood for at least a year. After that, it would be ready for use.
If you have several trees on a wooded lot, it would be best if you thinned out the crowded area.
You can do that by cutting down the trees that are shadowing others from the sun. That will provide the other trees with enough sun and nutrients to grow better.
But that is not all. It would be best if you didn't cut down trees that are dead or diseased for firewood. Wood from such trees also do not burn well.
Instead, you could go for odd and crooked growing ones. The firewood may burn better. And, it will prevent these trees from causing problems in the future.
You are protecting your surrounding trees plus your property.
Chopping the firewood
If you are planning to split the firewood for seasoning, the wood must be uniform.
It helps in stacking firewood better. Bucking is cutting a fallen tree into logs.
While bucking, the standard size for wood sections is 16″. You could also use a log marker to measure the sections. That will provide consistency.
Still, if you have a 16" bar on your chainsaw, then that will suffice.
Even so, it will only provide a rough measurement. Bucking the tree is only the first task.
It would be best if you split the chunks into smaller and manageable sizes. Although axes can do the job, it is best to use a powered log splitter. It is faster, and you will use less effort.
There are several types of log splitters that you can use.
One is the electric log splitter. You can use this tool when chopping indoors.
The gas-powered splitter is perfect when you are working outdoors in the field. You can also choose the skid steer log splitter. This tool is perfect if you need it for serious business.
Even so, 4-way wedge will work even better.
It splits one chunk into four pieces at the same time. That offers more productivity and even less work for you.
Stacking the wood
You can stack your wood in several ways.
The best way is to use a log rack. The log rack will allow you to keep the firewood off the ground.
And the wood is open to the air and will dry well. Stacking the wood in a barn or a shed is also a great idea. If the barn is open enough to let in plenty of air, then your firewood will age soon.
But, the firewood should be off the ground and away from the inner wall.
You can use a pallet or install a wood rack in the barn to stack the wood. A Holz Hausen is also a smart method of stack firewood as well.
But, building one may take a long time. Still, once done, it is perfect for curing wood. Besides, you do not need other supplies for the wood to season.
The last but not the best way to stack wood is stacking it on a fence line.
This method is not the best because the wood will not season well. When you stack the ends of the firewood against the fence, it will not dry.
And the ones you stacked on the ground will get wet and will burn out of sorts. Whichever method you pick, it is best to stack the logs with the bark side facing down. Even so, on the top row, let the bark side face up.
The bark can act as a shield from snow and rain.