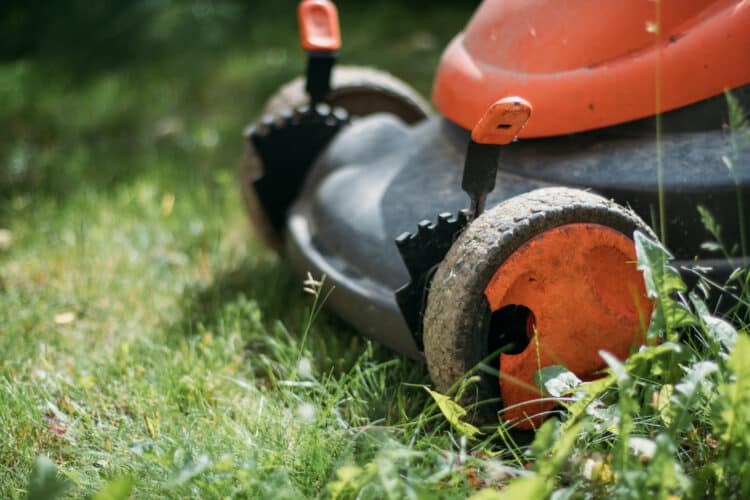 One of the joys of modern technology is that many time-consuming and tedious chores can now be done much faster with a machine. This gives homeowners plenty of extra time to work on other tasks or to spend some quality time with the family.
Engineering and innovation have produced a self-propelled lawnmower, which is extremely convenient and uses surprisingly smart technology.
Types of Automatic Mowers
Models can be differentiated according to wheel type, speed variation, and ignition.
Wheel Type
Front-wheel mowers are much cheaper than rear-wheel models. This is because the former offers much less flexibility in terms of the terrain it can handle.
For front-wheel models to work properly, the wheels must be firmly planted on the ground. This means that this type of mower does not work well in various terrains, only on flat lawns and gardens.
Rear-wheel models, on the other hand, offer much maneuverability and control.
The front part of the mower can easily lift up when there is a sudden change of terrain. If you plan to use a mower in steep and hilly areas, a rear-wheel mower would be your best bet.
Speed variation
You'll need to adjust your lawn mower's speed settings depending on your lawn's physical conditions and how fast you want to work on the chore.
Adjusting the speed settings will also allow you to easily maneuver for a more evenly-cut lawn.
Single-speed models may be too fast to cut through thick or tall grass, resulting in a very unpolished garden.
Ignition
A lawnmower can be powered on by either a recoil start or the more convenient electric start. To power up a recoil-start mower, you'll need to pull on a rope until the engine comes to life.
For electric start models, you will only have to turn a key or push a button to get the engine running.
Choosing to buy a start-engine mower will surely save you a lot of time and strain.
Some of the parts and features you'll have to consider when choosing a model are:
Wash-out ports
These allow for easy clean-up of your mower.
Simply insert a garden hose into the port, and all the grass clippings and other debris will be washed-off. Regular cleaning and maintenance of your mower is a responsible way to keep your machine running for years on end.
Blade-override system
This feature ensures that you have equipment that uses smart technology. The blade override system will essentially turn off the engine to prevent the mower from dangerously shredding anything aside from grass.
Swivel wheels
These are a new type of front-wheel mowers that allow for better maneuverability of mowers over varied terrain. Swivel wheels can also endure the strain caused by constant changes in direction. This results in a mower that is essentially longer-lasting.
It's out with the old and in with the new when it comes to lawnmowers. Ensure that you have a hassle-free time while tending your pristine and polished yard.