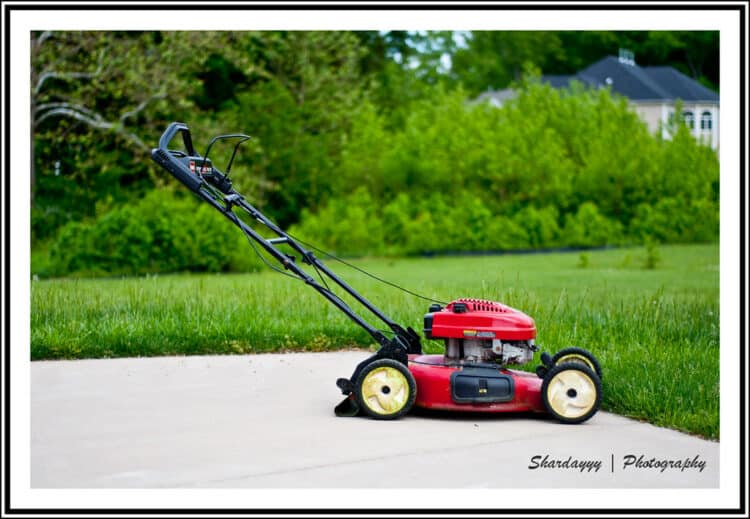 Can you use car oil in a lawnmower without breaking down? If you are an avid gardening aficionado and tend to take lawn care maintenance and lawn mowing seriously, this question may have popped inside your brain.
What is the best oil for a lawnmower? It is a better question to ask than the first one because it directly relates to your lawn mowing usage. The answer will be provided in later segments, with corresponding explanations.
Realistically, most residential homeowners still use gas-powered lawnmowers to mow their lawn. And some even still use cranky and ancient outmoded types from decades ago, bequeathed to them by older family members.
So, what oil to use in a lawnmower is an issue always discussed in the household. However, now there are newer, energy-efficient lubricants that are also cheaper.
Also, most mowers still need oil and regular maintenance to be able to function normally. But some people who think of themselves as mechanical experts might assume that car oil can be used for small engines in lawnmowers.
Can you use car oil in a lawnmower?
Oil quality
The oil to use in a lawnmower should always be top quality. Bad quality oil is the fastest way to cause engine issues.
What would happen if poorly conditioned oil is coursing through the mower's entire engine system? It will proceed to create damage slowly and might even be a source of danger for everyone involved.
It, in turn, leads to the questions that needed answers: What kind of oil does a lawnmower need? Can I put car oil in a lawnmower?
To make the long story short: yes, car oil can be utilized for your mower engine. But it has to be a high-quality car oil.
There are many top-quality motor oil brands available in the market today, which can be used for both mowers and cars alike. Brands that have the SAE 5W 30 oil for lawn mowers standard that enables oils to become an excellent all-around type of lubricant.
High-quality oil means it has to be on par with the SAE (Society of Automotive Engineers) standard. If you're looking for an excellent oil for your mower, look for that in the product details section.
You'll find some information from any of these below, which are the different types:
Standard SAE- This type work well with smaller engines (like lawnmowers) and mostly used in warmer climates.
SAE 10W 30- It's very adaptable to any temperatures and climate types, even in cold temperature locations. It's also not very efficient and consumed rapidly compared to other SAE oil alternatives.
SAE 5W 30- It's also an adaptable kind for those needing a middle-of-the-ground alternative.
Vanguard 15 50M- It's best utilized for larger and thicker yards and commercial use.
For a typical engine oil to have an SAE standard, it must have a viscosity rating of thirty. Motor oils usually have a viscosity rating from zero to fifty.
There are also synthetic lubricants that you also have to consider, aside from car oils. Presently, there are also a lot available in the market, but the question is: if they would be compatible with your mower.
The good news is that, like the top quality oils mentioned before, synthetic oils still abide by the same SAE standards.
Also, when talking about compatibility, it means that you shouldn't use ethanol or diesel fuel for a lawnmower's engine. It wasn't made to function with these types in their system.
Those fuel types have deviated so far from the kinds of oils with high standards that the SAE 30 has set.
Engine size
If you are thinking about the best oil for small engines, you should first account for engine sizes. In this circumstance, size matters in dealing with oil and engines. If you make an incorrect match between the two, something dire might happen that can result in an explosion.
To make it clear, it is crucial to make the right pairing between the size of the mower engine and the viscosity of the oil.
It is another reason to be careful in picking the right car oil for your lawnmower's smaller engine. It is because not every oil specially designed for car engines might not fit the viscosity requirement for the mower motor.
As mentioned earlier, an oil brand with an SAE 30 marking is the most prevalent kind used for gas-powered lawnmowers.
You want to make sure you will use the correct kind of SAE 30, which is 10W 14 or 10W 30. Both are very adaptable and will fit smaller-sized engines like lawnmowers.
Changing the oil in your mower
After deciding on what type of oil to put in a lawnmower, you should also know the proper way to change it in the first place. Since motor oil is not cheap, the quicker you're consuming it, the more expensive it would be to refuel it constantly.
So ideally, you want an effective means to save oil. The best way to do it is to correctly change oil whenever your mower motor needs to.
Many mower tanks can take about twenty ounces of oil. If you want to know exactly how much your mower can take and how many times you need to change it, check on its user's manual.
You want to be sure you are abiding by the timetable set by your manual and not either lag or exceed it. If this will happen, your oil will be wasted for no good reason.
The lifespan of typical engine oil will work for about twenty-five hours of usage, although it will still depend on how strenuous the mowing work is. If you are doing heavy-duty mowing work in massive properties, you will be refueling many times than average and using up more motor oil. Thereby, stressing the mower engine more.
Also, an environment with constant dust can cause the mower to require more fuel and oil. So you have to look for fuel and oil types that can quickly adapt to these types of surroundings. There are car fuels available in the market that can adjust to intense heat and dirt.
Oil changing process
If you feel that the time has come to substitute the oil in your mower and you've chosen any of those appropriate oil types mentioned above, read on to learn the proper way to change it.
If you have a newer lawnmower model, it possibly has a built-in oil drain plug. Check if it has it. Also, go through its user's manual if you can't find it and to be sure and it will make your job easier.
The first and most important thing you need to do is make sure that the fuel tank is empty. It's done this way to be precise in putting back the fuel.
Unfasten the spark plug wire. It is a recommended step as a safety precaution.
If you have a new model mower, check for an oil drain plug. If it has, open it and let out all the oil into a container.
If it doesn't have a drain plug, angle the mower to the side. Make sure that the carburetor is on the right side. Then let out all the oil from the dipstick porthole (which should be the same hole when adding one).
Be sure you're not filling it up to overflow. There would be a danger if the fuel will splash over other engine components and might cause accidents in the future.
Pouring out the entire contents of the tank is also a safety precaution so that varying oil types might not mix, which might cause additional problems in the future.
Return the mower to the same upright position. Your mower might have splashes of oil everywhere, so be sure to clean every droplet.
Checking on the oil level
First, unfasten the dipstick cap by utilizing your upper body strength, which is directed to your fingers. Then twist it counter-clockwise to open.
Unsheathe the dipstick, then wipe it clean with an unused cloth. This way, the oil reading will be precise.
Before sheathing the dipstick back, you have to be sure that the cap's teeth match the furrows on the dipstick's tube.
Use your finger strength one more time to twist clockwise the dipstick cap.
After a few seconds, uncap it again and analyze the oil level, which can be found at the bottom of the blade.
The appropriate oil level should be right in between the full and add markings.
If you notice the oil is lower as it should be, put in a few ounces at a time so that it won't overfill.
Wait for a few minutes for the oil to steady itself before checking on the oil level again.
Brand name recognition
Since you're able to use car oil in the lawnmower, it has to be a top-quality oil that you recognize for its trustworthiness. Experts recommend this and also not use the generic kind because of the presence of additives that will cause harm to the engine in the future.
A famous brand that you may have seen advertised on TV or any other media outlets will make sure it is made of the highest quality oil that has the SAE 30 viscosity standard.
Additionally, most lawn mowers come with their oil preference, as recommended by their manufacturer. If circumstances happen that you couldn't find that particular brand preferred, you have to find an oil that matches as closely as possible.
You can do a quick research online where there are websites that can give you recommendations for other brands close to your preference. It will invariably aid you in getting the proper oil for your mower.
Viscosity and quality are the most essential factors to consider for the best oil for a lawnmower engine. Even though a particular oil is specifically designed for a car, you can still use it for your mower, just as long as it is of high quality make.
FAQ or frequently asked questions
Should I buy a special kind of lawn mower oil for my mower?
It would be advantageous for you and your lawnmower to purchase the specific mower oil recommended by its manufacturer. It's because the oil is already sized correctly in a smaller plastic container and whose quantity is the right amount your mower requires. It won't even overfill.
Can I use a generic oil instead of a well-known branded one?
The branded ones are the best kind of oils that already has the SAE standards. These are the best ones to use, but if you cannot find them for your mower, you still can use generic types.
However, those types aren't recommended. If you can't find any other top-quality oils except the generic kind, you can use them for the short term only. They also have the advantage of being cheaper than the branded ones.
Be sure to revert to the recommended oil once your mower needs an oil change again.
Are synthetic oils alright to use?
They are fine for your lawnmower and work particularly well in areas that have extreme temperatures, like a very hot or icy cold. It's because they enable a better mechanism for starting up the engine, and the oil consumption is comparatively less.
When should I change the oil for my mower?
An oil change is an essential part of your mower's regular maintenance procedures. It will make sure its engine will run for a long time and as smoothly as possible.
Its user's manual will tell you when it requires an oil change. Yet you can also make adjustments in the particular surroundings the mower is in.
As mentioned earlier, the general timeframe for most gas-powered mowers to change oil is about twenty-five hours of usage. Dusty environments will be a major factor, which will result in more normal oil changes.
If you don't have a manual and there's no way that you can tell when you should change its oil, then do it in the first weeks of spring, perhaps early March. This period is right before the next mowing season.
Conclusion
Using car oil in your mower is not a bad thing, and in fact, it's quite the opposite. However, there are still some precautions in place that you are already aware of. So remember them whenever you need to change its oil, and may you mow to your heart's content.