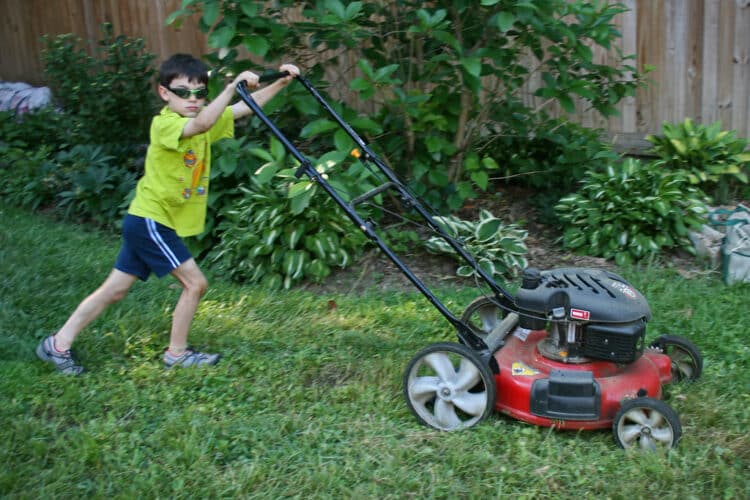 Do you consider yourself a mechanical and technical expert that knows what type of gas for lawn mower? Do not assume too much because one mistake can damage the engine, void its warranty, and render it useless like scrap metal.
Its fuel is the lifeblood of any machine, either big or small. Even seemingly insignificant gardening equipment like lawnmowers, need fuel to do its tasks properly. Then it can prove itself as a major factor in increasing the aesthetic value of your home.
Also, the user's manual should provide you the correct fuel recommendations for your specific mower. But generally, they use a fuel-oil mix or high-grade unleaded.
What type of gas for lawn mower? Fuel for small engines
Every residential owner who has a yard also owns a lawnmower or any grass cutting device to trim it whenever it gets too tall. However, regularly using it eats up a lot of fuel that results in frequent refueling.
Sometimes, due to some pressing importance and a dire need to get it immediately cut, another kind of fuel is used, which isn't the recommended type. It often causes machine failure in the mower.
Most lawn mowers have engines with four strokes. Here are the fuel requirements:
Be sure that the fuel is fresh and clean since it will start to disintegrate in less than thirty days.
It should have a minimum of eighty-seven octane/eighty-seven AKI (ninety-one RON).
If its fuel is gasoline, it should be up to ten percent ethanol or gasohol. Or up to fifteen percent MTBE or methyl tertiary butyl ether is satisfactory.
Some gas stations are currently selling up to fifteen percent ethanol. However, this E15 fuel type is not approved and recommended for smaller engines as mowers have.
You can also use fuel products sold in cans. This type mixes unleaded gasoline (with no ethanol) along with a fuel stabilizer to extend the lifespan of the fuel.
Fuel RVP or Reid vapor pressure rating is a crucial component like octane rating.
Fuel RVP rating is oftentimes, lowered and raised by gasoline refineries from each season to answer to temperature differences.
In the summertime, the fuel RVP rating is lowered.
In the winter season, the fuel RVP rating is raised.
Also, this rating type differs from each US state.
Before pouring gas into the mower's tank, check first if it is an approved one. Don't use E15 or E85. Do not incorporate the oil into gasoline or make changes to the engine. So it can function on alternate fuel.
If you force unapproved fuel into the mower's tank, it will impair the engine parts, which won't be compensated by its warranty.
There are also fuel requirements for places with high altitudes.
In altitudes over 5k feet or 1524 meters, less than eighty-five octane/eighty-five AKI (eighty-nine RON) is satisfactory. Your mower engine is required to undergo a high-altitude adjustment so that its emissions can still be tractable.
If your mower continues to operate without this adjustment will diminish its performance, increases its emissions and fuel intake.
Combining fuel and oil
If you want to know the best gas to use for a lawnmower, you should know first the right blend of oil and gas to achieve maximum effectiveness.
Four stroke engine- This type of engine in your mower will not benefit from mixing gasoline and oil. Or make changes to it to be able to operate on alternative fuel sources. It will inflict harm to the engine parts and void its warranty.
Two-stroke engine- If you have this kind of engine in your mower, you can mix oil and gasoline. Blend a two-cycle high-quality oil at a gas to oil ratio of fifty to one.
Tips for fuel storage
A fuel stabilizer's usage is essential to your mower's engine if you only seldom use it. If you only pour gasoline without the fuel stabilizer, the result would be fuel degradation, which is not covered in the guidelines of the engine's warranty.
Be sure to add first a top-quality fuel stabilizer in addition to the gas. It will prevent carburetor varnishing and gumming, then fill it up with fresh and clean gasoline. That way, your engine would be stabilized so you can store it for as long as twenty-four months without being damaged.
You would not need to drain out expensive gasoline from your mower engine before storing it for the long winter months if you utilize a fuel stabilizer. For a simpler means of fuel storing, here are short instructions:
Pour first the fuel stabilizer in the mower's gas tank as per instructions in the user's manual.
Let the engine run for two minutes so that the stabilizer will be circulated on the entire engine system.
You can now store your lawnmower for up to twenty-four months. Be sure it is in a dry, clean area like a garage space.
If the gasoline in your mower hasn't been given the fuel stabilizer treatment yet, you need to drain it to a container. After draining, switch on the engine and let it run until it ceases due to the absence of fuel.
Experts recommend that fuel stabilizers are crucial to maintaining freshness to the fuel inside a storage container.
Manufacturers also recommend that fuel is bought and stored in quantities, which you can use in thirty days. It will ensure that the fuel will remain volatile and fresh, which is particularly tailored for the season.
FAQ or frequently asked questions
What will happen if you pour in the wrong kind of gas in your mower?
If your mower engine usually has an oil and gasoline mixture and accidentally puts in straight gas, it won't get the required lubrication. It then causes it to overheat and seizing damage.
Do lawn mowers function better in premium gasoline?
Premium gas won't cause damage to your mower engine. It also does not improve on fuel effectiveness and performance of engines that don't need it.
How can I fix the incorrect fuel in my mower?
With pliers, squeeze the clamp on the fuel line to remove it. Then jiggle the line off from the fuel barb on the tank. Then completely drain out the fuel to a container. Once done, you can pour in the correct kind of fuel.
Conclusion
Knowing the best gas to use for a lawnmower is equivalent to a beautiful and well-manicured lawn. Get the best one now!