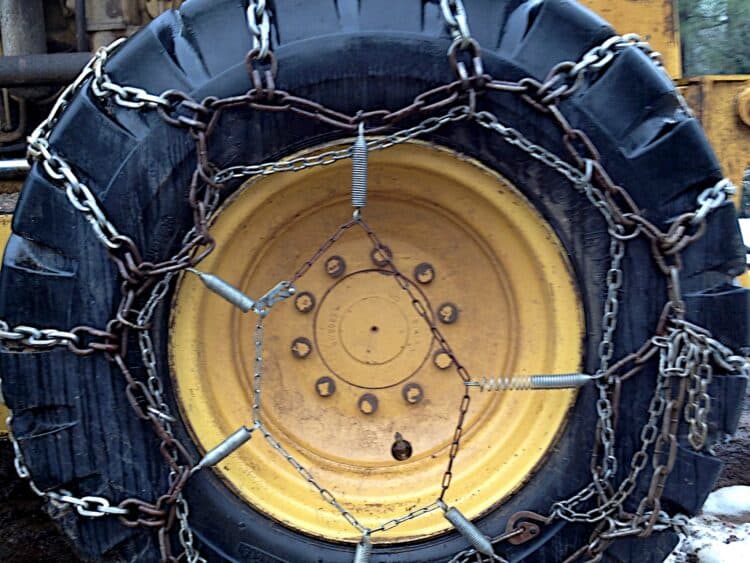 Lawn tractors are great vehicles for plow pushers and snow blowers. Still, they have to be modified to carry out these responsibilities. One of these modifications is tire chains.
When in snow and ice, your tires will need more traction, and tire chains can do the job for you. Since they play an essential role in keeping you going, you need to pick the right tire chains for your lawn tractor.
Picking the right size
Tire chains do not have a universal size. You need to know what the size of your tires is to get the right tractor tire chains.
If you have no idea what the size of your tires is, all you have to do is look at the side of the tire. There will be raised numbers that indicate the tire's width and diameter.
If your tire has two numbers on it, the first number is the tire's width, and the second is the rim's diameter. If there are three numbers, the first number is the tire's height, the second is the tire's width, and the third is the rim's diameter.
All numbers are measured in inches. Do not mind if there are dashes or slashes. They are just there to separate the numbers.
The chain size to order should be the same as the dimensions of your tire.
2-link or 4-link chains
When you say 2-link chains, this means that the cross-chain occurs every two side link chains. For 4-link chains, the cross chains will occur every four side link chains.
Between the two, 2-link chains will give you more traction since there will be more cross-links. The 4-link chain will be cheaper, but it does not provide as much traction as a 2-link chain.
Where to get tire chains?
You can get your tire chains from tire centers, auto supply stores, and you can even order them online.
Tire chains are sold in different sizes to fit different kinds of tires.
Whether you are using your lawn tractor to plow snow or clear your driveway, your tires will need that extra grip to help you keep going smoothly.
Tire chains do not only give more traction, but they also help break up the slippery ice in your property. So, when winter comes, and it gets cold and slippery outside, it is time to chain up the tires on your lawn tractor and start breaking the ice!