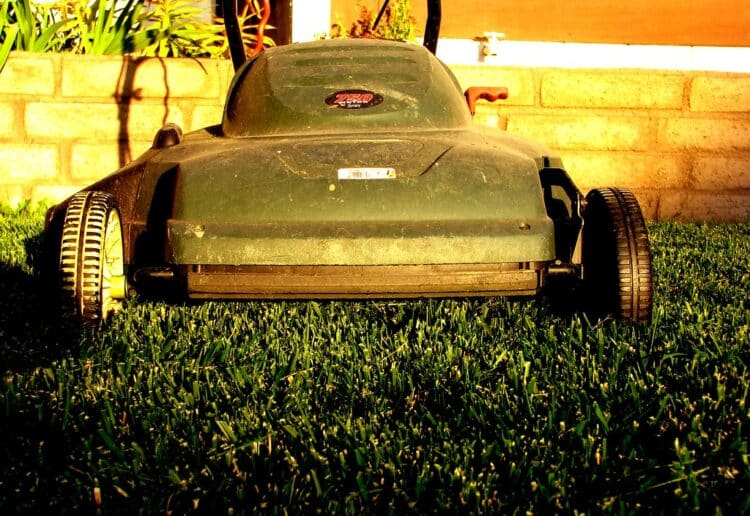 Whether you own an electric lawnmower or a robotic one, you could be wondering about the question: can lawn mowers get wet. Chances are you have used your electric lawn mower to cut wet grass or accidentally left it in the rains. Although lawn mowers don't suddenly stop functioning once they come into contact with water, it is good practice to keep them away from wetness as much as possible. If you accidentally left your lawnmower in the rain, you should dry it quickly to avoid damage.
What Can make your lawn mower wet?
There are many circumstances under which your lawnmower can get wet. We have already mentioned one-leaving your lawn mower outside in the rain. However, there are no circumstances under which your lawnmower can get wet, and of which you need to be careful.
Covering it with plastic sheet
If you store your lawnmower by covering it with a plastic sheet, it can get wet due to condensation. When heat is trapped inside the sheet and temperature drops, the vapor condenses to form water droplets that can find their way into the engine. You can avoid this by limiting the time you cover the lawnmower with a plastic sheet. Use a cloth sheet instead or store it in a cool and dry place that doesn't require you to cover it.
Presence of dents or cracks
Another thing to watch out for is the presence of dents or cracks on the lawnmower. It is easy for water or moisture to find its way into your lawn mower's engine if it has dents and cracks. If you notice some, cover them immediately. Moisture-like morning dew can get into the motor, especially if you left it outside overnight.
Shallow pools after rain
Sometimes shallow pools of water can form on the ground when it rains. When you cut grass in the presence of puddles, water might splash up and get into the engine. This is not good, especially if the engine is hot. That is why experts recommend that you only wash your engine block when it gets cool to prevent it from getting damaged.
Wet Grass
Mowing wet grass, water is likely to find its way into the engine of the lawnmower. So if that is the case, how soon can you cut grass after the rain? It depends on the intensity and amount of rainfall. It also depends on the nature of your lawn like how porous it is. Straight standing grass takes a shorter time to dry compared to low-lying and horizontal grass. Use the back of your hand to feel whether the grass is sufficiently dry before you start mowing. If the grass is still wet, you should wait until it is dry.
Keep in mind that it is still okay to mower your lawn even if the grass is slightly wet. It doesn't have to be completely dry because that can be difficult if you live in a notoriously dry area. Try to mow at a slower speed instead
Flooding and hurricanes
If you also live in an area that experiences floods or is prone to hurricanes, your lawnmower can get drenched in water. If this is the case with your place, store your lawnmower on a raised surface and cover it with a plastic sheet. Before mowing, give it some time to dry and air out. If water enters into the gas tank, remove the gas and replace it with a new one. Many lawnmowers get damaged because of water mixing with gas in the gas tank.
Washing Your Mower
Everyone washes their lawnmower. Washing is not a problem because it depends on how you do it. If you clean it correctly, you shouldn't have a problem. Just make sure that water does not splash into the motor of the machine. Do not wash immediately after mowing when the engine is still hot. Wait for it to cool first.
How does water damage the electric mower?
The effect of water on the electric lawn mower is concentrated in the motor. Once the water has come into contact with an electric motor for a long time, it negatively affects the performance and function of its power delivery. It also reduces the efficiency of the wiring. That is why you are advised against cutting grass after it rains. You not only risk your safety, but you can also damage your expensive machine.
Like most electrical components, the wiring around the motor is made of copper. Although the wires are insulated against water, they are not waterproof. Repeated exposure to water and moisture can reduce the effectiveness of the insulation. The risk of short-circuiting is high here as electrical power is diverted to another direction.
But if you forget your lawn mower outside overnight and it comes into contact with water, you can leave it to dry first before using it, and there will be no issue. Remember, the motor doesn't easily get damaged unless you turn it on.
How does short-circuiting destroy the motor
We have already mentioned that short-circuiting can damage the motor. Now let's find out why short-circuiting is detrimental to your electric lawnmower.
A short circuit occurs when an excess amount of power follows the wrong direction or place. The presence of water in an electrical system is the cause of short-circuiting. If water comes into contact with the motor, it causes the excess current to produce extra heat. It only happens when the motor is running.
Check if your lawnmower has a brushed motor. If that is the case, you are likely to see white smoke during operation because the excess current produced and channeled to the motor causes it to heat and may cause a fire.
The white smoke
If your lawn model is a brushed motor, it may emit white smoke. The white smoke results from the excess current, which causes the motor to burn. The extra current generated and diverted to the motor can blow into flames or cause electrocution if the mower is left on.
If you suspect that your lawnmower has been exposed to high levels of moisture or water, leave it to dry first before turning it on.
How do you dry a wet lawn mower?
If you suspect that water or moisture has come into contact with the motor of your lawnmower, the wisest thing to do is to dry it at the earliest opportunity. So how do you do it? There are many ways to dry your lawnmower.
If you have no time to leave the lawnmower to dry out naturally, you can use a blow dryer or blower to remove the excess moisture content from the lawnmower. Electric lawn mowers come with a manual that details the steps to remove excess moisture from the motor. It is critical because you may have to remove the water-resistant casing covering the motor before you can blow-dry. So, as you can see, drying a lawnmower motor is not an easy task if it has been exposed to water for a long time. Be prepared to spend up to 8 hours drying your motor completely.
Sometimes the wiring in your lawn's motor may become resistant due to constant wetness. You can use a device known as a megohmmeter to determine the resistance of the wire. It gives the information you need to know what to do next to dry the wires.
Once you have determined the degree of resistance of your wires, the next thing is to use an electric contact cleaner to clean the electrical connections and the terminal. If you like, you can use a lubricant or grease. It will ensure that the connections are dry and free from moisture.
How to troubleshoot a lawn mower that got wet
If your lawnmower gets wet, do not fret. Lawnmowers get wet all the time, and they can be dried if you follow the correct steps. Before you give up on your lawnmower, you need to take the following steps. These troubleshooting tips work only if your lawnmower has not been destroyed yet because of excess moisture.
The first obvious step is to dry your wet lawnmower in the sun. Sometimes just leaving it out to dry on its own is enough provided it did not get too wet. If you suspect that water got into the insulation casing, you will need a blow dryer to remove the wetness.
The second solution is to use starter fluid. Take a starter flued and pour it into the carburetor. Turn on the lawn and see whether it turns on. If it turns on, set it to neutral and allow it to run uninterrupted. The idea is to assist the mower to get dried inside. If too much got inside the lawnmower and mixed with the oil and gas, all you need is to remove the contaminated gas and replace it with a clean one.
Other than that, it is highly recommended that you clean the air filter. Although this is not likely to help you to get rid of the water inside your lawnmower, it is a better compliment to your other efforts.
Next, take a wire brush and use it to clean the coil. Most lawn mowers' coils are susceptible to rust when exposed to wet environments. You don't need to buy a new one. Just cleaning it will be enough. Your lawnmower may still not be working after doing all these. In that case, you can consider purchasing a new spark plug.
If you have followed all the above steps, you have likely got your lawnmower up and running perfectly. Prevent rust because rust is the cause of most electrical faults and damages. Adding a trust protector can prevent your lawnmower from rusting if it ever comes into contact with water again.
If you have taken all the steps above and your lawnmower is still not working, consider taking it to an expert to repair it or replace the affected parts. Unless you are dealing with very corrosive water, the above troubleshooting steps should be sufficient to get your lawn in optimum condition.
Related lawnmower moisture exposure questions
Is it possible to find a waterproof lawn mower?
Many people confuse water resistance with waterproof. When a machine is labeled water-resistant, it means that it can withstand a certain amount of wetness without getting damaged. Almost all lawn mowers are labeled water-resistant. This doesn't mean that you can leave them out in the rain or just lawn through wet grass without risking destroying their functionality. Therefore, lawnmowers are not waterproof.
When exposed to rain or moisture over some time, your lawnmower can get damaged and its resistance capacity can greatly be compromised. However, lawn manufacturers have tried to minimize this risk as much as possible. The protective casing is designed to prevent water from entering the motor of the lawnmower.
Is it advisable to use a hosepipe when cleaning a lawn mower
The short answer is yes. You can use a hosepipe to clean your lawnmower without damaging it. It is deemed safe to use a hosepipe to clean your lawn mower because you have control over where you can direct your water. Just ensure that you don't get water into the engine, particularly the motor.
Conclusion
Exposing your lawnmower to a wet environment is likely to damage your lawnmower. However, this does not mean that your mower cannot get into contact with water at all costs. Just make sure that it is not exposed to rain for a very long period. If it ever get exposed to water or moisture, make sure that it is dried as soon as possible. Excess moisture is bad for your lawn mower. The main cause of lawnmower damage is moisture content. If the lawn more is being exposed to water but the water is not getting into the engine, you now reason to worry. The problems comes when the water enters into the engine. Apart from damaging the engine, water can also cause shorting and even accidents.