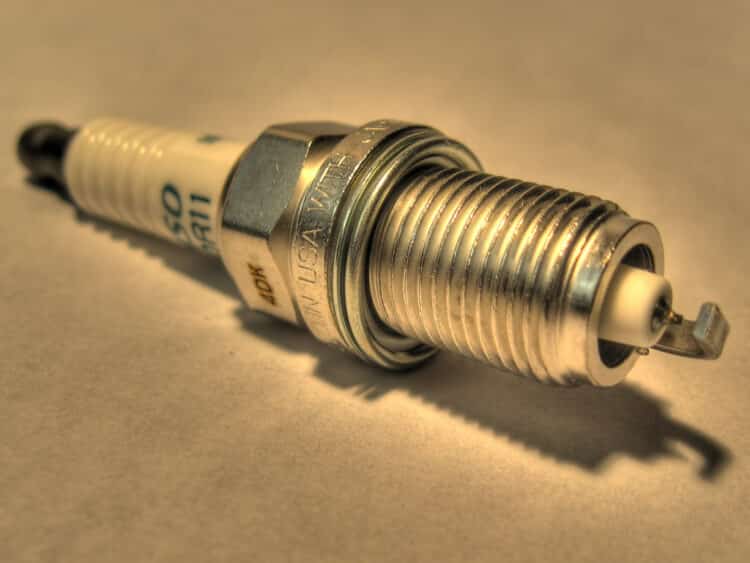 You have a bad lawn mower spark plug, but you don't know how anything about it, let alone changing it. So what should you do?
The best thing that you can do is to learn everything about your gas-powered lawnmower. And many of its essential parts like the spark plug. And maybe, when something untoward happens to your mower, you will be able to diagnose the problem and fix it immediately.
As you will soon learn, a mower's spark plug has a crucial part in the engine's overall functionality. If it doesn't work correctly or will not fire up, then your lawn mower will not operate as it should be.
But what is a sign that spark plugs need to be replaced? Or what causes a spark plug to turn black? Or what does a fouled spark plug look like?
There are a few ways to find out the solutions to those plug issues.
To find out the condition of your mower spark plug, here are five steps you can do, which are intentionally simplified:
Once you know where to find the spark plug in your lawnmower, disconnect it.
Then take it out.
Scrutinize the electrode for any damage
Find out the electrode's condition, if it normal, wet, or made dirty by carbon.
Substitute it if the state of the electrode is damaged, worn out, or in a bad condition.
The obvious evidence to tell if the spark plug in your lawnmower isn't good is that the engine has a hard time starting than usual, as its engine follows only two procedures for starting up, either with gasoline or spark.
If you've filled up the tank with gas, so most likely your mower won't start because of the lack of spark.
When you pull the ripcord on your mower, it will stutter first, and you may have to pull it a couple of times more to start. Its engine would have slower acceleration and will soon lose power.
You may not notice it immediately, but in time it will get worse. So there's something that needed to be done for your lawnmower and its spark plug.
What does a bad lawn mower spark plug look like?
If you know how to look at a spark plug and read it, you can save time determining the nature of its issue and may even make an incorrect diagnosis.
It is a crucial component that bears the life-giving spark to your mower engine. And mixed with the correct gas to air blend, it supplies the essential combustion to make the motor run.
Also, the state of the plug will reveal signs of the general condition of the engine. By looking for fatigue and carbon deposits, you will find out that it's either getting gas too much, worn out, getting gas too little, or operating too hot. When this happens, you will most likely need to change it.
If you have bad or fouled up spark plugs, it causes many issues to your mower like engine misfires, unable to start motor, bad gas mileage, and overall unsound operability.
If any of these happens to your mower, then the first thing you'll be checking is your spark plug.
Why you need to check on the spark plug first
Whenever a spark plug becomes defective, it is the chief reason for bad performance in your engine.
It won't cost a lot to replace a spark plug. It's a cheap component in your mower.
If you haven't replaced the spark plug for more than two years, the issue most like is a worn-out plug.
If you mow your lawn at least once a week, then you also have to do the regular maintenance of your engine. You need to check on the overall performance, and if you know how to read the spark plug, it will save you time in finding a way to fix an issue that may happen.
How to read spark plugs
Learn its many parts- If you want to have a spark plug diagnosis and be able to read it, then you have to know the specific parts, from top to bottom:
Side electrode
Central electrode
Insular tip
Threads
Gasket
Shell
Insular
Terminal
Analyze its condition- After removing it, you will observe any of these conditions:
Normal
Fatigued electrode
Busted electrode
Wet (from gasoline)
Congested by carbon
Burnt
Oil deposits
Match its state to the above mentioned conditions.
What does it do?
Knowing about a functioning spark plug and its use in your gas-powered mower engine is crucial in learning what it does. Its role is the same as any other smaller engine type like your mower.
It's an electrical machine that is attached to the engine cylinder head. Its main task is to create a spark to the fuel ignition to produce combustion in the engine. Whenever it goes bad, it will result in any of the conditions mentioned in previous segments.
Where does it get its power from?
The plug is attached to a magneto or ignition coil that generates high voltage, which develops as electrons course from the coil. The voltage occurs between the side and central electrode.
No electrical current can flow because air and gas in the gap between the central and side electrodes is an insulator. As the electricity begins to increase, it will alter the composition of the gases in between the electrodes.
As the voltage surpasses the gases' dielectric strength, it will be ionized and becomes a conductor that enables electrons to course through the gap. Spark plugs in small engines in lawnmowers need an electrical voltage between five to fifteen thousand volts to spark.
If it's functioning as it should be, it will create a spark that ignites the air and fuel mixture in the combustion chamber. Without it, the piston that makes the blades of the mower work will not rotate, and fuel cannot be burned for energy.
However, spark plugs are made to be durable. While their design is simplistic, they don't last forever.
As they proceed to break down from wear and tear, it will fire sporadically and make the engine stutter.
How can you tell if your lawn mower's spark plug is bad?
As time passes and wear and tear happens to the spark plug, it will make it harder to start. You'll always be pulling at the ripcord, which will take a couple of minutes.
A badly busted and worn-out spark plug will make the engine stalls and grinds to a halt in areas where there supposedly taller grass to cut. Another situation when this will happen if you mow going uphill and strain the engine to its maximum breaking point.
A riding mower will take longer to start when you turn on the ignition key. While a pull mower will take a couple of minutes of pulling to turn it on.
Fouled plugs in a lawnmower will develop more than usual performance issues and eat up more gasoline than usual. You might also smell gasoline whenever you are mowing your lawn.
A spark plug that's already too worse for wear will show signs that you can see with your two eyes. You will see the center electrode be flattened. There should be a circular protrusion almost touching the side electrode.
If it looks flattened and rounded on the gap with some cracks, then it's time to substitute it.
As your mower engine runs for long periods, the spark plug will become hotter than usual. It enables the gap between electrodes and central plug to become larger, thus lessening the capability to ignite sparks.
For this reason, you need to turn off the mower and let the engine cool down for at least one hour. This way, the engine won't keep cutting in and out.
As mentioned earlier, a sign when the spark plug is bad because of excessive consumption of fuel. You will notice that your lawnmower will be needing constant refueling.
If this happens, your gas isn't burned off completely, thus increasing fuel consumption. Since it's not entirely burned, you will be smelling the odor of raw gasoline.
How often should you change the spark plug in your mower?
How many times should you replace an oil-fouled spark plug? Experts say to substitute a plugin with a conventional mower once in an active season or about twenty-five hours of use.
That's just a safe estimate, and you can still use it more than that amount of time. You can also tell the engine's running ability if you need to substitute it or not.
Realistically, even though the mower is still running fine, you'll need to replace it after two years. Anyway, they're very inexpensive and only cost a few dollars.
How to clean it
You can clean a spark plug if it's wet from oil buildup or too much gasoline. However, if it's badly corroded from burnt or carbon deposits, then you can't clean it anymore.
If your mower is acting up and you suspect it's because of the sparkplug, you have to remove it to find out. Once it's out, you'll need to examine it to find out whether you can clean it or it needs to be substituted.
If the center electrode has been flattened, rounded, or has any cracks or chips, you need to replace it (which entails another process in the following section).
If the spark plug looks alright but has some dark discoloration because of oil or gasoline, then you can clean it up.
First, spray the spark plug with starter fluid or brake cleaner. Let it soak up the liquid for more than ten minutes.
After reaching the ten-minute mark, take out a clean rag and wipe it thoroughly until you've gotten rid of all the residue.
Repeat the process a few times more if you think there's still residue remaining.
After it's clean, you should examine it closely again. If you have noticed that there was some previously unnoticed damage, then it's time to replace it with a new one.
How to change it
Replacing the spark plug of your lawnmower with a new one might be a little daunting if you're doing it for the first time. However, once you are used to it, you'll find out it's quite easy and uncomplicated.
Here are the tools you need:
Spark plug socket measuring 13/16 or ¾ inches
Ratcheting socket driver
Spark plug gauge
You can get everything you need in an automotive or hardware center. Here's how you can change it:
Unfasten the spark plug wire from the lawnmower. While doing the process, also clean around the plug and wipe any excess residue that may be present.
Carefully unscrew the plug with the spark plug socket. If you haven't taken it out for a while, it might be stubborn and be stuck. If it doesn't seem to budge from your upper body strength, spray it with WD40 or any penetrating lubricant.
Give it a couple of minutes for the liquid to work its magic. Then try to unscrew it again.
After taking it out, carefully examine it, especially the electrode. If it is dry, but you can find an odd chalky substance on it, there might be an issue with the carburetor. It might have been taking away the fuel from the engine.
Dispose of the old spark plug. Unpack the new one and examine it first. Some are matched to the particular engine, which is already pre-gapped. This can be checked by the spark plug gauge if it corresponds to the specifications of the manufacturer.
Insert the new spark plug in the porthole and tighten it with the force of your strong fingers. To tighten it some more, use the ratchet and sparkplug socket.
Give it a good quarter turn to seal it tightly. At this point, do not tighten it anymore, or the plug might crack.
Write down the model number of the spark plug for safekeeping. Over time, it will wear off from wear and tear, so it's better to have that information in a safe place.
Can the wrong one damage the engine?
The wrong one can damage the mower's engine since different types of models need specific spark plugs. It is essential to go through the user's manual of the lawnmower to find out the compatible one.
A sign that the incorrect plugs were attached prior is that the electrodes are either busted or flattened. A sparkplug that is longer than necessary will inflict damage to the engine of your mower. A too-short one can weaken the engine's performance and waste fuel.
A defective sparkplug left in the engine for a long period will inflict problems on the piston rings.
What causes it to fail?
There are different reasons why a spark plug fails. The most common cause is a buildup of carbon. It happens because of a congested air filter, a snapped distributor case, a grimy fuel injector, or incorrect air to fuel mixture.
Another reason is that oil has contaminated the spark plug, thus causing it to fail. If oil seeps in and coats it entirely, it will induce damage over time. If the seal fails, then oil seeps into the combustion chamber.
Maintaining the spark plug in your lawnmower
As you already know, spark plugs don't last forever, so don't expect them to be that way. Yet you have to be sincere in maintaining it properly along with other parts of the mower. If not, the whole contraption will suffer.
Also, you have to set a schedule for regular maintenance in active mowing seasons. Yet occasional in-season maintenance is also essential.
Cleaning dust and debris
Whenever dirt particles about the whole area where the mower is situated, it will affect its performance. Its tiny fragments will into the air filter, thus wreaking havoc on the entire system, including the spark plug.
If this occurs, the air to fuel ratio in the combustion chamber in the engine will result in an untimely buildup of carbon surrounding the spark plug and in the carburetor.
At the same time, the same dirt particles can also get into the fuel tank via the gas cap. Even when you remove the cap and refill the tank, it can also get in, which causes a problem.
As it falls slowly and settles into the bottom of the tank, it will begin to amass and congeal. If you still run it with low fuel and with that in the tank, the dirt will be drawn into the fuel line.
It will hinder the fuel's passage into the system of the engine and can congest the fuel filter of the mower.
Replacing or cleaning the air filter
Over time, air filters congest naturally. If you look it another way, they're only doing their tasks.
When they are working as they should be, they catch airborne dust particles before it goes into the carburetor. As dirt continues to build up, it can steal the necessary air to ignite the air to fuel combination in the combustion chamber.
And much worse, excess debris and fuel can inflict harm and corrode the spark plug.
To clean the air filter, you only let loose the threaded bolt the clenches the lid in its place. You can clean any dirt that you can see with a piece of cloth. If you have an air compressor, you can expel out the debris.
Some newer lawnmowers have more sophisticated filter systems. So you have to go through their user's manual to check on the proper procedure.
FAQ or frequently asked questions
When it becomes white, what does it mean?
Whenever the spark plug turns to white looks like it's scalded, which means it has become too hot. The reason might be either improper timing in the ignition or something to do with the cooling system of the engine.
When someone is talking spark plug gap, what does it mean?
The distance between the side and center electrodes must be exact so that the spark plug will spark as it should be. Gapping the plugs refers to the adjustment of the two electrodes' distance, and it requires a feeler gauge to properly gap it.
The gap should have a particular width. If the gap is too little, there isn't enough distance to provide the necessary power to ignite the fuel.
What should the gap in my lawn mower's spark plug be?
Each lawn mower model usually has a spark plug specific to it. So if you want to know the precise gap for yours, you can find it in its user's manual, or you can find that information on the website of the manufacturer. But the gap ranges from .020 to .030 inches.
Which places can I go to but the spark plugs for my lawnmower?
As mentioned earlier, always list down your spark plug's model number, which is important information. It is because you'll be searching for the exact one you need online.
The Amazon website is an excellent place to start. They have many spark plug stocks available for all mower models.
You can also go to your local hardware store to find the right replacement type, just bring along the model number with you.
Can a defective spark plug make the mower engine catch fire?
It can happen, but for a lawnmower, it won't likely happen. Even if the fuel is leaking through, there's still a one percent chance of the engine catching fire.
The mower engine will probably fail first before it will burst into flames. If you are concerned that your lawnmower will be that way, consult a specialist with engines.
How can you use a multimeter to test a spark plug?
A multimeter is an excellent way to check if your spark plug has gone bad. And it's not difficult to do it.
First, set it to ohm, then tap the two leads together as a test, which should show a zero reading.
Then attach one lead to the electrode of the spark plug and the other to its top. A reading between 5k to 15k ohms is normal for small engine plugs. If the reading is outside both ranges, then it has gone bad.
Conclusion
A bad spark plug is always a pain in the neck. You want to be able to mow your lawn in peace as quickly as possible. So you can get on with your day.
However, as you already know, cleaning and replacing a spark plug is a very easy procedure. And also, buying one won't be an issue since it's quite cheap.
So mow your yard to your heart's content, and don't worry about its spark plug going bad! You can whip it into shape and make it good again.