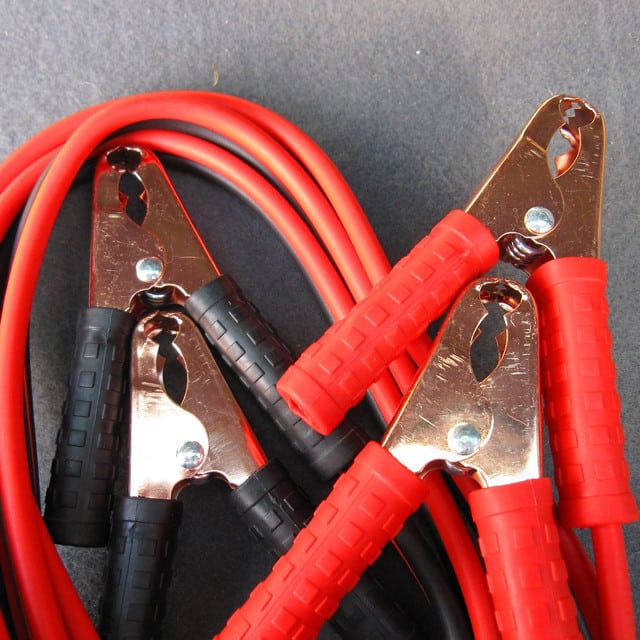 Are you curious to find out: that can you jumpstart a lawn mower with a car?
Lawnmowers are one of the most important pieces of gardening equipment in a typical backyard or lawn. They are dependable and durable pieces of machinery that always get the job done.
On some rare occasions when your lawnmower gets busted and does not even turn on, you find yourself in a conundrum.
Upon inspection, you discover that its battery is as dead as a doornail, so what will you do?
You can try jumpstarting it, but can it be done? Is it a good idea to jump-start a lawn mower with a car?
Can you jump start a lawn mower with a car?
As it turns out, you can jumpstart your mower with a car, as long as it has a twelve-volt battery.
If you are not sure about yours, check on the battery info in your mower. It will be in a form of a sticker or stamp located on the battery casing, and there it will indicate the voltage.
If you do not know where the battery is situated in your mower, it can be behind the wheel, under the hood, seat, or drink-holder. Check on your mower's user's manual for further details.
Are there any pre-jumpstart procedures?
Before performing the jumpstarting process, there are some other procedures you need to check beforehand.
Check if the battery is not leaking and secure. If it is leaking battery acid, it can burn your skin and eyes, so wear protective goggles and gloves.
Check the terminals if they are not damaged and also secure. If they are damaged or loose, it will result in electrical arcing prohibiting power to reach the starter.
If the terminals are dirty, you have to clean them before jumpstarting. The dirt will look like white chalk stuck on the battery posts and terminals.
If the terminals are loose, corroded, or dirty, it will enable resistance to the electrical current from the battery going to the starter. It will keep the battery from being recharged by the alternator.
Get baking soda and sprinkle some of it on the terminals along with a tiny quantity of water. It will get rid of the corrosion and neutralize the acid.
Get a wire brush to clean the surface of the battery. Gently unfasten the terminals and also clean surrounding the poles and terminals.
Get petroleum jelly and apply it to the battery for protection against corrosion.
If the battery terminals look to be too corroded or damaged, there is no sense in jumpstarting it, and you will have to replace it.
What are the steps to safely jumpstart your mower?
Bring your mower close to your car
Bring your lawnmower to where your car is situated, near enough for jumper cables to connect. You can push the mower close or vice-versa and choose the easier way.
Make sure that they are not touching, or else a short circuit might happen and end up damaging both mower and car.
Clean the terminals
As mentioned earlier, the terminals have to be cleaned before you begin the jumpstart procedure.
You can also use steel wool or good-quality battery terminal cleaner to cleanse the corrosive elements.
Get a good quality booster cables
To jumpstart your mower, you need booster or jumper cables.
Make sure they are made of excellent quality since you are doing potentially dangerous work. You do not want to be accidentally electrocuted due to faulty cables.
Also, poor-quality cables do not provide a good connection and will make the task harder. Make sure they have jaw clamps with a firm grip, with strong and flexible cables.
Connect the cables
You have to know how to distinguish the markings on the batteries and where to connect the cables. Some battery poles have a red coloring for positive and black for negative.
All batteries have a clear positive (+) and negative (-) mark.
To gain access to the batteries, pop opens the hood of the car and remove the plastic shielding from the battery terminals. Do the same thing with the mower batteries.
The first thing you need to do is connect the red cable clamp to your car battery's positive terminal and the other end clamped to the mower battery's positive terminal.
Then connect the black booster cable to the negative terminal of the battery of the car. The other end should be clamped to the tough portion of the mower's engine, NOT the battery.
Then start the car and wait for a few minutes for the electricity to course through and charge the battery of the mower.
Do not touch or do anything to both vehicles while the charging continues. If you detect something wrong and no charging is happening, disconnect the red cables first one at a time, then the black ones.
Then do the whole charging process again and make sure to do it in proper order.
Check if the mower will start
After a few minutes and you are sure that a good amount of electricity has passed from the car battery to the mower battery for charging to take place, start the mower while the car engine is still on.
In an ideal scenario, your mower should turn on. But if not, let it charge for an additional five minutes, then do the process again.
Disconnect the jumper cables
Once your lawnmower can start, it now has enough juice to do its task of mowing grass.
Disconnect the cables in the opposite order, starting from the black clamp on the mower's engine. The next is the black one from the battery of the car, then red from the mower, and red from the car.
Ideally, you should let the charging process continue for ten minutes until the mower's battery is fully juiced. Otherwise, you can now use your mower for cutting grass.
What will you do if jumpstarting does not work?
After disconnecting the cables, the engine suddenly dies, and you try to turn it on but do not start. It means the battery may be shot and has lived out its lifespan.
An average battery of a lawnmower lasts for only three years before it cannot be charged anymore.
But if your mower can still function after jumpstarting but clunks out to a stop after a few minutes, either the voltage regulator or alternator is the culprit.
The function of the voltage regulator is to provide the right amount of power to course through the electrical system of the mower.
And the alternator's role is to let the battery remain charged while the engine is operating.
If you lack the know-how to distinguish between a malfunctioning voltage regulator, battery, or alternator, you have to bring it to a professional repairman to get it fixed.
How can you keep the battery from losing its juice?
The principal reason for batteries to last as long as they should is due to the three components mentioned above.
The battery, voltage regulator, and alternator should always be in proper working order to have a productive mowing session.
After the mowing season is over and the lawnmower is stored in the garage for winter, the battery will slowly drain its juice. Some homeowners will remove the batteries from their mowers and store them on shelves, which is better than leaving them elsewhere.
You can also get a float charger that enables your battery to be charged during winter. The way to use is to connect its clamps to your mower battery and plug it in an outlet.
Leave them fastened to each other all winter, and you can immediately use them once spring arrives and mowing season starts anew.
Are there other jumpstarting methods?
There are probable risks involved in the car-to-mower jumpstarting technique. You have to follow safety precautions at all times, especially when handling potentially dangerous equipment.
As long as your lawnmower functions in a twelve-volt electrical system, you can do this technique. But if you are a little nervous about doing it this way, there are other procedures you can do.
Use a spare battery to jumpstart your mower – This entails a similar procedure as mentioned above by hooking up the booster cables on all the same areas.
This necessitates thick cables and secure connections to work. It is because you will be relying on the stored power of the battery instead of the strong electrical current of the alternator of a running car.
If it works, then problem solved, and if not, the battery does not have enough jumpstarting juice.
You can push-start your mower to work – This technique only works for lawnmowers that have clutches and access to a steep hill. If not, you can have someone push you while you are driving the mower.
Always be cautious and make sure no one is in front of your pathway or any obstructive elements.
Switch the ignition on and let the mower and prepare to downhill or have it pushed by someone.
Then follow these exact steps: First, push down the clutch and change the transmission to the lowest gear.
Then hold down the clutch and let go of the parking brake. Once you are pushed or going downhill and gaining enough speed, let go of the clutch.
The mower should turn on, and you can let the battery charge by itself, then you can now begin mowing.
How can I keep my battery in good working condition?
As you already learned, the battery is one of the most important components of your mower. It is as important as the blades because if either one malfunctions, no grass will be cut.
It is of utmost importance to keep it in good working condition in the off-season. This way, once spring has sprung and mowing season begins, you can immediately use your mower.
Here are a few ways to keep your mower battery in excellent shape:
as mentioned earlier, keeping it charged with a float charger throughout wintertime can increase its longevity. If not, its power might get drained if stored in the garage along with the mower.
Storing the battery in a cold area like a garage is bad and detrimental in the long run. If you do not have a float charger, store it in an area indoors where the temperature is above fifty degrees.
Keep the battery terminal clean at all times. It should be included as part of your regular lawn mower maintenance before it is used to cut grass.
Get a top-quality terminal cleaner for cleaning your battery terminal. It is a brush that has steel bristles, which is specially designed for terminals.
How can you choose the right lawnmower that fits your needs?
Now you know what to do whenever your lawnmower battery suddenly dies. But if you decide to get a new one again, you want something that fits your needs and would not have the same problems as before.
Here are a few suggestions to help you choose the right mower that suits your needs:
Riding or walk-behind
The first step in the selection process involves yourself or the person who will do the actual job of mowing. Do you prefer to walk behind or ride it?
A one-fourth acre lawn is a threshold for a walk-behind mower. Any larger than that, a riding mower can get the job done quickly and efficiently.
Choose the features of your mower
After selecting whether to ride or walk, you need to consider two factors that determine your purchase: your comfort and budget level.
The more expensive the mower is, the better it will be in all aspects of performance, like being faster, more efficient, durable, and versatile. If you select a cheaper type, then it would not have the benefits of costlier models.
However, if you only have a small lawn, you will likely choose a less expensive mower. But if your yard is larger, you may want to get expensive ones with powerful features.
Learn about walk mowers
Walk-behind mowers are the most versatile grass-cutting machines available in the market today.
They come in a wide range of selections along with various features and costs. Before deciding on getting one of these types, ask relevant queries to the sales staff about their particular attributes to learn if they are compatible with your needs.
Walk-behind lawn mowers have different subtypes (which refers to their drives and functions):
Front wheel drive – This type is useful for even ground that has many obstacles. It enables you to push the handle, which reduces front-wheel traction and swivel in and out of corners.
Rear wheel drive – This type is practicable for mowing going to the side or uphill. As it mows, the front wheel would not lose traction as it goes up or sideward.
All-wheel drive – It is a very recent type and made for homeowners that have different kinds of lawn surfaces, which makes mowing easier.
Two-function – It refers to a mower's capability of being able to mulch and bag at the same time. Mulching is healthy for the lawn since it returns freshly cut grass that is still rich in nitrogen.
It does not function well for tall grass in spring, early summer, or early autumn since the grass bounces back from the stress of summer.
Three-function – It refers to the mower's ability to bag, mulch, and discharge the grass at the side. It is useful in mowing in places with non-turf grass and tall weeds.
Here are the common features of walk-behind mowers:
Deck levers – Come in groupings of one, two, or four
Ground speed control – Usually a separate lever or a metal rod and used to increase or decrease ground speed.
Transmissions – Either hydrostatic or belt-and-pulley system
Gas engine sizes – Runs from one-hundred forty to one-hundred ninety cc, small to large, least to most expensive
Rear wheel side – Larger that the front wheels that helps in navigating rough surfaces and ruts
Ball bearing wheels – Easier to push than those that have bushing type wheels
Blade-brake clutch – Mostly in high-tech walk mowers, it enables to release of the operation control handle while not turning off the engine
Some walk-behind mowers have uncommon and special features:
No oil change – It is also called the Just Check and Add feature, which means to periodically add oil to substitute the small amount after vaporizing
Front caster wheels – It is useful for elaborate lawns that necessitate lots of swiveling
Wash-out fittings – It allows you to connect a garden hose under the deck to wash stuck grass and dirt
Wide cut mower – These types have decks ranging from twenty-eight to thirty-three inches, compared to regular twenty-two-inch mowers
Electric walk mower – Excellent for small yards, have smaller decks, less powerful, might need more batteries if the lawn is large
Learn about ride mowers
Riding mowers are more expensive than walk-behind ones, but if you can afford them, then get one immediately. They work comparatively better, faster, and more efficiently for larger lawns.
Riding mowers have three subtypes: lawn tractor, rear-engine, and zero turns (which will be further discussed below:
Lawn tractor – It has a front-mounted engine whose size ranges from eighteen to twenty-five horsepower with a single-cylinder V-twin. It also has a steering wheel and a lever-operated gear transmission.
Some newer models have CVT or continuously variable transmission, or a foot pedal hydrostatic transmission. Their deck widths range from forty-two to fifty-four inches, which can now more than four acres of grass.
Rear-engine – These types work best for yards that are too big for a walk-behind mower but too small for a lawn tractor.
These have single-cylinder engines ranging from thirty-four to thirty-eight cc and about ten to eleven horsepower.
They also have CVTs that function by a shift on the go-hand lever. Their deck sizes range from thirty to thirty-three inches, have manual hand levers for deck engagement and adjustment.
Zero-turn – These types have become prevalent grass-cutting equipment for homeowners as well as landscape contractors. Their rear wheels have dual hydrostatic transmissions that make them faster and easy steering. Due to that, it enables the wheels to pivot quicker in corners.
Their engine sizes range from four hundred fifty-two cc to seven-hundred with twelve to twenty-five horsepower. Their cylinders are either single or V-twin.
Their deck sizes range from thirty-two to sixty inches, which enables them to cut grass quicker. They have either fabricated or stamped decks, with a foot pedal manual hand lever deck adjustment, and electric PTO or manual lever deck engagement.
FAQ or frequently asked questions about mower batteries and lawnmowers in general
How do take care of a riding lawn mower battery?
As you have already learned, riding mowers use gel batteries with a lead-acid twelve-volt design.
Batteries usually die out due to too many tries in starter turning or sitting unused for an extended period after shorting out.
Proper battery care practices include cleaning the terminals of corrosive elements, refilling and monitoring the battery, keeping them charged during storage, making sure that the terminals are screwed tight and never loose.
How do you charge your lawnmower battery?
You will need a battery charger to charge your mower battery. You will have to remove it from your mower and make sure to disconnect the black negative (-) terminal connection.
A regular charger can still charge either a lead-acid battery or a maintenance-free battery.
You can use a smart charger to charge your battery, which you can leave on your mower during the off-season.
What is a smart charger, and how can you use it?
It is also called a trickle charger that has a low one to three amp charge that maintains the battery.
There are three various types of smart chargers:
Manual – Can be turned off and on
Smart auto charger – Automatically turns off and on as the battery needs
Hybrid – Can use as an amp charger
Solar – Powered by the sun
Using them for your mower battery is simple, and you only have to clip on the color-coded clips on the terminals.
Trickle chargers enable mower batteries to last longer and will immediately work when mowing season opens.
How long do mower batteries purportedly last?
Generally, a typical riding lawn mower battery can last for four years. As it gets closer to the lifespan conclusion, you will notice it cannot hold its charge as long as it did when it was still new.
Mower batteries have a low capacity for electricity storage, and even a small power reduction can have a massive effect.
If you will not be using your mower and the battery is still in excellent condition, it can hold an electric charge for about three to four weeks.
Why does my battery keep on draining?
Your battery keeps on draining is due to loose connections in the battery posts. It will make your batter work twice as hard and drain the power quicker.
To fix it, just tighten the connection and clean the posts, which will reestablish the ability of the battery for folding a charge.
It can also be due to a cracked battery case, which is a bigger problem. When this happens, it cannot be fixed anymore, and need to replace the battery case.
Can a lawnmower still run with a dead battery?
No matter which type of lawnmower you use, whenever a battery dies, it would not run anymore. You can try one of the jumpstarting techniques mentioned above, or you charge it for a few hours.
You can determine if your battery is dead by using a multimeter, or maybe some component in the electrical system is malfunctioning.
Can a bad battery result in a lawnmower? stalling
Check first the seat switch if it is has a loose plug or bad wire or if any safety switches are functional.
If your mower is stalling, it can be due to a bad battery, a faulty or weak charging system, or a malfunctioning clutch. Charge up the battery and try to restart the engine.
Conclusion
A mower battery is one of the most essential components in your lawnmower, even as important as the blades.
Batteries provide the necessary power to cut grass as evenly and neatly that only lawnmowers can.
It is your duty as a homeowner to take care of it when mowing season is over and have enough juice when spring has sprung and the grass is growing again.