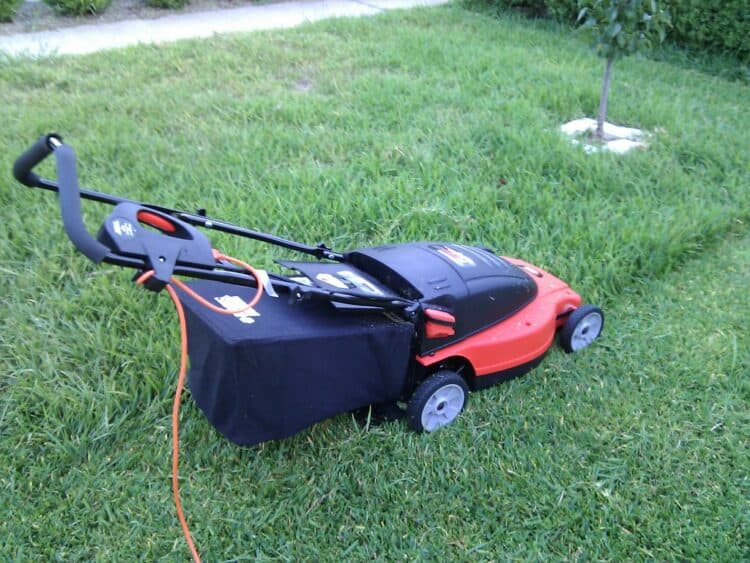 You're puttering aimlessly around your yard, and a single thought suddenly hits you: What size lawn mower do I need? It's like a bright shining light that came out of nowhere and piercing your soul. You need, no, you want a mower and fast.
However, you know next to nothing about this big gardening equipment. So you want to know more.
The first thing you need to know about is the different mower types.
Three types of lawn mowers
Rotary
These kinds of mowers are fashioned like airplane propellers. They have one blade situated below the mower that revolves horizontally.
These are highly adaptable that can contend with all kinds of grass and surfaces. Compared to cylindrical types, they are more proficient in cutting tougher and longer grass.
It will make an excellent all-terrain mower. For power, these are versatile in this regard and can be powered by either gas, battery, or electricity.
Cylinder
The way that cylinder types are differentiated by their cylindrical revolving blades is at the lawn mower's frontal section. They can cut with a fixed blade situated at the bottom portion.
These types are more effective of flat yards that need to be kept well-manicured and short at all times. They can either be powered manually through push mowing, electrical, or petrol-fueled.
Hover
These types can move around the lawn by hovering above ground. It makes it easier to maneuver and push it on harsh surfaces. These work well with oddly-shaped yards that aren't even. Also, these are relatively cheaper than the other kinds.
It's the best lawn mower for small spaces and wouldn't suit bigger lawns and gardens. They are powered by electricity and utilize rotary blades.
Power alternatives
Electrical
A lot of lawnmowers available in the market today use electricity as their chief power source. These serve well for regular-sized suburban and residential lawns.
These types are smaller and compact, and storing them won't be an issue. The cost to buy them ranges from one hundred to three hundred US dollars.
Hover types are less expensive and cost around seventy to one hundred dollars.
Battery-powered or cordless
These types are the best ones to steer around and are hassle-free. These have all the positive aspects of the electrical types but do not include a power cord.
Yet the negative aspect about this is the cost, which can be expensive. It is because of the battery it lugs around, made from lithium-ion cells.
The newer battery-powered models have lighter lithium-ion batteries, so carry them around with the mower won't be a heavy issue. However, these types are still expensive.
Their average cost ranges from four hundred to seven hundred dollars for a battery-powered mower.
Gas or petrol-powered
These types are the best ones to be used for larger yards and gardens, which the cabled ones are not suited for. They come at heftier prices, but despite that, they're more powerful and quick-cutting.
It's the most appropriate riding mower for uneven terrain. Like all machines that need gas for power, they will have to be maintained and serviced regularly, including oil topping up and changes.
These have prices that range from two hundred to seven hundred dollars, which will depend on your power necessities.
Push or manual
These types utilize manual power coming from a person's physical prowess. These have small cylindrical blades in front that you can push around your yard and do not emit smoke or make a loud sound.
These work best in smaller and even lawns. These wouldn't work well with bigger and sloping yards. Also, people with no upper body strength will have a hard time pushing this.
The cost ranges from fifty to one-hundred-fifty dollars.
What size lawn mower do I need? Mowers for different lawn sizes
You might be wondering, what size is my lawn? And what is the best-sized mower for it? A good example is a tennis court's size.
An entire full-sized tennis court is measured like a medium lawn. One-half or less would be classed as a small yard. Any size bigger than the court is regarded as large.
Small yard measuring up to one hundred square feet- The best mowers are electric and cordless mowers.
Medium yard measuring up to one-hundred to two-hundred-fifty square meters- The appropriate mowers for this size are cordless, electric, and gas mowers.
Large yard measuring up to two-hundred-fifty square meters and above- The best ones for it are gas mowers.
Other mower features
All homeowners need an all-terrain lawn mower that can cut different grass types in all sorts of conditions. But unfortunately, choosing the right one is on a case-by-case basis. One particular homeowner might need a different sized mower than the next.
However, to accommodate each homeowner's varying needs, there are other factors to consider:
Self-propelled
Some gas and electric types have a self-propelling feature. It is good news for people that don't have any upper body strength (but still want to do manual labor) because you won't have to push them anymore. You only need to maneuver them to go in the right direction, and that's it.
In turn, it makes a once arduous task of lawn-mowing an easier process, particularly for bigger yards and heavier mowers. Some even have a setting for different walking speeds. So you can adjust it to the rate of your pace.
Grass box
Experts usually recommend gathering up the grass cuttings instead of just leaving them in the yard. Some mowers have a grass box situated at their back, so the trimmings are collected instead of just discharging them in the side chute.
Doing it this way is a better alternative than leaving them on the lawn and raking up later. If you have a medium to large yard, you will need a larger grass box with a high capacity. It will save you time and effort of gathering up the clippings and disposing of them.
Mulch mowing
Mulching your lawn is a great way to make your lawn healthier. Some mowers can chop up the grass into tinier pieces and turning them into excellent mulch for your yard.
They are also known by their other name as recycling mowers since that's what they do. They transform what you might think as useless cuttings into mulch materials for your yard.
It is a way to reuse trimmings and giving their nutrients back to the lawn. These mower types are a bit costly but a fantastic choice if you do not have anywhere to discard the cuttings.
Cutting width
The cutting width of a mower pertains to the width of the strip it can cut. It, in turn, determines how long you are going to spend mowing in your yard. The larger the width, the shorter the duration.
Here is a short guide, utilizing the yard sizes from a previous section:
Small yard- Three-hundred millimeters is the recommended cutting width.
Medium yard- Three-hundred-fifty to four-hundred millimeters are the recommended cutting width.
Large yard- Four-hundred millimeter and above are the recommended cutting width.
Cutting height
It pertains to the height of the grass before cutting them. Most mowers have an adjustable setting. To do it, you only have to pull the blades up or push them down.
It will enable you to dictate the grass height. And also, to leave it alone during the months of fall and periods of dryness.
The recommended cutting height ranges from twenty millimeters or 0.8 inches to sixty millimeters or 2.4 inches.
Rear roller
You may have wondered about how the striped lawn in football fields is made. It's done by a rear roller. If the mower and the roller are especially heavy, the stripes will take longer to disappear.
You can mow right into the edges of your yard with rear rollers and enables a well-manicured look.
Mowing edges
If you want the edges of your lawn to be mowed perfectly, you will need a mower with cylinder blades, along with rear rollers.
Also, look for a mower with a grass collection comb or inset wheels at the front. These work well in cutting the yard edges. You would not need to get back to trim it again.
Robotic mower
Recently, these types have become common. These are like Roomba vacuum devices inside your home. Instead of sucking the air out, they cut your grass.
The technology has become better and can now distinguish obstacles in from of them. However, these aren't cheap.
Choosing the right mower for you
Now you have basic knowledge about lawnmowers. The next step would be selecting the one that fits your needs.
Step one: Ride or walk?
Would you prefer to ride or walk behind it?
The largest lawn size for walk-behind mower types is one-fourth acre. That might entail a lot of walking area. Anything bigger than that, you will need a riding mower and will make the job faster.
For more yards more than one-fourth to two acres, you will need either a rear-engine riding mower, a zero-turn mower, or a lawn tractor.
For two acres and more, you will need a zero-turn mower that's good for commercial duty.
Choose your features
After knowing the size of your lawn and selecting either to ride or walk, two factors will determine what you'll buy: your comfort level and budget.
The more you are willing to spend, the better, more durable, and faster the task will finish. If you want to buy the cheapest one, then you will probably get an inefficient mower.
It probably wouldn't make a difference with a small and uncomplicated lawn. However, the bigger and more complicated your yard is, the more you need to consider getting the best mower features.
Walk-behind mowers
Front wheel drive- It's the best one for level surfaces with many obstacles in its way. It enables you to use the handle to push down and reduce the front wheels' traction and able to pivot in and out or corners.
Rear wheel drive- It functions great for mowing uphill and side-hill. The front wheels' traction will still be there once you push the handle down when you go up the hill.
All wheel drive- These work great for side-hill, washboard surfaces, uphill and downhill mowing.
Two-function- It pertains to a mower's capability, which is bagging and mulching.
Three-function- These mower types can mulch, bag, and discharge the clippings in the side chute. Expelling from the sides works great for mowing non-turf grass and tall weeds.
Deck levers- They come in one, two, and four groupings.
Ground speed control- Located in the handle, and can control the mower speed by pressing harder the handle to make it faster.
Self-propelled mower transmissions- Hydrostatic is the costliest and the smoothest in operation.
Gas engine sizes- The larger it is, the more torque it produces and can aid self-propelled types to mow uphill.
Rear wheel size- These can help navigate rough terrain.
Ball bearing wheels- Will make the mower easier to push.
Blade-break clutch- It enables you to let go of the operator control handle without stopping.
Unusual and new mower features- These are:
No oil change, vertical storage design, power-assisted reverse, front caster wheels, wash-out fittings, wide cut mower, and electric walk mower.
Ride mowers
These types are more expensive than the walk-behinds. But if you can afford it, these offer better speed and efficiency.
Lawn tractor- These are the easiest to maneuver. Their engine sizes range from eighteen to twenty-five HP with a single-cylinder, and some even have a V twin.
The cost ranges from 1.3k to 3k US dollars.
Rear-engine mower- This works well with lawns that are too big for a walk-behind mower and too small for a lawn tractor. It has a single-cylinder engine with an estimated size of ten to 11 HP.
It costs from 1.2k to 2.4k US dollars.
Zero-turn mower- These types work well for homeowners and landscape contractors. Its design allows for easy maneuverability and speed due to the rear wheels' dual hydrostatic transmission.
The cost ranges from 1.2k to 6k US dollars.
Conclusion
So you now know everything about lawnmowers. So are you able to answer the question that had suddenly popped up in your mind? Your answer will determine how your lawn will look from now on. Happy mowing!