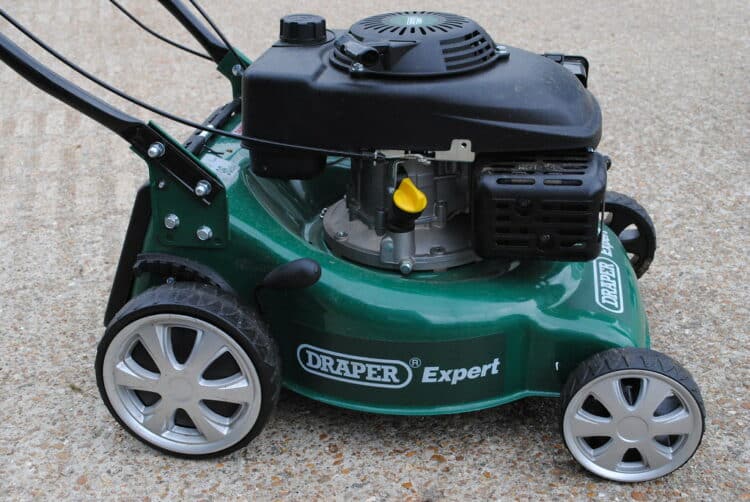 How do you maintain a healthy lawn when you are on a budget? Maintaining a healthy yard can be a difficult task. Apart from investing in an efficient lawnmower, you need to ensure that the lawn is sufficiently watered and the soil is fertilized. You also need to invest in a water hose. Because of the cost implications involved in maintaining a healthy lawn, you need to figure out when is the best time to buy a lawn mower.
A lawnmower is a seasonal product, and you can expect to buy them cheaply if your timing is right. You can expect the prices of lawnmowers to fall during the early fall (September). It is the time the busy mowing season has come to an end. So most stores would want to dispose of the remaining lawnmowers occupying space. Apart from limited storage space, most stores would rather sell the unsold lawn mowers at a discount to use the money for other on-demand inventory.
A typical lawn mower can cost some hundreds of dollars (for push lawn mower), while high-end mowers can cost as much as a few thousand dollars (riding lawnmower). Most people will require a push lawn mower because they own lawns that are smaller than 0.5 acres. If you own a bigger yard, then you need a riding lawn mower for greater efficiency.
If you want to buy a good lawn mower at a Bargain, you have come to the right place. It is possible to get a top-rated lawn mower at a fraction of their price. If you are wondering when to buy the best lawn mower for your lawn, you are at the right place.
Why timing makes sense
Buy smart instead of just walking into a store and making a purchase. A new lawnmower doesn't have to cost an arm and a leg. Luckily, if you are strategic, you can find one that is functional, affordable, and efficient without having to sacrifice quality over the price. It is possible to find good mower deals any time of the year, but there are critical times you should never miss if you are shopping for a mower.
You might be asking yourself why the fuse with timing considerations. If all you want is to buy a lawnmower, why not just walk into a store and buy one? Why is timing important?
It depends on your situation. For example, your lawn could have overgrown grass which needs to be attended to, and you don't have a mower. Perhaps you don't think it will be wise to wait until the end of the season to cut the grass. Therefore there might be a strong urge to buy a new mower right now.
If that is the case, you could consider other options. Maybe you can borrow a friend or use an existing mower for a little while. You could also contract a lawn mowing contractor to take care of the lawn as you wait for the right time. Whatever option you choose, it is worth the wait because of the massive savings you stand to gain.
To find the best time to buy a new mower, you should consider two scenarios:
The first scenario is timing the discount sales. All you need to do is to wait for the right time like black Friday. The second option involves waiting until there is a new product launch. It is likely that when companies are launching new models, the existing mowers are not in high demand. So, their prices drop significantly.
Lawn mower buying timing tips
The price of a product is determined by demand. So the best time to buy something is when no one is buying. When demand is high, expect the price of the item to skyrocket. It means that the best time to buy a lawnmower is when most people are not mowing.
For those reasons, fall is the best time to purchase a lawnmower because most people's focus shifts to preparing for the winter. Apart from demand falling, lawnmowers occupy a lot of space in the retail stores. Shrewd retailers will sell the mowers at a bargain to free the space for more marketable products. So this is purely a strategic business decision. It has nothing to do with the quality of the lawn mowers in question.
Having said that, early September is the perfect time to start looking for a suitable lawnmower. However, there is something you need to remember here. You can wait longer for the prices to be reduced further, but that comes with a price. Your choices are likely to be few
We recommend that you go for a low-price guarantee if your retailer accepts. A low-price guarantee involves agreeing with the retailer that they will reimburse the difference of the prices if you discover that the product costs less elsewhere. A low-price guarantee is valid for a certain period like 30 days. It is critical to scrutinize the terms and conditions of the offer.
Holiday and Summer Bargains
The end of the season is not the only time the prices of lawnmowers fall. Even holidays come with price reductions of such tools because it means people are spending more time in the garden. Retailers may try to get a slice of the action by offering attractive discounts.
For instance, father's day is an appropriate day to watch out for a bargain as most dads would be keen on doing some gardening. Also, watch out for Labor Day.
It is critical to check and confirm that the mower you are purchasing is of the right quality. Some sneaky retailers might take advantage and sell faulty lawn mowers in the guise of offering holiday discounts. The quality and functionality of the lawnmower are paramount. As with the end-of-season offers, look for a seller that is willing to offer a low-price guarantee.
The only drawback to purchasing during the summers is that there is stiff competition from other buyers. So you might end up missing out on your favorite brand if you don't get to the store early enough. The longer you delay, the higher the chances of even missing out on a lawnmower of your choice. Try to buy as early in the summer as possible, but you will still not get the best deal. You have to make tough decisions here.
Are there old models being cleared?
Retailers may occasionally want to clear the stock of old models to give room for newer, shiny models. By the time they are doing this, they have probably recouped their investments and made a tidy profit. So it doesn't cause any harm if they sell the old models at a bargain to give room for newer models. This is likely to be the case if there is a newer tech improvement or change in engine size, efficiency, or other notable components.
For most homeowners, such tweaks may not make huge differences in terms of functionality. So they will be more than happy to buy old models at a discount. It is not unusual to find lawnmowers that are just a year old. Considering that you will be keeping the lawnmower for some years to come, this doesn't make much difference.
The downside of this approach is that it is difficult to predict such sales. You never can tell when they are launching a new model. But most manufacturers tend to launch new models at the end of the season.
Try to sign up for their newsletters and email subscriptions to keep you updated on their next move. It is also a smart way to know when a quick bargain is in the offing.
Take advantage of new innovations
Some people are constantly chasing the next hot gadget, and that can include lawnmowers. Manufacturers know this, and they always take advantage of this craze by rolling out innovations at least once every year. The effect of this is that it pushes existing models lower in the demand ranking. Savvy shoppers can take advantage of this craze by going for the mowers that are a little older.
Remember, apart from the glitz and hype, the old models are just as good as the new models in most cases. The price cuts you can enjoy from this can be huge. You don't want to miss out on this opportunity because all the features of the older versions are most likely intact.
Don't waste a lot of time when you get such an opportunity because sometimes updates can turn out to be average. In turn, buyers can revert to older models with better reviews. If you fail to take advantage earlier on, the prices might jump back to the original price.
Negotiate
Buying a lawnmower is a big investment at whatever time of the year you decide to make that purchase. The price tag on that equipment is certainly not cast on stone. So it is not out of order to ask the retailer to relax their price. You'll be surprised that many of them are willing to give a reasonable discount.
Even if the retailer says NO, you can always ask the next retailer. It doesn't cost anything.
However, care should be taken that you don't become blinded by discounts. Sometimes discounts can be tempting and you can end up making a buying decision that you wouldn't have normally made.
It is important to assess your needs before you get hooked up to the prospect of making big savings.
Before making a buying decision, do your research and go through the different kinds of mowers on offer. Make a decision based on your specific needs.
Watch out for Black Friday deals
Black Friday deals come immediately after Thanksgiving and there are plenty of deals for mower shoppers. When you visit sites like Amazon.com, you will discover that mowers will be at the rock-bottom in prices. However, there is a lot of competition for mowers on this day, so chances are you might not be able to find your favorite lawnmower.
Try Cyber Monday Deals as well
The online equivalent of Black Friday is Cyber Monday. People think Cyber Monday is only reserved for electronic gadgets. But the truth is that you can find something as significant as a Lawn Mower at a bargain. Even retailers with brick-and-mortar stores have opened online stores to cater to online consumers. Most of them have ensured that there is an easy return policy. So you don't have to worry about the risks anymore. If there is an attractive online deal, go for it. Read their return policy in case you get a faulty machine.
January Sales are Attractive too
Retailers often don't like talking about January sales because they fear it might affect their December sales. There are plenty of deals in January where most retailers are trying to make more sales from reduced traffic. If you are signed up for lawn mower retailers' newsletters, you will get to know when such offers come up.
Try July Offers
The independence day celebration is another day that doesn't come into most people's minds. Plenty of activities take place including outdoor activities. Think about the barbecues, pools, and other outdoor activities. You want your lawn to be in its best condition when you host a party in the backyard. That is where lawn mowers come in handy.
Savvy retailers will try to entice shoppers with mouthwatering deals. As you shop for the food supplies, you need to visit the lawnmower shop as well. You will be surprised to see some wonderful lawnmowers.
Clearance sales come with irresistible offers
Most retailers will want to completely clear any stock left after the season comes to an end. Once they have made some profit, they will want to top it up with a lawnmower clearance sale.
As we have already mentioned, this is important because it frees up space and allows for new arrivals. During this time, most stores like to drop their prices to the lowest possible rates. However, don't expect this to come with huge announcements. Paying attention to their newsletters might help.
Watch out for Lawn Mowers on discontinuation lists
Sometimes, a manufacturer may discontinue a certain model. Be on the lookout for such because they come with great discounts. I have seen lawn mowers go for as little as half their original prices.
You might think that there is something wrong with discontinued models. There is nothing wrong with these models except that the manufacturers may want to focus on the new models. So stores look for ways of disposing of the old models so that there is space to stock the new models.
Again, do not expect these sales to be announced widely. If you have signed up for their newsletter, you will get to know when such sales come up.
Try Used Lawn Mowers
You can try to purchase second-hand lawnmowers and save tons of money. Visit online auction stores like ebay.com. Chances are you will get a great deal with a used lawnmower. The downside with this is that you need to be very careful. Study the pictures and read the descriptions carefully. The devil is in the details. It also helps to know why the seller is selling. Also, ask about service and repair history and then make an informed decision.
Some second-hand lawn mowers are as good as new and can go for as little as $500 or below. As long as you pay attention to details, it is not difficult to grab a deal. Someone might be selling their lawn mower because they want to upgrade to a newer or bigger version or they no longer need it. Some might be selling to settle an emergency. As long as you know what you want, you are safe.
Conclusion
Finding a good deal when shopping for a lawnmower is a challenging, yet exciting adventure. There are always opportunities for savvy shoppers to save money and lawnmowers provide plenty of such opportunities. If you are interested in both saving money and getting a great mower, you have to be patient. Timing is everything.
You must take a holistic perspective when you are looking for a lawnmower. Do not just focus on the price. Sometimes saving money is not the only goal while assuming everything else. If you want to save money in the long run, you also have to ensure that you are buying the right machine. Take your time and understand the model, replace parts, and do check-ups. Buy smart.
You don't want to sacrifice quality because of the allure of savings. Remember, the cost of servicing a faulty or low-quality lawn mower is more in the long run. At the end of the day, you not only want a lawn mower that will outlast the average lifespan of a lawnmower, you want to invest in affordable lawnmower. Being a shrewd shoppers entails getting both quality and pricing right.