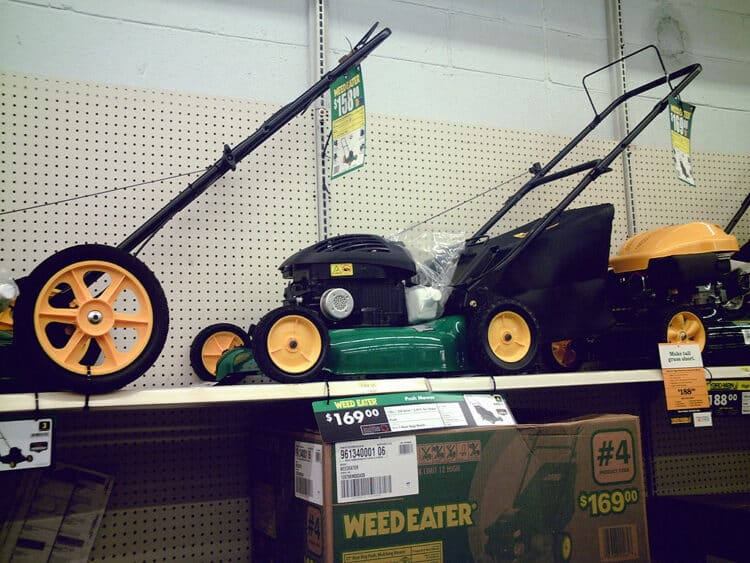 Because of the wide range of lawnmower types available, there is no specific standard on the number of years a lawnmower should last. The phrase 'they don't make them like they used to make them,' is very commonly used to refer to lawnmowers. With stiff competition among different manufacturers, the pressure to reduce price is at an all-time high. The machines produced are lighter, and the parts are of less quality to make them less expensive. You get what you pay for.
All of this is enough to make you ask: how long do lawn mowers last?
You can expect the more expensive models to have better electronic ignition, a battery, an overhead valve engine, and other features. Generally speaking, we expect the costly lawnmowers to last longer than the less expensive ones. But is that always the case? How long should a lawnmower last?
All things held constant, we need to look at the average life expectancy of a lean mower.
Average life expectancy of a lawn mower
All things held constant, expect your lawnmower to last between 7 and 10 years. That means that this is the average lifespan of a lawnmower with proper maintenance and service. Some manufacturers like to measure the lifespan of their lawnmowers in terms of hours of use. So in terms of hours, the life expectancy of a lawnmower should last between 200 and 500 hours. A lawnmower can be very costly. The average lawnmower costs about $800. It pays to take proper care of your lawnmower.
How to maintain your lawn mower to last long
Workload of the lawn mower
The first thing that affects the lifespan of your lawnmower is getting the right lawnmower. If you purchase the right lawnmower, chances are that it will last long. Sometimes, size matters a lot. It is better to use a large lawnmower to lawn a small area than to use a small-sized lawnmower to cut a large area.
For example, if you only want to maintain a lawn measuring about 20 yards by 20 yards, you may only need a small-sized lawnmower. But if your yard is as big as a football pitch, getting a bigger mower can be helpful. A small mower can overheat if it is used to cut grass on a big lawn. If you don't purchase the right lawnmower for your yard, there is no guarantee that the lawnmower will last even if you are maintaining it well. The workload can be a defining factor. The durability of the lawnmower depends on the duration you are using the lawnmower. Apart from the duration of single-use, the frequency of usage also matters a lot. Expect a lawnmower that is used only once a week to outlast one that is used several times a week.
type of grass
The type of grass you are dealing with is another variable that affects the lifespan of a lean mower. For example, cutting short grass does not have the same effect in terms of the longevity of the blades as cutting tall grass. Long grass can get into the motor and cause entanglement. It shortens the lifespan of the machine. Still, on the grass, there are many types of grasses. Some grasses are soft and tender, while other types of grass are hard to cut.
In short, if you are using your lawnmower to cut short, and soft grass, it will last longer than one used to cut tall and tough grass. Although you might not manage to determine the type of grass you will be working with, it is critical to keep your grass short. If the grass in your lawn is tough, you can replace it with softer grass. Cutting grass while it is still short and using the right lawnmower can improve the lifespan of your lawnmower.
The Quality of the machine
Another way to guarantee the longevity of your device is to purchase a high-quality mower. Often, pricing is an indicator of the quality of the lawnmower. When you focus only on the price, you can easily miss out on a quality machine. When it comes to the lawnmower, you get what you pay for. If you are looking for a device that will last many years to come, look at the most critical feature like the engine. You also need to look at the quality of parts, and the blades. When it comes to premium quality pricing should come second.
Unless in rare circumstances, cheap lawnmowers do not last long. Having to buy a new lawnmower after a couple of years can increase the overall cost of maintaining your lawnmower. Indeed, cheap is expensive. Another risk associated with buying a less expensive lawnmower is the risk of a short circuit.
change the oil
Any engine with quality and clean oil and gas tends to last longer. You need to change the oil. Also, ensure that the gas does not get contaminated with water. You must ensure that you use clean, high-quality oil. Some oils can damage your engine or reduce its efficiency and power output. Also, quality oil ensures that your device can start easily.
Apart from buying quality oil, you must also make sure that you change your oil as frequently as possible. It is crucial that you know when it is time to change the oil. Read the user manual and follow the instructions on how to change the oil.
Take care of the blades
The blades are critical to your lawnmower, and that is why they must be kept sharp. If the blades are not sharp, your lawnmower will not be able to cut grass properly and this puts more pressure on the lawnmower and makes it use more power than is necessary. To keep them in good shape always, normalize sharpening them regularly. Follow the user guide to learn how to sharpen the blades. Sharpening the blades should not be a difficult task. You even don't have to spend any money to sharpen the blades. Apart from sharpening them, always make sure that the blades are clean.
Change the filters regularly
One way to get the best out of your lawnmower is to make sure that you change the filters regularly. Make sure you change the filters every time you are changing the oil and fuel of the lawnmower. Doing so will keep your unit in top form for a long time. Besides, filters are not expensive and are easily available.
Clean and replace the mower's spark plug
Regularly cleaning and maintaining the spark plug can go a long way in improving the condition of your lawn more. Clean and replace your spark plugs at least each season. Also, remember to lubricate all the parts to keep the moving parts in optimal condition. Make sure that all screws and fasteners are tight.
<h/3>Let the engine run full throttle
At the end of every season, you should let the lawnmower run full throttle to release the trapped carbonated gas. It is an effective way to clean the interior of the engine.
Timing Is Everything when it comes to mowing
You may feel like mowing your lawn right now, but that doesn't mean that you should go ahead and start mowing regardless of the condition of the yard and the weather. Remember that grass is cut in the morning or the evening hours when the sun is not too hot. It is also critical to cut the grass when it is dry. Mowing very early in the morning when the grass still has dew can shorten the life of the device or even damage the engine.
Apart from causing problems to your device, mowing wet grass will cause the grass clippings to clump together. WIth the trapped moisture and the resultant heat, your grass will start forming patches caused by rotting disease. It is the cause of uneven lawns with irregular patches. Ensure that you mow your yard once a week during summer. You may need to mow twice a week during fall and spring.
Change Mowing Directions
If you find yourself mowing only in one particular direction, it is time to change routines. The problem with cutting grass in only one direction is that you may compact the soil because of the constant pressing of wheels. Changing directions also creates beautiful patterns and encourages the healthy growth of the grass. If you are constantly moving in one direction, grass will lean in one direction and may never recover from that position. So you need to change your mowing directions if you want to avoid these problems. Ultimately, the health of grass determines the longevity of the mowing device.
Other tips
In addition to the above tips, the below tips should keep you safe and save costs.
When mowing on a hilly lawn, use a push lawn mower instead of a riding mower. You should be cautious when riding a mower up a hill or down a slope because you can easily tip and get injuries or damage the device. If you are mowing a hilly lawn and you don't have a pusher, you should mow across instead of mowing up and down. Never cut the grass when the grass is wet to avoid sliding.
Another thing to keep in mind is the pace of mowing. Mowing fast will result in patchy lawns. Maintain a slow pace while cutting grass to avoid leaving behind uncut blades. You can easily be tempted to rush through the mowing exercise if you are running late or you are mowing a large area. It is better to mower a small section and finishes later than to rush.
Pay close attention to your mower when working. If you come across a foreign object or you hit a thick patch, you will hear the sound of the engine changes. Avoid getting too close to fences, concrete patios, and trees when mowing. Exercise a lot of caution.
Some of the most commonly asked
Can a lawn mower last more than 10 years?
Although a typical lawnmower can last between 8-10 years, it is common for lawnmowers to last for more than ten years if well maintained. Some can even last for 20 years if you follow the tips above. I have seen lawnmowers lasting for up to 30 years. Invest in good quality, do regular maintenance and cleaning, change your oil and filters, sharpen the blades, know when to cut the grass, and do not overwork your lawnmower. The secret to your lawn mowers lasting for longer depends on how well you take care of it. You could by the best quality lawnmower in the world, but if you do not take of it, it won't last beyond a few seasons.
Do I need a replacement if my lawnmower is old?
Whether or not you need a replacement will depend on the current condition of the lawnmower. A lawnmower can be old but still working optimally. Sometimes the pressure to buy a new lawnmower has nothing to do with the current functionality. Sometimes it has something to do with keeping up with the johns. You can continue using your lawn more even when it has passed its expectancy. If it is still working, why not?
Conclusion
There is no standard lifespan for lawn mowers because each mower is made differently. However, the lifespan of your mower will largely depend on how well you take care of the machine. As you use your mower, you should always remember that it is an investment that needs to be taken care of. If you take proper care, it will last a long time. You may buy the most expensive and highest quality lawnmower ever, but if you do not take care of it properly, it will not last. For example, if you form the habit of leaving it in the rain, it won't matter that you paid top dollar to acquire the lawn more. The wetness will destroy it. In other words, taking good care of your lawn is more important than everything else.