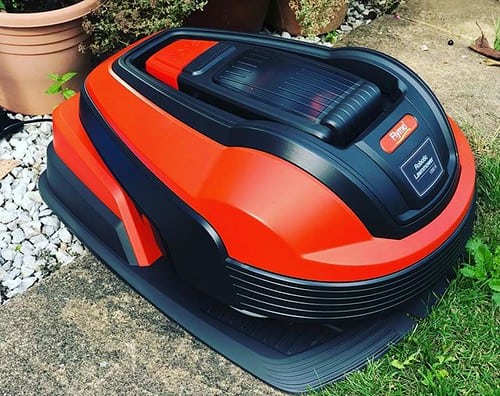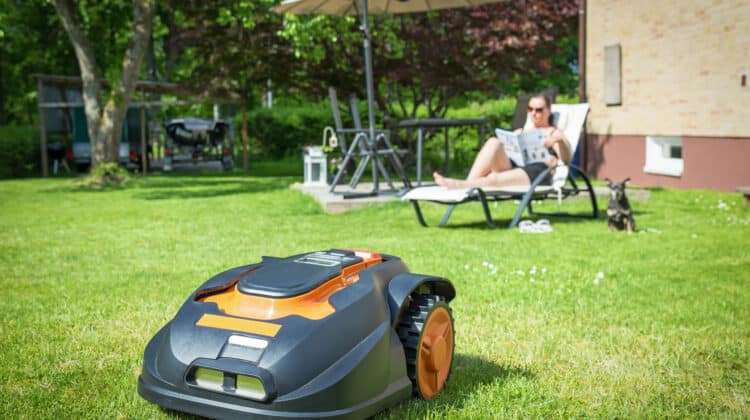 Mowing can be a challenging undertaking for those with large lawns. Riding lawn mowers have traditionally been used to mow massive lawns. But what if you want to add style to your mowing and save time. Thanks to technology, you can now trim your yard with a robotic lawnmower. You've probably seen those devices smoothly cutting grass and disappearing into the neighbor's house immediately after cutting every blade in the lawn. That is an elegant and hassle-free method of keeping your garden clean and well maintained. You may be asking: how do robotic lawn mowers work?
Besides, there are many tasks competing for our time and attention. Therefore, it helps to have automated tools doing some routine tasks for us while we attend other tasks. A robotic lawnmower is an excellent addition to your backyard tools if you are busy and want a reliable device that will give you neat, uniform and consistent cuts. Does this explain why the popularity of lawn mowers is soaring? Let us find out.
So is a robotic mower good for you? According to some research, this new technology is gaining prominence among households. With annual growth of 15%, expect to see more of these robots in the neighborhood. You might as well be the next robotic mower owner. But the question is, do you need a robot lawnmower?
That will depend on the type and nature of your lawn, your budget, and your individual preference. But one thing we can mention here is that these bot mowers might not be effective in dealing with uneven lawns, hill lawns, or big ruts. They might not just be able to do a good job like riding lawn mowers. So before rushing to make that purchase, understand what your needs are first.
On the other hand, robotic lawn mowers can come in handy when you want to cut grass on a flat lawn. If you have a busy schedule, you can set your robotic lawnmowers to do the work for you while you run other errands. Although not every lawn is meant for a robotic lawnmower, some robots are smart. With evolving technology, manufacturing firms are designing better and more powerful robots that can deal with big ruts and sloppy lawns. This technology opens more opportunities and frees the gardener's time.
When you see what a robotic mower can do, you can begin to appreciate the importance of these gadgets. It makes it possible for you to focus on other areas or services as the device works for you. For instance, you can be doing other landscaping activities like weeding the flowers as the bot does its work. It is like working with a co-worker side by side.
How does a robot lawnmower work?
Robot lawnmowers operate on a battery charge so that they can automatically cut the grass for you. Contrary to what many people believe, robotic lawnmowers are not complicated machines. Their simplicity is based on the fact that you only need to set a predetermined cutting height and operational areas and release it.
They can then hustle around the area on predetermined routes and cut grass. As a safety measure, they are programmed to stop when they are lifted off the ground or reverse when they encounter a foreign object like a stone, tree stump, sticks, or debris. They also have a rain sensor that stops them whenever it starts raining.
It is also not easy for someone to lift them and steal them. They come with a Personal Identification Number (PIN). Even if they are stolen, they will be of no use. Modern robotic lawn mowers come with an app to make it possible to operate them using your smartphone. You can change direction, switch on, turn it off or reverse it from the comfort of your couch. Earlier mowing bots used to operate only in a straight line. Newer versions are now able to move in different directions.
Not all lawns are good for robotic mowers
As we have already mentioned, not all lawns are perfect for robotic lawnmowers. So it is crucial to assess your yard before committing to buy that dream lawnmower. First and foremost, a good yard should be uniform and continuous. Robotic mowers need guidance to operate so that they stay within limits. This prevents it from wandering into unwanted fields such as flower beds or to other unwanted areas. A perimeter guiding wire keeps the lawn mower within the boundaries.
The wire is connected to the connecting station
The truth is that most lawns are not suitable for robotic lawnmowers and that is why you have to be careful before buying the device. You do not want to buy a robotic lawn mower only to discover that it cannot operate on that ground.
Your robotic lawn mower comes with a boundary wire. The wire acts as a sensor so that the lawnmower can detect the edge of the lawn. This wire is installed around the area. Over time, it can become invincible due to grass growing over it. The wire can also be buried some few centimeters (between 10 to 20 centimeters) below the ground.
However, some manufacturers have started making robots that do not require perimeter wires to detect the edge of the lawn. But the main limitation with these types is that your yard should have to be clean and level. So because of the disadvantage, those types of robots are not recommended.
Below are some of the disadvantages of perimeter wires which you need to know.
The first thing you need to be aware of is that a robot that requires a boundary wire will force you to adjust the perimeter wire if you ever change your lawn. Whether you are expanding the lawn or contracting it, you will have to re-adjust the boundaries of the wire.
The second disadvantage with relying on perimeter wire is that it can break. If the wire breaks, you will have a difficult time locating the breakage point. The wire faces many risk factors that can cause it to break. Things like rust, burrowing animals, or other unforeseeable conditions can cause the breakage.
The frustrating thing about it is that it is not easy to locate where the wire has broken. At the same time, you don't want to dig up the soil around the lawn to find the breakage point. Unfortunately, there is no way around this problem. It is also possible that the wire breaks more than once. So you might find yourself in a situation where you dig around the lawn and find the first break. Once you fix it and return the soil, you then discover that there is another break. It can be very frustrating.
The third frustration with boundary wire comes when you need to detach the wire. Perhaps you want to adjust the boundaries. Because the wire is buried, it can be hard to locate it and remove it carefully without breaking it. Unless you are sure that you will know where the perimeter wire is, it is wise to use boundary marks to help you identify its location when the need arises.
Avoid burying your wire too deep. If you have buried your wire about 10 cm deep, you can use a scarifier to remove the wire without worrying about breaking the wire.
Things you should know before buying a lawn mower
It takes time to configure and install a robotic lawn mower
Before buying a robot mower, know that installation will take time to set up. When you are a first-time buyer, you may assume that only a slight setup is required. But the truth of the matter is that it takes some time before your lawnmower can be up and running.
From configuration setting to installing a boundary wire, you will spend several hours before using the robot. However, with more experience, you can easily set up your lawnmower in a matter of a couple of hours. And once you have done setting up the mower for the first time, there is very little work required. Read your user guide carefully to guide you on how to set it up properly.
Robotic lawn mowers produce better looking lawns
Robot lawnmowers produce better-looking lawns because of the way they are designed to work. You can configure the settings to cut each grass at the same height. Therefore, it helps you to produce a uniform height across the lawn.
Because of the little work input involved, you can afford to maintain your lawn by cutting the grass more frequently. Mowing more often will keep weeds at bay and improve the quality of grass. One advantage of robotic lawnmowers is that the clippings of the cut grass are mulched. You should not remove the clippings. Allow them to drop to the soil and form nutrients for the soil.
Obstacles are not a problem
You are probably worried that robotic mowers might not work if there are obstacles. The devices are programmed with in-built sensors that will detect any obstacle and move around the obstacle. You should not have any worries about this. They are extremely efficient and intelligent when it comes to navigating around obstacles. If there are permanent obstacles such as a tree, you can install a boundary wire so that the lawnmower does not come close to the obstacle.
You are unlikely to experience damages due to collusion thanks to the collision sensors. Moreover, these devices operate at very low speeds. It means that the chances of these devices accidentally hitting obstacles are very minimal.
It is better to bury the perimeter wire
You can either peg the perimeter wire to the grass or bury it under the soil around the lawn. Pegging the perimeter wire is much easier and takes less time, but it is not the best option. The problem with this is that the wire is exposed and there is a risk that it might get damaged when mowing, especially in the first few weeks. It takes a bit of time for the grass to grow over the wire.
Burying the boundary wife deep in the soil is the best option as it protects your wire from getting damaged or breaking. Although it is safer, there is only one disadvantage. Should you decide to make some adjustments to the perimeter of the lawn, you will have to dig out the wire from the soil once again.
Robot mowers are here to stay
The rate at which the popularity of robot lawn mowers is growing indicates that these devices are here to stay. They do excellent jobs when it comes to giving that lawn a refreshing new look. If you have a flat, even lawn surface, robot lawn mowers can do a better job without much hassle from you. The only drawback is that the initial setup can be intimidating. But once you get it right, there is very little you need to do.
We expect the technology to continue developing. So you can expect to see more advanced lawn mowers in the future. A lot of problems that were initially preventing people from investing in robotic lawnmowers are gradually being tackled.
Bot mowers are safer to use
Generally speaking, robotic lawnmowers are much safer to use than conventional lawnmowers. Their inbuilt obstacle sensors are a great addition to safety measures. People using robot lawn mowers report fewer accidents and injuries compared to those using conventional lawnmowers.
Robotic lawn mowers are not very smart
These devices may not be as smart as you would want to imagine, but that is not bad. It is a blessing in disguise. The technology used and the artificial intelligence used to design lawn mowers are very basic. They cannot, therefore, do complex jobs without the attention of human beings. All they can do is to sense the edge of the perimeter wire and sense obstacles. If the devices were to be more sophisticated than that, then the pricing would have to be out of reach for most people. It is good that things are as they are.