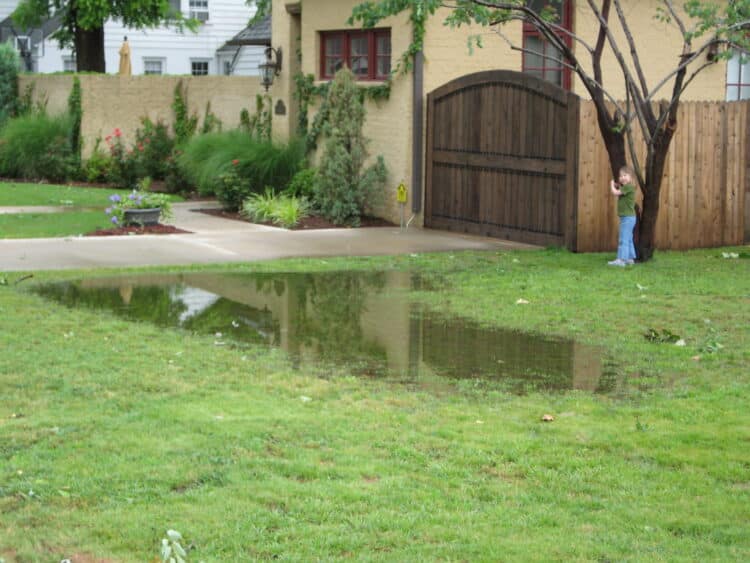 You dread when storms come because your front yard would always get flooded, and you constantly deal with drainage problems and solutions.
So you already have diagnosed the issue: the water coming into your yard is not draining in the right manner. It occurs to many homeowners all over the world and is not a rare happening.
It starts with tiny puddles of water showing in your lawn. Then you notice patches of mud and swampy spots beginning to amass.
These are signs that you do not have a proper drainage system in your yard and it is holding too much liquid. So what will you do?
You should know first the signs that your yard has a poor drainage system:
Soil erosion
There are mosquito larva reproducing in the water puddles
Plants, trees, and grass, are dead due to drowning/suffocating
Water accumulating in the basement
Common drainage problems and solutions
Sinking surface
When you notice that water is accumulating in flat portions on your yard and water remains infused, the reason for this is surface depression. It enables your yard to create unwanted puddles of mud that you will find hard to manage.
The type of soil in your yard
If you observe your yard and find out that it is swampy in one area and dry in another part, then its soil type is among the reasons for drainage issues.
There are three basic kinds of soil:
If your lawn soil is composed of too much clay, drainage issues will occur. If it is full of sand, any liquid will pass right through it.
If you have sand close to your house, water will pass and get through the sides of the foundation, thus seeping into your basement.
Your downspouts and gutters are not set up correctly
As a homeowner, you already know the gutters and downspouts are indispensable components in your home. You will need them when harsh rains happen so that extra water will be channeled away from your house.
However, if they are not correctly installed or maintained, the problem will likely occur. If this is not corrected in time, there are consequences for this.
First, the gutters will get clogged, thus hindering the flow of rainwater, which results in overflowing. Second, the downspout is not properly directing water away from your house. Rather, it will amass close to the foundation and cause harm to your landscape and the house structure.
Incorrect soil grade
Ideally, the builders and landscapers of your home have brought in soil that is correctly graded. It is part of their job to incorporate it into the soil so that whenever flooding occurs, water moves away and is either collected in a swale or goes to a gutter or catch basin.
Yet, most of the time, they do not get the soil grading right. Water will get trapped and instead will find its way inside the house or basement. What is happening is poor drainage.
Surplus water from the neighbors
If your home is located downhill, chances are you have experienced uphill runoff from neighboring houses. Soil erosion tends to happen in elevated places, trench drains, and swales.
So when hard rains occur, your uphill neighbors' soil erodes, their muddy water will rush down. It is not their fault, and you cannot ask them to stop it from happening.
Roots are the root cause
If you find out that your landscape drainage system is getting clogged, it might be a different reason other than the usual compressed or broken pipes. The reason might some plant root has grown too much and started encroaching the piping.
You will find that the roots are busting in at the joints, destroying the fitting, and spilling out the unwanted liquid into your yard.
If you do not fix it then and there, your land drainage issues will only increase. It will block the piping and fill it up will plant matter, which seeks out the water then reproduces itself.
Your landscape design
Sometimes, the way your landscaping was planned and executed was the culprit of your gutter drainage problems. It is difficult to believe that the beautiful scenery you have designed might have adverse effects that enable flooding.
Your landscape creation might have bare soil that does not have anything growing, or its soil might be inclined towards your home or paved pathways that channel water and make water puddles.
Where did the water come from?
If your yard has water puddles, you might find its cause among the examples above. If not, then you have to make an investigation of sorts on where exactly it came from.
If you identified the root cause, then it would be easy for you to fix the problem. You can gauge how large or small the work will be or whether it would cost money or not.
Also, you need to plan on where you will channel the excess water to. The ideal solution would be that water will be led away from your house or your neighbors and directed out to the stormwater canal system.
However, fixing yard drainage problems is different for each situation. Your water yard situation might be unique and also needs a radical solution.
Devise a plan for drainage in your home
To get the best remedy for your problem, make a drawing of your entire property, including the driveway, patio, garden, front and backyard, etc. You have to determine the high and low areas by using any leveling equipment, preferably a builder's level.
Then on your drawing, indicate which areas are elevated and make notations of the height in the different areas that are high and low. Draw arrows to indicate the flow of water, where it came from, and where it is supposed to go.
This drawing will assist you with the best strategies you need for your watery yard situation.
Do not do these things on your lawn
You need to take care of your yard properly. If you do not, then it will be prone to flooding and frequent water puddles. Avoid doing these things on your lawn:
Do not save your lawn clippings.
Do not use a blunt mower blade.
Do not forget to aerate your yard once a year.
Do not forget to water your lawn and do it the right way, which is once a week for an hour.
Do not cut the grass too short. It should be two to three inches high.
Do not forget to dethatch.
Do not wait too long between mowings.
Affordable drainage solutions that you can do on your own
After finding out the cause of the backyard flooding issues, then it is time to strategize a game plan on making your yard flood-proof and equipped with an effective drainage system.
There are many choices available, but think about each first on which would be the right fit for your yard. Also, be sure to have the right tools available.
French drains
Materials that you need:
Perforated plastic pipe
Filter sock
Shovel
Polystyrene aggregate or gravel
Post digger
Drainage cloth
Topsoil
This type of wet drainage system is effective for many kinds of backyard flooding problems. It has a way to distribute water in a large location with a perforated piping buried beneath the ground.
This pipe is enclosed with gravel, which makes it possible for water to gradually flow through. Currently, new material was developed by water drainage experts called "EZflow" that includes piping and polystyrene aggregate in one package. You can enable a French drain system on its own for your yard or in combination with a dry well.
The way French drain works is that it is first buried in a long ditch under the ground and enveloped completely with an aggregate material. Water seeps through the earth and passes through the aggregate. It then enters the perforated piping then is cast away into the underground soil.
To make the most effective French drain, you should link it to a downspout that leads water away from the house and ends up in a dry well.
Examine first the condition of the soil. If the soil can absorb water, then a dry well would work there. The way to check this is to dig a hole in the ground, fill it up with water, and observe how long it will take for the water to seep into the ground.
Dry well
Materials that you need:
Shovel
Post digger
Polystyrene aggregate or gravel
Drainage cloth
Topsoil
Concrete of metal dry well sections
A dry well is a perforated tank filled with gravel or polystyrene aggregate material that catches water directed from pipes (most likely French drain pipes). It stores water for about twenty minutes then disperses it through its holes and into the soil.
It is a solution to a poor drainage system. These large tanks with holes in them can take in a large quantity of water so that the surrounding soil would not become soaked with water.
A highly functioning dry well can amass a large amount of flooded water for twenty minutes and quickly drain it towards the surrounding soil. You can link up a dry well to many drainage systems like channel drains, gutters, and French drains.
Before installing one, check first on your local building inspector if permits are needed, since it might impact groundwater that might be found below your property.
Expand your downspout
Materials that you need:
Power drill
Another drain spout
Screws
Bolts
Pliers
Washers
After investigating, you have found out that the surplus water that made your yard flood came from overflowing gutters. The solution for this is going to be easy.
It is merely elongating the downspout and directing it away from the house so that it would not create puddles of unwanted water in your yard. The tricky part is to channel it away, towards a storm drain, sidewalk canal, or any safe drainage area that is not your neighbor's lot.
You also need to check on the status of your gutter system, if it is working as it should be. Clogged gutters can enable water to spill over into your lawn. If you see that it is not working properly and looks like a mini-waterfall is happening on your roof, you need to repair it.
Overwatering your lawn or garden
Materials that you need:
You do not need anything since you will only be lessening the water output of your sprinkler system and monitoring it. Check if there are still puddles forming in your yard after the purposeful decrease of water.
Before starting any home drainage repair to fix your flooded lawn, the problem may simply be that you are watering your lawn too much. Try to drastically diminish your watering chores and check if the puddles would disappear or not.
If you find out that it did drain after, then there is nothing wrong with the soil in your lawn: it just cannot keep up with your constant watering tasks.
If you find out that the puddles are still there, then it is for a different reason.
Make a swale
Materials that you need:
Shovel
Spade
Gravel
Rocks
If the swampy space in your lawn cannot be remedied by any downspout, you may need to dig up a trough or a man-made creek to direct water away from the watery spot. It will need a lot of elbow grease since it necessitates digging the ground into a deep and long trough and putting in gravel and rocks.
However, this trench needs to be in a particular place where excess water will naturally flow towards it. In other words, your lawn needs to be inclined to the right so that the runoff has a place escape to.
When not in use, it also add to the aesthetic appeal of your yard. You can decorate it further so that it will look more beautiful.
Make a rain garden
Materials that you need:
Wheelbarrow
Level
Shovel
PVC pipe
Decorative rocks
Landscape fabric
Gravel
Plants
If the low area in your lawn cannot be made into a creek bed because it is not inclined enough, and all other options have failed, there is still something you can do about it.
You can turn that wet area into a beautiful rain garden. Its chief purpose is to catch falling rain, and the kinds of plants utilized in this garden are the type that thrives on lots of water like ornamental mosses, hostas, ferns, etc.
This solution does not entirely get rid of the landscaping and drainage issues. You will notice that there might still be puddles remaining but have drastically lessened.
Yet a beautiful plant garden adds the aesthetic appeal of your home, and at the same time, takes harmful standing water to good use.
Once you have made the rain garden that suits your aesthetic and practical needs, it can absorb unwanted water in twenty-four hours.
You will base the deepness of your garden and the porosity of the soil upon the amount of time that any visible excess water is present. If there is lots of water present in a particular area that takes a long time to disappear it, will the ideal spot to construct an extensive rain garden.
You can also construct your rain garden right below the opening of a downspout or at the end portion of a creek bed.
Build a creek bed
Materials that you need:
Shovel
Wheelbarrow
Decorative rocks
Level
PVC pipe
Landscape fabric
Gravel
Plants
A creek bed functions in conjunction with a rain garden or dry well. You can beautify it by embedding different plants and decorative rocks along the stream, thus giving it a natural feel.
It can direct water away from the lowest area in your home towards a dry well or rain garden. When constructed correctly, it will remain dry, look beautiful, and does the task of fixing drainage problems.
Start by going to the lowest portion of your property. Then dig a shallow trench, like a swale, and in a way, it becomes inclined. Then put in some decorative stones, gravel, and plants along the creek line.
If you want to function more than form, then just let it stay as a swale. Do not do the next step in designing it further in becoming a creek bed.
Always take care and watch over your yard
After finding the source of unwanted water, strategizing and deciding on the best solution, and doing the laborious chore of acting on the solution, it is not the end of it. You have to continually attend and nurture it so that the soggy situation would not happen again.
Perhaps your soil has not aerated enough, so you need to loosen it by rototilling it. It will help the soil drain promptly.
The decorative rocks you have embedded might become an obstruction to runoff rainwater. So you need to transfer them.
With everything considered, you have finally fixed the problem. Your job now is not to let it happen again.