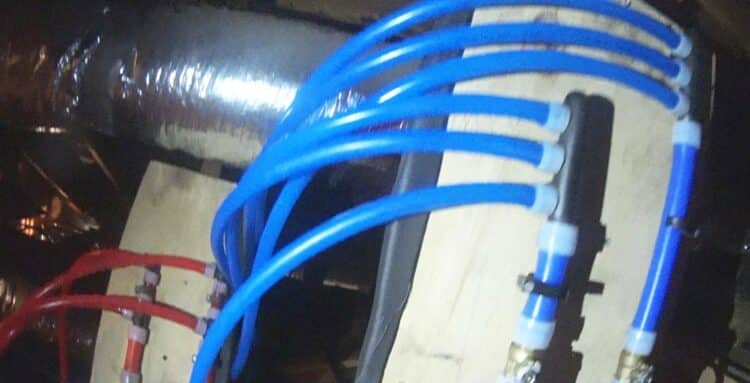 What are the types of PEX? It is cross-linked polyethylene, which is a type of artificial and flexible material made from plastic. It is considered one of the best discoveries in the 21st century that is very useful for public and private establishments.
There are many benefits of PEX piping that building owners, plumbing contractors, and engineers have recently discovered that outweigh the other kinds like steel and copper. Leaky water pipes are a thing of the past due to their durable nature.
Its flexibility is the reason why it has become so popular. It makes home reconstruction easier. You can bend it to any necessary angle and can come back to its original shape once uninstalled.
In using this material to its full capacity, it is best to purchase ten-foot "sticks" of these (along couplers to link them up) instead of a whole coil-full. This way, the installation will be simplified when any defects happening.
A brief history
In 1968, a German scientist named Thomas Engle found a way to create adjacent chains of synthetic polyethylene by radiation to develop a more pliant yet tough substance. This newly discovered material was made into flexible piping, and therefore named PEX tubing.
It crossed over to the United States of America in the '80s and utilized for "radiant floor heating systems." In this process, the PEX tubes are set deeply in the concrete floor, and hot water passes through them and thus giving off heat to the enclosed area. It is still used for that purpose until today.
It was prevalent in European countries after its invention. However, it was belatedly used in the US because of its incompatibility with chlorine levels in American water lines. The pipes were deteriorating.
So American PEX manufacturers incorporated anti-oxidants into the mixture, thus having passed the standards for potable drinking and making it suitable for water delivery. Over the years, it began to overtake the other types of concrete water tank outlet fittings and was used in many households.
In its early days of usage as water delivery lines, there were many complaints voiced out by consumers. They mostly said that they experienced many leaks.
New fittings were developed to counteract this, and soon its popularity soared.
Presently, about sixty percent of newly constructed homes use these insulated PEX tubing for their water supply.
Main advantages
There are many PEX pipe applications. For one, delivering and shipping them is easier compared to other more rigid types because they are wound compactly in spools.
Since it is a cheaper counterpart than copper, it also requires less installation time. Its fittings are likewise fewer, which means fewer malfunctions and lesser repairs.
Because it only needs few water well pipe fittings, it can even bend to ninety degrees without them. Since it is available in spool form, you can set it up without couplings.
The flow of water travels silently in all standard PEX pipe sizes, unlike the kind of noises related to copper water systems.
, Unlike copper tubes, soldering is not done when fittings are attached, thus avoiding any harm that may arise from lead.
Since these pipes are based on plastic, not metal, heat hardly transfers. Thus energy is greatly conserved.
Insulated PEX tubing is made to resist exposure to acidic liquid. Thus no corrosion will occur. It can also withstand the buildup of scale that usually happens to copper systems.
Flexibility is the chief advantage over the others
The older water systems that utilize galvanized steel and copper have water lines that lead to an array of smaller lines that go to separate fixtures. The smaller pipes need a different linkage.
PEX tubes are better suited for this because, by being flexible, they do not need different connections. Only one PEX pipe is needed, then links up to a manifold, which is the control system.
From the manifold, the water is directed to the floors and walls and going to each room and fixture, with no interruptions.
"Homerun plumbing" is a term derived from PEX's effectiveness. This process is done by utilizing a water line color code for your home fixtures: blue for cold and red for hot. This procedure avoids any possible leaks in all locations where pipes are connected.
PEX issues and disadvantages
It is not ideal for installation and usage outside the house. Ultraviolet rays of the sun and other natural elements cause damage to PEX tubes. If left outside for a few months, it will harden and therefore fracture.
Installation does not require professional plumbers. However, specialized tools and fittings are needed.
What makes it tough and flexible is the reason why it is not recyclable. It does not melt when heated like other plastics that can be recycled. However, due to its popularity, people will eventually find a way to recycle it due to its increasing demand.
Is PEX better than copper?
The short answer is: yes. Here are the chief reasons why:
Because it is cheaper. The PEX flex cost of a half-inch piping is one-third of the price with copper tubing. However, the extra money that was not spent for buying it will go to a specialized instrument to link up the fittings. If your plumbing task does not require a large amount of PEX, then you can save a lot of money.
List Because installation is quicker. Running the tubing to several lateral outlets would not be a difficult task and can be done quickly. Even complicated connections would not be as difficult because no soldering is involved.
Because it would not rust. If your water supply has an acidic nature, your PEX would not be affected.
Because it works better when remodeling your home and "fishing" behind the walls.
Because it does not need glue to stick, so it works great in places with ventilation.
Because it does not burst when freezing weather happens.
Is PEX better that CPVC?
CPVC or chlorinated polyvinyl chloride is a type of thermoplastic material also used for water distribution. It also cost the same as PEX tubing.
Yet, it is still a better option because it does not need a sticking agent for linkage. So you do not need to wear a respirator while installing it.
It also does not break apart when harsh winter conditions occur in its location.
Types of PEX
There are many types of PEX tubing. They come with many lengths, like ten-foot pipes used for small repairs, to as long as five hundred feet, which are utilized for a particular homeowner's whole water distribution system.
They are available from 3/8 to one-inch in diameter and comes in a variety of colors to distinguish what each is used for.
Each color does not imply the difference from each other, but it is only for the benefit of the installer in knowing what kind of water goes through each:
Blue PEX transports cold water.
Red PEX transports hot water.
White PEX carries either cold or hot water.
Gray PEX functions the same as white ones, for either hot or cold.
Special plumbing supplies and equipment for PEX
You will need specialized tools when plumbing with these colorful tubes. A stab-in tool or compression fittings can do the job of pipe linkage, but they are costly and impractical for extensive and complicated work.
There are only two inexpensive and practical devices to do the job:
Crimp rings are small copper hoops that you get into the fitting and constrict using a crimp ring device. One impractical thing is that you need different tools for different PEX diameters. You can also use a universal tool that has an interchangeable insert. A whole set of exchangeable crimp jaws will cost you from $100 onwards. .

2. The way cinch clamps function is that you can put it on the extending tab then compress it with a cinch clamp tool to make it tight. It can work for all clamp sizes. The tool cost from $40 onwards. The one-handed tool is the most effective because you can grip the crimp ring with one hand and use the other hand for tightening.
Three ways of manufacturing
Not every PEX type are made the same. Presently, there are three varying methods for creating it. The methods allow the tubes to interconnect with each other in different temperatures, which in the process, makes water drinkable.
PEX-a or the Engel method. It was the first of its kind invented by the father of PEX, Dr. Thomas Engel. It entails the complicated process of cross-linkage between polyethylene molecules, resulting in its flexible nature. The process also allows it to have an elastic and thermal memory, which implies the crimps and curls can be fixed by heating them with a heat gun. Thus by amplification, cold expansion can be inserted.
PEX-b or Silane method. The difference between PEX-a and PEX-b is that the latter underwent a different cross-linkage process which disallows it to have the same level of thermal memory. So it makes it possible for any accidental kinking to be reshaped and fixed by a heat gun.
PEX-c or E-beam method. The difference between PEX-a and PEX-c is that the latter is underwent another cross-linking procedure, wherein the molecular system is altered drastically. The effect that happens is the tubing would change color after oxidation and become less malleable and sturdier.
Common questions and answers
Is PEX dependable?
PEX has been utilized in the homes of many countries for decades, which leaks or breakage has never occurred for more than thirty years.
The countries that had recently used PEX, like the United States, had a few issues but were not related to the product at all. It was due to haphazard installation and defective fittings.
Can I link PEX pipes direct to a water heater?
You cannot directly do it. However, if you can extend the water heater tubing to about eighteen inches, then you can connect that to a PEX pipe.
What is the best kind of pipes to utilize for water lines that can go behind walls?
The three manufacturing types you can use for this kind of situation: PEX-a, b, and c. Since they are made for different reasons, they suit well for this. PEX-a is more pliant and durable. So it would be a great choice. It is also ideal for "in floor radiant heating systems," which can be done with an oxygen barrier.
How can I install PEX tubing to link up with my original plumbing fixtures?
There are a few ways to handle that. If the connection is not hidden like a fixture below a bathroom sink, and if you like the appearance of copper, then you have to use a copper stub-out. Along with that, then you can connect a shutoff valve to it, which then leads to the fixture.
From hidden areas like under the kitchen sink, you can lead the PEX line towards the shutoff valve and bypass a joint. Many shutoff valves can connect to PEX.
If you opt to use a manifold water system that already comes with valves, then you do not need a valve to switch off at the fixture. It will be more convenient for you instead of running to a different room to turn off the whole water supply when repairs happen.
Does freezing temperature affect PEX tubes?
It does not. It is made to withstand extreme coldness since it can be malleable, it would not break like the other kids.
If I make a mistake, can I disassemble it?
You can take it apart with the right tools. A side cutter can be utilized for removing cinch clamps. A rotary tool, which has a cutoff blade, can cut connectors.
A summary
When problems with PEX water piping occur, now you know what to look for and what to do. If it appears that the issue is too complicated for you to repair, at least you are aware of how everything functions and what necessary information to say to the repairman.