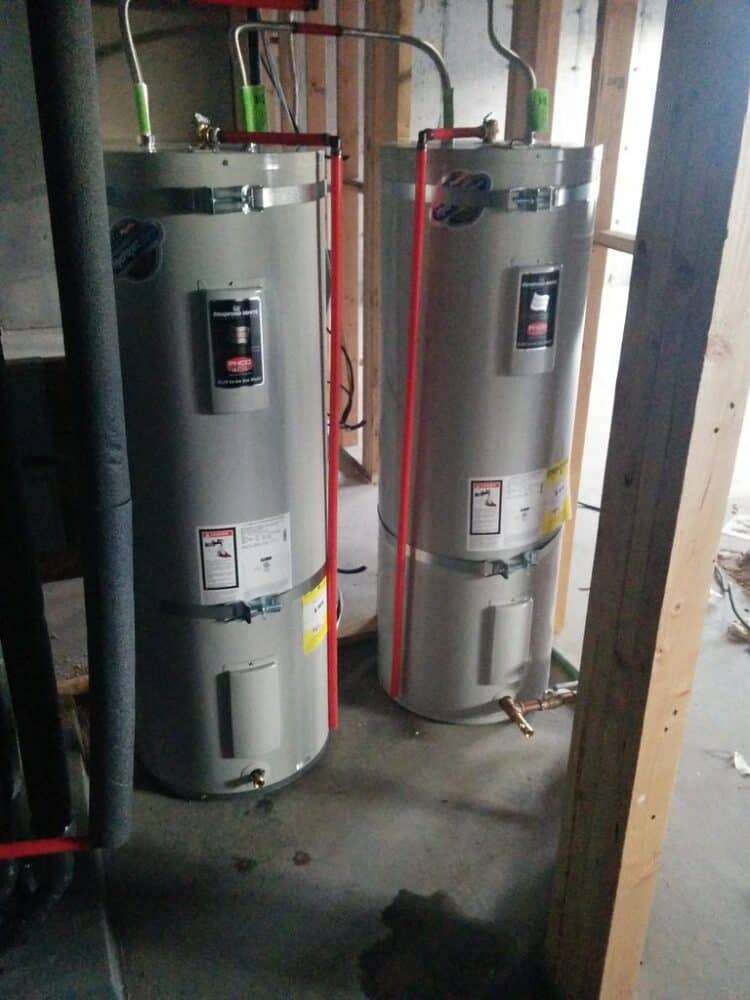 There are two main reasons why you may need to turn off your water heater. You might be leaving home for an extended period. Or, your water heater could be misbehaving. In both these situations, you need to know how to shut off water heater systems. Of course, the latter of the two is more pressing. And that's what we want to focus on in this article.
Because not knowing how to turn off a water heater may lead you into a flood's worth of trouble.
Besides that, for any maintenance you want to do on your water heater, you must know how to turn off the system first.
There are a couple of ways you can shut off water heater systems.
Automatic Shut-off Valve
The more convenient way to turn off water heater systems is by using an automatic shut off mechanism. It is a simple and affordable solution.
These systems come with an automatic leak detector and shut off valve. So, once you install it, you have nothing to worry about. If your water heater
has:
Overheating usually happens because the temperature setting is too high. That can cause leaks.
Your water heater emergency shut off device will kick in to save the day.
How Does An Auto Shut off Valve Work?
The majority of auto shut off valve systems work in similar ways. They have a sensor that detects when your water heater has a problem. If it senses an issue, it fires a message. An electronic switch gets the message and shuts off the water.
Is It Safe To Shut Off Water To A Water Heater?
Shutting off the water to a water heater is not only safe but the auto shut-off valve is also designed to do so. The water heater shut off sensor will also kick in and power off your water heater. Doing so prevents parts in the empty tank from burning.
Some systems have a digital component that gives you the power to do remote water shut off using your phone. So you have control of the entire situation with your water heater.
These devices are necessary for any home with a water heater, and they are inexpensive. The average person can afford them. The pricing starts as low as US$60. The more high-end models (digital) cost about US$200.
How To Turn Off My Water Heater
Using an auto shut off valve to turn off water supply to hot water heater systems is one of two ways to get the job done.
If you are a DIYer, the task is simple enough. But, you can enlist the help of someone who knows what they are doing.
These simple steps will show you how to turn off water heater systems.
Ensure Your Water Heater System Is Off.
This applies to both gas and electric water heaters. For your safety, you should not do any maintenance on any appliance unless it is powered down.
Gas Water Heater
Turn the handle of the gas valve to turn off a gas water heater.
Electric Water Heater
If you have an electric system, you need to turn it off at the main circuit.
Close Off The Water Supply
It is easy to use an auto close water valve system, you do not need one to shut down the water line. You just have to go at it by hand. Remember, you are dealing with scalding hot water. Before you go any further, allow the water in the tank to cool down.
How Do You Shut Off Water To Hot Water Heater Systems Line
Turn The Water Valve Handle
Do so in a clockwise direction until the handle comes to a stop. If that doesn't shut the water line feeding your water heater, you need to close the main line to your house.
If you have an automatic main water line shut off valve, you can use that. If not, you also have to shut it off by hand.
You can also turn the water off using the main meter.
Drain Out Your Water Heater
To fix the trouble with your water heater, it must be empty. To drain the water from the tank, you need a hose. A garden hose will do.
There is a drain at the base of the tank. Connect the hose to it. Ensure the opposite end of your hose is at a lower angle so the water can drain out with ease.
Turn On Your Hot Water Taps
No water will flow out of the tap. Turning on the hot water taps allows air to flow out of the system. You can turn on one tap. But turning on more than one will get the job done faster. Leave the tap(s) open for about two minutes. Then close them.
These steps show you how to turn off water heater systems. But when you're done, you need to turn them on.
Turn The Water Back On
No matter what type of water heater system you have:
You must ensure the tank is full before switching it on.
Ensure The Tank Is Full
Open one of the hot water faucets in your house. Then turn on the cold water to the water heater system. Doing so lets clean, cold water into the system and will get rid of any residue.
After you've flushed out the tank, leave the cold water running into the tank. When hot water reaches the faucet, you know it's full.
Switch On The Energy Source
Turn on the source of power to the type of water heater system you have.
Conclusion
Whenever you notice that your water heater is not behaving the way it should, it is wise to shut it off early. Running the system while it is not working well could lead to more damage. Extra damage means extra expense to fix it.
You can get ahead of any problem your water heater may have with an automatic shut off valve. Or you can learn the safe way to shut the system down yourself.
To extend the life of your water heater, you should clean it out at least once a year.