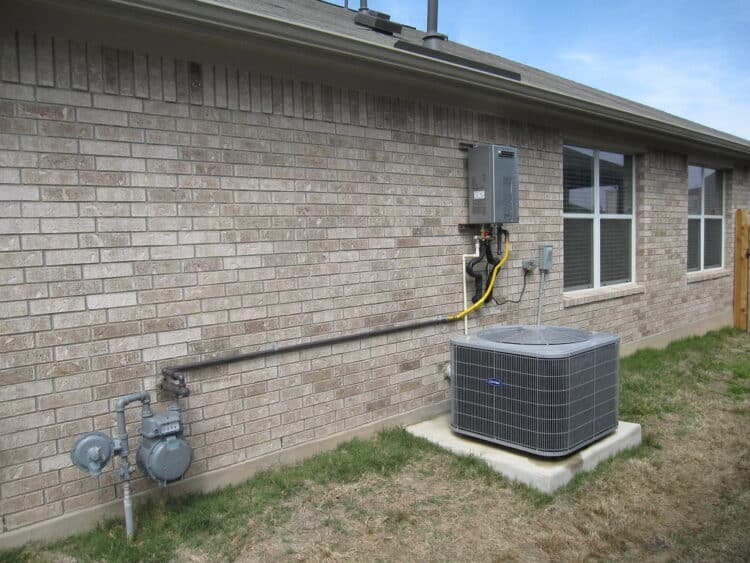 You might not realize it, but a hot water system is one of those essential things you need at home. We rely on hot water systems to supply our homes with hot water for various uses. You will find two types of hot water systems in most residential homes. They include a domestic hot water system and a heating system. As the name suggests, the heating system supplies hot water to the entire house during the winter. The hot water system provides hot water for tubs, kitchen sinks, and bathrooms. Understand that one broiler can supply hot water to the entire house. Make sure that the two types of water do not mix. Water passing through the heating system should not be the same water in the hot water system.
The heating system is the circulation of hot water from a boiler around the radiators. It forms the central heating system. The water that flows through your taps is domestic hot water. The water that circulates through the radiators is the Central heating system.
It is important to note that both types of hot water share the main components. But the difference comes in the piping. The pipework should not mix. The homeowner needs to know the different ways of heating water to make an informed decision. It also helps to know what maintenance work is necessary. It also helps in choosing the right type of showerhead to install.
What are the types of domestic water heating systems
There are two categories of domestic water heating systems:
Heat on demand water (stored hot water)
Hot water cylinder water
Stored hot water
Stored hot water is hot water in a tank or a cylinder. It comprises three categories.
The first category is an immersion heater. This type of heater is connected directly to the hot water tank. It is connected directly to the main electrical supply. It uses a switch known as an isolating switch. There is also a thermostat whose job is to control the temperature as well as the timer. These components time the duration your water takes to heat. From the law of convection current, hot water rises to the top of the cylinder. So the water draws from the top. The cold water draws from underneath.
how does a hot water cylinder system work
When the cold water enters the tank, it gives the hot water over the cylinder pressure to leave. So when you open the taps, only the hot water comes out. Some domestic hot water systems contain two elements. It gives you a choice of the quantity of water you want to heat up at that time
You will hardly find that the immersion heater is the only method of heating water for domestic use. Immersion heaters are backup options in most cases.
How does hot water priority work?
You will have to choose either hot water or heat if you only have one boiler at home. Sometimes, you can use the boiler to provide only heat. Other times, you can use it to provide only domestic hot water. But the problem is that there are situations when you need the boiler to produce both the heat and hot water. To do this, your boiler must be large enough to produce both hot water and heat.
It takes many hours to heat an entire building during winter. Even raising the space temperatures by a few degrees can take hours. But, heating water takes a shorter duration. Domestic hot water should be around 160 degrees Fahrenheit. Although it requires a lot of energy to get the water to this temperature, it takes a short time. That is what happens to most domestic hot water heating systems. The water load is usually greater than the heating system load. Thus, the function of domestic hot water priority is to allow the use of a smaller boiler to do both tasks.
When you want the boiler to perform both functions, you need to turn off the boiler output to the heating system. This is when you want to heat domestic water and produce heat. What happens here is that water will get heated within a short time. The temperatures will not drop during the period the water is heating. It is because heating is a slow process.
You will need an outdoor heating boiler control to achieve this. This controller works by regulating the temperatures of water. This is necessary to meet the heating load. Whenever you want to heat the domestic water, the control turns off the heating system. In turn, this heats boiler water to at least 180 degrees Fahrenheit.
Types of water heaters
Do not assume that tank water systems are the only domestic hot water system available. The truth is that there are a variety of water heaters to choose from.
Tankless water heaters use electric power. They can also be use gas to power them. The most common type of tankless water heater is a heat pump water heater. This type of water heater has been gaining popularity among homeowners. It is more efficient.
Water heating is going to be one of your largest energy consumers at home. It can cost you anywhere between $200 and $600 per year in energy costs. If you are looking for an energy-saving heater, then heat pumps are the best option.
How do you measure water heater efficiency?
The energy factor (EF) of a water heater is the measure of its efficiency. EF refers to the amount of water heated for a given amount of energy used. It applies to electricity, gas, or oil. A heater with a high EF is an efficient heater. Many electric heaters will have an EF of between 0.7 and0.9. Gas heaters have an EF of between 0.5 and 0.6. Yet, modern heaters have achieved a higher EF of up to 0.8. Oil-water heaters have energy factors of between 0.7 and 0.5. If you are looking to achieve net-zero energy, you should go for electric water heaters. Solar heaters are also a good choice. The reason for this choice is that it eliminates the need for over-dependence on fossil oil. Fossil oil is a non-renewable source of energy. So before making a buying decision on your water heater, you must consider its energy factor.
Please note: some heaters may not be EF-rated. But heat pump electric storage heaters are rated. It is not easy to find oil water heaters that are EF certified.
EF certification for electric water heaters is stricter than oil or gas heaters. So, buying an electric heater makes sense. Buying an electric heater is going to save you a lot of energy while saving the environment. So we encourage you to go for electric water heaters.
What are the available types of water heaters?
As we have already said, the EF of a water heater is a good way to compare different water available heaters. But that does not give the complete story. Below are some of the factors that you can also look at.
What is the efficiency of the water heater?
Storage tank water heaters are very popular water heaters. They can run by electricity, oil, or natural gas. Storage water tank heaters account for over 97% of all the water heaters in the market. This statistics is according to Energy Star research 2009. Although this number has since dropped, it is still the king in the market.
Cheaper water heaters may consume a lot of energy if you prefer them. They consume more energy because they are less insulated. Remember that the storage tank must still keep the water inside the tank hot even if the water is not heating. Make sure you get an insulation blanket if you have other types of heaters It will help in keeping the water hot. Another smart way to keep energy costs down is to invest in a water heater timer. If you spend a lot of time away from home, use the device since you will not be using hot water during this period.
What Is a Tankless Water Heater?
On-demand water heaters are also called tankless water heaters. They are becoming very popular with people with homes with little space. They are also cheaper than storage tanks. They are mounted on walls and they will take no more than 2 square inches of wall space. But do not underestimate these heaters. They can still supply hot water to the entire house. They range in power output from 10 kilowatts to 30 kilowatts. The amount of hot water produced is directly proportional to its size. So the size of the water heater you need will depend on the number of people in your household.
You can also get smaller versions of water heaters that cost even less. These models, also known as point-of-use heaters, can serve as a single shower or sink. They are fitted in the sink cabinet or the showerhead. They are not very common in the United States. But they can be found in many other parts of the world such as South America, Asia, Europe, and India.
The advantage of tankless water heaters is that they can only be used when needed. Examples are in the kitchen sink or the shower. So it means that there is no wastage. This option allows homeowners to use the water heater only when necessary.
What Is a Heat Pump Water Heater?
The heat pump uses the same concept as a refrigerator to operate but in the reverse. The heat pump uses a refrigerant to extract heat from the air and transfer the heat into the water. That means that your home becomes cooler during the summer. But, you experience higher energy costs during winter. These heaters can help in dehumidifying your space if you live in a humid location. In simple terms, heat pumps extract heat from the air and use it to heat your water.
Air-to-air heat pump and heat pump water heater combine to improve energy savings. This type of system heats and cools your home at the same time. It means that you can combine heat pumps water heaters and air-to-air heat pumps. So you can achieve a net-zero cooling, heating, and hot water source.
What Is a Solar Water Heater?
A solar water heater or solar thermal uses solar energy to heat your water. Install solar panels on the roof and use an antifreeze solution to circulate them to the house. The most common antifreeze solution used is called propylene glycol. The work of the heat exchanger is to transfer the heat from the solar to the house.
Which One Is Best For You?
The type of water heater you choose depends on many factors. One is the amount of domestic hot water you need. Go for a small water heater if you only need to heat a small amount of water. Like an immersion heater that you can use to heat your water on demand. If you need a larger heater for larger domestic use, then it makes sense to go for a storage tank water heater. The second thing you can consider is your budget and energy savings considerations.
Conclusion
Some domestic water heaters are more efficient than others. You can also choose a water heater based on the source of energy used to power it. This depends on your main source of domestic power. But you can also pick a water heater that uses a different source of energy. This can be electric, natural oil, or solar energy.