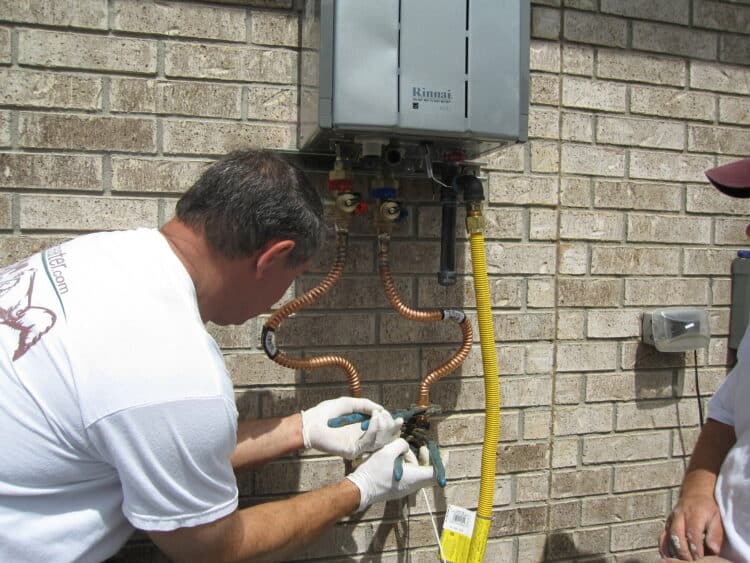 Have you ever stepped in the shower only to be doing that all-familiar hop-dance to the music of cold water running? A steaming and comfortable bath can be a deal-breaker when it comes to starting your day with a smile intact.
Thanks to our trusty and ever-reliable water heaters, we can have the simple luxury of hot water anytime! The only problem is, most homeowners rely on wasteful and inefficient storage hot water heaters.
No wonder your gas/electricity bills have been going up! Imagine all the energy your tank water heater needs to run on to keep 40 to 120 gallons of water hot for 24 hours a day?
Another issue with tank heaters is that hot water might not be readily available if someone leaves the hot water tap open.
Even when you're not at home, your tank heater will continue to chip away at your monthly utility bills. Storage water heaters also have a shorter service life – they start to fail after about 8 to 12 years.
We know the solution to all these problems – tankless water heaters with hot water recirculating pumps.
Tankless heaters are efficient and cost-effective!
To find out how you can cut back on your energy bills while having the luxury of hot water, read our complete guide to installing a tankless water heater at home.
Let's begin by understanding how tankless water heaters work, the types of tankless water heaters, and the pros and cons of pros and cons of hot water recirculating pumps.
What is a tankless water heater?
The great thing about tankless water heating systems is that you can have hot water on-demand!
Unlike storage tanks, instant water heaters will transfer heat to cold water as it passes through the system. This means that with a tankless heating system, you can have a supply of hot water 24 hours a day!
You might be wondering if a tankless heater can keep up with your family's needs. A tankless water heater can provide as much as two to five gallons of hot water a minute – that should be enough even for a large family.
There are two ways to set-up a tankless hot water heater at home: whole-home tankless heaters and point-of-use heaters. The best one for you will depend on your specific household needs and consumption.
The types of instantaneous water heaters will also depend on the power source: tankless gas and electric water heaters.
How do tankless water heaters with recirculation pumps work?
Once you open the hot water faucet, a sensor will automatically detect movement of water that will ignite the fuel source to convert into heat energy.
Since your tankless model doesn't have to keep gallons of water heated, tankless water heaters cuts back on expenses.
If you're looking for an eco-friendly option, you'll cut back on your energy bills by installing a hot water recirculation pump.
Most tankless water heaters will have an internal recirculation pump that lets hot water be automatically pumped through the plumbing on a schedule. This is usually the practice for dormitories and apartments that want to save energy costs.
If you want to install a recirculation pump at home, simply evaluate when your family most likely needs hot water.
Tankless systems also have a service life that is almost two times as long as tank-type heaters!
The flip side is that tankless water heaters are more expensive to install and repair.
What are the types of hot water heaters?
Tankless water heaters can be classified according to: power source and scope.
There is some debate of which is better for tankless models: gas water heaters vs electric water heaters? Let's find the best choice for your household by understanding both options:
Power source
Tankless Gas-powered water heater

Instant gas water heaters use either natural gas or propane.

A sensor detects automatically detects when cold water passes through a no storage gas heater. This will activate the gas-fired burner, and then cold water will be heated to the pre-set temperature.

Hot water flows will then be ready to flow through the water fixture or appliance!

For gas on-demand water heaters, condensing technology makes the process more energy-efficient. This means that gas-powered heaters will have a higher flow rate than electric heaters.

Gas water heaters can provide as much as five gallons of hot water per minute. This will allow several faucets and appliances to run on the hot water at the same time.

The flip side of using a gas water heater is that you'll be using costly fossil fuels that damages the environment. A typical gas-fired heater will waste as much as 50% of the energy it burns.

You'll also have to think about ventilation, which can hike up your installation expenses.

Still, gas heaters are cheaper to run and will typically last longer than an electric-powered one.

Tankless electric-powered water heater

An electric-powered no storage water heater works similarly to the gas-powered heater. The only difference is that the heating element is powered by electricity, not propane or natural gas.

This powerful system will usually require at least 25,000 watts of electricity, and most homeowners find that they need to upgrade their home's electrical panel. Still, electric tankless hot water heaters are a lot more energy-efficient than gas-powered ones.

The electric heating systems are a lot smaller and don't produce a lot of noise, so you can install them almost anywhere in your home.

On the downside, expect that a tankless electric heater provides less hot water output than a gas-powered heater.

Electric heaters also get damaged pretty quickly. They have a service life half as long as gas heaters at around three to five years.

Once the heating elements get fried, repairs will cost just as much as getting a new model.
Scope of water heating system
Centralized heater

If you have a large family, a whole-home tankless hot water heater is the best choice for you.

On-demand centralized heaters are made up of an extensive system that delivers hot water to all fixtures and appliances in your home. It's cheaper to install because it doesn't involve many plumbing and electrical and gas connections.

Compared to a storage tank, it's still a lot smaller so you can install it anywhere around the house. You'll have to review what heater size you should get – an undersized tankless heater won't be able to keep up with your household needs, and an oversized one will add a sizeable amount to your energy bills.

Point-of-use heaters or POU

POU heaters give homeowners greater control over their hot water needs.

These systems are purpose-specific and located near the fixture that will use them. These include showers, faucets, and other appliances.

This is an excellent option if you'd like to cut back on your utility bills. Let's face it, a hot shower is a luxury you can't go without, but do you really need your washing machine to run on hot water?

You can significantly slash your energy consumption by 80 to 90% if you remove some of your appliances' hot water connection.
Is a tankless water heater worth it?
Now that we know about the basics of tankless water heater systems let's evaluate if installing one will be worth it for your home.
While the best type of water heater will depend on your household's individual needs and routine consumption, let's take a look at the advantages and disadvantages of installing a tankless hot water system:
Pros and cons of tankless heater and hot water recirculating pump
Pros
On demand hot water heaters have a loyal following for their convenience, energy efficiency, and budget-friendly process.
More energy-efficient

Homes with electric on demand water heater units can save up to 30-50% on energy costs. This means that a typical family can save up to 100USD annually with a tankless heater.

If you plan on installing a recirculation pump, you can slash your energy bills by allowing hot water to run only during the time of day that you'll need it.

Budget-friendy

If you switch to an instant water heater, you won't have to pay for the extra cost of heating gallons of water 24 hours a day.

Even when you're not at home, a storage heater will keep water hot – what a waste!

Continuous supply of hot water

Another great thing about instantaneous water heaters is that you'll never run out of hot water!

As long as you installed the right sized tankless heater, there's no need to wait around for the water to heat. Say goodbye to cold and lukewarm water!

Most tankless units will take about 10 seconds to flow out hot water, but newer models allow for shorter waiting times. This will also depend on how far the system is located.

Look for a model that has a built-in recirculation pump. The pump will save your hot water and reduce waiting time.

Newer models have convenient technologies for controlling the pump. You can control the pump with your smartphone, a speaker, or a more classic timer.

This is a great option if you're sharing your home with a lot of people or if you have a large whirlpool or hot tub.

Compact and quieter
Unlike large storage water heaters, instant geysers are compact.

You can easily find a spot at home to install your hot water heater. You won't have to be bothered about the racket because tankless models produce less noise.

Safer and last longer

Tank-type water heaters are easily damaged.

Once there's a leak or bacteria gets in the tank, you'll have to pay for costly repairs to avoid any unwanted health issues.

Large tank systems are also a hazard during strong earthquakes. There's also no option of opening exhaust vents and air supply in some models, making carbon monoxide an issue.

Tank water heaters last about ten years, while well-maintained gas-powered tankless heaters can last up to 20 years.
Cons
If tankless hot water systems are the more energy-efficient and economical option, why do most people choose a storage water heater?
Can't keep up with very large houses

If you have a large family and you plan on having a whole-house tankless heater, it might not be able to keep up with your water demands.

Picture this: a family of five takes a shower in their private bathrooms all at the same time. Your centralized water heater might only be able to produce lukewarm water!

There are larger sizes of tankless heaters that can keep up with your needs but they're very expensive. Most homeowners with large houses will choose to install many tankless heaters.

Installation costs

Most homeowners won't consider a tankless model because of the upfront costs and expenses.

Since tankless units run on high-powered burners and heaters, you'll also have to install a ventilation system which will hike up your installation costs.

Compared to a storage-type heater, upfront cost is much higher. On the other hand, tankless heaters will last twice as long as tank heaters.

Safer and last longer

Tank-type water heaters are easily damaged.

Once there's a leak or bacteria gets in the tank, you'll have to pay for costly repairs to avoid any unwanted health issues.

Large tank systems are also a hazard during strong earthquakes. There's also no option of opening exhaust vents and air supply in some models, making carbon monoxide an issue.

Tank water heaters last about ten years, while well-maintained gas-powered tankless heaters can last up to 20 years.

Sensitive water sensor

Your tankless heater will automatically shut off based on several factors.

If there is some buildup in your plumbing system or if some of your fixtures are clogged, expect that the system will shut down.

Tankless heaters also don't work well with slow water flow. If water flow is reduced to less than 0.5 GPM, the water system won't heat the running water.
Installation guide for tankless water heaters
Once you've carefully evaluated your household needs and consumption, decide on the type of tankless heater you want to get. You'll need to decide between gas-powered or electric powered, and centralized or point-of-use heaters.
How much is a tankless water heater?
The cost of tankless systems might be the main reason why you're tempted to go with a storage-type heater. Remember that tankless units can run for 20 years!
Storage tank heaters can run for 12 years, if you haven't experienced any leaks or internal damage.
Gas-powered on demand heaters range from 200-2000USD depending on the water output. An average estimate for a gas tankless heater is 1000USD.
Electric on demand heaters is much cheaper at 100USD to 1000USD. On the other hand, these have a shorter service life than gas heaters.
Expect to pay between 1000-3000USD for a centralized tankless heater system. POU heaters will be less expensive at around 100-150USD.
What size of tankless water heater system should I get?
Tankless water heater sizing refers to: the capacity for temperature rise and flow rate.
Temperature rise refers to the maximum water temperature the device can provide. The flow rate refers to the amount of water (in gallons) that the device can effectively heat and distribute to the fixtures.
To determine the size of your tankless heater, you will have to consider:
Number of fixtures you want to connect to the on demand heater: Add their total flow rate (gallons per minute)
Required temperature rise: Use a thermometer and run cold water from the fixture. Subtract the desired output temperature from the current temperature to determine the required temperature rise.
How to install a tankless heater?
Unless you're a seasoned DIY-er with a water heater installation background, this is definitely a job best left to the pros.
A professional can help you estimate the type of heater you'll need, as well as the size based on your household needs.
For gas-powered units, a pro will make sure that water heater installation is leak-free and that the vent and gas connections are taken care of.
For electric instantaneous water heaters, a pro may have to upgrade your home's electrical circuit panel and wiring.
Water heater maintenance
To keep your heater running for years to come, get in touch with a pro that can do annual servicing. This includes: cleaning, changing air/gas filters, and checking the burner.
To prevent mineral build-up, conduct a vinegar flush every 500 hours. A pro or a DIY-er can do this.
Conclusion
Whichever tankless system you choose to go with, you'll reap the benefits of saving energy, money, and convenience in no time!
Get in touch with a professional team for safe and reliable water heater installation services.