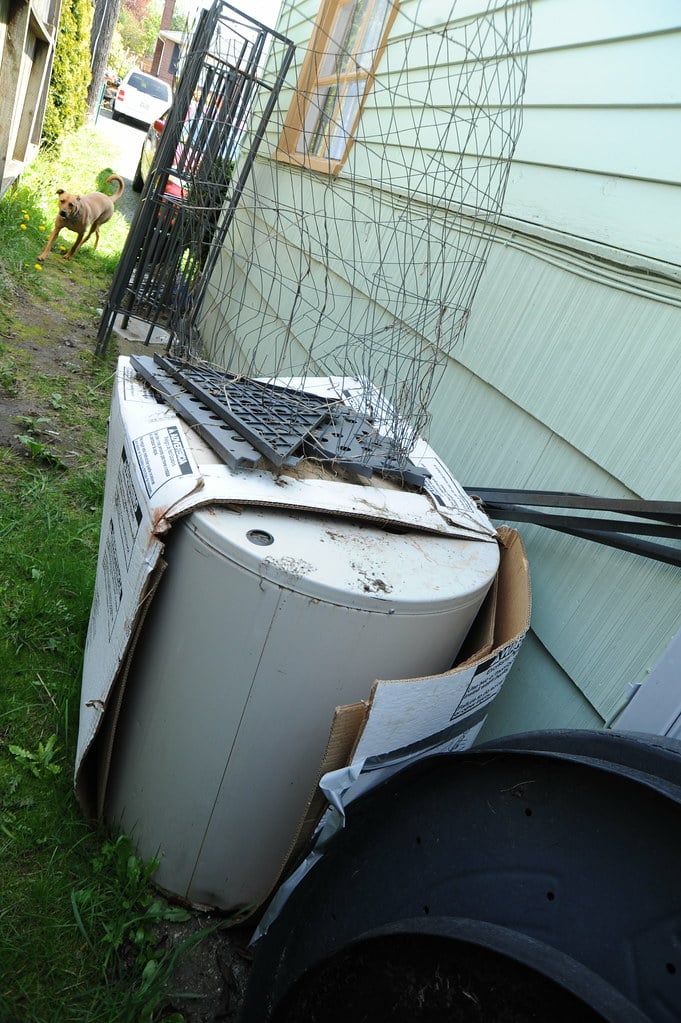 I bet, when you bought your water heater, you gave no thought to what you would do with it when the time came to replace it. Most people don't. But the fact is appliances have a shelf life. And eight to ten years is the most a lot of people get out of their water heaters.
Now, that time has come, and you have no idea what to do with your own. If you're like me, you don't want it collecting dust in the house or rotting in the yard. Give some serious consideration to water heater recycling.
Important Tip To Remember For How To Dispose Of Old Water Heaters
Different states have different regulations when it comes to disposing of appliances.
Before you decide to chuck your old water heater system, check up on state requirements.
What To Do With An Old Water Heater
Getting rid of your old water heater means that you are probably getting a new one. You probably do not need to worry about where to get rid of a water heater.
The company you plan to buy your new water heater from will likely take care of old hot water systems disposal. They will do a free hot water heater pick up with your new delivery.
If this is not an option for you, here are a few options to consider.
Try A Repair Clinic
Before you throw out your water heater, trying having it repaired. Check around your city to find a repair clinic. Volunteers will have it in good working order so you can keep using it.
Donate Your Water Heater
You got your water heater repaired, but maybe you plan to replace it anyway. That's okay. You can donate your newly repaired, working water heater to a goodwill center. Plenty of homes are looking to increase their hot water supply. Some of them do have the money to buy a new one.
If finding a center to accept your donation doesn't pan out, try putting an ad in the newspaper. The internet is also a great advertising tool.
Recycle For Parts – Sell Water Heater For Scrap
You can sell your water heater to scrap yards. On average,
Some companies will pay you US$20.00 to take part in their recycling programs. Find out who buys old water heaters near you. Call to find if you qualify for these programs and to schedule a collection day. They will come to pick it up.
How Much Do You Get For Scrapping A Water Heater
Some recycling places offer to pay you the value of the metal used to manufacture your old water heater. But that depends on which recycling center you use.
Try A Landfill
If you can't find a recycling facility near you, try contacting the city. The local government usually has plans to help homeowners with these situations. On specific days, they collect bulk waste materials, including water heaters. Call ahead to find out the city's pick-up schedule to ensure you do not miss the day.
You may have to pay a small fee for this service.
Call A Pickup Service
There are pick-up services that pick up old water heaters. Some of them may try to refurbish or recycle your old unit.
But, you should ensure that the company you choose has a good reputation. Some companies are known for stripping old water heater systems for valuable parts. Then they dump the waste material where they shouldn't.
Are There Companies Who Pick Up Water Heater For Free
If there is a free pick up old water heater or large appliances option out there, I haven't found it yet. Even the government services charge you a small fee based on the size of the item you want to throw away.
Private companies most likely will charge you more money.
Strip Your Water Heater For Parts
You can pay a company to come to get your old water heater. There is a high chance that they will strip it for parts, and sell those parts for more money. Or, with the right tools, you can strip your water heater yourself and sell those parts yourself. You get to line your pockets with a few extra dollars.
Stripping is a fairly simple process. Begin with the upper part of your tank.
Use a magnet to test the material of your tank. If the parts attract the magnet, they are metal and may fetch a pretty price.
What Is The Scrap Value Of A Copper Water Tank?
Some companies will pay you for your copper water tank. How much you get for the tank depends on company policy. Most times, to get the best price, your tank should be clean.
Get rid of unnecessary parts like pipes and other things that won't make you any money.
Separate these materials to increase your chances of getting top dollar.
brass/copper
heating elements
lagging
Each one of these parts will be weighed separately to arrive at a final number.
Gas model water heaters are more valuable. That's because they have something called a regulator.
Find New Purpose For Your Old Water Heater
More and more home improvement projects are about repurposing. We find new uses for old wooden fences, cabinets, mirrors, crates, and all sorts of other items. Your water heater is no different.
You might not need to get rid of your old water heater at all. If your tank is salvageable, you can find a different use for it. So, if all these options fail you, consider repurposing your old water heater.
Repurposing removes the headache of figuring out where can you recycle water heaters. Because sometimes, it is not so easy.
Helpful Tip
Find out the requirements for reusing your old water heater from the city. Do so before you begin working on this project. You don't want to violate any codes and risk getting shut down.
Transform Your Old Water Heater To A Solar Heated Water Heater
You may be able to convert an electric water heater to a solar-heated water heater. It will take a bit of planning and clever engineering, but you can do it.
Remove the sheet metal
Remove the insulation
Remove the electric controls
Paint the tank black.
This will help your new solar-heated water heater absorb heat.
Build a box
The front and top of this box must be see-through.
Insulate the box
Use reflective material for covering the inside.
Set up the box
Mount your box in a horizontal position out in the yard.
Put the water heater tank inside it.
This type of system can be used as a sort of booster for your water heater. You can use it to preheat your water for frequent use. It will save you money by cutting down on how much energy you use.
Create A Tempering Tank With Your Old Water Heater
A tempering tank is another version of a water heater booster. Here's what will happen.
Whenever you use the hot water in the tank of your water heater, cold water replaces it. That water will cool down the temperature in the tank. That's the reason you run out of hot water.
With a tempering tank, the cold water goes into your old water heater first. There, it has a chance to warm at room temperature. When the room temperature water gets to the heating tank, it takes less energy to heat up.
The Wooden Stove Method
For this method, you need to be handy with a welder and torch.
Because it is a bit of a project, I won't go into the details of this design here. But if you are a DIYer, you can find tutorials on the internet for this repurposing gig.
Make Yourself A Nice Grill
If you are in the market for a new grill, your old water heater could be the solution. This method is much simpler than the wooden stove.
Set your water heater down in a horizontal position.
Split it down the middle.
Add some legs so that it can stand.
Put in a handle.
Add some hinges.
That way the grill can open and close.
Include a flue and a firebox.
And there you have it. Your old water heater is now an awesome new grill.
Make An Outdoor Fire Pit
Cut your old water heater down to the size and height you want it. Drill a few holes at the base to allow airflow.
That's all it takes to give your old water heater a new purpose as a fire pit.
Design Some New Flower Pots
Designing new planters is a great way of reusing your old water heater. Cut it down the middle and you can use it to plant flowers, vegetables, or herbs.
Do these DIY ideas seem like too much to handle? Go ahead and use one of the methods we described earlier to get rid of your old water heater system.
Conclusion
A lot of homeowners end up with the worry of how to dispose of water heater systems. But there are many options available to you for old water heater recycling. And it's great that you want to do so.
Choose the method that is more convenient for you. But remember, when you dispose of your old water heater, do so responsibly.