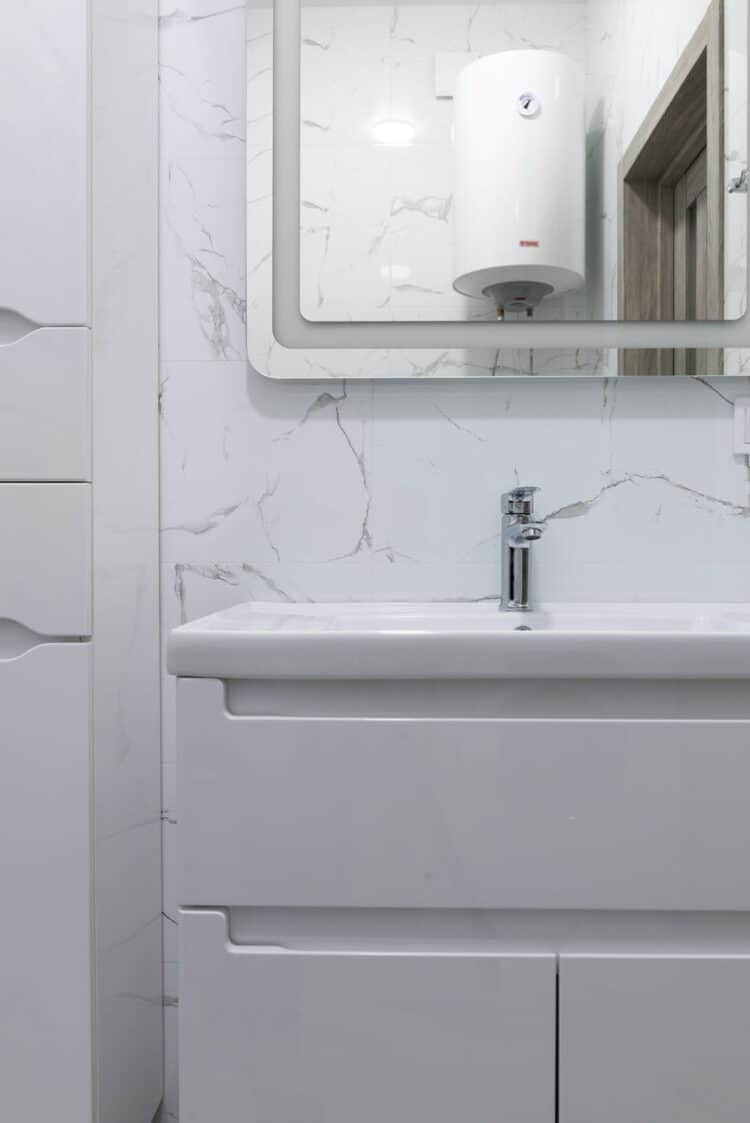 A water heater is a necessary piece of equipment, especially if you live in cold regions. They range in prices from as low as $400 or less to $6,000 or more. No matter what you budget, most of us are looking for energy-efficient water heaters. They will save us money down the road. Then, you hear about some additional device that new model water heaters come with that can save you more. Or you hear that you can add these devices to the water heater you already have. Doing so will also help you pinch pennies. And you wonder, is it worth parting with the extra cash? Is this a gimmick or will this thing work? That is what we want to find out about water heater heat traps.
Based on a few studies, we found out that water heaters in homes use up to about 20% of the energy the house uses. That is a lot. So, you have two options. You can find a water heater with higher efficiency. Or, you can make the water heater you already own more efficient. Either way, you stand to save a good bit of change.
One of the things you want to be aware of is that tank water heaters lose heat. Your water heater has to keep reheating the water in the tank if you do not use it. And that is one of the main reasons your energy bill is so high.
Heat in your water heater mostly gets lost through tank walls, flue vents (in gas types), and pipes. It is a good idea to find some way to insulate your water heater. They run more efficiently.
There are different ways you can do that.
Installing Insulation blankets
Insulate your pipes
Install heat traps
In this article, we want to focus on heat traps. We will answer all the questions you have about water heater heat traps.
What Are Water Heater Heat Traps?
The first heat trap design used a simple copper tube formed into a loop meant to retain heat. Heat traps design has improved in effectiveness over the years. Even so, if they are still a simple construction.
They have a pipe that resembles a loop or a valve that looks like the original heat trap. But, today, heat traps include small metal pieces known as nipples.
Although nipples have minor variations with their designs, the way they work is the same. For example, the nipples may have balls or flaps.
There are two little fittings in the area where the pipe goes into and out of the tank.
A small floating Teflon ball that sits in the exit fitting for your hot water. A small polypropylene flap sits in the inlet fitting for cold water.
What Is The Job Of A Water Heater Heat Trap?
If you do not use the hot water in your water heater tank right away, it stays there. Since the water does not heat while it is not in use, the water stays there and cools down. The longer it sits and waits, the cooler it gets.
That happens because the heat escapes via the tank itself and the pipe for cold water. It even seeps out through the hot water outlet as well because of natural convection.
This thermosyphoning causes water circulation whenever your water heater is not in use.
But if you install heat traps, two things can happen. They will reduce the water circulation in your water heater system. Or, they prevent it altogether. You will see a reduction in how often your water needs reheating. You will use less energy and save more money.
In short, a water heater heat trap is just what its name says it is. It is a device that traps heat in your water heater, so your hot water lasts even longer.
How Do Water Heater Heat Traps Function?
Heat traps primary job is to save energy. But, these devices also have another equally beneficial function.
Heat trap nipples are also dielectric. That means, they connect to another type of metal. When that happens, they will reduce the level of corrosion that metal suffers. They protect your tank from rust which means they could also extend the longevity of the anode rod in your tank.
So how does the heat trap conserve heat?
Remember, heat traps stop circulation and the loss of heat. Both the ball kind of trap and the flap type of trap do this job.
How The Ball Type Of Heat Trap Works
When you open a hot water tap, the water coming out of the outlet for hot water will push the ball to an upper position. The water has room to move free and clear from your tank to the pipe fixture. When you close the hot water faucet, there is no more water pressure. The ball shifts to a lower position and sits there. It blocks the heat from seeping out of the tank through the pipe.
How The Flap Type Of Heat Trap Works
The flap type of heat trap works in a similar way to the ball type. It opens with the water pressure when you turn on a hot water faucet to allow the hot water to flow through. When you shut off the hot water faucet, it falls back into place or closes. Once the flap remains closed, it keeps the heat suppressed in the tank. It cannot escape through the pipes.
Ball Type Of Heat Trap vs Flap Type Of Heat Trap
Both these traps work the same way and accomplish the same job. They prevent the escape of heat from your water heater tank. So, which is better.
Cost
Both the flap and ball heat traps are inexpensive devices. You can pick up one for under $20.
Installation
The installation process for both flab and ball heat traps is simple. But, we will go into the actual process a little further down.
Noise
At this point, the two diverge. Nipples that have floating balls may cause some noise concerns. The noise is more common if you had one of the circulation hoops installed. The noise is, most times, the result of improper installation, but it is a nuisance all the same. You can fix this problem by reinstalling the trap. More and more plumbers lean toward the flap option for water heater heat traps. The flap heat trap does not present this problem.
Heat Trap Installation Tips
Heat traps are simple to install. You only need the most basic understanding of plumbing. So, it will not take much effort to successfully install your heat trap on your water heater.
Persons who want to install the heat trap loop, should get in contact with a professional.
Installing the heat trap loop version takes a bit more experience. Your existing pipes have to bend. If you have no experience with plumbing, it is better to contact a professional. That way, there will be a lesser chance of making mistakes and damaging your plumbing.
You can buy heat trap nipple kits at many hardware retailers. If you cannot find it at your local hardware store, you can also get them through larger plumbing companies.
What You Need To Install Water Heater Heat Traps
Installing water heater heat traps is a pretty straightforward process. These are the things you need to get the job done.
A circuit tester (non-contact)
Large bucket
Teflon tape – or any other joint compound will do.
A towel or rags
Pipe wrench
And of course, your heat traps
How To Insert Heat Traps On Your Water Heater
Follow the steps below to insert your new heat traps.
Turn Off The Power On The Water Heater
Begin your heat trap install by finding the breaker that powers your water heater in the breaker box. Turn it off. Use the circuit tester (the non-contact kind) to check that there is no current flowing through it. You don't want to get electrocuted.
Drain Some Water Out Of The Tank
Water heaters come in different sizes ranging from 10 gallons up to 120. Whatever the size of your water heater, you only need to drain about 2 gallons of water from the tank. You can use either the relief valve or the drain valve.
You can attach a garden hose to the drain valve and drain the water through a nearby drainpipe if you have one. If you don't, you can't run the hose outside. If neither of these is an option, then that's the reason for the bucket and rag.
Let the water flow into the bucket and use the rag or towel to dry up any spills.
Teflon Tape Application
Attach the heat traps to the hot and cold pipes with Teflon tape or some other type of joint compound. Insert the heat traps well. Remember to use the red for the hot side and the blue for the cold side if your heat traps came with color-coding.
Tighten With A Wrench
You are almost done. Heat trap installation is that simple. All you need to do now is use your wrench and secure the nuts tightly.
Only use the wrench on the steel body. Do use it on the thread.
After that, simply turn the power back on, and you should be good to go.
The Trouble With Water Heaters Water Heater Heat Traps
Sometimes, appliance parts fail for one reason or another. Heat traps are not exempt. Other than the noise that ball traps can sometimes make, they can present other minor issues.
Flow Restrictions
Restricted flow is a problem that ball heat traps can have. The ball becomes stuck in the heat trap. When you open the hot water tap, the ball does not move up with the water pressure to let the water flow through the pipes. It blocks the way.
This problem happens because of poor installation practices.
How To Fix Flow Restriction Problems
There are two simple solutions to this problem.
Reinstall the ball
Switch to a flap heat trap
Leaking Heat Traps
Poor installation cause heat traps to leak. That will happen at the upper part of the tank where they connect.
How To Fix Leaking Heat Trap Problem
Most of the time, retightening the screws and using some Teflon tape will fix this problem.
Water Heater Heat Traps Blockage
Water heater heat traps, like any other component, will have problems. Many plumbers choose to alter pipe into goosenecks rather than use prefabricated ones. Doing so will decrease the risk of blockage. Heat trap loops can also fail if the diameter is not at the minimum.
A blockage is often a result of sediments, mineral deposits, and algae growing in your tank.
How To Fix Blocked Heat Trap Problem
A blockage is not just a heat trap issue. It is a whole water heater system issue that you need to take care of before it starts. Flush your tank out regularly to prevent this from happening. You can also add a water softener to your water heating system to lessen the chance of it happening.
The good news is that no matter what trouble your heat trap gives, fixing it is easy. Remember, heat traps are inexpensive, and the installation process is easy.
Should You Buy Water Heater Heat Traps?
There is no reason why water heater users should not experiment with heat traps. They are inexpensive devices. They are easy to install. And putting them in could help you save on energy use which in turn saves you money.
If you use a heat trap loop or a heat trap nipple, you can save up to 60% on wasted heat. You will see the difference reflected on your electricity bill.
In some states, adding heat traps to your water heater is optional. It is a personal choice. But in other states and some local ordinances, they are a requirement.
If you plan to replace your water heater soon, buying a modern one with a heat trap is a good idea. You can put in heat traps to make your water heater more efficient. You can save even more money by adding insulation to your pipes and an insulation blanket around your water heater a well.