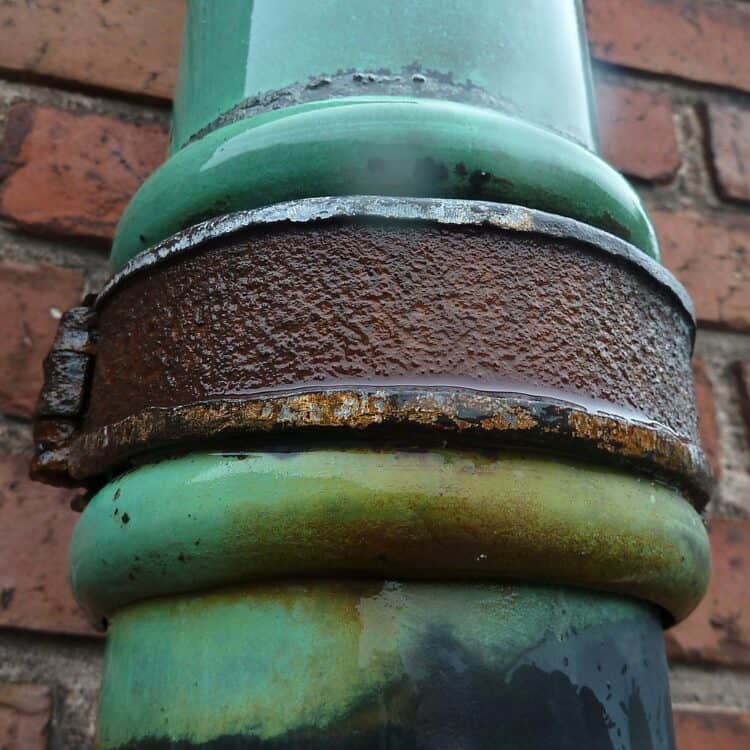 Home plumbing systems and other establishments usually use copper pipes. Compared to iron-made pipes, copper owns a smoother inner surface. This makes them less prone to limescale and other foreign substances in the water. A thin and small amount of limescale that forms inside the pipe protects corrosion. But, copper pipe corrosion may happen when the calcium carbonate in the water is higher.
Pipe corrosion brings bane for many pipe installers. Pipe corrosion is when piping material breaks down because of its environment. You've run into rusty sections of pipes or other metal pieces. These spots usually look eaten away or worn down. That's a sign of structural or pipe corrosion. What does it mean for pipes or beams? Too often, it creates unsturdy pieces of metal that could give way without warning.
Do Copper Pipes Rust?
Rusting happens when metal alloys or iron interact with water and oxygen. Rust is an iron oxide composed of a reddish or yellow-brown coating that forms when iron oxidizes. Not all oxidation creates rust, and only iron or iron alloys can. Other metals like bronze and copper also undergo oxidation, which leads to corrosion. With this, copper does not rust but corrodes.
What is Corrosion?
Corrosion happens when elements lose electrons combine with elements that absorb extra electrons. That then comes into contact with an electrolyte solution. Water's job in corrosion is to speed up the flow of electrons from the metal to oxygen. This is the redox reaction. It involves two chemical processes happening at the same time: reduction and oxidation.
Copper Corrosion
Copper oxidizes when exposed to the atmosphere, causing bright copper to tarnish. Through the years, it changes to dark brown or black and to green.
Copper is a noble metal making it able to resist attack by oxygen. The metal is immune to corrosion due to "patina." This is a protective film consists of Cu2O. When the protective film deteriorates, then the copper will corrode. But the patina on copper remains intact and repairs itself in most soils.
Types of Corrosion
Copper Corrosion has two types. Uniform corrosion is the presence of a uniform layer of copper corrosion by-products. Usually across the inner part of a pipe wall. It associates with elevated copper levels at the taps.
Non-uniform corrosion is the isolated development of corrosion cells. It is usually across the inner part of a pipe wall. Too much pitting corrosion leads to pinhole leaks in the pipe. This will also result in mold growth and water damage.
Benefits of Using Copper Pipes
Copper does your body good if taken in proper amounts. Living organisms, humans included, need copper to survive. It works with fatty and amino acids, including vitamins, to stabilize metabolic processes.
The Copper Development Association says that copper is essential for good health. It combines with specific proteins that are catalysts for different body functions. It has to be not over 12mg/day for male adults and 10mg/day for female adults.
Copper faced scrutiny for its potential use in fighting infections. Experts conducted studies to confirm the effectiveness of copper. Copper pipes last longer than a plastic pipe, are durable, and connect well to valves. It became the gold standard in water pipes for years, and the only harm to health was the lead‐based solder. With the ban of the lead solder, using copper pipes in the plumbing system is no longer an issue.
Copper has three grades for water pipe and color-coded letterings:
M – Thin wall pipe with red lettering, which is usually present in households.
L – Thicker wall pipe with blue lettering and is fit for water services outside.
K – The thickest wall pipe with green lettering is visible between the water meter and water mains.
DWV Copper with yellow lettering is for drainage pipes.
What Causes Copper Pipe Corrosion?
The standard for safe drinking water led to the decrease of usable copper in households. Municipalities add chloramines to treat and keep the water free from bacteria. Using these chemicals results in attacking copper that leads to corrosion and leaks. Pipes in households and establishments start to lose water because of corrosion damage.
Copper is the most common metal utilized in modern plumbing. Consumers expect copper to be corrosion-resistant. But copper cannot resist all corrosions. It lasts longer than iron or steel, but corrosion still affects it. Formicary is a type of corrosion that creates leaks in copper pipes. It looks like a grayish patch on copper piping. Sooner, it will lead to pinhole leaks. These are hard to detect and will bring considerable problems in plumbing.
The pH Level of Water. The pH value is a significant factor that can lead to the corrosion of copper pipes. The ideal range must be between 7.0 and 8.4. Consider the risk of corrosion when the pH level goes beyond the range.
High Water Temperature. Electrochemical and chemical reactions are more active every time the water temperature rises. It also liberates dissolved carbon dioxide, which adds to copper pipe corrosion.
Excessive Flow Rate. Corrosion on copper often occurs when pipelines' flow is at its highest. But, the water must not be stagnant either. It needs to have its normal flow and be mobile; strike corrosive attack can happen when it remains still.
Other Metal Particles. When iron particles from a public water system get into the pipes, it creates a galvanic element.
Improper Installation. Pipes' improper installation leads to faulty functioning of the plumbing system. This further deburrs the acid flux during the soldering of copper pipes.
Microbiologically-Induced Corrosion (MIC). MIC is not a form of corrosion but instead a process that can contribute to and start corrosion. Corrosion-causing bacteria may deteriorate tanks, pipes, or vessel surfaces.
Higher Level of Salt Dissolved in Water. Copper is prone to salt-related corrosion. It is one of the least resistant metals to saltwater. Households and establishments living near the coast must inspect pipes for possible corrosion.
Differential Aeration Corrosion. This is one of the common types of corrosion that occurs in underground copper piping. It happens when a section of the pipeline interacts with high levels of dissolved oxygen.
Sediment. Grit, sand, and sediment in the water can lead to corrosion through hydraulic wear. Imagine a high-powered sander on the inside of your pipes. This usually is what sediment accomplishes.
What Causes Corrosion on the Outside of Copper Pipes?
Corrosion outside of copper pipes can also happen. This is common when galvanized or copper supply lines touch basic or acidic soil. This occurs from exposed acid soil materials by trenching or alkali.
Corrosion on outside of copper pipes occurs in used or stored hazardous materials. These materials usually use hydrochloric acid. If the local plumbing code allows it, use CPVC, PEX, or PVC pipes in corrosive areas.
How to Identify Corrosion on Copper Pipes?
Copper corrosion leads to health risks of increased copper in drinking water. That is why it's best to know the problems with the plumbing system to avoid copper pipe deterioration. Copper water pipe corrosion causes extended health risks and the surroundings.
One sign of pipe corrosion is the blue-green stain seen on showers, faucets, drains, and sinks. The copper pipe green corrosion happens when the copper dissolves out of the pipes. Also, the copper on your pipes wears away leaving tiny, pinhole leaks on copper pipes.
Water discoloration brought by corrosion may leave stains in sinks or toilet tanks. The "frist-draw" of water reveals indications of corroded pipes. Corroded copper pipes leave blue-green stains. Meanwhile, galvanized iron/steel pipes will have reddish-brown rust.
The first line of indications for copper pipe corrosion is the change to the taste of tap water. Corroded pipes create a metallic taste, while water with a high lead level has a sweet taste. Cold first-draw that tastes bitter but diminishes later will also show pipe corrosion.
Leaks can bring about many causes; but, they are one of the clearest signs of pipe corrosion. A hidden leak may cause low water pressure. Frequent leaks show an "aggressive" corrosive water, or aging pipes may be due for new ones.
Clogged pipes may also show corrosion. Mineral deposits and oxidation can build up inside the pipes, making them narrower.
Hazards Brought by Corroded Copper Pipes
Aren't you curious about any brown, copper, or dark stains on your house's ceiling? That is a pernicious water leak. This means that there could be a problem with your piping system. As said before, copper water pipe green corrosion can reach your sinks, faucets, and drains. With this, copper pipe corrosion is not only about mechanical and chemical concerns. It is also about health risks.
Copper becomes toxic when consumed in high volumes. But that's a rare situation in drinking water. Excessive levels of copper may get into the environment. Through mining, manufacturing, or industrial wastewater released into rivers and lakes."
Health risks from drinking water are less likely related to copper consumption. But more likely from excessive flux or pipe compounds used to fittings and joined the pipes.
Severe impacts of copper corrosion generate issues of global significance. Industries like energy, chemical and automotive, underwent economic losses due to corrosion damages.
Few corrosion effects include deterioration of natural and historical enhancements. It is a harmful procedure that endangers the industry's efficiency and environmental quality.
Health Risks of Corroded Pipes
Lead and copper can be toxic and can reach into tap water in households. Contamination of copper can cause gastrointestinal problems and can damage kidneys. Lead contamination, meanwhile, can affect physical and mental development in children. For adults, it can lead to kidney problems and high blood pressure.
Lead and copper can be toxic and can reach into tap water in households. Contamination of copper can cause gastrointestinal problems and can damage kidneys. Lead contamination, meanwhile, can affect physical and mental development in children. For adults, it can lead to kidney problems and high blood pressure.
Corroded Pipes are Prone to Cracks or Bursts
The pipes' durability and strength are in peril due to corrosion. Copper pipes can no longer handle the pressure of water and are prone to crack or even burst. Cracked pipes result in leaks that can cause damages at home. The moisture left can start the growth of mildew and mold, which can lead to health problems.
Bursting of pipes can also lead to structural damages. Water damage and flooding inside the house takes weeks to deal with.
Efficiency of Heaters
A water heater is an essential appliance at home, especially during cold days. Contaminated water impacts the performance of the water heater. Your heater ends up using more energy to heat up, resulting in increased bills.
Corrosion Can Lead to Stained Fixtures
Bathrooms and kitchen fixtures are some of the victims of copper corrosion. With the water contamination, your premium-quality fittings and fixtures will lose their shine.
Rust Particles in the Water
Corroded water pipes are rusty and release rust particles in the water it carries. These can cause clogging, leading to more copper plumbing corrosion. Blocked pipes are likely to burst and cause huge damages.
How to Stop Corrosion on Copper Pipe?
It is best to seek help from plumbing experts for leaks in copper pipes in households or businesses. Leaks can lead to pinholes, burst in pipes, or puncture holes. Experts know copper pipe corrosion repair guidelines. They can even answer costs and prevention of various future leaks.
Patchwork techniques can cover the leak until a pipe repair. Quick patches cost less money and stop copper pipe corrosion. Replacing the corroded pipes is rather expensive but ensures longer functionality. Easy and quick patches for damaged pipes only need you to wrap the damaged pipe with tape, epoxy, or a patch kit. But, this will only work for slightly damaged water pipes.
You can reduce the effects of corrosion on copper pipes by setting up a phosphate feeder. It coats the interior surfaces of copper pipes with a food-grade phosphate. It protects against the build-up of corrosion on the surface.
If you can replace the corroded pipe yourself, you need to have the tubing cutter cut off each side. Remember to place a bucket under to catch the water coming out. Also, mark off the damaged section of the pipe to make the cutting easier. You might also need to cut the new piece of copper pipe to fit the damaged one. Use a wire brush to add the flux in the couplings and slip these to both ends of the original copper pipe.
Before finishing off, double-check for any leaks and holes on the repaired copper pipe.
How to Protect Copper Pipes from Corrosion?
Addressing problems with copper plumbing corrosion is never easy. You need to do the hard work treating the damaged part. Also, you have to spend an amount of money to make the plumbing system work. This is where the best practices for copper corrosion prevention lies.
Not all water piping system comes from the same and single material. This means that each plumbing system requires care that one might not apply to various pipes. Copper piping is not an exception.
Inspect the piping system and secure an accurate water analysis. Do this often if you depend on well water. This identifies the severity and source of corroded pipes if there are any.
Another way on how to prevent copper pipe corrosion is to verify electrical wirings. Check the unnecessary wirings connected to the piping system. Do this to ensure continuity throughout the piping system. Also, the piping system must connect to the earth's ground.
Secure a test kit to check for hardness, pH, temperature, and total dissolved solids. Calculate the Langelier Saturation Index (LSI) to determine the aggressiveness and corrosiveness.
Early detection will save you money and time. You can cut out certain sections of the piping system. You also have to check possible corrosion present. And if there are signs of poor quality by installers. With this, you can make an early replacement of copper pipes before it's too late.
The installation of a calcite neutralizer tank or a soda ash feeder will raise the correct lowPH to 7.2 to 8.0. It will also increase its alkalinity.
When total dissolved solids exceed 1000 ppm, build a reverse osmosis system. Boiling water or heating does not remove copper, nor will chlorine. To remove the copper altogether, you might consider water treatment methods. This includes reverse osmosis, ion exchange, distillation, and ultra‐filtration.
Have a chlorinator or ozone system purify the water in the pipe. This helps to cleanse the water before it reaches the faucets in the household. This is essential, especially if your water contains bacteria and sulfur odors.
Use a few types of grease to prevent copper pipe corrosion.
Using a paint sealer to prevent the air from copper is also an excellent way to avoid copper pipe corrosion.
Regular cleaning with salt or vinegar and baking soda is a great solution. This works for most copper materials. It prevents any kind of copper corrosion and maintains the shiny quality of the metal. Ensure to clean the copper pipes monthly to have the best results. It takes time, but if done, copper corrosion will never happen.