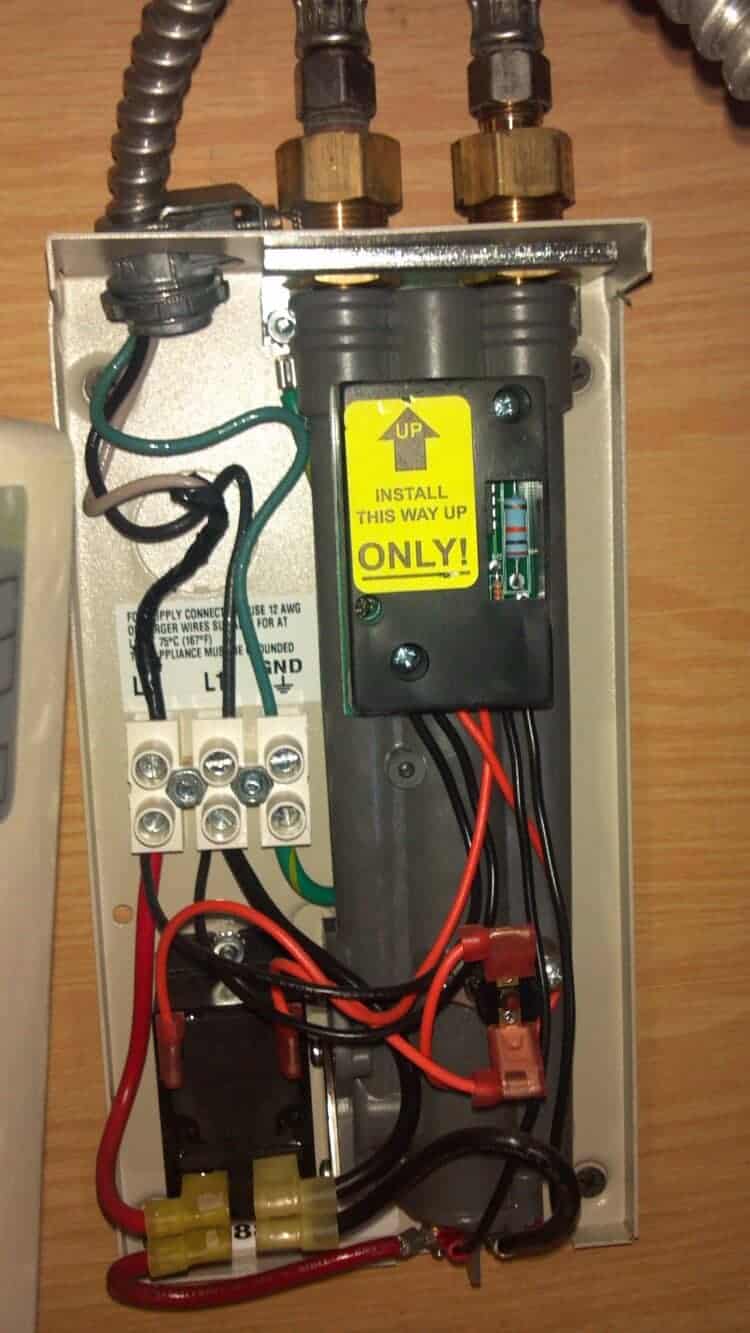 You decided to get rid of your old bulky water heater and try the tankless version. Making the switch offers homeowners many benefits. But with that decision comes many other considerations, like where is the best place for your new tankless water heater.
These appliances are small and fit easily into narrow spaces. And where you complete your system installation matters for several reasons. There are mixed reviews on the best setup point. But, one highly debated topic is can a tankless water heater be installed in the attic.
An attic is an isolated space. It seems like an ideal spot with so much potential for tankless water heater installations. Setting up a tankless water heater in the attic would give it some real purpose. It will be a lot more than just a dumping ground. But is this installation doable? And what things should you consider before going ahead with it?
That's what we want to find out.
Can A Tankless Water Heater Be Installed In The Attic?
The short answer to this question is yes. Putting tankless systems in the attic is possible. But, getting it installed there may take some effort. There are a few things you need to consider.
Many homeowners think they can install their water heater units wherever they want. But, that might not be the case in the zone you live in. In some places, where you plan to set up a tankless water heater must pass certain tests.
Your attic must meet the specifications of the local building and plumbing regulators of where you live. Otherwise, a tankless water heater may not be legal. We will talk about this in greater detail later on. But, before installing the water heating unit in your attic, find out if it is an ideal location.
Contact the bodies responsible for building and plumbing codes at your address.
Where To Install Your Old Water Heating Unit?
A huge problem associated with installing water heaters in attics is the plumbing situation. If you plan to build a new home, this will not be an issue. You can design your pipe network to accommodate a tankless unit in any section of your home. The attic included.
Unless your old water heater was already installed in the attic of your existing structure, you may not have this luxury. You will need to think about installing new pipes to get water and gas in your attic. How else will you power and feed your tankless unit?
For this reason, plumbers advise installing new water heating units where the old was installed. Everything is already in place. You will not have to break any walls to install the piping. It will also be cheaper for you.
Does Water Heater Location Impact Hot Water Delivery?
How well your system delivers hot water throughout your house depends a lot on its location. The faucets closest to your hot water system will get the best of the heated water faster.
When the heated water makes it to the far away faucets, the cooler it will be. Before you set up a tankless water heater in the attic, consider where you need hot water the most.
A house with an attic in a central location will not have this problem. Plus, the hot water will travel down the pipes faster.
I mentioned earlier that when putting a tankless water heater in the attic, you may need to add new piping. But, here is another important thing.
Complex piping will also allow the water from your system to cool down while passing through the pipe network. There will be no heated water. This is also a waste of water and energy.
Venting Your Tankless Gas Water Heater
Gas powers gas water heaters. So, one of the things you need when using these types of tankless units is proper venting. A poor ventilation system creates a life-threatening hazard.
That means your attic design has plenty to do with can a tankless water heater be installed in the attic. One thing you should bear in mind is if your attic has the combustion supply to support this installation.
You can ensure your system has the correct airflow using these tips:
Using Power-vents
With power vents, you use indoor air combustion and plumb the exhaust outside using an electricity-powered fan.
Advantages of using power-vents:
Does not need vertical venting/chimney
Removes gases using horizontal vents and vertical vents.
Although these units do not need vertical venting, you can use vertical venting. A chimney will do if you have it.
Reduces the risk of poisoning with carbon monoxide
Energy-efficient because they use less gas to work
Disadvantages of using power-vents
They can be a bit noisy
Since your installation point is the attic, this should not be a problem.
These units have fans that must be plugged into the power outlet
The power-venting unit will stop working if there is no electricity. This applies to gas tankless units as well.
Power-venting systems are up to 75% more expensive to buy and install than direct-vent
The warranty on power-vents lasts only six years
Using Direct-vent
Power venting units use inside air, but direct-vent systems draw the air from the outdoors. They have twin intake vents to do that. They also vent unwanted gases and excess heat back outside. Because of that, they use double intake vents. These systems also use twin exhaust vents.
Advantages of using direct vents:
Ideal for homes with vertical vents or chimneys
They do not use power fans, so they will not add to your electricity bill
The operation cost for these units is lower
The installation cost is also lower
Silent operation
That's because they do not use fans.
Disadvantages of using direct vents:
Because direct-vent systems are older models, they are not as energy-efficient
They offer less flexibility with venting
That's because they only use vertical venting.
Reasons Why You Should Put A Tankless Water Heater In The Attic
There are many good and logical reasons for considering your attic as an installation point for a tankless water heater.
An attic installation may provide easy access
Your attic is a space that can provide easy access to a water heating unit. But that is if you keep it neat and tidy. In that case, an attic installation makes maintenance checks much easier. Adjusting the unit will also not be a problem.
Let's explore what those are.
A tankless water heater in the attic allows better water distribution
I mentioned this before. Your attic is a prime location for tankless water heaters. That's because the water flows to your faucets faster.
There is less wait and so you will not waste as much energy or water.
Your attic is a space saver
An attic is a section of your home you can use as an additional storage space. Using it as that offers a way to declutter other parts of your house, like your garage and basement.
Your attic will conceal your tankless unit
As a homeowner, you probably do not want your bulky water heater front and center. You want them hidden because they are an eyesore and can mess with your aesthetics.
Installing the unit in an attic gets rid of that problem.
Problems with setting up a tankless water heater in the attic
While deciding on a tankless water heater in the attic has several benefits, it also has its drawbacks. Take a look at those below.
An attic installation may hinder access to the systemI mentioned earlier that an attic space can provide easy access to your system. But the opposite of that is also true. Installing a tankless water heater in the attic can make access troublesome.
In some areas, there are laws against installing water heating units in tight spaces. The floor has to have specific dimensions. The water heater must be a certain distance from the entrance. And there should be nothing hindering your access to your unit in the attic.
Although that is not always the case, the attic space of many homes is small. Because of their size, they may not meet the criteria for installing your water heating unit. Find out from the local authorities whether your attic passes code specifications before doing the installation.
Many homeowners use their attic to dump the things they do not want or do not often use. The square footage of the room may also be small, so there is a lot of clutter and very little space to work in. These are things you want to take care of before installing the water heater.
That will make access to your unit a problem. But the solution is simple.
Water heaters need maintenance at least once a year. That means you do not need to go up to your attic too often.
If you want to set up a tankless water heater in the attic, you can organize it a bit better to make access easy.
A leak in the tankless water heater unit may go unnoticed
Sometimes out of sight really does mean out of mind. That's what can happen when you install water heating units in an attic. It is not a space most homeowners visit often.
As a result, leaks, especially the small ones, go undetected. You may only notice the leak when it is too late.
You may not think a small leak is a problem, but these are the ones you want to keep an eye on. They cause secret damage.
By the time you notice it, your structure may already suffer from water and structural damage. Mold may start to grow.
But again, with regular checks, these are preventable problems. If you make access to your attic installation easy, maintenance will be simpler.
Your insurance might not cover the cost to fix the damage
Not taking proper care of your costly unit will cause it to break down.
It can rust. The pipes may break.
Several things can go wrong, which can lead to property damage.
If your insurance company suspects neglect as the main cause of damage, they may not cover your repair costs.
Also, putting your installation in an attic that does not meet local codes will disqualify you for insurance payments.
Repairing and replacing water heater systems mounted in attic may cost more
It all comes back to ease of access. Removing and replacing water heaters in a small attic with a lot of clutter is not impossible. But it is tricky.
Your plumber may have to spend a few extra hours to get the job done the right way. Your bill will be higher.
Conclusion
It depends on a lot of things.
Some homeowners have no choice but to do their tankless installations in their attic. The design of their homes does not allow anything else.
That is the case in many states.
For example, North Carolina homes have a concrete foundation that makes running pipes through the ground floor a challenge. So, the water heating unit gets installed in the attic to bypass this problem.
We presented several issues a building may suffer as a result. But each one is easy to avoid. Homeowners only need to be vigilant. Give your water heating set up regular inspections to ensure it works well.
Make the conditions in your attic pleasant so you do not want to avoid going in there.
Can a tankless water heater be installed in the attic? You bet. But how well it works and what happens up there, depends on you.