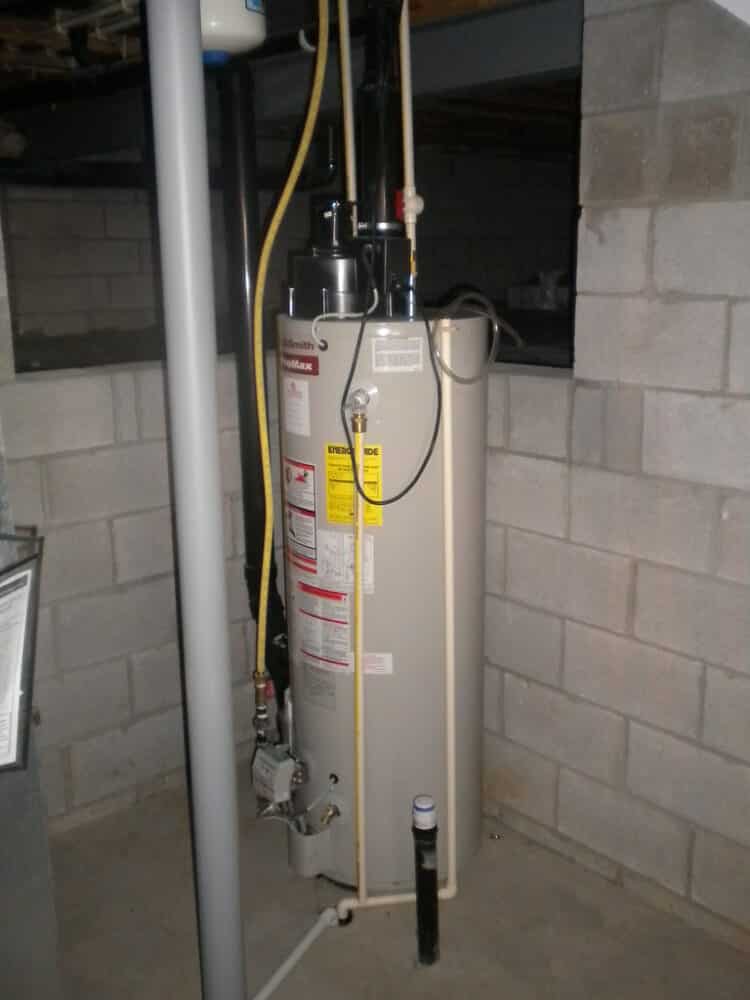 If you're anything like me, you want your home to be neat and organized. A clunky water heater, with all its tubes, valves, and pipes can really mess up the flow of any living space. Do not worry. You've come to the right place. Because here, you will learn some creative ways to hide your water heater.
Things To Consider
Even if your water heater is hiding somewhere not in your line of sight, you still want the space to pleasing to the eye. After all, you do not know what the future will hold.
Someday, you want to turn the basement into a living space. Or some day, you could want to sell your home. Planning for those eventualities will work out in your favor.
One of the ways you can prepare yourself is by hiding those ugly drain pipes before the time comes. And covering a water heater tank or two if you have more than one.
What You Should Know Before Covering A Hot Water Tank System
Before you begin buying materials for your water heater system cover, consider:
Aesthetics
When building a new home, it may be easy to figure out the best ways to keep your water heater from view. You only need to add those measures into your home's design.
For existing structures, it may not always seem so simple.
Some may say that if your water heater system is in an area where others can't see it, it doesn't matter. If you put the water heater in an enclosed laundry room in garages, no one will see it.
I think it does matter. You're here because you believe it does too.
No matter what room your water heater is in, you should not simply chuck it in a corner, and forget it. You want to ensure that it blends in with the decor of the room.
When deciding to cover a water heater system:
Try to see the finished work in your mind.
Find the materials that work well with the design you want.
Try not to make the end product an eyesore.
Cost
Many homeowners function on a strict budget. Sometimes, home improvement projects seem so far out of reach. Hiding a water heater might be very low on the list of things to complete. And you should prioritize the things you have to do by order of importance.
But what if I told you that there are affordable ways to get this job done without hurting your pocket? And if you collect the materials over time you need over time, it works out even better. Your finances won't have to suffer.
The good news is, the methods we have for you are all DIY friendly. So, you do not need to hire anyone to help you. If you have the time, patience and commitment, the methods in this article will work for you.
Durability And Safety
Ensure that your enclosure is strong enough to stand the test of time. You don't want to spend money on something only to have it fall apart.
You also do not want your project to harm your water heater and your home. The walls of your structure should be about 55mm away from your water heating system.
Resting the material against a water heater can create a fire hazard. This brings me to my next point.
Space And Size
Do not go out to buy any material unless you have the full scope of the job. Get the dimensions right. Consider any add-ons you have with your water heater systems to make space for them.
Keep these in mind
Water heater system size
Do not forget those Add-ons (like a water softening device)
Plumbing system
Width and height of the space you want to enclose
How To Screen A Water Tank
Get An Outdoor Water Heater System
Outdoor water heater systems are a great option for persons building a new home. You can come up with many creative ways to hide water heater systems out in the yard.
Bear in mind that this option is much more expensive than the others we have to offer. And if you have an existing structure, relocating a water heater system is even more costly. Quite a bit of money goes in into restructuring your plumbing system alone.
If you have that kind of cash to spare, this is the option you want. It is the best way to keep your water heater system from being an eyesore.
You can check online to find creative ways to set up your outdoor water heater system.
Hang Up A Curtain
The curtain method is one of the most cost-effective methods to get your water heater out of sight. Some people say it is only a temporary fix. I disagree. If done right, you can have a beautiful curtain setup that matches the room. And, as a bonus, you can mix it up and change the look of your enclosure whenever you want.
But, be careful. If you do not get this method right, your curtain could end being an eyesore too. Consult google for cute DIY curtain ideas.
Leave at least 55mm of space between the curtain and the water heater to prevent a fire hazard.
Put Up A Screen/Room Divider
Like the curtain plan, a divider is also an affordable way to hide your water heater system. You can also follow a DIY tutorial on how to build your own. Or, you can get a screen from your local home improvement store or order it online.
Benefits Of Using The Curtain Or Screen Method
Using the curtain or screen method does not need any major renovating. It won't take a chunk out of your pocket.
A Closet May Be Just What You Need
It may sound like a big project, but installing a closet is pretty simple. All you need is some drywall and a door.
Benefits Of Installing A Closet
You can use repurposed material.
Used building material is cheaper to buy.
A closet makes accessing your water heater easy.
A closeted water heater is a great selling feature.
They are more permanent.
You can add extra storage space for more household items.
Build A Cabinet
Like with building a closet, you can find used materials to build a cabinet. Trying to visit a yard sale. You may find a whole used cabinet you can refurbish. But ensure that it is the correct size.
Redesign the cabinet the way you like, then slide it in place around your water heater.
Customize A Barn Door To Hide Your Water Heater
This method will only work if the space you want to cover is the right size. Barn doors are wide so the space your water heater occupies has to be five feet or wider.
Although, if you are up for it, you can make your own sliding door. Or you can pay a carpenter to build one for you that is the correct size.
Put In A Swinging Door
If a barn door won't work for you, another option is a swinging door. The double-swinging french doors will work well. Consider using matted glass. Your water heater will be out of view but light will still shine through the enclosure.
Create And Customize Your Own Chalkboard
The blackboard method is one of the more creative ways to hide water heater systems. And it's also really simple.
Build a box large enough to house your water heater. Don't forget to leave adequate space. You also want to add a door to give you access to your appliance.
Paint the box using blackboard paint. Write daily quotes on the chalkboard. If it's in the kitchen, use it to write reminders or shopping lists. Draw on it. Get creative.
Paint It
You can paint your water heater. Here are some helpful tips to follow:
Turn the gas valve off.
That way, the pilot light cannot ignite the paint fumes.
Unplug the water heater.
Do not paint over safety instructions.
The parts of the water heater that get hot should be easy to identify.
Frequently Asked Questions
Is It Safe To Put Hot Water Heater Under Stairs?
Under the stairs is a great storage option. And it is possible to set up your water heater system there. But if you install the system while you are building the stairs, it is easier.
You can make room for ducts, water lines, and other fixtures.
For an existing structure, running those fixtures will be a problem.
Can You Tell Me How To Hide A Boiler?
Ideas to hide a boiler are the same as the ideas described in this article. Choose the one that best suits your situation and get creative with it.
Conclusion
There are several creative ways to hide water heater systems. You may have a few in mind that did not make this list. But my favorite is the blackboard. Which one is yours?
When choosing a design to hide your water heater, remember to keep these things in mind.
Cost
Durability and safety
Space and size.