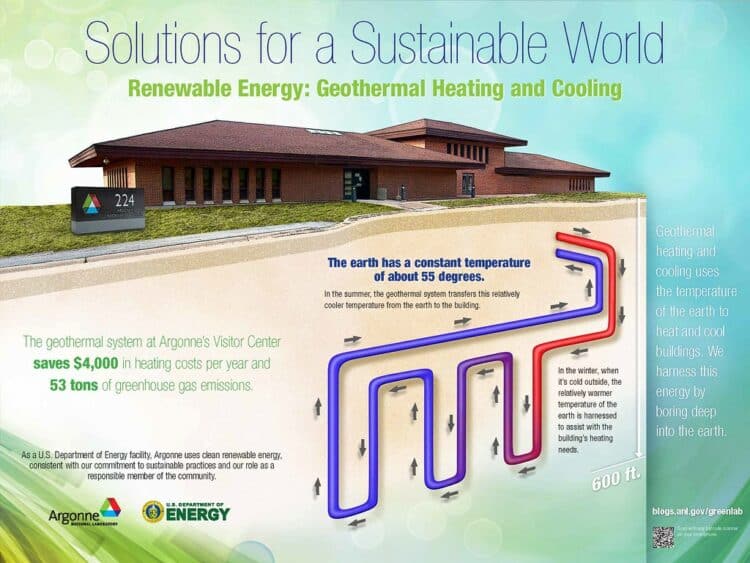 How does geothermal heating work? This method of generating energy dates back centuries. Geothermal energy taps on the underground heat and steam reservoirs to generate energy. You can drill the underground and harness the heat found there. The heat generated can drive turbines and generate electricity.
The idea of generating geothermal heat may invoke the vision of volcanic hot springs. It may sound like something that can only occur in areas of volcanic activities. But the truth is that it is a viable source of energy for your home. It is efficient, cheap, and produces negligible emissions. Because of this, it is growing in popularity.
If you are looking for an alternative heating system, Consider geothermal heating. It saves you money and energy. The average family spends more than $100 per month on home energy costs. But if you switch to a geothermal heat pump, you can save up to 80% of what you spend on traditional HVAC.
A geothermal heating system is very efficient in energy conservation. It uses natural underground heat to heat homes. During the winter, it warms the house and cools it in the summer. It works by harnessing heat energy below the surface of the earth. It converts the heat into warm air through the use of geothermal heat pumps (GHPs). Earth-coupled or water-source heat pumps are other names used to refer to the GHPs. They only use a small amount of electricity to operate. GHPs can replace the expensive gas furnace and work as air conditioners. You don't incur extra costs.
Is geothermal heating available in my place?
A misconception about geothermal heating is that it is available in select locations. That is not true. Any home can harness geothermal heat and use it to warm and cool the house. Regions closer to volcanic eruptions could have a higher output of geothermal heat. But this does not mean that you cannot install a geothermal heating system in your home. Residential geothermal technology can work anywhere.
How does a geothermal system work?
Once you have installed a geothermal heater, the heat pump pumps heat from the ground and heats or cools your home. Pipes are normally installed some 300 feet deep into the ground. The work of the pipes is to absorb heat and circulate it to the house. These pipes are also called loops. They use liquid to distribute the heat. During the summer, they extract the heat from the house and carry it into the ground. During winter, they extract heat from the ground and distribute it around the house.
Geothermal is environmentally friendly because it does not need fossil fuel. Neither does it need a lot of electricity to run. The U.S Environmental Protection Agency classifies geothermal energy as renewable energy. It means that more usage doesn't translate to depletion. It cannot be exhausted.
Parts of a Geothermal Heating System
A geothermal system contains three major parts. The ground piping(loop), heat pump, and the system of distributing the heat.
The ground piping (loop) is the design of the ductwork system that you install at home. It can either be an opened-loop or a closed-loop. Connect the loops to the water source like a pool or a well. Also, fill the loops with a liquid. It helps in exchanging heat between the underground heat source and your home.
The heat pump transfers heat from the underground to the home space and vice versa. During the summer, it extracts heat from the ground and distributes it to the ground ductwork. During the winter, it exchanges heat from the ground loop and directs it to the underground.
The distribution/circulation system distributes heat or air between the home and the underground. The duct is used by a geothermal system called forced air cooling system. It delivers cooled air to the inside of your home. It works like the conventional air cooling system. Most geothermal heating systems are designed with hydronic circulation in mind. This is a network of ductwork filled with a certain fluid. It runs throughout the home and distributes the heat. The other option is a water-to-water system. Here pipes run through the floor or walls so that heat is exchanged through the water pipes. Depending on how you want to heat or cool your home, the water pipes will carry cool or hot liquid.
Closed-loop and open-loop system
Geothermal loops can be installed differently depending on many factors. There are two main types of loops of a geothermal heating system.
A closed-loop system uses liquid to transfer heat from underground to the home. The closed-loop system can be vertical or horizontal. Others are a variation of the two.
Open-loop systems carry heat from the underground to the structure. You can either install the system in the dam or allow them to distribute groundwater.
Benefits of Geothermal heating system
Geothermal heating systems are very sustainable in terms of energy costs. They provide very affordable alternatives for homeowners and businesses. They make it easy to provide heat to the building without causing any harm to the environment. There is a lot of potential for these systems. So it is time to adopt geothermal heating systems. Other heating options tend to be more expensive. Others are non-renewable energy sources, which are not ideal for the environment. Geothermal is better for the environment than any other energy source.
The other benefit of a Geothermal heating system is that there is still a lot of potential. This energy source cannot be exhausted. The earth resembles a massive gobstopper which comprises of very hot layers. At the earth's core, the temperatures are very high (more than 10,000 degrees Fahrenheit). It is as hot as the sun's surface. You cannot deplete geothermal energy because the heat is generated by radioactive elements. Historians also claim that much of the heat was retained billions of years ago. It cannot be exhausted.
So it means that this source of energy is renewable. Just like wind and water, geothermal energy is renewable. It cannot be exhausted. It is constantly and consistently available. That makes it a very reliable source of energy. You can expect it to be present even in the next millennium.
We also mentioned early that this source of energy is very economical to operate. You don't need a lot of electricity to run it. It doesn't use fossil fuel either.
Geothermal energy is very sustainable, affordable, and environmentally friendly. Consider using this clean source of energy to heat and cool your home.
Geothermal heating and tankless water heaters
Tankless water heating system has been popular and is good for the environment. Tankless water heaters are preferred because they offer instant water heating solutions. It eliminates the energy wastage that comes with maintaining storage tanks. Imagine the energy leach that comes with maintaining an 80-gallon storage tank. A tankless heating system can be a preferable method of heating water. This is particularly true if you are using point-of-use heaters. It will save you energy and water because the faucet doesn't take long to get hot.
So where can we improve this design? Some experts like the idea of placing a water tank in the conditioned space. The idea is that the water in the tank will assume room temperature. That means that it takes a shorter time to heat the water compared to heating cold water directly from the tap. This design can save energy and increase heating output.
Geothermal heat pumps are very good with this if you can get an expert. They can be set up with a hot water generator. The heat generated can then be dumped into the holding tank. If you can recall the law of thermodynamics, heat moves vertically. Heat will move from warmer to cooler zones. So the GHP works by manipulating the heat to enough temperatures for the process to take place.
When you are cooling a building, there is a lot of waste heat in the process. During the heating, geothermal heat pumps provide enough heat energy at minimal costs. This is possible as the tankless heaters use either electric heat or combustion heat. The coefficient of performance (COP) needed for this is about 1.0. To put this into perspective, the COP required for a GHP is about 4.0. It means that a GHP uses 74% less energy to make hot water compared to tankless heaters. The coefficient to performance of 1.0 implies that the system is nearly 100% efficient. So every bit of energy produced converts to useful heat during the process. So any heater that produces 90% efficiency is good. This is where the scales get tipped. Getting a heat pump that delivers 100% efficiency is very rare. SO you have every reason to think about GHPs.
The reason heat pumps go by the name 'pumps' is that they do not create heat. They move the heat where it is needed. Just like a water pump moves/lifts water from the lower region to a holding tank, heat pumps do the same with heat. It lifts the heat in the ground and carries it to it is required during the heating process. So heat pumps will not generate heat. They only carry the heat that is already available in the ground.
GHPs with DHW generators don't run only when you need water. In other words, they don't operate only when the temperature in the holding tank falls. They continue to operate on a need basis. They will heat or cool the building supporting it with free hot water as they cool and heat the building. your home will have extra free hot water on standby at all times. Unless you are in the swing stage where you don't need any heating or cooling.
There is a lot of potential with geothermal heating. New technologies are being tried daily just to make it better.
Is Geothermal Heating Right for My Home?
Geothermal heating may be more suited for your home than you can imagine. If you are looking for a reliable HVAC to heat your home during the winter, geothermal heating is what you need. No heating system replaces cold air with warm air better than a geothermal heater. It is time to replace that aging air conditioner in the summer as well. A geothermal heating system also cools your space with efficiency. It is clean and efficient energy that is ever available. However, it is not a flawless energy source. There are some cons you need to look at before setting up a geothermal heating system.
The initial setup cost may be prohibitive to most people. To install a geothermal heating system, prepare to spend as much as $20,000. Yet, this initial setup cost can be compensated with low running costs. In the long run, you will be saving money. You can also take advantage of federal tax credits of 26% of the initial cost. The tax credits only apply to residential geothermal systems.
You could encounter difficulties during installation in older homes. Older piping systems and homes pose retrofitting challenges. It can get complicated and costly trying to install a geothermal heating system in an older home. You might need a lot of excavation near the building during the process
If there is damage to part of the system that is underground, it can be costly. It will involve dismantling the underground loop during the repair process. Although repairs in the underground loop are not frequent, it is still something to think of.
Conclusion
Geothermal heating is very cost-effective, reliable, and environmentally friendly. The cons outweigh the benefits by a huge margin. If you are looking for a reliable heating and cooling system, go for geothermal heating. Geothermal heat is a readily available energy source irrespective of your location.