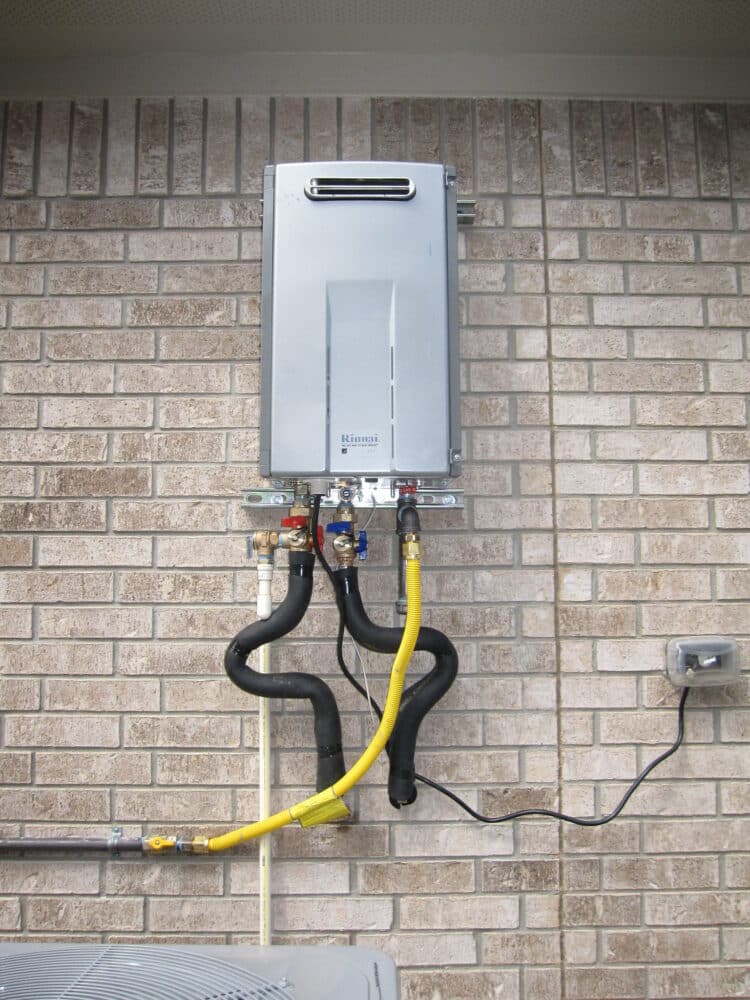 For persons living in wintery conditions, the cold can cause major damage to your water heater. Because of that, you need to take the necessary steps to keep the water heater from freezing.
We want to answer a couple of questions on how to care for your water heater in freezing conditions. Can a hot water heater freeze? And if that is possible, how do you unfreeze a hot water heater.
Can A Hot Water Heater Freeze?
Yes, a hot water heater can freeze. But how likely that is to happen depends on a few things, including:
The type of water heater you have
How cold the weather is
How often you check your water heater
First, let's take a look at how the cold affects the different types of water heaters.
What Are The Different Types Of Water Heaters?
Water heaters come in a variety of styles. There are even dual/hybrid heat pumps models with solar, and condensing. These are less popular. But, you also have the more common types – traditional tank water heaters and tankless water heaters.
So how will these fare in cold weather?
Will The Season Cold Freeze An Electric Tankless Water Heater?
Electricity-powered tankless water heaters have a freeze-protection design. But the freeze-protection component will only work when your water heater is on.
In the case of tankless electric water heaters, power outages over long periods can cause your water heater to freeze. The chances of this happening are greater if there is water in the heater.
Although tankless water heaters are on-demand and do not collect water, small amounts can stay inside them.
Residents of places that face several power outages during winter may experience this problem.
Will It Freeze A Gas-Powered Tankless Water Heater?
Some gas-powered tankless water heaters have an electronic component. So even if gas heats the water, they still need to be plugged into an outlet for them to work. In this case, a power outage in the cold can affect your water heater and cause it to freeze.
Other gas-powered tankless water heaters do not use electricity at all. They run on gas and so are less likely to freeze in cold weather if there is a power outage.
All you need is a steady supply of gas to keep your heater powered and the chances of freezing will be, low.
How Well Does A Gas-Powered Tank Work In Cold Weather?
Regular gas-powered tank water heaters do well in the cold. That is unless there is an interruption in your gas supply or again they have an electric component.
A steady flow of gas to your water heater will keep the water hot. The water in turn will keep the tank at the proper temperature.
How Well Does A Electric-Powered Tank Work In Cold Weather?
Like the electric tankless water heater, these types have a higher chance of freezing during a power outage. And you will find that this is more likely to happen if there is water in the tank and no electricity powering the unit.
The takeaway here is that the chances of your water heater freezing are low. That is because these appliances have built-in insulation to protect them against cold weather. They also have a thermal capacity that keeps this from happening.
It will take extreme circumstances and the right conditions for your hot water heater to freeze.
For example, you would have to either run out of gas or have no electricity. There would have to be water in the tank.
The temperature of the water needs to be extremely low. It would have to drop below -22 degrees. And you perform no maintenance checks on your water heater during the cold.
But, here is the fact. As rare as it may be, your water heater can freeze.
What To Do If The Cold Freezes Your Hot Water Heater?
This does not bode well for your water heater. The water in your water heater will expand as it freezes. When that happens, the tank of your water heater can burst.
The same can happen with tankless water heaters even if they do not store water. Not all the water drains out of these units during use.
If subjected to frozen water expansions, your cold water supply line, T/P valve, gas valve, and other components can crack and leak. They can even shatter. Plus, when all that water thaws, there's the risk of more damage.
How Do You Unfreeze A Hot Water Heater?
I mentioned earlier that even some gas-powered water heaters have electronic components. So when there is a power outage, they will not work.
What to do then?
The first thing you want to know is you should not apply too much heat too fast. Dousing your water heater with heat will do more harm than good.
Try Thawing Your Water Heater With A Heat Gun
Run the heat gun around your tank but keep it moving. Never keep it aimed at one area for too long. Doing so may cause damage. Now and then, touch the water heater to ensure it is not too hot.
If you do not have a heat gun, you can use a blow dryer or even an infrared lamp.
Turn Up The Heat In Your Home
Turning up the heat is one way to get your water heater to thaw out at a safe rate.
Use A Pipe-Thawing Machine
Unless you are a plumber, you probably do not own one of those. If your water heater froze, you can contact a plumber.
A frozen water heater is preventable. All you need to do is gear up yourself and your water heater for the cold weather.
Leave The Water Heater To Thaw On Its Own
The conditions that caused your water heater to freeze will not last forever. So, if all else fails, you can always wait for it to thaw out.
To avoid this situation, here are a few things you can do for your water heater before the cold arrives.
How To Get Your Water Heater Ready For The Winter?
To guarantee that your water heaters last throughout the winter, follow these freeze prevention guidelines.
By using these tips you will winterize your hot water heater and lessen the chances of freezing.
Set up your hot water heater somewhere warm.
If you live in areas that experience extreme winters, outside is not an ideal location for your water heater.
Ensure there is no water in it if the power/gas goes out.
Maintain a source of power.
You can do that by investing in a generator that will pick up the slack when there is no electricity.
Do not turn your water heater off.
If you plan to fly south for the winter and you must turn off your water heater, then keep your furnace on and your water heater empty.
Invest in a recirculation system.
You can never have too much insulation.
Make a small trickle of water.
Regular inspection
Ensure that you replace all damaged and aged parts.
A faulty water heater is more likely to freeze than one that works well.
Frequently Asked Questions
In this section, we will answer a few more questions about unfreezing your water heater.
How Do I Know My Water Heater Is No Longer Frozen?
To know if your unit is no longer frozen, open the inlet valve. If you notice the water flows, then your thawing attempt was successful.
What Should I Do After My Water Heater Thaws?
The first thing you want to do once your water heater thaws is check for damage.
Check for leaks in the pipes outside the system.
Inspect internal components
You may also want to check other parts of your plumbing system.
Chances are if your water heater froze, other pipes experienced the same thing.
If everything seems to be in working order, fire up your unit.
Conclusion
I want to remind you that a frozen water heater is preventable. All homeowners need to do is winterize their hot water units to survive the extreme cold.
If you did not prepare your water heater for the dreaded winter, do not fret. There are several options you can use to get it thawed out.
Once you unfreeze your water heater, you will need to check it for damage. Frozen water expands. If it swells up enough, it can cause cracks and other damages to your water heater.