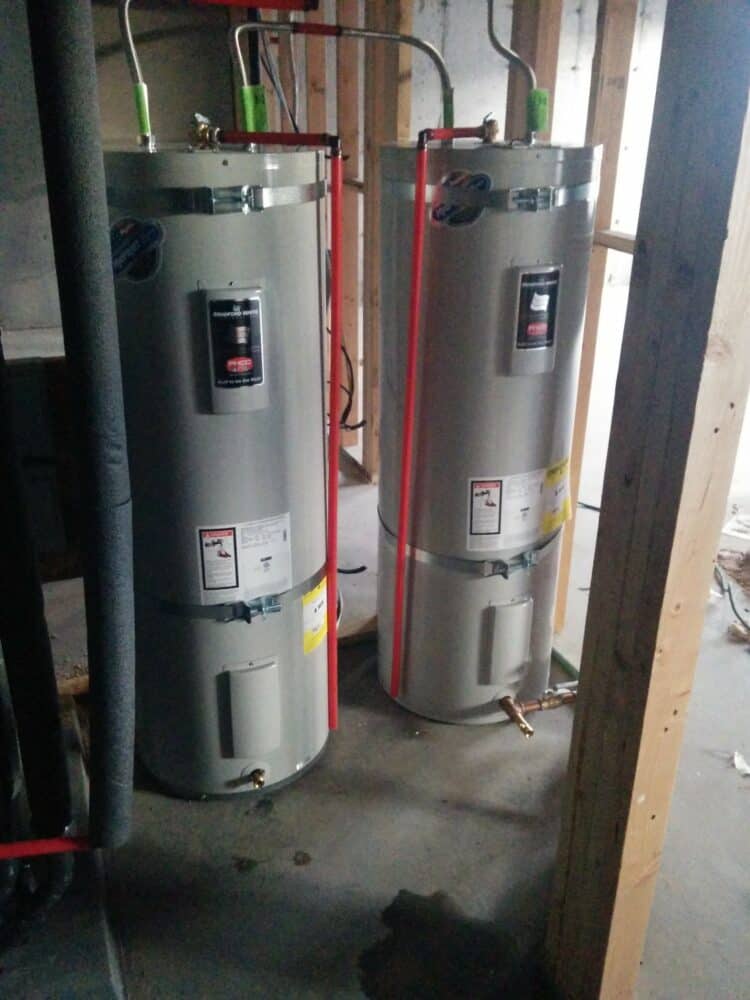 A basement or house that takes in standing water can suffer a lot of damage – including appliances. Some homeowners may not have the means to replace everything. As a result, they try to salvage what they can. A water heater is one of those pricey pieces of equipment that you may want to restore. But, should you do it? Can a hot water heater survive a flood?
There are mixed reviews on the repair or replace argument. All other websites choose a side – either/or. But here, we will explore every option to help homeowners make a more informed decision.
Can A Hot Water Heater Survive Flood?
The simple answer to this question is yes, it can. But, it's not that easy. There are a few things you need to consider before reusing a water heater that was submerged in water.
Gas and electric water heaters are not complex electronic appliances with parts that may short out on contact with water.
The consensus is that these pieces of equipment can survive a flood. But that is not the real issue.
Here's the question you should want an answer to.
Is it safe to use a water heater that survived a flood? Here are the things you need to consider.
Water Heater Controls Might Get Damaged During Floods
Your water may not have electronic parts, but it does have sensitive components. For example, the thermostat that helps control water temperature and other controls may suffer damage.
Trying to use damaged equipment always poses a hazard. After a flood, a water heater becomes dangerous. Using it may result in flashbacks or fires. There could even be explosions and electrocution.
Even if the controls seem to be in working condition, you still need to be careful. The damage could take weeks or months to appear. But you can expect it.
Water has corrosive properties which can lead to rust and the deterioration of these parts. When this happens, they will no longer work the way they should.
The point is, once these components touch water, they become a potential hazard.
Gas-powered water heaters could lead to fires and explosions.
Electric water heaters can cause electrocution and fire.
Water Heater Insulation May Be Saturated
The insulation material inside water heaters submerged in water may be saturated.
Getting all the water out may be troublesome and sometimes it may be hard to tell if the material is dry.
If the insulation stays wet, mildew can grow inside the water heater. Eventually, the dampness will cause the body of the water heater to corrode. Soon, you will have to deal with leaks. And if your water heater is electricity-powered, the chances of electrocution increase.
All that being said, here's the next question we want to answer.
Can You Repair A Water Heater That Survived Flood?
Replacing a water heater that sat in standing water is the safest thing to do. But as I said earlier, these appliances are on the pricey side. Not everyone can afford to throw out the old for a new one.
Their only option may be to repair the water heater, which is doable.
How To Repair A Gas-Powered Water Heater?
In this section, we will share with you how to go about fixing your flooded water heater. Before you attempt any repairs, talk to a professional and have them assess the level of damage to your water heater.
You may need to replace these parts on a flooded gas-powered water heater.
The metal shell
foam insulation
steel tank
gas control valve
burner assembly
You may have to replace one or all of these parts in your flooded water heater. It depends on the extent of the damage.
Get the opinion of a professional. Replacing all these parts may not make sense.
Weigh the cost. Get an estimate of how long it will take to fix your water heater.
Follow these steps to help you repair your water heater.
Turn the power off
Electricity and water make a dangerous combination. So, before stepping into the flooded area of your home, ensure you turn off the breakers.
Some gas-powered water heaters may also have electronic components. You also need to be careful.
Inspect the water heater
If you have a gas-powered water heater, remember to close all the gas shut-offs before the inspection. That way, if you have a damaged control valve, it will not cause any leaks.
And if you do not know how to do the inspection yourself, get the help of a professional.
Check the insulation on the gas-powered water heater. If it is wet, remove it from the water heater. Set it somewhere to dry.
Clean all the muck and gunk the floodwaters left behind from your water heater. You can use vinegar for a cleaning solution.
Ensure that you dry the unit well to eliminate the chances of corrosion.
Disconnect the following parts from the control

gas supply line
pilot line
main burner line
thermocouple

Thermocouples can be right threaded or left threaded. Be sure you know which yours is. If you spin it in the wrong direction, you can destroy the control.
If you notice signs of damage in the thermocouple or other parts, replace them.
Once you have the lines disconnected, clean them up. Ensure that none of the lines show signs of clogging.

Check the burner assembly
Look for signs of damage or corrosion. Use a soft toothbrush or something like it to clean out the holes in the burner.
You can also use a rag or an air hose to clean it out.
Clean the chamber
Ensure there is no debris left in it. Debris can cause a fire.
Replace the burner assembly
Once you have the chamber and burner assembly clean, you can put them back the way you found them. Put the cover back in place.
Do another water check
Ensure there is no floodwater left anywhere inside or on the outside of the unit.
Reconnect all lines
Start with the pilot, but put in the line for the gas supply last.
Ensure there is no gas leak
Turn your gas back on. Spray a bit of leak detector on every fitting. Those who do not own any leak detector can use water and soap around the fittings. Leaking gas will create bubbles.
If you have a leak, you can use a sealant to close it up. But, it might be better to call in a professional to take care of it.
Turn the pilot back on
At this stage, your gas-powered water heater should be ready to go. Fire up the pilot to check your results.
You can use vinegar for a more thorough clean.
Repairing Electric Water Heaters
An electric water heater may need these parts replaced after a flood.
Wiring
Thermostat
Insulation
Metal shell
Steel Back
Controls
Again, get the help of a professional to perform a proper inspection of your appliance. A wet electric water heater is a recipe for disaster.
If you have an electric water heater, do not touch it if it is wet. Do not touch it unless the current is off. Do not touch it until you get the go-ahead from a professional.
My advice when dealing with a flooded electric water heater is to get someone who knows how to fix it to do the job.
Conclusion
We've answered the question, can a hot water heater survive a flood.
If you can afford to, it might be a good idea to replace your unit. But, those who wish to try to repair their water heater can do so.
Remember to use all precautions when using a water heater once submerged in floodwater.