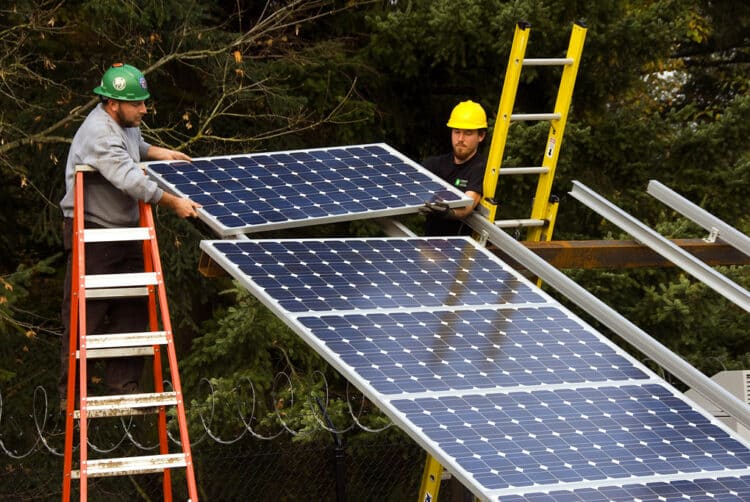 Are you trying to decide on getting solar panels? If you are, you may have some questions. One of those questions could be how long does it take to install solar panels.
There are a few steps involved and some precautions you want to take before you can fire up your solar panels.
You can get your solar panels set up and working in as little as a couple of weeks. But, it could also take up to six months before you can get the system installed and turn it on. It all depends on a few things.
On average, the entire process takes about three months from start to finish. But that's the average. Whether your installation is residential or commercial, you have to follow the process. Of course, there may be a few minor variations along the way.
Let's take a look at the things that will affect your timeline.
What Affects The Installation Process
You've been mulling over getting solar panels for a while now. You've weighed the pros and cons, and you are decided. You are getting solar panels.
Those solar panels will not appear on your property the day you sign the lease or contract. Disappointing, I know. But, before you get your solar setup off the ground, there are some hurdles you have to cross.
Investigation
The installation company
Permit
Sight Assessment
Design Approval
Solar panel setup (type and size)
Your Property
Inspection
Interconnection and the power company
Investigation
Work With A Reliable Company
First, you want to shop around for the best installation company. Give their policies, payment plans, and fine print a thorough read. Do some research into the reliability of the company. Reading reviews can be helpful.
If you know persons who have solar panels installed, ask about their experiences. I'm sure they have will have some insight to offer that will save you a lot of time and worry in the end.
Here is what you can expect after choosing a company.
Organize Your Timeline With The Company You Choose
Solar companies have different policies and processes. They also come in different shapes and sizes. Some of them have small crews that can work one or two projects at a time. Others have many crews that get large volumes done in no time.
You may find a company with an easy schedule or one that has a full docket.
Maybe you are in a rush. You are probably worrying about expiring incentives and tax credits. The company's schedule will affect if you are on time to apply for those. Their schedule will also affect the time it takes to install your solar panels. It will also interfere with how long it will take to get your solar panel system running. Choose a reliable company that can get the work done within your timeline.
Choose The Right Size And Design Solar Panel System
Before you make any decision, some research and planning must go into your project. To get started, the contractor should help you figure out the constraints you have to work with. These constraints include the following.
Budget
They should help you mount an efficient system that falls within your budget.
Space Constraints
They should plan to mount a system that makes the most of the space you have.
Energy Offset
They have to design a system that is worth your while. Your solar panel setup has to offset the energy you use. Otherwise, it makes no sense to pay for one.
You and the contractor should consider the following when creating a design:
sun exposure
tilt angle for solar panel setup
expansion plans
efficiency ratings
wear and tear
Energy Use Estimation
Knowing how much energy you use daily will help you choose the correct size system. Calculate your month-to-month consumption for a year.
Find Out The Peak Hours Of Sunshine
The contractor will assess your property. They will determine where to mount your system setup to get the best results. It should be in an area that exploits the sunlight well.
How To Fine-Tune Your Plans
Go over your design to cement your plans. These are the things you should consider.
Permits
Your contractor should know the rules for setting up solar panels in your region. Your plans should fall in line with these.
Mount Type
Roof mounts cost the least. But if that option is not available to you, you may need ground or pole mounts.
Choosing The Correct Panels
Take the size of your mounting plane into consideration. If you have a large surface area, you can buy large panels. Small or odd-shaped mounting planes may need assorted sizes.
System Output
Decide on how much of your energy consumption you want your system to offset. You could offset all your energy cost or just some of it. Read below for about your choices.
Grid-tied Or Off-The-Grid Solar Panel System- Which Is The Faster Install?
One of the things you have to consider in the planning stages is whether you want to remain tied to the grid. You do have the option of going independent.
A grid-tied system keeps your electricity connected to the grid. This is a faster system to install than going completely off-grid.
This part of the process may seem long, but it's not. What takes up a chunk of the time is what comes next.
Get Ready For A Site Assessment
You have your plans drawn up. But it's not the right time to get your system set up. Now you have to deal with the red tape.
Before you get a permit to install your solar panels, a city-certified professional will inspect your property. They will assess:
Your roof
This applies if you plan to set up your solar power equipment on your roof. The inspector will assess whether your roof can support the extra weight of solar panels. If not, you will have to make some changes to the structure to reinforce it.
If roof repair is not part of your budget, you can decide on another mounting plane. Ground-mounted solar panels work just as well. Speak with your contractor and the inspector for their opinion.
Your electricals
Some houses are old and the wiring may be just as aged. Installing solar panels must be safe. So you may need to make upgrades to your electricals. The fire department or fire district will have to ensure that your setup will not create a fire hazard.
Your property
Where do you plan to mount your solar panels? Do you plan to erect them somewhere other than your roof? That area has to undergo inspection as well. Also, the assessor has to make an accurate shade or obstruction measurement.
If your property is solar installation ready, the inspector will give you the green light. Only then can you take the next step. If it is not, you have some upgrades to make.
The inspection process may take at least two weeks.
Design Approval
This is the next step in the process.
After the evaluation, the assessor will make recommendations. They may suggest adjustments to the size and design of your system. You may have to deal with a lot of back and forth between the contractor and planning authorities.
Once you have the final plan from the inspector, you must apply the changes they suggested. The more upgrades and renovations you have to make, the longer your plans will be delayed. It also means that setting up the panels will be more expensive.
You can expect a follow-up visit. They will reassess the condition of your property.
There are so many things that can interfere with this part of the planning. Here are two examples.
Your budget
You might not have budgeted for the surprise renovations you have to make.
Schedule
The contractors you hire to fix your roof, electricals, and other things may have a packed schedule. They might not have the time to fit you in right away.
Expect More Inspections
Before you go any further, the inspector will return to assess your upgrades. They must meet:
The structural requirements
The electrical requirements
Fire classification requirements
Only after receiving the go-ahead will the contractor be able to seek a permit to install your panels.
Getting Permission
The installers may not have permission to lay down solar panels the day after you sign the contract. That depends on a few things.
In some cases, you won't need permission from the planning authority in your area to set up your panels. One such case relates to domestic installation. As long as your setup is less than 200mm, you can install it on your own. If your system is on a grander scale, your contractor has to apply for a permit.
Do not leave this up to the installation company to find out. Contact the planning authority in your area for more information. Ask about any conditions you must meet and limits that you cannot cross.
In other cases, the company will need a permit before they can begin working on your solar setup. They must apply to the local government or planning authority where you live. These institutions will ask for details of the work the contractor plans to do for you.
The types of permits you need for solar installation may differ from place to place. But most times, there are three.
Photovotaic installation permit
Electrical permit
construction permit
Getting permission to move forward with your project is the longest part of the journey.
How long it takes to get a response from the local government also depends on a few things. The length of time also varies from place to place.
One of the things you have to consider is the size of the area where you live. That may affect how busy the planning authority office is. In less congested areas, you may get your permit after a week or so. But in an active and populated zone, it may take up to a month or more.
All these things will affect the time frame in which you can get your solar panels mounted.
The Installation
Once your permit comes through, your contractor should be ready to work. But that is if they planned well. Your contractor should be efficient. They should have an idea of the time frame it will take to organize everything you need. By the time you get the go-ahead, they should be ready to begin your project.
If these considerations were overlooked, it may take longer for your project to start. Discuss this matter with your contractor from the start.
Mounting The Panels
Mounting solar panels is the part of the process that should take the least of time. Or so it is in most cases. There are some special cases where it may take a longer period.
A ground or pole-mounted setup takes more time than a simple roof mount. That's because the installation process is far more complicated.
You will have to dig holes to set up a foundation. Use concrete or some other means to secure the racks. You also need to dig trenches for running the wiring from your panels to your structure.
It will take even longer to complete this step if your meter is far away from your panel setup.
Residential Installation
Most times, residential properties take about three days or less. If you're lucky, it may take only one. The length of the installation largely depends on your contractor and how fast they work.
It also depends on the size of your system. And the simplicity or complexity of the project will also affect the timeline.
Commercial Installation
Commercial installations will take more time. These types of setups are usually done on a large scale. The size and complexity of the mounting plane will require a lot of panels. Depending on the scale of the project, you are looking at a week to a two-month project, at least.
Expect A Third Wave Of Inspections
You have your panels all set up. There are two more steps you need to follow.
The first is another wave of inspections. Before you can power your solar system, you need permission to turn it on.
You will only get a positive response if you made all the changes that were recommended. You have to meet the codes laid out by the law in your area. Those include:
Safety requirements
Electrical requirements
Fire classification
Roof access requirements
Pathway requirements
Fire service or fire district approval
Only after passing inspection will you get the okay to power up your system.
Power Up A Grid-Tied Connection
You've done all the leg work, and it's time to cross that last hurdle. That is securing a connection with the grid. You need permission from the electricity company before you can do that.
The installation company has to submit an application to ask permission to stay on the grid. If your solar panel set up is residential, the whole process may take up to two weeks.
First, someone from the electricity company has to inspect your property. This will be the final inspection. By this time, most homeowners are eager, anxious, and fed up with the wait. But it has to be done.
If the electricity company finds fault in your system, you will have to fix it. Once you make the changes, you will have to endure another inspection.
When you get the go-ahead, they will give you a bi-directional meter. They do this to monitor how much energy your system will produce.
That part of the process may take another 2-6 weeks.
Power Up An Off-grid Connection
Solar panel setups that are independent of the grid take longer to install. But the lack of a potential 6-week delay dealing with electricity company makes up for it.
You do not need an interconnection permit from the electricity company. You do not need a bi-directional meter either. Once the planning authority gives the green light, fire up your system.
You do not have to wait like grid-tied solar users have to. This will shave at least 3 to six weeks off your schedule.
How Long Does It Take To Install Solar Panels – Timeline Summary
Here is an estimation of the amount of time each stage in your solar installation could take.
Solar Company Assessment
The initial assessment by the company should take either two weeks or less. That depends a lot on the company's schedule. If you contact them in the off-season, it could be much quicker. During the busy season, it may take longer for them to get around to assessing your property.
Getting Permits
Getting the green light from the planning authorities in your area takes up a large chunk of time. It could take 1 week to a few months. This time frame includes the inspections, renovation period, and signing up for incentives.
Buying The Equipment
You cannot buy the equipment unless you have a clear idea of what you need. You will have that information only after your property undergoes inspection. It could take 1 to a few weeks before your merchandise reaches your property.
Solar Installation Schedule
Your contractor will have to schedule a day to begin the actual installation process. Your contractor may have other projects scheduled before or alongside yours. In that case, you may have to wait a little while before they can begin your project. This part is very unpredicatable but most times, the wait should not be more than 3 weeks.
Put Up The Panels
Installation is the shortest part of this entire process. In 1 to 3 days, you could have your panels installed.
Get The Final Approvals
This may take several days, leading into weeks. The timeline depends on how fast the planning authority where you live works. If there is a lot of backlogs, the wait may be very long.
Shorten Your Solar Panel Installation With A Reliable Company
Solar panels are a worthy investment. But, if you decide to get them, you have to be patient. Expect to wait at least three months from start to finish before you can turn your system on. You should also prepare for a long wait, depending on a few variables.
The best way of get an installation that doesn't take half a year to complete is with an efficient solar company. They will still have to go through the red tape. But, these companies will already be aware of the code. They have large crews to work with a lot of experience. Handling your project should be smooth.