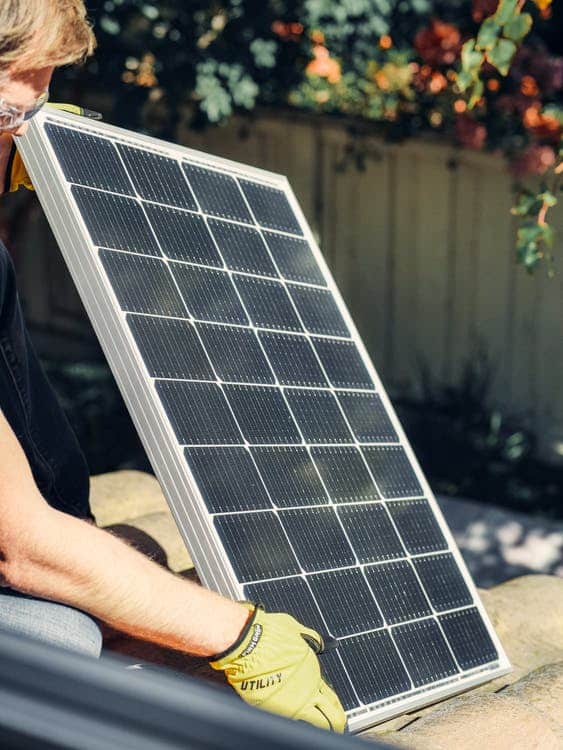 Two trends are taking off around the country – using solar energy and tiny home living. What would it mean if we were to combine the two? More money in our pockets and a healthier planet, for sure. But, can you put solar panels on a mobile home? And if you can, how many will you need and how much will it cost?
We have all this information for you in our article about solar panels and mobile homes. Read on to find out more.
Can You Put Solar Panels On A Mobile Home?
We want to answer this question right away. In almost every case, the answer is no for a few reasons.
The Roof Might Not Be Strong Enough
Solar panels and the equipment to install them are heavy. One panel alone weighs about thirty-five pounds. That number does not include the rest of the installation equipment it takes to complete your setup.
You will also need:
Mounting frames on which the panels will sit.
Attachment points and flashing to bolt the frames in place.
A conduit that houses all wires running from your panel setup to the breaker box.
Let's not forget the installation crew of two or more walking across the roof. And if you live in wintery areas, think of the two feet of snow and wind adding more weight to your structure.
The design of the roofs on mobile homes cannot support the additional weight of the number of solar panels it will take to power them.
The Roof Must Meet The Building Code
A lot goes into ensuring roofs are solar panel ready. Someone has to inspect the mounting surface, and the joists must be strong enough to handle the extra weight. They need to have the correct dimensions and spacing between them. Even the wood used to make the joists matters.
The joists must have any signs of compromise. They cannot be damaged, rotten, moldy or show any other form of impaired integrity.
The problem most mobile homes have is with their roof joists. They are often smaller than what building codes demand. That means they cannot safely support the weight of a solar panel setup.
But, your mobile home may be one of the few exceptions. To find out if your roof is solar panel ready, have it inspected by a certified inspector.
Your Mobile Home May Need A More Permanent Foundation
Most manufactured homes do have a foundation deep in the ground. More often than not, they sit right on the surface, which may become an issue if you want to place solar panels on the roof.
But that is not always the case.
Building codes are not the same everywhere. They change from place to place. So do not take installing solar panels off your list of possibilities yet. Check with the body responsible for approving these projects in your area to learn if your roof qualifies for solar panel installation.
What To Do If You Cannot Install Panels On Your Mobile Roof?
You asked the question, can you put solar panels on a mobile home, and the answer is no. But, just because you cannot put your solar panel installation on your mobile home does not mean your dream for solar energy has to die. There are other options to consider.
Change Your Installation Plan
Because you cannot install solar panels on your roof does not mean you have to give up that dream. You can mount your solar panel setup somewhere else on your property. Let's take a minute to explore that option.
Is there another structure you can use to install the panels? Consider using:
the roof of your patio
garage or carport
outbuilding
Keep in mind these structures still need to be up to code. They should be structurally sound and big enough to support your panel setup.
The good thing about adding these structures to your home is they are easy to build. They do not cost a lot of money. And you can design them to accept the weight and size of the panel system you want to install. You will not have to worry about breaking any building code.
Talk to your contractor to work out the estimates it will take to design a structure that can support the solar panel system you have in mind.
Install A Ground-Mounted Solar Panel System
A ground-mounted or pole-mounted solar panel setup takes a lot more time than simple roof mounts. That's because the installation process is far more complicated. You can also expect to spend more money on it as a result.
You have to dig up holes to set up the foundation to support the system. Use concrete or some other way to hold the racks in place. You will need to dig trenches where the wires will run from your panel installation to your mobile home.
Running the wires will take an even more time to complete if the meter is a long way away from where you set up the panels. But, it is still a viable option to consider. Ground-mounted systems do not need to meet any building code.
There is no connection between the grid and a stand-alone solar panel setup. That will clear away a lot of the red tape that may prevent mobile homeowners from installing panels.
You will still have to go to the homeowners association if you are a park resident. And if you own the land, check in with the building regulators in your area to ensure you can go ahead with your project.
Make Your Mobile Home More Energy Efficient
Mobile homes are notoriously energy inefficient. About 80% of the energy manufactured home uses goes to cooling and heating. This is especially true for older model mobile homes.
The windows are too thin. They might not be well-sealed, so heat and conditioned air leak out. The walls may not be well-insulated either. But these are all fixable problems.
Many people looking into renewable energy do so because of the prospect of saving a few dollars. For one reason or another, you may not be able to invest in the solar panel system you want. But here are a few ways that you can lower your energy consumption in your mobile home.
Find air leaks and seal them. Seal furnace ducts as well.
Ensure your furnace works well.
The only way to do that is with regular tune-ups.
A poorly functioning furnace is an energy guzzler.
Add insulation within your walls where you need to.
Try replacing your regular windows with storm windows.
Blow insulation into your attic space.
Insulating the mobile home's underside is also a smart option.
Choose the smart thermostat option
You can replace all bulbs with LED lights.
Get rid of your appliances if they are old.
Aged appliances also use up a lot of energy. Put in new ones with energy star ratings.
Put caulking around doors and windows to keep conditioned air from escaping.
It will only take a couple of days to put all of these in place. In the end, you have an energy-efficient home, which will save you money.
Frequently Asked Questions
Here we will answer other questions about outfitting your mobile home with solar panels.
Do The Solar Panels For My Mobile Home Need Batteries?
The batteries to store solar power are very costly. While they are a worthy investment, they are not always necessary. Let me explain what I mean by that.
The only way to have a constant source of electricity from your solar panels is to have a storage system for the energy they harness. The only way to do that is with a battery. But that's not all you need. You also have to buy an inverter and a charge controller.
For this reason, many solar panel users opt-out of storing energy.
If you do not plan on a whole house solar connection to meet your electricity needs night and day, you do not need a battery. What you need is enough solar panels and sunlight to keep your appliances running. For that, you need to stay on the grid, so when your panels cannot generate electricity (at night) you will still have power.
Does My Mobile Home Roof Have Enough Space For Solar Panels?
Space is not a real issue when installing panels. A full-sized house of 1500 square feet needs about thirty to thirty-five panels for a setup that powers the entire home. Mobile homes need half as many, but that is if they meet building code standards in your area. As long as you have a suitable mounting surface, the installers can arrange your panels to fit your roof shape and size.
How Many Solar Panels Do I Need To Power My Mobile Home?
In any situation, the number of solar panels you need depends on the amount of power you want to generate. And the amount of power you want to generate depends on how much electricity your home consumes in a day. The size of your home does not matter that much. It's more about how much current you use every day for the year.
To arrive at that number, you need to do a few basic calculations. But that will take a while. To make your job easier, you can look at your energy consumption on your electric bill. You may also get this information from your power company.
Once you have that information, break down the daily electricity use of your household each day into hours.
Take your hourly consumption rate and multiply it by the hours of peak sunshine in your area.
Then divide the number you get by the wattage of different solar panels. Start with a low wattage panel of 150 and a high wattage panel of 370 to determine how many you need.
Once you have those numbers, consider what percentage of your electricity use you want to offset. If you want to go solar, then you will need more panels.If you want to offset half, then you will need less.
Will My Location Affect My Solar Panel Power Production?
Solar panels do not need to absorb direct sunlight to produce power. But, they do need to absorb as much energy from the sun as possible.
As such, the location of your mobile home, relative to how much sunlight it gets, is something to consider.
At least four hours of peak sunshine is enough.
One way you can ensure your panels get as much sunlight as possible is with proper orientation.
West-facing panels at a forty-five-degree tilt give the best production. East and not-facing panels at the same angle are a close second.
What Are The Benefits Of Installing Solar Panels On My Mobile Home?
As long as you have clearance to install them, you stand to lower your electricity bill and save money. It also helps improve the environment.
What Ways Can You Put Solar Panels On Mobile Home?
Solar panel installation is based on the type of roof you have. So, if the roof of your mobile home can support the weight of solar panels, the material and roof size are also important.
What Will It Cost To Put Solar Panels On A Mobile Home?
There is a lot to consider when it comes to solar installation prices. You have to consider the size of the panels, the output, and how many you need. But, you can expect to pay in the region of $20,000 for a panel set up to power your entire home.
Final Thoughts…
You cannot put solar panels on all mobile roofs. A few people may be lucky to be part of the small group who qualify. But if you cannot install your panels on your roof, there is no need to give up on your dream. There are other ways to outfit your mobile home with solar panels, which we discussed in this article.
And, you never know. Recently, a design of the first-ever manufactured solar-powered mobile home was released. There are now lightweight solar tiles and stick-on solar panels on the market.
Sit with a contractor and solar panel experts to help you decide the best way forward for your solar panel project.