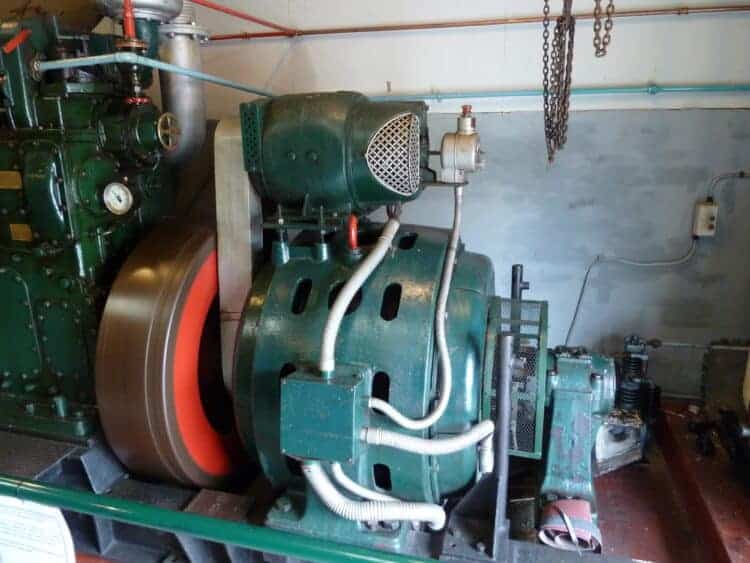 How many appliances do you have? Do you need more electric supplies to run each of them? If that is the case, you may be thinking of purchasing bigger generators. Here is the truth: You don't need to spend a lot to power up your home appliances. Instead, you can use parallel generators.
Can generators be run in parallel?
Most of you will ask, "Can you run two generators together?" The answer is yes. Running parallel generators means you need to find the same brand and size to connect. Parallel generators can give you a lot of electric power.
Thus, you can run two generators in parallel. The connection of two generators can improve the watt number to the area where you use it. Also, the connection can boost the power supply to your property. Thus, it allows you to run your appliances without worrying about a lack of electricity.
So, if you run appliances that need more power, consider paralleling generators.
There are lots of reasons you should consider using parallel generators. Two of them are that it improves redundancy and boosts the system size. Between purchasing a large generator and paralleling generators, the latter is more helpful.
The following are the reasons you should consider paralleling generators.
Reduction to capital cost
Most of you may think that purchasing many generators is an expensive choice. But if you will think about it, it is way cheaper than the other alternatives you know.
Diesel solutions can power up to 660kVA. Since it is prominent in most applications, they are mass-produced. There are other factors that could affect the price. These include the quantity produced and the number of applications. Also, the price increases whenever there is a decline in the volume.
Another factor is the transportation cost. This means that if you will buy larger units, the higher cost of transport you need to pay.
Boost Redundancy
Achieve a more reliable system by installing several generators on your property. Above that, it could also boost the system's redundancy.
For instance, 2000kVA is the power requirement of your appliances. But, you experience load-acceptance problems. That's why you buy a 4000kVA generator.
Instead of buying a larger unit of the generator, why not consider paralleling 8 x 500kVA systems? When there is an emergency, the first solution will fail. Thus, your property will experience power interruption.
But if you will opt for the second solution, you will still have 2500kVA backup. This gives you an increased redundancy.
Boost the power supply in your property
Let's say you are running a business. From the start of your business, you have purchased one 500kVA generator.
Your business is running well and you are planning for an expansion. The problem is that you lack a enough power supply. In that case, it would be better to add another, say 500kVA generator. Therefore, your business can now have a total of 1000kVA power.
How to connect two generators in parallel
"How to parallel two portable generators?" "Can you connect two generators in parallel?" "Can two generators be connected?" These are some of the questions most of you ask.
Well, connecting 2 generators in parallel is possible. You just need to follow some simple steps to do the job.
First, consider the paralleling capabilities of your portable generators. Also, it would be better if you will purchase generators with the same model. This will help you to parallel two portable generators with ease.
To start paralleling generators, you will also need a parallel kit or parallel cable. But, professionals would recommend you to use a parallel kit instead of a parallel cable. This is because the parallel kit is easier to use as they have well-written instructions.
Can you parallel two different size generators
"Can I parallel two different generators?" Of course, you have the luxury to parallel two different generators.
Paralleling different size generators still work despite their brands. If you parallel different brand of generators, ensure that they are parallel compatible.
Also, make sure that both generators have the same frequency and voltage. If not, this could lead to problems. Additionally, both of them should be inverter generators. This will help you to ensure the success of your endeavor.
After preparing them all, the next thing you should do is to connect them using a parallel kit. A parallel kit is a must. Paralleling generators wouldn't be possible without them.
All parallel kits have six terminals. The first two will connect the ground cables and the last four your generators.
Can you hook up two generators together
How to hook 2 generators requires only a few easy steps. Whether you have the same or different brands of generators, you should not forget to buy a parallel kit.
Hooking two generators can give you more electric power. This means that you can run even your large appliances without worrying about a lack of power.
If you to hook different generators, you need to consider its paralleling abilities. If one of your generators doesn't have this ability, paralleling would be impossible.
Also, if you have the same brand or model or generators, paralleling would be easier. All you need is to connect the two generators to the four terminals of the parallel kit. Also, do not forget to hook its ground wires and you're done.
Generator load sharing
When paralleling generators, you should know first the load sharing of alternators.
Generator load sharing means distributing the load of your appliance between paralleled generators.
You must know the principle behind load sharing between two alternators. This is true, especially when trying to parallel generators in your home. You should know this because various load-sharing controls have different compatibilities.
For effective paralleling of generators, you should avoid underloading or overloading the generator. You can find different methods to achieve effective load sharing. These methods include cross-current compensation and reactive droop compensation.
What are the different types of generator load sharing
Most of you would think that load sharing has complicated principles. Well, if you will take a look at the various ways of load sharing, you will realize how easy it is.
The following are the different types of load sharing:
Droop load sharing
This type of load sharing decreases the alternator voltage or engine speed. This is possible because of the output range's preset percentage.
Isochronous kVAR and kW load sharing
Isochronous systems can measure load information through its control. Also, they can calculate the generator's load percentage. kVAR defines the reactive power while the kW defines the real power-sharing. The control systems calculate the loads to have equal load supply between generators.
Use several operating modes
Singe-board paralleling controllers allow you to add generators to your system. Also, you can upgrade your system through these controllers conveniently. What's more, you can also use paralleled generators no matter what their load levels.
Cross current compensation
Cross-current compensation is possible when two paralleled generators lack voltage droop. So, to achieve better load sharing of alternators, you need to use the same voltage regulators.
Can you parallel two different size Honda generators
You can connect two types of generators as long as both of them have the parallel capability. Parallel generators boost or even double the electric power supply to your property.
If you are asking how many Honda generators can you parallel, the answer is two. Two Honda generators are enough for you to double the electric power to run your appliances.
When paralleling two Honda generators, you need to follow three easy steps.
First, you need to turn off the engine switches. After that, you can now start connecting the power cables. Make sure to connect the R cable to the right outlet while the L cable to the left.
Second, Honda generators have a ground terminal. You need to look for it. After that, connect the parallel cable to the ground terminal. Do not forget to tighten its screws.
At this time, you can now start the Honda generators. Make sure that the green indicator is on. From this point, the generators can now supply enough power to your property.
Can you parallel non-inverter generators
Paralleling two non-inverter generators is possible. All you need is a voltmeter and a tiebreaker. The two non-inverter generators must both phase synced and matched.
Although you can parallel two non-inverter generators, you cannot guarantee a positive result. Also, it requires more intricate steps. Even a simple mistake can ruin the whole process.
The problem with this is that you are not 100 percent sure that the two generators will sync. Thus, this could lead to overloading the connected system. In that case, it would be better to parallel an inverter generator to a non-inverter one.
Paralleled non-inverter generators can decrease and increase their supply. But, this will always depend on parallel demand.
Why are generators connected in parallel
Most of you can't live without power. Almost all your appliances use electricity to run. In case of power interruption, you should have generators and other power systems as a backup.
When purchasing a generator, you need to consider the backup power supply you need. A small appliance may need a minimal backup power supply for uninterrupted functioning. But, larger appliances may need a greater amount of power to keep it working.
Most of you don't know how to find the proper generator to meet the appliance requirement. That's why parallel generators will be your best option.
The following are the reasons why are generators connected in parallel.
Improve the Power System Reliability
If your paralleled generators malfunction, the other paralleled generators will take the load. This means, there will be no interruption to the functioning of your appliances. Just make sure to avoid overloading of alternators.
Alternator's size
A generator with a higher rating requires a larger setup. If you have one big-sized alternator, managing it might be hard on your part. This is especially true if it carries more than 1000 MVA.
Smaller paralleled generators are not hard to maintain.
Preparation for you Expansion Plans
For example, you have a power plant with a current capacity of 500 MW. You want to increase it by about 1000 MW to have a better power supply in the future. If you don't have the money, buying a bigger and brand new unit won't be a good option.
To save some amount, it would be best to invest in smaller alternators. You will connect each alternator to your bar system to have a stable and more powerful supply.
How does a generator parallel kit work
If you want to parallel two generators, you will need a parallel kit. In that case, you may be asking, "How do generator parallel kits work?"
A parallel kit works by connecting the forces of two generators. It is also responsible for joining the power of your generator systems.
How many inverter generators can you parallel
Generators are available in various sizes and shapes. Buying one large generator is not cheap. Instead, joining two generators in parallel is way cheaper.
Paralleling generators is a handy way of getting more power supply. So, if your property runs large-sized appliances, this option might be best for you
If you will ask how many inverter generators can you parallel, the answer is two. You can parallel two inverter generators easily. Many say that it could give you more power than non-inverter parallel generators.
Two is the maximum number of inverter generators allowed for paralleling. Also, you need to ensure that it has equal wattages. Well, there are some exceptions in this case. But, all these will depend on your parallel kits and generator engines.
Generator paralleling problems
Paralleling generators give you lots of benefits. But, you may still notice some problems.
The following are the common problems in paralleling generators:
Power factor problem or lagging
Generators do not have equal load sharing
Synchronization of generators
Reverse power issues
Overloading and underloading problems
unstable grid frequency
Which is better: Generator in series or parallel
Well, many use parallel generators over series generators. This is because parallel generators are way easier to set up than the latter.
Series generators can give you minimal benefits, but it requires you to spend a lot. While parallel generators are a way cheaper option and are more beneficial.
Also, both series and parallel generators work in giving you enough amount of power. You don't need to invest in something expensive. This is because all the benefits you need are available in cheaper alternatives.
Why you should not buy larger generators
Technically, there is no assurance that larger generators could give you enough power. Investing in a bigger generator system can be a waste of money.
You need to invest wisely. In that case, professionals would recommend you paralleling generators.
Larger generators could not give you something that parallel generators can't. In case your big generator malfunction, the entire production will stop. But, if you have parallel generators, you will receive a non-stop power supply.
One of the problems you may experience with big generators is portability. They are heavy. This means you can't carry them wherever you want. If you do, it would cost you a lot of money.
But, if you have a compact-sized generator, transferring it from one place to another won't be a problem. You can take it wherever you go. So, if you need power while having fun outdoors, you can rely on your parallel generators.
Does paralleling damages your generators
For the past years, most generators don't have a paralleling capability. But these days, almost all generators are compatible for paralleling.
It is not true that paralleling can damage your generator. You will not encounter any problem as long as you are using the right cable size.
Also, to ensure that your generator will not get damaged, make sure to follow proper steps. Because if not, you are risking the condition of your system.
What are the considerations to keep in mind when paralleling generators
Most of you think that only the same size and brand of generators are compatible for paralleling. But, you can still parallel generators with different sizes or brands.
As long as the generators have the same voltages and frequencies, you can parallel them. If you will parallel two different generators, there are some considerations to remember. These are the following:
Make sure their engines are compatible with each other
Ensure they have the same load sharing system
Consider the compatibility of the alternators of your generators
Ensure compatible interfaces
Conclusion
To sum it up, connecting two parallel generators is not a risky or complicated process. As long as you know how to do it, there's nothing to worry about. If done , you will not worry about any power interruption.