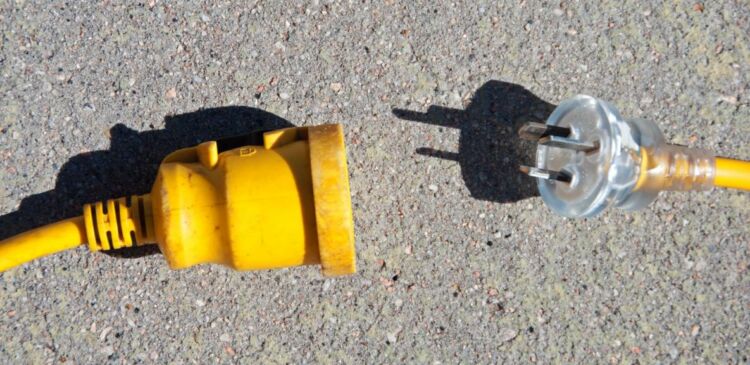 You cannot use any types of generator power cords from a local hardware store to connect to your appliances.
Not all types of cords can be used for every generator. So, selecting the wrong type can bring more damage to your appliances.
Choosing the right generator power cord is as simple as you can imagine if you would read these simple steps:
1. Choose the Correct Generator Cord Amps
Generator power cords are measured in amps while your portable generators are measured in amps. These can handle more electricity using the larger amps.
For instance, if you use a 50-amp cord than a 20- amp cord, this means that it can handle more appliances with a larger wattage.
Think that in every outlet on your generator, there is a specific amount of amps they can handle. What you need to do is just choose the right match for a powerful outlet on your portable generator.
Rule of thumb is, you need a 50-amp power cord for a 50-amp outlet and 20-amp outlet for a 20-amp cord. If you happen to choose a lower amp cord, that is totally a waste of money and can damage your generator and appliances.
2. Choose the Appropriate Cord Shape
The shapes of generator plugs and connectors help to prevent any electrical issues.
Check the shape of cords of 30 amp, or 50- amp outlet. The 30-amp cords have 2 types, the 3-prong and 4-prong power cords.
The standard 3-prong plugs can handle one120 volts. If your appliances have 120/240 volts, 4-prong is more applicable. Homes now can handle up to 240-volt that makes the 4-prong varieties more popular in the market.
You may need a special power cord with 2 different ends if you use a 50-amp outlet on your generator. The generator is fit to a straight blade male plug while the transfer switch is fit to twist-lock female connector.
Plugging In
Once you have the appropriate cord amps and the right cord shape, the next thing is plugging in. When you connect the appliances, you need to take precautionary measures if the generator cord is not damaged. The cuts and frays must be in good condition. A busted cord may trigger electric shock when you plugin.
If you follow the things you need to consider with precautionary measures, you can use your portable generators without damaging your appliances.