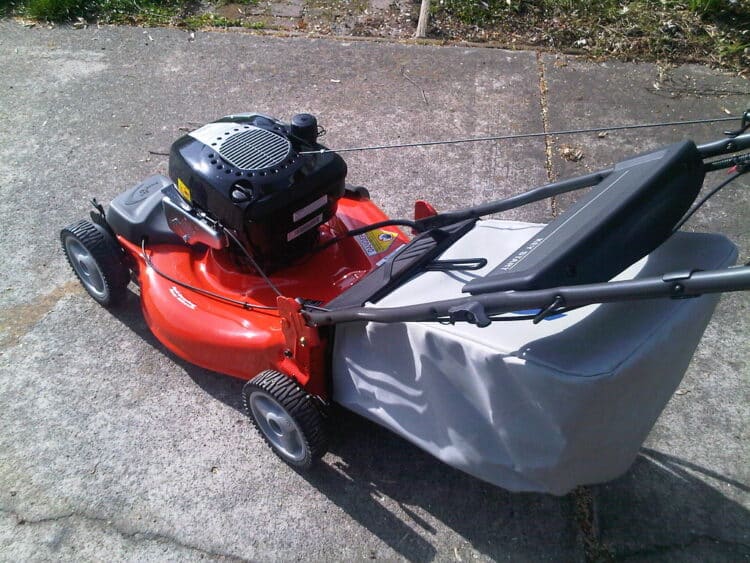 Winter is finally over, spring has sprung, your grass will grow tall again, but you haven't decided on selecting between electric vs. gas mower. But which is better anyway?
Many years ago, in the early days of engineering and technology, there were only two alternatives when it came to lawn mowing: gas-powered or a manual reel-type.
The gas-powered ones at this time were still in the early stages of development. So this means it will only successfully work half of the time. And if it does function, it will emit thick black smoke that will fill your whole front yard, thus creating a nuisance you everyone in your house, including your neighbors.
The manual push-types are hard to operate since it will take a lot of elbow grease to roll it on the ground and cut the grass. Even though they're still available for sale, they would not dare compete with the more advanced types of upgraded machines.
The current crop of newfangled mowers has progressed and become better, like the newer models of electric lawnmowers. While gas-powered ones burn and emit lesser smoke and not as cumbersome as they were in the past.
Also, long-corded electric lawnmowers have been around for more than thirty years, thus gaining a loyal following. Battery-operated mowers have become popular with homeowners and are now prevalent everywhere.
The best mowers available in the market today are still going to be either electric versus gas mowers. So keep on reading so you will know which would suit you and work well with your lawn.
Lawnmower types
However, to have a wide-ranging scope of discussion about lawn mowers, you also have to know about all the types, including a third one:
Gas-powered mower
Pros
Needs gasoline to function-Gasoline has a combustible element to enable the engine to roar with utmost power.
Very powerful- It has the capability and more than enough power to mow any grass type, be it thin or thick, and on any terrain or working conditions.
If you can make it run successfully, it can slice through the lawn like butter. Even the less costly types have powerful engines that can handle any yard that comes their way.
Durable- Gas models are more durable than electric ones. They are made of almost indestructible steel and can last for a long time without the need for replacement.
The durable components come into play when you use them to mow harsh terrain with lots of obstacles in the way like sticks and stones.
Due to its power, it can run for hours and mow a wide stretch of land, without stopping. And does not need to go over the same spot the second time.
Can operate ceaselessly for a long time- These types are available with different gasoline tank capacities. If you have a massive lawn, the best one for you is a model with a two-gallon tank. You can mow it for a few hours without having to replenish it.
Yet most mowers of this kind have only a one-gallon capacity in their tank. But either two or one-gallon tanks would still be enough to mow a fairly large lawn without the need of refilling its tank.
Affordable fuel- Its fuel is not scarce and can be bought in many establishments like gasoline stations and is about the same price, with minimal variations.
If your mower has a four-stroke engine, you need to make sure it has fuel with ten percent less ethanol and an eighty-seven octane rating.
Can operate in wet conditions- This practice is not recommended to homeowners because of a variety of reasons. But if you need to mow after raining, then gas models are the one for you.
Due to its durability, it can still function well in a rainy climate, compared to electrical models that have a dangerous element due to its electrical nature.
Cons
Frequent maintenance- Gas models need to be regularly maintained to ensure they can operate properly. And more than likely will be charged for replacement components if serviced by a maintenance center.
Here are the components that need to be checked and maintained regularly: fuel filter, fuel level, carburetor, driveshafts, air filter, oil level, spark plug, cutting blades, and overall cleanliness.
Can be hard to handle and possibly dangerous- Every mower rotor blades are dangerous and should be left to professional repairmen if damaged.
However, gas-powered models are doubly risky because they rotate at quicker speeds than electrical ones and expel grass clippings at a faster pace. So you have to wear protective eyewear to avoid flinging debris going to your eyes.
Gasoline fuel has a dangerous component and is a fire hazard if not handled properly.
Can be difficult to start the motor- A typical gas mower needs a ripcord to start the motor, and one has to have the upper body strength to pull it.
As time passes and the motor undergoes wear and tear, it will be harder to pull the cord. Also, a wet or old sparkplug can make it harder to pull.
In addition, the newer gas mode does not utilize ripcords anymore but has an electric start. This alternative is preferred by people with no upper body strength.
Heavy weight- These types have motors made of cast iron, which are difficult to steer and push around.
Running time- Even though its running time is listed in the pros section, it can also be a disadvantage whenever the gasoline runs out. So you should have a spare supply available.
Also, some gas models require mixing oil to the gasoline to lubricate the moving components and hinder any malfunction during its runtime.
Corded electric mower
Pros
Needs a long electric cable plugged into an electrical outlet to operate. The longer it is, the more area you can mow.
Can operate endlessly if there is electricity- If the electric socket is nearby, you can perpetually operate as long as you want. You don't have to add fuel to it and no battery to be charged. It's like a regular electronic device that you can plug and play.
It is low maintenance-It requires little or no maintenance. You only have to clean it whenever it gets dirty, especially the undercarriage, and maintain the sharpness of the blades.
Not heavy- Compared to gas models, these are relatively lightweight. They are also not cumbersome to lug around and very easy to steer. You only need to worry about the cable.
No difficulty in starting- It doesn't need a ripcord to start the engine. You can plug it into a regular socket and immediately turn it on.
Cons
Can be difficult to steer-The only potential difficulty is the cable, which might get in the way. So you have to be careful not to accidentally run it over and cut it in half. Otherwise, it wouldn't cause a nuisance.
If the cord is short, the reach will only be limited-You need to have a longer cable to reach all the corners of the lawn.
Can be potentially dangerous in wet conditions- Since it runs on electricity, mowing in wet conditions is a risk that you shouldn't take. Electrocution might happen and might cause death.
Also, the motor would be too weak to mow wet grass, which will cause it to overload and malfunction.
Battery-powered electric mower
Pros
Needs a charged battery to function-This type requires lithium batteries to run.
Very light and easy to handle- They are lighter compared to gas models, but not as the electric corded ones, since the batteries are the heavier elements. It means you would not have a hard time pushing it around the yard.
If the person has upper body strength issues, then these are the better alternatives than the gas models.
Does not need gas to function- If you are wondering what kind of gas to put in a lawnmower, you will be happy to learn that this doesn't require it. It is because it runs on rechargeable lithium batteries.
Compared to gas-powered ones, these are cleaner and do not emit a foul odor. Also, they are safer to use.
Very easy to steer- Due to their lightness, they are easy to maneuver and can go through sharp corners on your lawn.
Cons
Batteries are expensive and needs to be replaced after two to three years- Like all battery-powered devices, it will eventually undergo wear and tear and lose their juices after a while.
So after two to three years, you will have to purchase new batteries to replace them. The batteries are made from lithium-ion cells that are expensive.
Cannot run continuously, only short running time- Gas-powered models has a longer running time with a full tank of gas. Compared to battery-powered ones with a full charge.
The typical mower battery can run between thirty to sixty minutes of amply charged electricity. However, this amount of time would not be enough if you have a massive lawn. It means you have to recharge again for a few hours.
Long period to charge the battery- Lithium-ion battery cells will take a long time to charge in a regular wall socket. With some models, it will take twelve hours or even longer get the full power capacity. So if you plan to use it soon, be sure to have it charged.
There are newer models with lesser charging time. However, they are more expensive to buy than the older ones.
Cane potentially dangerous in damp conditions- It is common sense not to mix electricity with water or else someone will get electrocuted. It is not recommended to use these types in wet conditions. If water gets inside its electrical parts, it might cause damage.
Similar to corded electrical types, these have a lower power rating. So the engine will force and strain itself to operate in wet grass. And will overwork itself to a stupor.
No standardized batteries- It is the most undesirable issue among the others in this list. It is because most battery-powered brands only have specific batteries for their kind.
It means you cannot use another battery from another brand and vice-versa. It's intentionally done by manufacturers to get customers to only buy their products and accessories.
It would also result in competing and increasing prices from other brands, which will make buyers the losers in this situation.
Also, do not throw old batteries away. Find a way to recycle them in your area, to be helpful to the environment.
Factors to consider
In deciding between which is a better alternative between electric vs. gas lawn mower, there are many components to think about. Both types are excellent in their way, and there's no right or wrong option.
Check on the different factors below. So you will know which one will suit you best before deciding on buying one.
Power
The power capability of your lawnmower should be the first thing to consider, whether you're comparing the two types of purchasing one for yourself. If you have a massive lawn with lots of deterrents in the way like tall grass, large rocks, or tough tree branches, you want a mower with lots of power.
Gas-powered mowers are the best types in these situations because they have the most power output available to give. They go through any harsh terrain without problems.
Whereas an electrical mower cannot handle this tough lawn than its gas-powered counterpart could easily handle. The large rocks and other obstructive materials might inflict damage to the rotor blades. These are linked to the mower's electrical parts.
It will also cause too much stress to the electrical motor while operating. As a direct consequence, it will overheat and suffer a blowout even after a few months of usage.
Same thing with battery-powered ones. Even though they work great with well-manicured yards, bringing them to harsher terrain will be problematic.
Gas mowers are usually measured in torque, even though cc (cubic centimeters) and HP (horsepower) are also used. Its normal torque whenever a person walks behind and pushes it ranges from 4.50 to 8.75 ft-lbs.
Whereas electric and battery-powered do not utilize torque to measure their power output. If you want to understand its motor capacity, you have to make another kind of calculation.
For example, if a mower engine's power rating is 1k watts and 2.8k RPM or revolutions per minute, it has an approximate torque rating of 2.5 lb-ft. This number is only one-third of the power rating that a typical gas mower has.
Operation and usability
After the power, there are three other factors that also crucial: maneuverability, weight, and easy usage. You will need to consider them when choosing the right one for your lawn.
Will an electric cable be a nuisance and in the way while you're mowing? Are you big, strong, and capable enough to plow around a heavy lawnmower? Would you be patient enough to wait for a few hours for the battery to charge in the middle of a mowing session?
Remember all of these questions and the above mentioned factors before deciding on the mower that you want to buy.
Running time
If the lawnmower's running time is your priority in deciding on the one you need to cut your grass, then the electrical corded is the one for you. As long as it is plugged into a functioning electrical socket, it can run as long as you want. Your only problem would be power outages, which are unlikely to happen in cool spring months.
A battery-powered mower can counter this power outage issue. Once fully charged, and you only have a regular-sized yard, you can mow it in no time at all.
However, a few problems will likely occur: what if the battery is dead because you've forgotten to charge it after the last mowing session? Or you didn't connect it properly, and now it's empty?
While gas-powered ones depend on fuel for their running time, most of these types have a tank capacity of one gallon. This amount will be enough to mow a suburban normal-sized lawn.
Yet once the gas runs out, if you have an additional supply available, you can always refill it. Two-stroke engines also need lubrication for their moving parts, which has to be applied regularly for a more effective operation.
Friendly to the environment
If being ecologically friendly is an important consideration for you, then you will be happy to learn an electric lawn mower motor is especially capable in this regard. Whether it's corded or battery-powered, these use electrical energy, which is not costly to run, therefore drastically reducing carbon emissions.
Gas-powered models are not good for the environment due to their smoke emissions. It can also be harmful to your health if you constantly inhale it and will give you nausea.
Battery-powered models do not expel smoke emissions whenever mowing, but they need electricity in charging their batteries, which incurs an environmental price. But it's not as high as gas-powered ones, except when renewable energy is utilized.
Battery-powered models might be potentially harmful because they contain lithium. So to avoid any possible harm that may arise from it, be sure to recycle it if not used anymore.
Price
If affordability is also a priority for you in purchasing a lawnmower, then the best one for you is an electric corded one. It is slightly cheaper than the battery-powered one.
The expensive portion of a battery-powered one is because of the lithium-ion pack. Its total cost is similar to a middle-range gas model.
Operating cost
In the aspect of operation and maintenance costing, the most expensive is gas-powered models. They require gasoline which is more expensive to purchase. They are also costly to maintain and might be a disadvantage for homeowners looking to save on their budget for gardening.
The lesser expense costing are the two electrical models. Since electricity is cheaper to run than gasoline and also less expensive to maintain.
FAQ or frequently asked questions
Between an electric mower vs. a gas-powered mower, which is the best one for a large lawn?
For a massive yard of over 14k square feet, if you want to mow it in one go, the best one for the job is a gas-powered model. It can go the distance and can achieve it with a full tank of gas.
Compared to an electric corded one, the power would not run out, but you'll be confined to the length of the power cable, which can run from fifty to one hundred feet. So with these measurements, it can mow a smaller lawn of about 1.5k square feet.
While a battery-powered model can operate for twenty to forty-five minutes per charge of the batteries and will be dependent on how thick and tall the grass is, and it's more suited to small to medium lawns only, up to 14k square feet.
Between a gas mower vs. electric mower, which is the noisiest?
The noisiest of the bunch are gas-powered types, which emits about ninety-five decibels. Your neighbors might not appreciate it if you always use it to mow your lawn.
However, newer and better models have made newer advances in technology and made them quieter.
Either corded or battery-powered types are quieter and easier to everyone's ears. They produce between sixty-five to seventy-five decibels only, which is the same as the noise from a washing machine.
Between gas lawn mower or electric, which is more expensive?
Corded electrical models are the cheapest because they don't have battery or gas engines, whose cost is around 150 to 250 dollars.
Battery-powered types go for 275 to 800 dollars, depending on the newer features (like self-propulsion).
Meanwhile, gas models are the most costly. Its starting cost range from 350 to 850 dollars or more.
Conclusion
After knowing all of the necessary details, which mower type do you think is more beneficial to you? It will all boil down to you and your lawn's necessities. If you want to save money, only have a small lawn, and want to mow in peace, then an electric corded mower is the best one for you.