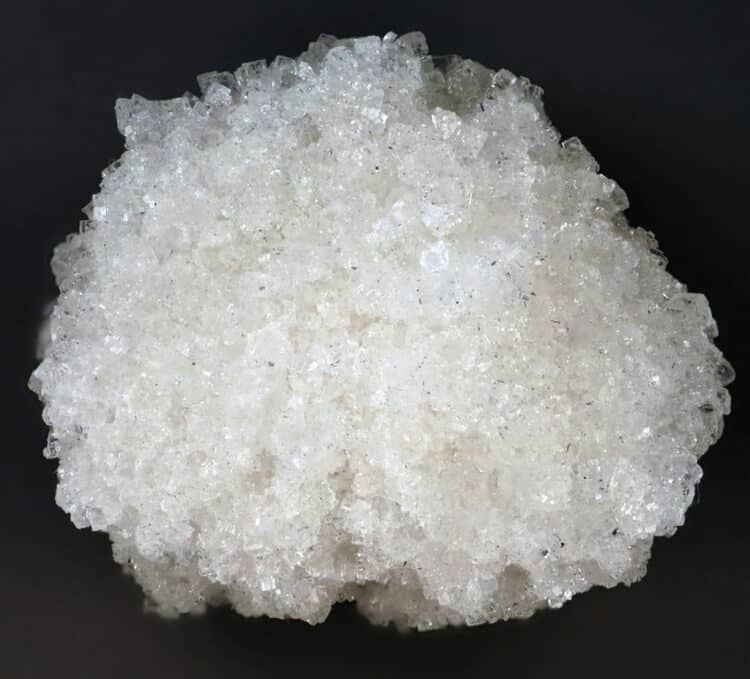 As the winter season approaches, homeowners need to stock their deicer products. In this case, rock salt and ice melt are often among the best winter safety options. Typically, they both help remove ice and snow from parking lots and driveways. But the utmost aim for melting the ice is to prevent property damage.
Traditional rock salt and ice melt products have a common goal; to melt ice. But, they work differently. They also come with their set of individual advantages and disadvantages. Tons of people often perceive the term 'ice melt' as any product that melts ice. That's not always the case, as ice melt is quite different from rock salt.
Difference Between Rock Salt and Ice Melt
In this section, you will get to know the difference between rock salt and ice melt. And the pros and cons are likely to occur while using these products.
Rock Salt: Meaning and How it Works
Also called halite, rock salt refers to the mineral composition of sodium chloride. It maintains the natural form that's full of impurities. This makes it unfit for human consumption as table salt is.
Bulk rock salt boasts a chemical reaction that forms heat when it makes contact with ice or water. As a result, it reduces the ice's freezing point and creates a salt-water solution.
The solution flows beneath the snow and loosens the bonding between the snow and surface. In other words, rock salt offers instant traction on ice and snow, forcing them to melt.
Rock Salt: Pros and Cons
Rock salt stands out as one of the most affordable deicing products. It is readily available, and you can buy it from retail suppliers.
As a homeowner, buy this bulk ice melt from rock salt manufacturers in the USA before you need it most. What's more, this deicer can effectively help prevent salt from accumulating on surfaces. That's because of the low icing point of about 250 F.
Despite its efficient ice melting performance, rock salt has some disadvantages. For instance, it can be dangerous to a plant's life. Hence, it's not suitable for use near areas covered with vegetation.
It's also harmful to pets as it causes gastrointestinal disorders if ingested.
Ice Melt: Meaning and How it Works
Primarily, ice melt is a mix of sodium chloride or potassium chloride. It may also contain calcium chloride pellets and magnesium chloride pellets. Usually, bulk ice melt with calcium ch+loride is the best performing deicer. It gives a lasting action.
It has a salt flake ice or fine-grain sand appearance. With a melting point of-150 F, this deicer boasts faster performance than rock salt.
Though, the difference is, a bulk ice melt doesn't provide instant traction on ice and snow the way rock salt does. It also doesn't cause harm to plant life and is pet-friendly.
Some of them have calcium magnesium acetate coating that makes them safer than salt. For efficient application, many people often use a blue color indicator.
Ice Melt: Pros and Cons
With calcium chloride, this deicer has incredible abilities to lower water's freezing point. It also forms a salt-water solution by generating chemical heat.
Hence it is more effective at deicing and works faster than any other bagged deicer. You'll find this product in many variations for different purposes.
De-icing Speed: Rock Salt or Ice Melt?
The common question is, which one is the fastest? Ice melt is the simplest answer. That's because it has a more excellent melting point of -150 F with a 200 F difference from a rock salt which is 50 F.
Unfortunately, bulk ice melt doesn't offer much traction while melting down the ice. The slush solution formed needs plowing within an hour to prevent re-freezing. This may force you to reapply the deicer.
Cost-Effectiveness: Rock Salt or Ice Melt for snow?
The price of rock salt in the USA is $10-$15 for every fifty-pound bag. However, this may vary depending on where you buy it in the country. You can find some standard brands online or in some places selling it as low as $8.
Buying bulk rock salt, say by rock salt ton, allows you to enjoy some discounts. Sometimes, bulk salt prices per ton may reduce to $5 or $6 per 50-pound bag.
As for ice melt, the prices per 50-pound bag start from $13 to $25 in some USA areas. Most ice melt companies pack this product in 40-pound bags rather than 50-bags like rock salt does.
They aim to cut down the prices. But in the long run, the product is less for a similar price. Even buying in bulk won't reduce that cost much.
It only reduces the average cost to 9 or 10 dollars per 50-pound bag. Therefore, rock salt is more cost-effective than ice melt.
Damage to Surfaces
Other than cost, consider the effect of wear and tear the ice melting product has on surfaces applied. Rock salt has the benefit of providing traction as it melts ice.
Unfortunately, the large chunks of rock may grind against the surface. This, in turn, damages the paved or concrete parking lots. After some time, the process will damage the driveway or parking space. But this can only happen if you apply the rock salt correctly.
Many people ask, why does salt ruin concrete surfaces? Here's the reason. Rock salt often works by breaking down the ice. This forms a slush-like solution that weakens and plows or drains away from the surface.
Applying the proper amount of rock salt reduces the rough reaction with concrete surfaces. As a result, this causes little or no damage.
Studies show that light-icing conditions need between 200 and 250-pounds of bulk rock salt per acre to limit ice accumulation. In such situations, the deicing process tends to last for about 45 to 60 minutes.
Due to its chemical form, many people believe that it's bad for asphalt surfaces. That's not true, and studies show that ice melt has no or little impact on asphalt.
But, it has a lasting effect on concrete. That's because concrete is susceptible to different chemicals. Ice melt works faster than rock salt, but it entirely damages concrete surfaces.
Deicer products with magnesium chloride work well on concrete grounds. However, it's one of the most expensive deicing products.
Does salt damage asphalt driveways? Yes. Rock salt tends to cause damage to asphalt driveways over time.
Safe for Vehicles: Rock Salt or Ice Melt?
Despite providing excellent traction on slippery surfaces, rock salt is messy. Many people living in icy areas often see dusty salt remains stuck on the sides and round a vehicle's tires.
They also fail to look at the undercarriage. And ultimately, they ignore the effect the deicer product may have on the vehicle. If you're one of them, know this today; rock salt is very corrosive and can cause incredible damage to cars.
That may not be a great concern if your car has very little interaction with the deicing product. But if your area demands frequent ice melting, then this should worry you. You can, however, wash your vehicle well to prevent corrosion.
On the other side, ice melt causes minimal corrosion to vehicles in the parking lots. Similarly, it may cause damage over time though the effects are lesser extreme and occur at a slower rate.
Also, using bulk ice melt regularly poses fewer effects like rock salt. And, it demands regular car washing.
Eco-friendliness
Rough winter rock salt and ice melt products tend to damage well-developed landscapes. But you can find various types of these products that are more eco-friendly.
Many contractors and cities often use low-cost salt deicer that tends to cause damage to a yard. So, if the product becomes a common product in your area, you can expect to get a brown lawn. Though it may help kill all the weeds.
A bulk rock salt that uses calcium chloride chemical can be safer for your yard. But it tends to pose negative impacts on concrete pavers, walkways, and patios. Such a product is ideal for use at temperatures lower than 00 F.
If you are looking for a bagged deicer that won't damage your lawn, go for an ice melt solution. The only thing is that it's one of the most expensive deicing products out there.
It is 100% organic, natural, and safer than salt-enhanced products. You'll find it pet and eco-friendly. Yet, they work in similar ways to melt the ice with varying traction levels.
Rock Salt Types
Regardless of the brand, a rock salt remains to be rock salt. The only variation will be in terms of the pellet's sizes. You'll find it with sodium chloride chemical composition. Besides that, it's more traditional and requires no spreaders to apply on surfaces.
Below are some of the best rock salt snowmelt Inc. to consider.
Safe Step 3300
Snow Joe Melt
Morton's Safe-T-Salt
The Cope Company Salt
Scotwood Industries Ice Melt
Morton Pet Care Ice Melt, Blue
Ice Melt Types
Ice melt alternatives are pretty complex. It involves a salt chemical class that limits icing. However, ice melt products originate from different ingredients or/and perform various applications.
The following are some of the best ice melt companies, products, and applications.
Morton Ice Melt – provides calcium chloride products that work faster
Melt EB Ice Melter – has calcium magnesium acetate used by many contractors, and its safe
Melt Man Ice Melt – boasts magnesium chloride that's safe for use by pet owners. Although it's more expensive
Urea ice melt which is safe although it may kill plants and grass
Safe Paw ice melt has crystalline amide that's also safer and effective, but it's quite expensive
Rock Salt vs Ice Melt: Head-to-Head Comparison Features
Features Rock Salt Ice Salt
Composition Mainly sodium chloride and calcium magnesium acetate Magnesium chloride, potassium chloride, and urea.
Chemical Structure Halite Calcium Chloride
Chemical Reactivity Absorbs heat, hence endothermic Calcium chloride and magnesium chloride releases heat energy, hence exothermic.
Urea is endothermic
Eco-friendliness It kills plants and makes lawns brownish Can kill vegetation and avoidable by usage moderation.
Performance Melts down the ice to 00 F Restricts ice from re-freezing until -7 to -250 F
Pet Safety It's not suitable to use around pets. Certain brands are safer for pets. Always check the label for confirmation.
Damage to surfaces Yes. As it's very corrosive. No. Though, continuous use may cause minor damage over time.
Effect on Concrete and Asphalt Highly corrosive Safe
Performance on pavement Also corrosive Not harmful
Once you decide which deicing product to use for snow removal in your home, what next? The following are essential steps and warnings to beware of.
Clear the accumulated snow using either a snow blower or snow shovel.
Use a salt spreader to apply the deicer in thin and even layers. Sprinkle using a cup if there's no salt spreader. Or, put on gloves and apply. Use a broom to thin out if you apply a lot of it.
Strictly follow the vendor's instructions as indicated on the package.
Essential Tips and Warnings to Remember When Considering De-icing Products
Here's what you should know:
1. Buy in Bulk
The first thing to do, of course, is to get prepared for the task. If you live in wintry climates, prepare for the cold season by buying ice melting supplies in bulk. Here, you can enjoy reduced prices and also earn discounts on your purchases.
2. Know the Best Time to Buy
It is always advisable to do so early enough. Get hold of your bulk rock salt before extreme weather starts. As for ice melt, you must apply it before the rain, snow, or ice precipitation kicks in.
So, you must be aware of the average winter conditions your region experiences. As the long warmer summer and soothing fall end, we often forget about the snowy and ice storms ahead.
If you live in places prone to extreme winters, forgetting to buy a deicing product can be a costly mistake. It is common for stores in many areas to have shortages of salt and ice melt products.
This happens mostly when an ice or snowy storm is approaching. As a result, the prices hike and may cause stress. Instead, leverage the affordable prices offered in spring and summer.
So, plan and buy bulk bagged deicer on time to save yourself some stress and heavy expenses. This will save you some money and relieve stress caused by shortages.
3. Items to buy for the first snowfall
the following are things to buy when preparing for the winter season:
Either rock salt or ice melt
Snowblower or snow shovel
Ice scraper fitted with a snow brush
Thick gloves and clothing layers
Snow roof rake
4. Consider the deicer's chemical composition
Typically, the rock salt and ice melt products have different chemical compositions. The thing is, understand which one suits your needs.
For instance, magnesium chloride works well with temperatures above 200 F.
If the temperatures are lower, consider those with calcium chloride composition.
Alternatively, you can use substances like ash or sand as they offer instant traction. The negative side is that they don't melt down the ice.
5. Know the Dangers
Deicing products made from calcium chloride often have white rounded pellets. These pellets could cause skin irritation if you handle them with bare hands.
Like ordinary table salt, sodium or potassium chloride application can corrode concrete surfaces. It may also kill vegetation on your lawn when it melts. So, be sure not to destroy your well-manicured yard.
If your local area applies salt to melt snowy roadways, check out your vehicle critically. Wash it more often to clear the salt remnants to prevent rusting.
What about where to store your rock salt deicer? Well, make sure you keep it away from your lawns. That's because the chlorine content could kill plants and grass after the ice melts. This results in ugly brown patches.
Moreover, keep the deicer away from metal surfaces to prevent corrosion after deicing.
Where should you store bulk rock salt or ice melt? Do they go bad?
The answer is no. These products are minerals and thus don't expire. But if you buy offseason, store them in dry and air-tight salt storage boxes. This helps to prevent contamination by moisture.
Final Thought
Rock salt and ice melt are the popular deicing products you can find on the market today. They work by melting the ice and preventing it from re-freezing on surfaces.
But, they both suit different conditions and surface materials. Rock salt is best for use in areas with temperatures that are rarely below 50 F.
Go for ice melt if the temperatures in your area drop below 50 F.
We believe that you now know the difference between rock salt and ice melt. If you face any confusion, be sure to consult our guide above.