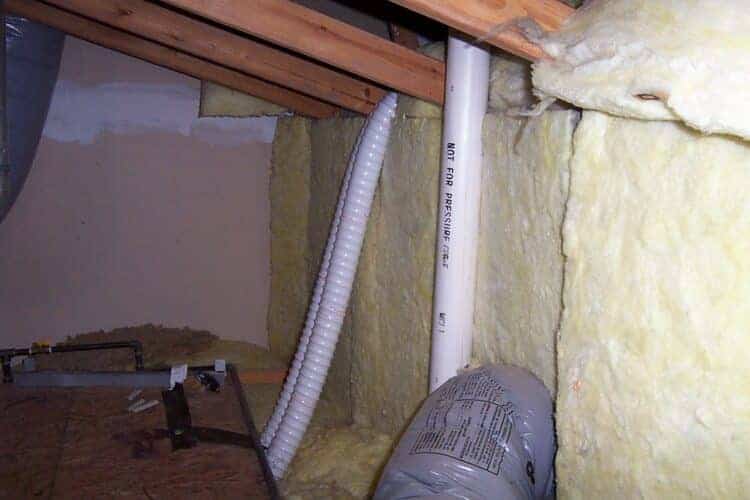 To get the best insulation for your attic, you must make sense of the different types of attic insulation. There are many options from which to choose.
Cost should not be the determining factor for your choice. Why? The most cost-effective insulation type might not be the best for your attic. And that is the goal you want to achieve in the long run. You want a comfortable home. You want a home that is energy efficient to save you money.
One of the ways to achieve these goals is by using the correct insulation.
Let's go through your options for insulation materials. We also take a look at what affects the way they function.
Best Insulation For Attics
I would not say there is a best choice when it comes to insulation. There is the right choice for you. Various factors determine that type of insulation suited for your attic. Your choice of attic insulation depends on:
Your location

How hot or cold the place you live gets.

The material used to build your house

Some construction materials trap more heat and cold than others.

Where you install insulation materials

Some insulation materials are better suited for attics than other rooms.
What Is The Recommended R-Value For Attic Insulation
Attic insulation has an r-value. The r-value determines how well insulation regulates the temperature in your home. The recommended R-value for your attic depends on the factors mentioned above.
The department of energy makes recommendations for insulation levels by region. The R-value recommended for attic insulation in Florida will not be the same as in Alaska.
What Determines The R-Value Of Insulation Materials?
The strength of insulation material depends on:
Thickness
Composition
Density
Installation position
Installation methods
Types of Attic Insulation
Some types of attic insulation are more common than others. Some are less suited for your attic than others. And there are those which are not suited for your attic at all.
This article has all the information you need about materials for attic insulation.
Blanket Insulation
There are three types of blanket insulation. They are fiberglass batts, fiberglass rolls, and mineral wool. Here we explore both fiberglass insulation types. They are a top choice for homeowners. In a later segment, we will talk about mineral wool.
Fiberglass batts or fiberglass rolls
These are thick insulation materials and are popular with homeowners. They are cheap to buy and one of the easiest ways to insulate your attic.
For the fiberglass rolls, grab a bundle and roll it in place. Repeat this until you complete the process.
Fiberglass batts come in pieces that you stuff in place.
Both fiberglass batts and fiberglass rolls have an r-value that goes up to 4.3 per inch.
They are both fire and water-resistant and have a life expectancy of about 100 years. But do not wait longer than then years before having your insulation inspected. By doing so, you pull ahead of potential damage.
Loose-fill Insulation
Is loose-fill insulation good to install in your attic? Let's explore the types of loose-fill insulation to find out.
There are different types of loose-fill attic insulation materials.
Cellulose
Cellulose insulation is ground-up, recycled paper. There are two types – wet and dry.
Wet cellulose is a bit damp.
It is possible to spray cellulose insulation in place. This applies to both dry and wet applications. You can also use the manual method.
What Are The Advantages of Cellulose Insulation?
Boric acid treatment is fire resistant.
Some say that the boric acid treatment protects against pest infestations. I know that sounds enticings. But don't get too excited and run out to buy cellulose insulation yet. The word pest is a broad term.
Let's break it down.
Boric acid has high toxicity. It is harmful to humans. So, cellulose insulation has low, safe levels of boric acid. Does it contain enough to ward off a nest of mice? While I have never used cellulose insulation, I have my doubts. When people say pests, they might mean small insects.
But there are other benefits to installing cellulose insulation.
Has a life expectancy of 20-30 years.
These numbers are not definite. External factors may cause degradation may occur before that time passes. It is wise to have your insulation inspected in half that time.
What Are The Disadvantages of Cellulose Insulation
The dry method produces a lot of dust

Use a mask or respirator when using this method.

absorbs moisture

Cellulose insulation absorbs moisture with ease. This could affect its life expectancy. Even with the boric acid treatment, vapor builds up over time. It will lead to rot and mold.

Needs a vapor barrier

Installing vapor barriers slows moisture build-up. But adding vapor barriers increases the cost of your project.
Loose-Fill Fiberglass
Applying loose-fill fiberglass insulation is different from applying fiberglass batts and rolls.
Loose-fill fiberglass comes in bags. To install it, put the bags in a machine that blows the insulation material in place.
Applying loose-fill fiberglass is easy. But that doesn't mean it belongs in every attic. We will explain this a little later on.
To recap:
Which of these loose-fill insulation provides the best protection?
Cellulose vs fiberglass vs Mineral Wool Insulation
Cellulose has an R-value of 3.2 to 3.8 per inch but grows moldy when exposed to moisture.
Loose-fill fiberglass has an R-value of 2.2 to 2.7 per inch. It is lighter than mineral wool and cellulose. It also costs less.
Because of its low cost, many homeowners use it to insulate their attics. But loose-fill fiberglass does not provide the best insulation.
Remember, insulation in your attic serves a purpose. If you live in areas with extreme cold, loose-fill fiberglass is not a good choice for you.
This type of insulation may be cheap, but your HVAC system has to pick up the slack. Expect higher electricity bills with this type of insulation.
If you do use loose-fill insulation in cold areas, remember to pack it on thick.
Mineral Wool Insulation has an R-value of 3.0 to 3.3. It has a natural resistance to fire. Of these three, Mineral wool insulation is the most costly.
Because you have to blow in loose-fill insulation, they are better for attics with:
Atypical frames
Many obstructions or penetrations in the installation area
Gaps in existing insulation.

Use blow-in loose-fill insulation to fill cramped spaces and gaps.

Low attics that are difficult to maneuver.
Loose-fill insulation is also easy to install.
Spray Foam
Spray foam is the most unique of all the insulation materials out there. It is the only one that expands when applied.
Some of its characteristics make spray foam one of the better insulation materials.
It has an R-Value that falls between 3.5 to 6.5 per inch, depending on the type.
As with all insulating materials, there are advantages and disadvantages to using them.
What are the Pros and Cons Of Spray Foam?
These are the benefits of insulating your attic with spray foam:
Easy to seal off gaps and corners.
Energy efficient and eco-friendly

You do not need to depend on your HVAC system to regulate temperatures. You reduce your energy use with spray foam.

Spray foam is durable

Spray foam is not easy to damage.

Water-resistant

Provides protection against moisture that causes rot and mold.

Airtight sealing

An airtight seal means there is no room for air to seep into your house. So, the temperature remains cool in warm months and warm in cold months.

Adds strength to walls
Acts as a sound barrier
R-value does not change with time
Those are a lot of benefits. Make the comparison: cellulose vs fiberglass vs foam and other insulation materials. It would seem that foam wins every time.
But we have not looked at the cons of spray foam insulation.
What are the disadvantages of spray foam insulation?
Most of the disadvantages of spray foam occur if you do not install it the correct way.
More expensive than other insulation materials.
Spray foam falls on the more costly side to install per square inch.
What makes foam attic insulation cost so much?
One of the reasons it is expensive is that it is not a DIY material. A professional must install spray foam for you.
If not done right, water sips through gaps in the foam. Water causes rot and mold build-up.
Although the R-value does not change, spray foam insulation shrinks with time. When this happens, its performance decreases. Places with extreme temperature changes have a high chance of facing this problem.
If your spray foam insulation shrinks, you might also face some of the problems listed above.
Spray foam installations sometimes do not meet code requirements. Ensure your installer knows the installation code for your area.
These risks are to the installer. Spray foam has chemicals in it that irritate the eyes, skin, and lungs.
Curing takes a bit of time
Why is this a problem?
Foam emits a gas while curing that causes blurred vision and breathing problems.
If the installer fails to mix spray foam the correct way, the gas will not go away.
Less Common Attic Insulation Materials
Loose-fill Mineral Wool Insulation
Mineral wool comes in two types:
Blanket mineral wool
Blanket mineral wool provides better insulation than fiberglass batts and fiberglass rolls. That's because they are denser.
They are DIY-friendly and continue to insulate your house even when wet.
You install them the same way you install blanket fiberglass. Cut them to size and stuff them in place.
Loose-fill Mineral Wool
Both these types of mineral wool are resistant to water and fire. While they are ideal insulation materials, they are less popular and scarce.
So finding mineral wool might not be easy.
See specifics for the R-value of mineral wool in the sections above.
Denim Insulation
The make-up of denim insulation is what it sounds like – blue denim jeans (recycled). As you can imagine, this material is a friend of the environment. DIYers will be happy to know that there are no irritants or toxic components to denim insulation.
Denim insulation offers an R-value of 3.5 per inch. So it is a solid choice for insulation material.
Here's the downside.
While denim insulation is a sought-after insulation material, it also costs a lot. Because it is DIY safe, it is possible to lower your bill by doing it yourself. But like mineral wool, this kind of insulation material is hard to find. If you do happen to lay hands on some, then it is possible to do-it-yourself.
They come in rolls. The rolls have perforated lines that makes them easy to cut. You may need a vapor barrier unless the building code in your area says you do.
Denim insulation is suitable for every part of your house and installation is super easy.
Radiant Barriers
Radiant barriers are not your go-to insulation option. They do reduce cooling costs in warm climates by up to 10%. In cold areas, your HVAC does all the work.
To understand this, we must take a look at how radiant barriers function.
Pad the underside of the roof in your attic with reflective material like aluminum foil. The reflective material directs heat away from your house. During cold months, you want to trap heat, not get rid of it.
That is the reason radiant barriers are better for warm locations than cold.
Prefabricated Insulation Panels
Insulated panels are thick and sturdy foam boards with high R-values.
But they hold moisture a little too well and take a long time to dry. If you plan to use Insulated foam panels, ensure your home has:
airtight seals.
back-vented cladding
the best possible flashing
the best spot and full house ventilation
Otherwise, you have some critical water damage to deal with in the future.
Conclusion
Does insulation make a difference to your home? It sure does. Proper insulation helps keep your house at the correct temperature when the weather is cold or hot.
Well-insulated homes are energy efficient. So they also take the load off your HVAC system. They save you money. That is if you install the correct one the right way.
I know that cost-cutting is essential to many of us. But you should use the best insulation material for your location.