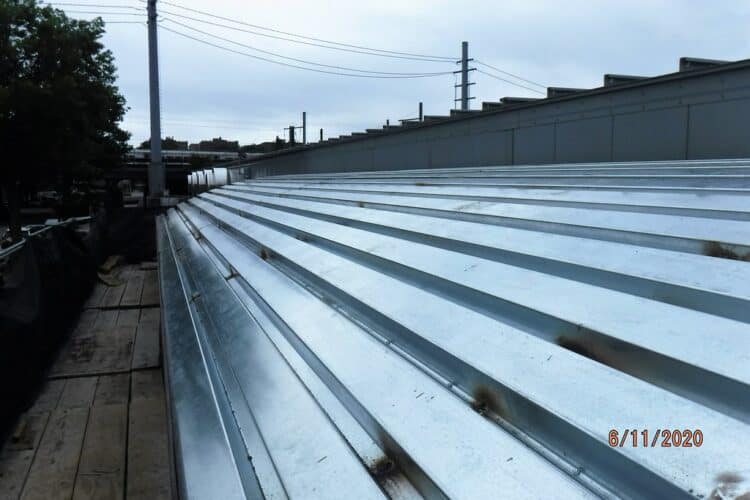 Metal roofing is the most popular roof among homeowners and roofing contractors. Though these roofs are likely to last longer than others, once in a while, they need repair. But many don't understand how to walk on a metal roof safely. Walking on this roof can cause injuries when you slip and fall. Even the metal roof can be dangerous when sliding – they can cut you.
To walk on the metal roof, you need to have tips that will help you. You can walk on the top safely, but you have to be cautious. The roof can be firm, but the holding materials can be weak.
Inspect before walking on metal roof
Since your safety comes first, inspecting the roof before stepping on it should be the first step. The top can look okay from the downside, but you find things are different when you step on it. First, check from inside the roof or the house. Check the condition from the ceiling. Look for missing or broken lathe boards, rotted beams.
After inspecting the inside part, now it's time to check the metal roof. Is it wet? A wet roof is dangerous for slipping. It becomes extremely dangerous if it's snowy. Clear all the available dirty materials like leaves as they can obstruct your walking. You have to be careful if the roof is old.
Is it Safe to Step On a Wet Metallic Roof
It will never be advisable to step on a wet metallic roof. If you decide to walk on it, you better stop. Any kind of wet roof is dangerous, and you have to avoid walking on it. If you were in the middle of the roofing or repairing and then it starts to rain, stop and wait until the roof is dry.
The chances of falling on a wet metal roof are very high as it is incredibly slippery. Most contractors will usually reschedule their roofing plans if it's raining.
Another trick you need to know before deciding whether you will walk on the metallic roof is checking the weather condition. For instance, rainy seasons are not suitable for roofing or roof repair. Earthquakes during storms, hailstones, and winter seasons are all not ideal for any metal roofing operation. Apart from being slippery during these conditions, lightning can strike you.
However, the roof might be wet, and you have no option but to repair some parts. Maybe the point is leaking. If you are in such a situation, take extra safety measures. Use the best-recommended roofing equipment to avoid slipping and injury. Take every step with keen attention. You can call a professional to repair it for you.
Understand the Type of the Metal Roof
You need to understand the kind of metal roof to know how to go on the repair. Manufacturers have four designs of metal styles. Please ask your contractor the type you have in case you repair the roof yourself.
These four types are:
Metal tile roofing
Metal shingles
Standing seam roofing
Corrugated panels
However, you have to be careful when you walk on these four metal roofing styles.
Metal Tiles
These roofing designs resembles any other types of tiling styles such as shake and ceramics. These tiles are fragile. Thus, you have to consider lower spots as your walking sides.
Standing Seam Roofing
Purchase this type if you are looking for the safest metallic roof to step on. It's perfect for holding any weight, giving you ample time to walk over it. It's hard to damage it, and you can walk a step at any spot. However, use recommendable shoes while walking on this metal roof.
Metal Shingles
The upper side of the shingle pane is the safest to walk on. The part has the highest strength. It also has the minimum airspace between the metal. It's easy to damage metal shingles when you walk on them, especially if you don't use the right spots. Mainly, roofing contractors will install foam backers for this reason.
If the roof is experiencing increased foot traffic, consider including foam backers or inserts. Their role is to cover any air gaps exposed on the shakes, tiles, or panels. These can be responsible for increased damage or bending the roof entirely.
Polystyrene foam backers are considered the best in providing rigidity, controlled walkability, and support on the roof.
Corrugated Panels
These panels are among the best and safety styles to walk on. The meetings are very fastened on the metal roof decking.
Consider Wearing Recommendable Shoes
When you need to walk on the metallic roof, shoes with excellent grip are the best option. You have to understand that metal roofs are incredibly slippery; consider appropriate footwear. For this reason, soft-soled shoes are what you need.
Soft-soled shoes contain a rubberized external sole. The sole offers an excellent grip and reaction that provides a safe walk on any surface, even if it's wet or slippery. It's necessary when you walk on a steep roof that you're likely to slip.
These shoes are ideal as they're lightweight. They add no or little weight to the roof. Hence they are not likely to damage the metal roof. Exerting pressure or adding dents to the roof damages it.
Lightweight shoes also help you to maneuver securely on the roof. Significant speed and mobility are incredible features. Shoes with mud, debris, grime, or any other type of dirt are unhealthy to the roof. These hazards can scrap the metallic surface hence damaging the roof. Grime can make you slip even if you will be wearing rubberized footwear.
Ensure you wear clean shoes before you decide to walk on the metal roof. Remove any gravel in the shoes that can get stuck in the furrows. Check anything that can impede the traction of the shoes. Don't wear any flat shoes when you walk on the roof. Check if the shoes have tracks.
Safety Measures
Safety is one aspect that should be in your mind when you walk on any roof. Various safety measures are available for roofers, either during repair or installation. It's always essential to prevent any accident, even if you can balance yourself well. No one knows how the accident will happen.
A fall protection system is one measure that you need to have. Its purpose is to stop or prevent the roofer from hitting the ground or any surface below the roof. It is almost similar to the fall restraint system. But, its safety line and anchor are to prevent the operator from a possible falling situation. Regulations state that any roofing contractor working 6 feet above the ground has a sound fall protection system.
The fall protection systems are fundamental as they reduce the roofers' risks of death or injury, especially on a steep rooftop.
Consider installing anchors when working on the roof. Attach the safety gear and remember to test it before the actual work. Rings and permanent anchors are the commonly used fall protection anchors.
There are other temporary clamp anchors. These anchors attach to the joints between the roofing panes. Authorities suggest anchors meet minimum requirements that support the weight. Besides, it would help if you worked with a qualified installer that meets the manufacturer's instructions and demands.
It's recommendable to leave anchors after completing roofing for future workers to use it. It will also save you time and cost for installing a new one. Since metal roofs are different, check the best and suitable anchor for each metal roofing style.
However, no matter the kind of safety measure you use, pay apparent attention to the metal roof. Applying the safety measure doesn't mean you are out of danger. A slight fall or accident can injure you.
When you Should not Walk on The Metal Roof
Walking on a metal roof is possible and safer than other roofing styles. But, you should avoid walking on in under certain circumstances. You already know that rainy or wet weather conditions are not suitable.
A damaged roof is a no-go zone. You should avoid walking on the roof if there are some damages. The best you can do is to call a profession. A weak roof is the same as a damaged one.
Safety measures should be perfect. If the standards are faulty, it's wise if you refrain from walking on the roof to avoid any accident. Be sure of the safety measures put on – that's why you need to test them first.
Morning hours are not suitable to walk on the roof. Metal roofs are wet in the morning hours, and they can be dangerous.
Conclusion
Metal roofs are the best if you want to install a roof that you will want to walk to walk on safely and comfortably. However, that doesn't mean you should not be careful. Your safety should come first; that's why it's good to know how to walk on it. Now you have the best information. Use it correctly, and you will have minimum or no dangers when stepping on it.