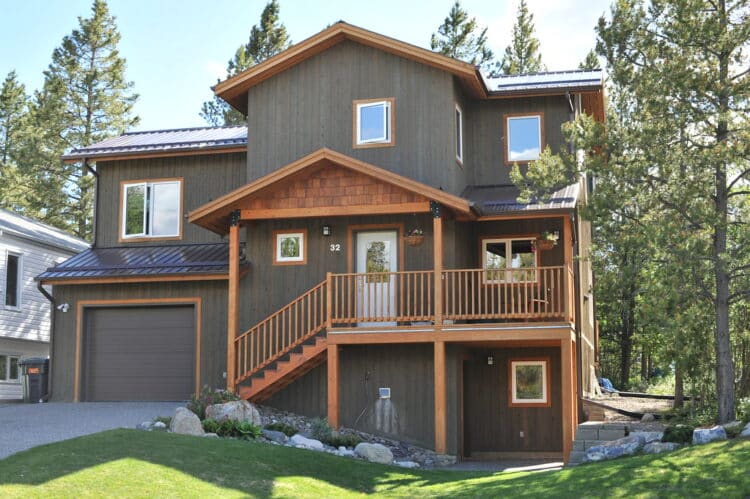 Is there a way you can install metal roofing over shingles? You bet there it is. And we waste no time getting into the whys and hows of it.
Why Try Roofing Over Existing Asphalt Shingles With Metal Roof?
Of all roofing materials, asphalt has the shortest life span. You put metal roofing on top of existing shingles to avoid the asphalt replacement cycle.
You might be due for a reroofing. Or maybe you want to get ahead of the inevitable decline of your existing asphalt roof.
Uninstalling asphalt shingles is one expense to which you have to look forward.
What's the other?
Because asphalt is so cost-effective, it was and still is popular with homeowners. Shingles are not your typical recyclable material. So your other expense is disposal.
Disposing of shingles often comes with a hefty fee. And we all know the average household is all about saving money.
Someone might suggest putting a new roof on top of the old one.
You might think, here comes metal roofing to save the day. They are lightweight, so do not add too many pounds to your roof. They are more expensive than asphalt shingles but are still cost-effective. They have a 50-year life span. All in all, you get value for your money while saving on the uninstall.
But can you put metal roof shingles on top of roof shingles in every situation?
Putting Metal Roof On Top Of Shingles Terms And Conditions
A few rules apply when planning on installing metal roofing over existing roofs.
Building and Zoning Codes
Check with building authorities in your area to see if metal roof installations over asphalt shingles are an accepted practice. If your building officials say no, then you have to reroof.
If it is an acceptable practice in your area, follow this guide to find out more information.
How Many Layers Of Shingles Are On Your Existing Roof?
Some building and zoning codes only allow homeowners to mount metal roof shingles over existing roofs if:
the roof has only one covering of asphalt shingles.
they install a specific type of metal panels
Other building and zoning areas might be a bit more lenient. They might allow homeowners to mount metal panels over two layers of asphalt shingles.
But in every building and zoning area, installing metal over more than two layers is a definite no.
Do I Need Underlayment For Metal Roof Over Shingles?
Yes, you do need underlayment. The underlayment adds additional protection against moisture buildup in your roof. Steel rots too. Yes, your asphalt shingle roof acts as underlayment. But moisture buildup between the two deteriorates both materials.
What underlayment can you use?
You may think your old asphalt shingles provide the best roof underlayment for metal roof installation. Some experts may even suggest that it is suitable. I beg to differ.
Prevention is better than cure. Add some underlayment before putting metal roofing over your existing asphalt. Rubberized asphalt is a good option.
If you do not add this layer of underlayment, you may lose the warranty on your metal roof materials.
If you want to be more thorough, add purlins to create space between your old and new roof. Purlins provide ventilation while keeping the metal from resting on the shingles beneath.
What To Do Before Reroofing Over Existing Roof
Before doing anything, hire an inspector to check your roof. The inspection identifies problems like leaks and damages. You also want to ensure they examine the rafters for signs of decay.
Look for signs of other structural issues before adding more weight to your roof. Metal roofing material is lightweight. But added to an already buckling roof system, it will do more harm than good.
Make the necessary repairs before adding new metal roof shingles on top of old shingles. I suggest getting curled and damaged shingles fixed as well.
Otherwise, there may be many problems and an even more costly roof replacement in your future.
After your inspection, measure your roof. Roof measurement lets you know how much metal you need to buy.
Advantages of Metal Roof Over Old Asphalt Shingles
Save on cost

You will not have to pay to dispose of old shingles. You will not have to pay the cost of labor to remove shingles for metal roof installation.

Insulation

Puting metal roofs on top of shingles adds insulation to your house.

Sound

Metal roofs can creak and rattle. They can get quite noisy. But your old roof beneath metal sheets or metal shingles is the ultimate sound dampening system.
Common Metal Roof Over Shingles Problems
Reroofing over existing roofs works if you do it the correct way. In a while, we will explore those methods.
If not done right, here are some of the problems you may face.
Trapped moisture between your old and your new roof

Moisture collecting between your old and new roof causes rot and ruin.

Extra weight may cause damage

Your roof's heavier weight can damage tresses, the decking, and the foundation.
To solve this problem is one of the lighter steel options.

Shingles tend to contract and expand

Over time this may distort your metal roof. Installing steel shingles is the only way to keep this from happening. The install like your old shingles fitting on top of each one. Screw them in place. Make sure they stay flat to prevent curling in the underlying old shingles.
Aluminum is another lightweight option.
How To Go About Putting A New Roof Over An Old One
You had your roof inspected. You took the correct measurements. Now, it's time to install your new roof.
Apply the underlayment
Consult your roofer to learn what type of underlayment to use. Note not all roofers approve of putting a new roof on top of an old one. They may turn you down.
The other option is to find a manufacturer who offers DIY systems. These systems are affordable, but they do have disadvantages.
You do not secure these types of systems to the frame. Because they attach to the roof's surface, they do not offer ventilation.
Although these systems are cheaper, I suggest consulting a roofer willing to help you install your roof.
Install flashing, edging, and panels
If it sounds like you are installing a new roof, you are. Even if you are putting a new roof over an old one, you must still use best practices.
Apply corner pieces where there are bends in the roof. Edging should extend half of an inch over all of the gutters.
Begin with a drip edge or step flashing and go from there.
Apply the metal roof
Now is the time for installing your metal roof. Follow the manufacturer's guide for best installation practices. You need to cut the material, space and screw it on in a specific way. That pattern changes based on a few things.
The type of panels you use
The orientation of your house to prevailing winds
The types of screws and fastening clips recommended

Nails are not suitable for metal roofing material. Unless the manufacturer recommends it (which is doubtful), do not use nails.
Fastener Application
Follow the recommendations of the manufacturer when applying screws. Ensure that you place all fasteners in the correct place. They might not sound like much, but the position of screws or fasteners keeps your roof stable. Fastenings are small, and that is the reason you need to position them the right way.
With the wrong positioning, fasteners cannot support your roof the way they should. The placement of screws, clips, and bolts depends on the type of materials.
Standing seam metal, aluminum panels, and steel shingles all use different anchoring methods.
Ensure the spacing between each is even for a neat finish.
Now we get into the nitty-gritty of it.
Laying Down Metal Shingles
Start by drawing chalk lines to guide you. Install shingles based on the user guide. There is every chance you must begin with one half of a shingle. Every row after that starts with a whole shingle. You also may need to start on the left side of your starter flashing. When you get to the ridge, install the vents.
Laying Down Metal Panels
Overlap the panel by half of an inch over the edging. Do not over-tighten the screws. You will know if you screwed them in too tight. The water-resistant gasket should not squish out under the head of the screw. If you see the water-resistant gasket, your screws are too tight.
After laying the first panel, continue by overlapping each panel. Where each panel overlaps, use a silicone sealant to add an airtight and watertight seal.
Repeat this process until you complete the job.
Although you are installing a new roof over an old one, you still need ventilation and flashing. You cannot rely on your old ventilation system. Your new roof covers it.
Flashing and ventilation protect your roof and home from water damage.
Conclusion
When installing metal roofs over an old one, the user's manual is your friend. An amateur job threatens the stability of your home. Improper installation reduces your property value and lowers your curb appeal.
Roof recover vs tear off is a personal choice. Know that if installed well, a new metal roof over old asphalt shingles works. It should last the 40 or 50-year life span of any metal roof.