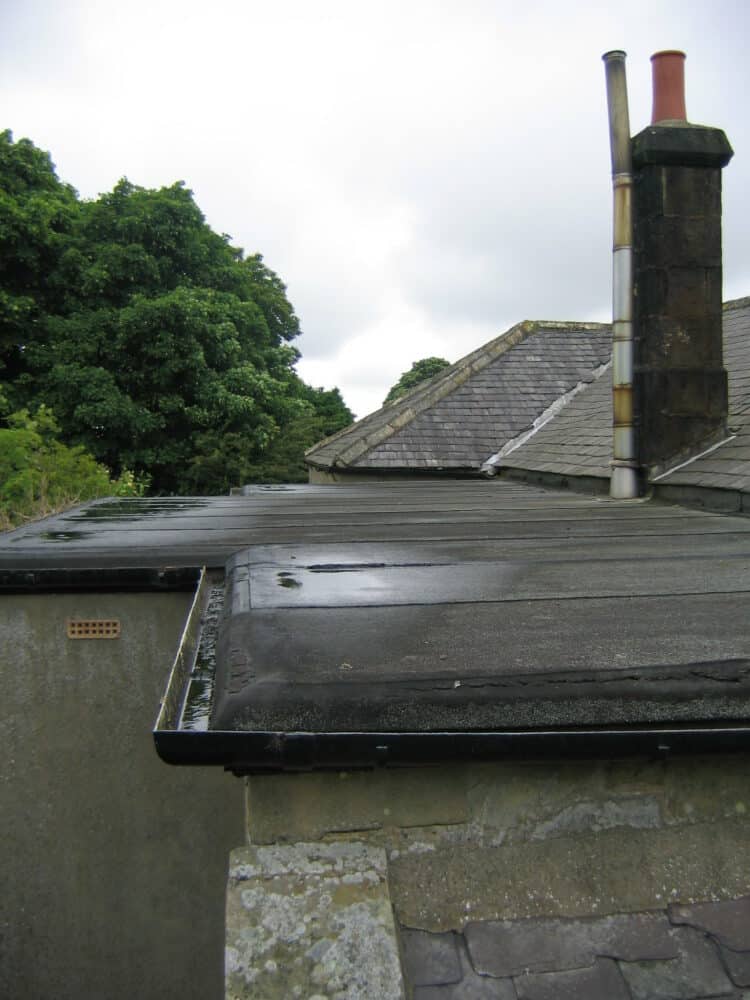 Flat roofs allow a building to have an open space on top that can be used for a lot of things. In different cases, it can be easier to install and would be at a lower price. Flat roofs come with a lot of benefits which make them the first choice for most buildings.
A large building with a flat roof comes with plenty of advantages such as having an extra floor for activities. They are also lighter and require less funds upon installation. Flat roofs also come in different types, such as a built-up roof, modified bitumen roof, etc.
Before delving in deeper, it is important to understand that although they are called "flat" roofs, they aren't really "flat." They have a slight slope so that rain can drain away from the roof. But since drainage is still slower compared to a roof that has a steeper slope, maintenance will still need to be done regularly.
Regular maintenance ensures that water does not seep into the building and cause damage. UV rays from the sun can also cause wear and tear so the roof surfaces have to be resealed at least once a year.
You may have heard of flat roofs while discussing which type of roof is more convenient and accessible. You may also have considered which one is safer but costs less while constructing a commercial building.
The materials used in the creation or application of a flat roof are not as heavy and definitely cheaper compared to other roofs which have a more pronounced slope. Overall, a flat roof is a practical choice because the building doesn't bear any unnecessary weight and it isn't as expensive as other roof types.
You can also find flat roofs in high rise buildings which require easy service access to the roof. This is because most flat roofs can serve as a sort of extra space that allows architects or building designers to unleash their creativity.
Depending on the building's construction and design, a flat roof can be used as a "Zen" area that allows guests or building occupants to come out and enjoy the sunshine and fresh air.
The only limit to designing a flat roof is the imagination. But have you asked yourself, what is the best choice and material for your building? How long will this material last and how much will it cost you?
In this article, you will learn more about the different kinds of flat roofs along with its pros and cons so you can make a better decision that meets your needs as well as your budget.
Built-up Roof (a.k.a. BUR)
The concept of built-up roofs goes back as far as 120 years and are often known as the grandfather of the flat roofs. They are made almost completely out of gravel and hot tar.
Basically, hot tar and ply sheets that are waterproof are layered against one another three times, creating three layers.
Afterwards, either gravel or river smooth stones are layered on top. A BUR roof comes with a lot of advantages and are usually recommended for commercial buildings due to their affordability and resistance to fire.
As groundbreaking as that may be, there are also disadvantages to this kind of roofing equipment. Although gravel is an excellent fire retardant, because of the tools and materials it requires to install, the process can be very smelly and messy.
Removing it can also become a challenge. And most of all, the tar and gravel used in the construction of a BUR are naturally heavy once they dry and settle. This adds more strain on the building than usual.
Modified Bitumen
The best thing about Modified Bitumen roofing material is that it is the more budget-friendly option. This material doesn't have as dark a color and uses asphalt membrane as the base of the roof itself.
Since this only uses one layer of an adhesive kind of roofing material, it is very achievable for people who want to do it themselves.
This used to have been installed with a torch however this torch-down system is considered dangerous because of the dangers presented with the use of fire. Newer peel-and-stick systems are safer and easier.
To add to that, modified bitumen can't last as long compared to other flat roof materials and they aren't that resistant to wear and tear from passersby and debris.
Another downside to this is that modified bitumen is more prone to blistering and cracking, which makes it last as long as 15 years—or even less. Although the lifespan can be a bit of a downer, the reduced costs of using it makes up for its limited lifespan.
Rubber Membrane (a.k.a. EPDM)
Rubber membrane or "EPDM" is historically popular due to its durability and light weight. It resembles an inner tube, but it's engineered to resist damage from sunlight.
It almost sounds the same as the PVC Membrane, but the difference is that EPDM is not as resistant to objects that can pierce through it.
This kind of roofing can be fixed easily, and the materials used to repair it are not expensive. An EPDM roof is also lighter and has a longer durability compared to other systems like the built-up roof and modified bitumen roofing.
One downside of using a rubber membrane is that this is naturally dark in color so this makes it absorbs heat rather than reflecting heat off the building. In addition, this kind of roofing material can be more vulnerable to being punctured other choices.
PVC Membrane
A lot of manufacturers would suggest the PVC Membrane. This is one of the best flat roof materials because it is low maintenance with a long lifespan that reaches up to 30 years. Compared to other roofing options, PVC can be quite expensive due to its wide range of benefits.
PVC roofing is flexible and can be customized easily. This flat roof is made from scrim. Scrim is a polyester fabric that is non-woven and heavy duty. It creates a seal that is bonded and can also be fire retardant.
This is easily the best choice because it is lighter than all the other materials, which means a PVC roof does not weigh down the building.
Another reason why PVC roofing can be so in demand is because it provides long-term service in harsh environments experienced on rooftops. Manufacturers prefer to use this roofing as well because PVC is easily recycled.
Unlike most roofing materials, PVC membranes can be recycled at the end of their lives on the rooftop.
TPO (Thermoplastic Polyolefins)
TPO, along with PVC, is among the best flat roof materials to install. Because not only is it inexpensive, but it also has a decent lifespan between 10 to 20 years. PVC and TPO share the same energy saving properties that makes a building cooler.
Both require less maintenance than EPDM roofing material since the seams are heat wielded to prevent any leaks in the future.
TPO is similar to PVC. It is a mixture of two kinds of rubber that are whiter in color which are made from two different kinds of rubbers: ethyl propylene and polypropylene. With these characteristics in mind, this results in one membrane piece that is flat and easily reflects the UV rays from the sun away from the building.
Basically, it reflects the heat from the sun, reducing the costs of cooling the building. Since it doesn't take much to install the material, it can be connected to a roof's deck. TPO can also be bent and welded but maintain its durability.
Lastly, this material is 100% recyclable!
Metal
Metal is the most expensive roof type to have installed despite having the longest lifespan that can last between 20 to 30 years due to its expert installation process and the nature of the material. When installed properly, it can last longer than the building it was built on.
Metal roofing requires significantly less maintenance if none at all. It also lasts longer than other types of roofs. This material is also weather resistant, energy efficient and is also very recyclable. The metal roof is the ideal choice for a building with a roof greater than 2 inches.
If you're looking for something that can serve as both a roof and decor for your property, this is the material for you. You can get creative with the metal and ensure your roof is an eyecatcher for passersby.
Although it does sound like a deal breaker, metal roofs can only be used on sloped and low-sloped roofs. They are not recommended for flat roofs. They may also generate a lot of noise, but the benefits outweigh the costs.
Coating
This type of roof material is made out of a liquid that is created from resin-type high-quality elastic. Once it dries, it serves as a topnotch seal that prevents water from permeating its surface.
It can also serve as protection from the elements such as wind and debris, though this will depend on how thick it is.
The thickness varies from light to heavy. This is one of the cheapest options for those of you out there who are trying to go light on the budget. They are also available in many colors so that you can cut back on your growing carbon footprint without sacrificing its capabilities to reflect sunlight.
There are multiple variations to a Coating roof, and each one comes with its own set of qualities depending on your preference:
Silicone Roof Coating
One variation of this is a Silicone Roof Coating, which proves itself resistant to mold and mildew stains. It also maintains this level of resistance under the sun's heat since it won't crack or lose its quality.
Acrylic Roof Coating
Another variation is an Acrylic Roof Coating which reflects a lot of the heat from the sun but needs high temperatures of at least 50 degrees Fahrenheit so that it can be applied.
Conclusion
As the saying goes, it is better to be safe than sorry. It's better to choose the best option for your home or your office with the right roofing materials to prevent further injury or damage.
Flat roofs are popular because they are a cost-sensitive option when it comes to constructing a hose or a commercial building. Before hiring a company that specializes in installing a flat roof, you should consider first that kind of roof you want for your building.
Flat roofs can vary depending on your style, your choice and your preferences. There are a lot of styles to choose from such as a built-up roof, modified bitumen roof, etc.
The best way to decide is to consider all the pros and cons of each roofing material. With a marketplace that has a million choices, deciding on the best flat roof option can be very hard and very taxing. At the very least, choose wisely and securely.
With a flat roof, design options are only limited by the imagination. You can do away with creating a sports center on your roof or even add a swimming pool or even create a garden. Your choice and your design. The sky's the limit!
Remember, the feeling of home lasts forever and with the right roof, your home or building can be the best in the block!