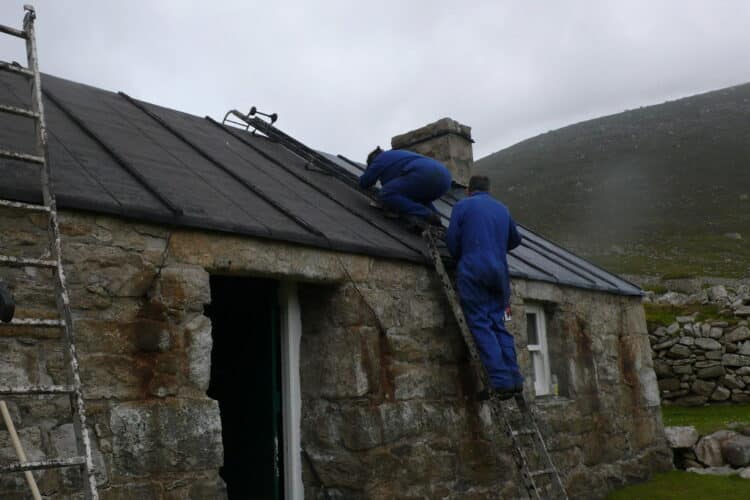 Most commercial buildings and structures with flat tops were topped with tar and gravel roofing in the past. Hot tar roofing is also known as built-up roofing or hot mop roofing due to the how the process is done.
The roof is made with the use of multiple layers of asphalt and felt which will be topped with a final layer of gravel. It sounds simple but there are actually various variants of this technique by using different kinds of base, interplay sheets and gravel based on the homeowner's preference.
Why choose hot tar roofing?
Hot tar roofing is labor intensive compared to other roofing options, but this shouldn't stop you from choosing this option simply because it is still one of the best low-slope roofing systems practiced today.
Apart from this, these are the advantages of using hot tar roofing:
1. Tear-off not necessary
A hot tar roof is easy to maintain and improve as a hot tar roof may easily be installed over an existing roof, provided the weight can be supported by the structure. This saves costs as other roofing techniques require the pre-existing roofs to be torn off.
2. Cheap and sturdy
As previously mentioned, a hot tar roof saves costs since the existing roof does not need to be torn. Aside from that, it is also easy to maintain as it only needs extensive repairs around the 20-year mark.
3. Fast installation
Despite being a labor-intensive technique, a hot tar roof installation takes from two to four (2-4) days to complete depending on the size of the roof and number of installers working on it.
This is relatively faster compared to an average tiled roof which can take from seven to ten (7-10) days to be completely installed.
4. Covers unusually shaped roofs
Another advantage hot tar roofs deliver is the ability to cover unusually shaped roofs. The melted asphalt can easily be mopped over various shapes.
Technicians can work around chimneys and air conditioning units with ease and can also adjust the fiberglass and felt by cutting them according to the shape of your roof.
Can I DIY hot tar roofing?
You must take into account that hot tar roofing is not a technique easily done by someone with no experience. It is always advised that you hire a professional to do it to avoid leaks which can happen when you fail to choose the proper materials.
The climate, slope and shape of the roof are also considered by professionals when they get the job done. If you are planning to do it yourself, be sure to take the necessary precautions and do enough research that you know what needs to be done.
How to apply Hot Mop Tar
A decent method in making waterproof projects uses hot mop tar. Below, we will discuss how it is applied:
After heating it using a kettle, the hot asphalt will be used to stick layers of tar paper onto the surface so that is covered. Sheets will be overlapped so that there are no leaks, and enough pressure is applied so that it can bond together.
Finally, a last layer of tar is placed on top so that the surface is waterproofed.
How to heat up roofing tar
Most often, a hot tar roof is very durable. However, it still needs occasional maintenance similar to other roofing systems. Take note that there is a very real danger present when you are using roofing tar. That's why it's best to hire a professional when working on this kind of project.
It is important to wear personal protective equipment such as boots and stick clothing when working with hot tar. Remember to be very careful while you're working. Take note of the dangers and hazards that come with using roofing tar to avoid injury and fires.
1. Prepare the area so you can heat it up safely
Secure a flat area that makes a safe spot for the cast iron high heat burner. This is what you will use to heat the tar. Professionals in the field of roofing use cast iron burners so that they can heat up heater pots (or kettles) and tar.
Make sure the area is clean and that no one else will be passing by. Keep kids and pets away from the area and ensure all flammable materials have been kept safely away as well.
2. Prepare your roof
Study your roof and know the parts that have to be worked on. Plan how to do the repairs effectively and efficiently. You should also figure out what materials you will be using beforehand and prepare the appropriate amounts.
It will make the experience go so much smoother because it's going to be hard to stop once you've begun the process. It is recommended that you use a gallon for every 100 ft2 for smooth surfaces and twice as much for layered textures.
For first timers, you might want to place a protective layer of insulation so that the roof is insulated as you apply the tar. You can use asphalt as insulation.
3. Heat the tar
You can't just decide to do hot tar roofing whenever you feel like it. Pay attention to the weather and time it with a forecast that calls for sunny skies. The tar needs to set properly and in order to do that, you will need a lot of sunshine.
Cut the tar into chunks if it arrives in what is known as a "tootsie-roll." Do this when the weather is cooler, and the sun isn't as hot yet. The crack of dawn is recommended for this part of the process. If you do this any later in the day, then your ax will stick, making the tar harder to chop.
Set the tar kettle with the cast iron high heat burner. Make sure there is an appropriate amount of tar in the heating pot. Then, you have to light the burner.
Stay 25 degrees below the material's flashpoint as you are melting the tar. To stay in that zone, you will have to adjust the burner flames so that it doesn't get too hot nor cool down.
A good practice is heating the roofing tar by batch so that its quality levels remain high. After you heat it up, that is when you transport it to the areas that need repairing or the areas you will be using it on.
Are there guidelines to follow in hot tar roofing a Modified Bitumen Roll?
Hot tar roofing, as the name suggest, involves hot tar. Thus, the use of flame and heated asphalt presents a hazard to personnel and property. It is best recommended that a professional do hot tar roofing as failure to follow procedures may result in injury or loss of property.
What is Modified Bitumen Roll Roofing?
Modified Bitumen Roofing Membranes have been successfully used numerous times on roofing projects in Canada. Their quality is largely dependent on the selection of the appropriate materials and proper application.
Bitumen membranes requires special techniques during installation especially during cold weathers. This is done to prevent inadequate adhesion, hardening of materials, and to make sure that the temperature for the bitumen is appropriate as it is being applied.
Following proper procedures and doing the necessary safety checks help ensure that working with it produces results that are efficient and of high quality.
Usage of right materials
It is important for contractors to know the characteristics and limitations of the material they use. Modified Bitumen Membranes come in varieties with different characteristics and grades. Only the appropriate grade for the conditions under which they are to be applied should be used.
Storage and Handling Recommendations
Similar to other roofing materials, due diligence and care should be taken to ensure they arrive dry and undamaged. Precautions must be observed to protect the materials from different elements during its storage.
Scheduling the delivery of the materials just before they are to be installed decreases their risk of damage and moisture.
To further minimize possible damage, store roll materials on end, and place them on pallets which are raised above the roof deck. It is best to cover all exposed materials with breathable but waterproof covers that are properly secured.
Stockpiling should be avoided, and extra care should be exercised at lower temperatures as bituminous can become rigid and brittle. Mindfulness must also be taken to ensure the roof will not be overloaded.
Damp roofing materials should not be used in constructing the roof assembly. It is important that all surfaces you will be applying the roofing to remains clean, firm, smooth, and dry. Remember that materials should only be applied in weathers suitable for roofing.
Precautions for Cold Weather
During colder weathers, storing the membrane in a heated area prior to their use will preserve their flexibility. Rolls must only be brought to the point of application when needed.
When there is no heated storage area available, rolls can be conditioned with a torch as it is being applied to improve their flexibility.
Using hot asphalt for the application of the base and cap sheets will need the heat to be applied simultaneously to the underside of the sheet and to the asphalt while it is unrolling to have a better adhesion.
In ideal situations, application is scheduled such that all parts of the roof can be covered after working on them. Do not leave any section incomplete.
When application is interrupted by the weather, the best thing to do is to at least ensure that all base sheet laps are properly sealed, including perimeters.
In the period that the base sheet is left exposed, confirm that all equipment traffic is prohibited. Following this will improve adhesion and minimize wrinkles and blisters.
Hot Asphalt Applied Membrane
Upon applying the modified bitumen, you have to make sure that the mopping asphalt is at its Equiviscous Temperature (EVT), which is usually at 400 degrees Fahrenheit at the very least.
You will need high temperatures for enough adhesion as you apply the modified membranes of SBS.
In winter, the asphalt should be heated as high as safely possible to compensate for a faster rate of cooling. Failing to do this will only lead to bad membrane adhesion.
However, the bitumen's flashpoint must never be exceeded by the maximum temperature limit.
Good insulation of bitumen-handling equipment is needed so that the bitumen stays hot despite cold conditions. This insulation is important to conserve fuel.
It is recommended that rooftop equipment and tank trucks which are insulated are used. Lines of bitumen beginning at the kettle all the way up to the roof must be insulated as well.
These things are specifically essential when long transport is expected.
Conclusion
Deciding to DIY hot tar roofing is not for the faint of heart and it shouldn't be for those who are inexperienced when it comes to handling tar. Make sure you've practiced all the necessary precautions and you have done a lot of research before trying to attempt this all by yourself.
At best, you can have someone with experience help you. But if worse comes to worse, don't hesitate to call a professional so that they can take over and do the job for you.