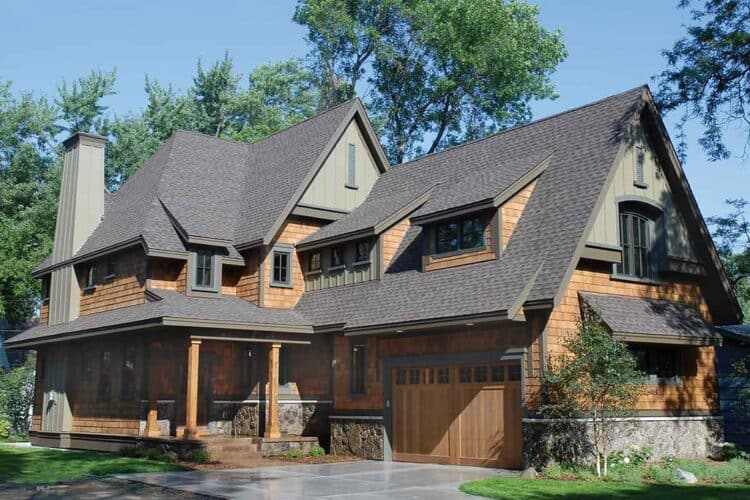 The easiest roof replacement financing option for homeowners is cash. But that only works if you have it and then some to spare. Why? Because roofs are costly to replace. Not everyone has that kind of money lying around. Lucky for us, there are other ways to go about paying for a new roof.
If you worry about financing a new roof with bad credit, there is no need for you to be. There are roof replacement finance options in this article available for you too.
To begin looking for roofing finance, you need estimates from three licensed contractors. Once you have those, shop around for the financing option for you.
We have a list of roof financing options for you.
Can You Finance A New Roof Using Homeowners Insurance?
You may be able to use homeowners insurance to cover part or all your roof replacement costs. Enhanced warranties on your roof may also be available.
These two options offer interest-free roof replacement financing. You will also not need to pay a premium. So, before seeking roofing financing, check to see if these are options for you.
They may not cover all your roof replacement costs. But you may get part of the balance paid. That way, when you go to other sources for financing, it will be easier, and your interest rate will be lower.
Homeowners may qualify for new roof financing with their insurance company. But some terms and conditions will apply.
Why you want a roof replacement is vital to your insurance provider. These reasons determine if you qualify for roof replacement financing or not. And your reasons must fall within the limits of the contract you signed.
There are also some standards you have to meet to get insurance coverage.
Natural Disasters and Unexpected Accidents
Most insurance policies for homeowners finance roof replacement because of certain natural disasters. Natural disasters covered by your regular homeowners' policies include hurricanes, tornados, and lightning.
But, not every natural disaster falls under your regular homeowners' policy. For some acts of God, you need to buy extra insurance. These acts of God include floods and earthquakes.
Prevention is better than cure. Get insurance that protects against these events if you live where they occur.
You may also qualify for roof replacement coverage if your roof suffered damage:
during a fire
If a tree or other object falls on your roof
Full Insurance Coverage
If your roof suffered damage during events beyond your control, you should get finance for a new roof. These events include natural disasters and accidents mentioned above.
If you have all-perils insurance, that's even better news for you. Paying all-perils insurance is optional. But, if you have it, it covers all risks unless they are not in the contract.
Partial Insurance Coverage
A roof that is older than 20 years may only qualify for partial coverage. An insurance company may only offer the cash value of a roof that is more than 20 years. They may not cover all the replacement costs.
If you kept records of repairs and inspection reports, you could increase the amount of money you get.
A little is better than none. And partial coverage helps when you try other financing options.
No Insurance Coverage
Roof degradation because of wear and tear and neglect may not qualify for coverage.
Call your insurance provider to find out if you qualify for financing to replace your roof. If it is available, ask what percentage of roof replacement costs your policy meets.
Using your insurance policy is one way of financing a roof replacement with bad credit.
The only expense to the homeowner using this option is the deductible. You must cover your deductible. But your insurer pays the rest of the cost.
Here is an example.
If your roof replacement costs $8,000, you may pay a deductible of $1,000. That is your only expense. The insurance company covers the remaining $7,000.
Your insurance company may make a direct payment to your roofing contractor. They will do this after the contractor completes your roof replacement. In other cases, they may give you the money to make the payment.
Does homeowners insurance not work for you?
If your insurance policy does not cover roof replacement, there are other ways to get the money you need.
Pay Using Warranties
There are two types of warranties for roofs. They are the manufacturer's warranty and the contractor's warranty.
Only one of these options offers to finance a new roof.
With a contractor's warranty, you have the promise of a roof replacement within a time frame. The contractor will not pay to buy roofing materials. Also, if your house is old, it might be hard to track down the installer.
When you buy materials for your roof, you qualify for the manufacturer's warranty. You may have a limited warranty which only covers roof repair costs. It does not include the cost of labor.
If you paid extra for an enhanced warranty, you qualify for full cost coverage. That amount includes expenses for labor.
Using A Loan For A New Roof
Financial institutions offer different lending options to homeowners. These are some of the ways to get a loan for roof replacement.
Secured Loans
For this type of loan, the bank needs collateral. Collateral could be in the form of cash in the bank, your house, or some other kind of asset.
Pros of Secured Loans
Since a homeowner must present collateral, secured loans:
lower the risks that lenders face.
have lower interest rates
have longer time for repayment/
provide larger upfront lump sums
helps with building good credit
You qualify for tax benefits
Cons of Secured Loans
Loss of Property

If you do not repay your loan, the lender gets to seize the property you put up as collateral.

Bad Credit

Not making payments on time decreases your credit score.
Is It Possible to Finance a New Roof With Bad Credit this way?
That depends on the financial institution. Secured loans pose fewer risks to lenders so you may be able to.
Most still do thorough credit checks on applicants. If you have a credit score below 680, a traditional bank may not want to finance your roof replacement.
Other banks may not be as hard with their rules. You may qualify to get financing with a soft credit check. Hence the reason homeowners need to shop around to find roof replacement financing.
Yes, it is easier for persons with a good credit score to get financing for a new roof using this method. But there are options for people with bad credit as well.
Unsecured Loans
For this type of loan, the bank does not need collateral. What they will look at is your reputation. That means you must have a record of good credit to qualify.
Pros of Unsecured loans
You do not need collateral

Because you do not need collateral, there is no risk of losing your property if you cannot make payments.

Simple Application Process

Once upon a time, it was not so easy to get an unsecured loan. That's because the only option available was the bank. Now, peer-to-peer lenders offer unsecured loans for a wide range of reasons. These reasons include roof replacement.

No penalties for early repayment
Cons of Unsecured Loans
Loan amounts will be smaller
higher interest rate

The interest rate will be even higher for persons who have a bad credit score.

higher premiums
less time to repay
Lender may take you to court for non-payment
Unsecured loans do not need collateral. But a lender may get a lien placed on your property through the court.
These disadvantages vary with lenders. For this reason, I remind homeowners that it is best to shop around. Before committing to an unsecured peer-to-peer loan, consider all the risks.
Is It Possible to Finance a New Roof With Bad Credit this way?
You may not be able to get roof replacement financing from a bank if you have bad credit. There is a high chance with peer-to-peer creditors that you will still qualify even if you have bad credit.
But, the lower your credit score, the higher your interest rate will be.
Lines Of Credit
Banks and credit unions sometimes give lines of credit to customers. But it is not the same as regular loans.
How are they different?
A loan gives you the amount of money that you need for a particular need. A line of credit is flexible. It is a fixed amount that a borrower may use for any purpose or more than one purpose. That line of credit remains open for use at any time. You pay it back and use it again.
There are different lines of credit that banks and credit unions offer to customers. You can also get a secured or unsecured line of credit.
Home Equity Lines of Credit
Taking on a mortgage is a huge decision. But there are many financial benefits to being a homeowner. One of them is building equity.
Why is equity such a beneficial thing to have? Because you can use your house to finance the things that you do not otherwise have the money to afford.
How do you do that? By building equity.
What Does Equity Mean?
Equity is how much of your home you own after subtracting the balance on the debt (mortgage) you owe the bank.
If the amount of money you owe is less than the value of your home, you have equity for hefty financial costs. When we talk about the value of your home, we are not talking about the cost of your mortgage. We are talking about how much your house is worth if you decide to sell it.
Here is an example:
Let's put the worth of your house at $300,000 and say you still owe the bank $100,000. Subtract that $100,000 you owe from the $300,000 value of your home. That $200,000 is your home equity value. You can then borrow against that equity from the bank to pay for a roof.
For typical home equity financing, you need at least 20% equity. You also must complete an appraisal. And to determine the rightful owner of the property, you must do a title search.
Get an appraisal of your new roof to help finance roof repairs and replacement in the future.
If the amount you owe is more than the value of your home, you will not qualify.
This is one of the roofs loans with bad credit available, but your
income must be higher
home equity higher
debt has to be lower
Personal Lines of Credit
Personal credit lines are like credit cards. You draw from the balance for different purposes, and you pay back monthly with interest. It may come with a higher credit limit than a credit card. Also, there is a draw period during which a borrower may use the funds available. Most times, that period is two years.
Personal lines of credit are a suitable choice to pay for home roof replacements.
Pros of Personal Lines of Credit
The amount you borrow is your choice.

But this amount must fall within the limit that the bank gives you.
You may borrow any amount you want based on your limit for any purpose.

During the draw period, funds are available whenever you need them.
Cash flow remains reusable

As long as you repay the amount you owe on a line of credit, the balance becomes available again.
Cons of Personal Lines of Credit
May come with high-interest rates

Banks and credit unions offer personal credit lines without security. For this reason, interest rates may be higher than options that use collateral.
Some financial institutions do offer low fixed rates. You may also qualify for discounts. That is why it is in homeowners' best interest to shop around for new roof financing.

May come with added fees

Often, financial institutions charge annual or monthly maintenance fees. The amount depends on the bank or credit union you use. Some institutions may waive all fees. Remember, shop around to find roof financing options with better benefits. They are out there.
How Do I Pay For A New Roof With Cash-Out Refinancing?
Are you wondering how to pay for a new roof with no money? The cash-out refinancing option may be the best choice for you. Because, well, you do not need any money.
Cash-out refinancing is a bit like home equity loans. It allows you to get funds based on your home equity. Only this time, the bank lets you replace the mortgage you already have with one that costs more than you owe. That surplus can then be used to finance your roof replacement.
The interest rate on cash-out refinancing is lower than home equity loans. Also, you may qualify for deductions in interest since the money is for home improvement.
If none of the new roof financing options I outlined so far work for you, there are other options to consider.
Do I Qualify For Financing From The Federal Home Association?
There are roof replacement financing options available to homeowners at the federal level. The government supplies the loan through the Federal Home Association (FHA). Programs like these exist to encourage homeownership. In short, they make it easier for certain groups to get financing for homes.
Note, the FHA will not be the one providing direct finance for your roof replacement. Instead, it acts as an insurer for the private lender offering the loan. You still have the choice to shop around for a suitable financing option for your new roof with FHA funding.
Pros of FHA Loans
Ideal for persons with low credit scores
You still qualify if your debt-to-income ratio is high
Higher earners who have credit problems may also apply
Cheaper monthly installment
Lower interest rates
Cons of FHA Loans
Higher cost insurance
Mortgage insurance lasts for the duration of the loan
The applicant must be the homeowner or the lease must be long-term
Must spend 90 days or more living in the home
You must pay a downpayment which is a percentage of the loan amount. That percentage gets added to your loan.
The loan is for roof replacement only
Your debt-to-income ratio must be under 45%
As with all other loans and financing options, terms and conditions may apply. It is in the best interest of homeowners to study the fine print, no matter how good the offers seem.
Other Federal Options Can Pay For Your New Roof
The loan mentioned above is the most used roof financing option the government supplies. But, there are others.
Get help paying for a new roof by using these FHA roof loan options.
The 203k Program
The 203k program comes with a limit of $35,000. In some cases, this amount will help replace your roof and help to finish more home repair projects.
Remember, the government acts as an insurer for a lending institution. So, they will add that money to your existing mortgage if you have one.
Grants, Other Loans and Incentive Programs
Grants for roof replacement are available on the:
local government level
state government level
federal government level
These programs exist to help:
the disabled
the elderly
low to moderate-income homeowners
If you have bad credit and need a new roof, call your local FHA office to find out if you qualify for these benefits.
This could be one of the no credit check roof financing options for you.
Will Roofing Companies Finance My New Roof?
The short answer to this question is yes. Some roofing companies and contractors offer financing or loans using third-party lenders.
The good thing about his option is your contractor, with the lender, will form a plan that suits your budget. But, they will add the interest to the cost of your new roof.
For persons with bad credit, this option is ideal. Your roofing company is well aware of the high cost of roof replacement. They will work with you to make an affordable roof replacement payment plan.
Here are some roofing companies that may finance your roof replacement:
guy roofing financing
long roofing financing
State Roofing Financing
These are only examples. There are other roof replacement financers available to help you. Find out who they are and what they offer.
The Home Improvement Store Roof Financing Option
Some home improvement stores offer new roof financing plans. They give these loans in the form of credit cards. You can only use these cards at the store that issues them.
These cards come with conditions.
They have fixed payment terms

Fixed payment terms mean that you have to repay by a certain deadline.

Minimum spending rules may apply
They do not cover labor costs
Since we are on the topic of credit cards, let's take it one step further.
Can I Finance A New Roof With A Credit Card?
The short answer to this question is yes, you can. Several roofing companies accept payment through credit cards. Whether it is advisable to do so is another question.
Credit cards are known to have high interest rates. In most cases, it is not a cost-effective way to pay for a new roof. In the end, you may have to repay thousands of dollars more than you would with other new roof financing options.
There is one sensible way to get around this, but I will mention two here.
How To Pay For A New Roof With A Credit Card
Repay the full payment within one month

Repaying the money you spent within one month will reduce your credit card interest rate. But if you have to use a credit card to pay for a new roof, you may not have that kind of cash lying around.

There is another way to decrease your credit card payments.

Get A New Credit Card

Why a new credit card?

New credit cards come with promotional offers like no or low yearly rates. Using a new credit card to finance a new roof gives you a twelve-month roof replacement payment plan. During that time, you may pay no interest or a low interest rate. It all depends on the financial institution and the promotions they offer.

Use this finance option on roof replacement that costs if you can repay within those 12 months.
Conclusion
There are quite a few roof replacement financing options available to homeowners. But what you want is the best option that costs you the least amount of money. They are out there.
A roof replacement costs a lot of money. Shopping around will help you find out how to pay for a new roof in ways that will cost you less.
Some people may say to use DIY networks to help replace your roof. Using this method saves a lot on labor costs. But it is a risky venture. It might lead to more damages and expenses the homeowner has to pay.
And if you have bad credit, do not despair. Shop around. There are roof replacement finance options for you too.