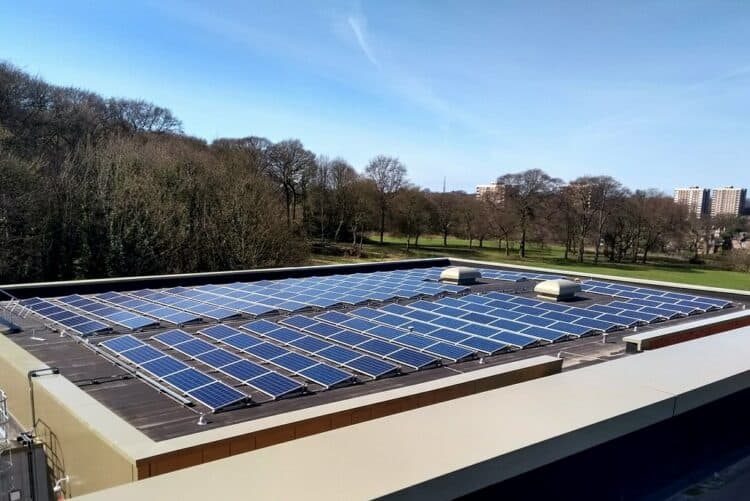 Many people research the term solar frame roofs when thinking of trying solar panels. They want to know whether solar frames have the potential to damage their roof. It is a fair concern to have. You should know what installing solar panels means for your roof.
There are many benefits to investing in solar panels. But they can also affect your roof if not installed the right way. And before you have them installed, there are quite a few things you should consider.
Your roof is essential to your home. That's why you should know more about solar frame installation on them. Do the research. Use what you learn to help you make better decisions for the health of your roof.
The information below will set you on your way to finding out if solar panels are suitable for your roof.
Can Solar Panels Damage Your Roof?
Whether solar panels are safe for roofs is a concern that many homeowners share. But one of the benefits of solar panels is they act as a protective covering for your roof.
Homeowners with attic do not need to fear over-heating. Why? Solar panels provide shade from the sun. You might even find that the temperature in your structure cools by a few degrees.
If installed the correct way, solar panels will not hurt your roof.
What Happens To The Water When It Rains?
Even roofs that look flat are not flat. They have a low slope so that water drains away from your roof. Sometimes, solar frames and wires block water flow and cause water to collect on your roof. They can also shift the direction the water flows. These events lead to water damage and leaks.
You should address these issues before you install the solar frames and solar panels. Ensure that nothing obstructs the flow of water from your roof.
Now you know it is safe to install solar panels on any roof. Here is a list of factors to consider when installing solar panels.
Solar Panel Installation and Roof Pitch
The pitch of your roof may affect your solar panel installation. But that only happens if you do not install the solar panels the correct way.
Below, we discuss the types of roof slopes and how they affect solar panel installation.
What Is The Best Roof Pitch For Solar Panels?
With solar panels, there is no best pitch. What you should consider are angles and positioning.
Can You Put Solar Panels On A Flat Roof?
The short answer is yes, you can. But there are two factors to consider if you want to ensure they work well.
The elevated angle of the solar panel
The direction the solar panels are facing
To optimize the function of your solar panels, ensure that you elevate them at an angle. To achieve the correct angle, place solar panels on a solar rack mounting system. The angle or tilt for solar panels should be equal to the latitude of the location you installed it.
But an angle that falls between 30 to 45 degrees works as well. Positioning the solar panels this way ensures they make the most of sunlight.
For optimal results, solar panels should always face the sun.
Can You Put Solar Panels On A Sloped Roof?
With the use of a solar rack mounting system, yes. It is possible to install solar panels on roofs with slopes. Use an angle that is equal to the latitude of where the solar panels are is ideal. But angles or tilts that fall between 30 to 45 degrees works as well.
Positioning the solar panels this way ensures they make the most of sunlight.
Finding The Correct Angle
For solar panels to work as they should, you must take advantage of sunlight. Your roof must have enough sunlight exposure. Place your solar panels on the part of your roof that receives the most light.
For best results:
place your solar panels to face the south.
limit obstructions to sunlight reaching your solar panels.
Trim tree branches and remove other objects throwing shade over your roof.
Remember to mount the solar panels at an angle to make the best use of the sunlight.
The Age of Your Roof
Will your roof last as long as your solar panels?
Some roofing materials have longer life spans than others. Where you may get a 20-year lifespan from asphalt shingles, slate tiles can last for over 100 years.
Solar panels have a life expectancy of 24-30 years.
So, how old is your roof?
Before you install solar panels, ensure that you are not due for a roof replacement. Re-roofing a house with solar panels is expensive.
Do You Need To Repair Your Roof?
Besides age, wear and tear damages roofs over time. If you do not do regular maintenance on your roof, it may deteriorate faster. You might not need to replace the entire thing. All you may need are some repairs.
Get ahead of this problem. Installing solar frames and panels on roofs that are not 100% functional is not a good idea. It will cost more to remove them in the long run.
Too Much Weight On The Roof
Solar panels are not light. If your roofing materials weigh down your roof, they might not hold the added weight of solar panels.
In this case, replacing the roof is the better option. Try a more lightweight standing metal seam roof. They are ideal for mounting solar panels.
Standing seam metal roofs make solar frame installation easy.
Size Of The Roof Mounting Plane
Ensure the surface area of your roof is wide enough for the number of solar panels you need. If it is not, you have the option of mounting some solar panels in another ideal location on your property.
Consider mounting all or some solar panels in your yard.
Solar Panel Installation Practices For Different Roof Material
Do you worry that solar frames might not be suitable for the material of your roof? We want to lay your worries to rest.
For each type of roof material, there are best practices to install solar frames. There is a right way to install solar panels. But there are also wrong ways to install solar panels.
Which method is right or wrong depends on the type of roof you have.
Can You Install Solar Panels On Tile Roofs?
Let's go through the different types of tiles. We will also address suitable solar panel installation methods for each.
Solar Panels On Slate Roof
To install solar panels on a slate roof, you must remove the tiles. Fasten a standoff to the rafter beneath via the sheathing. Fix the mounting bracket to the standoff.
Installing Solar Panels on Concrete Tiles
There are two ways to do this.
Take off a few tiles in the place where you plan to mount your solar panels hooks
Place S-hooks in the place you removed the tiles.
Put the tiles back in place.
Install the solar panels.
Or
Take off the tiles in the place where you plan to mount all the solar panels
Add composite shingles for solar panel installation.
Use Spanish tiles for filling the space around the installation
Mounting Solar Panel on Clay Tile Roof
Installing solar panels on clay tiles is a bit tricky. It is also a bit risky and expensive. Like concrete tiles, they are easy to damage. The difference is they are more costly to replace. Removing them may break the seal protecting your roof from water damage.
But do not be deterred. Many homeowners have solar panels on their clay tile roofs.
The method of laying solar panels on clay tiles is a bit like the method used on concrete tiles.
Clay tiles are a bit on the expensive side. They are also easy to break. Here is the best practice method for installing solar panels on a clay tile roof.
Remove a few tiles to place special hooks where you plan to secure the solar panel racks.
Attach base plates to the underlayment.
Secure the hooks to these base plates.
Install flashing over the hooks to create a seal.
Attach rails to the hooks
Mount your solar panels.
You must remove the tiles for each roofing material to set up mounts for solar panels. If you do not remove the tiles, you have to drill holes through them. Drilling holes through the tiles may cause them to break.
But, removing them also poses a problem because they are fragile. Clay tiles are more expensive than concrete tiles. Expect added costs to replace the broken ones.
By removing only a few tiles, you limit the risk of spending a lot of money replacing those that break.
If you have a roofer, they should replace them for you.
Solar Panel Wood Roof Installation
The latest installation methods see solar panels installed on shake roofs without damage. To install solar panels the correct way, first, secure lag bolts to the roof frame. Put the flashing beneath the former layer of underlayment. Create a proper seal.
Using this method will not damage your wood roof. So, can you put solar panels on a shake roof? The answer is yes.
Now we move away from tiles and look at how to install solar panels on other roofing materials.
How To Install Solar Panels On Asphalt Roof
Attach a bolt to the roof's rafters.
Secure the solar panel racks to the bolts
Mount the solar panels on the racks.
As with all solar panel installations, you want to ensure there are no leaks. Use flashing beneath the shingles where you attached the bolts.
One of the problems with solar panels on roofs with asphalt shingles is weight.
Your roof may have layers of shingles. Your roof may not handle the added weight of solar panels.
What can you do?
Mounting your solar panels on your roof is ideal in most cases. But it is not the only place available. Many people choose to mount solar panels in their yards if they have the yard space.
Roof replacement is the more expensive option. But we address the re-roofing issues and roof material choices in a later segment.
Solar Panel On EPDM Roof
Install solar panels on your EPDM roof with ballast mounts and zero penetrations. There is no need to worry about drilling holes or a leaking roof in the future.
Weighty cinder blocks hold the racking and the solar panels in place.
Solar Panel on Metal Roofs
Standing Seam Metal Roof
The design of standing seam metal roofs makes installing solar panels easy. You have no tiles to remove and replace. There is no risk of damage to your roof when mounting solar panels. You do not need to drill any holes into your roof or the underlayment. So, there is no risk of leaking.
Standing seam metal is lightweight so supporting the weight of solar panels is not an issue.
Secure the solar panel racking system to the raised seams of this metal roof with mounting clips. Attach the solar panels to the racks.
Solar Panels On Corrugated Metal Roofs
Corrugated metal roofs do not come with convenient standing seams. But they are still one of the best choices for mounting solar panels.
Like the standing seam metal roof, the corrugated metal roof is light. Installing solar panels does not create a weight issue. You also do not need to remove any part of a corrugated metal roof.
There are brackets designed for mounting solar panels on these types of metal roofs. The brackets fit over the ribs of the sheets of metal, and you bolt them in place.
Does Removing Solar Panels Damage Roofs?
There are many reasons why you may have to take your solar panels down from your roof.
Bad weather
For repairs
Cleaning
Moving
To relocate them
Removing solar panels the correct way starts at installation. If you used the best installation methods, removing them should not hurt your roof.
Solar panel removal might be a problem if the wrong methods were used to install them.
Another factor that may cause damage to your roof is the roof's condition.
If you installed your solar panels on a roof that could not support the frame, then you could be looking at a costly repair.
Conclusion
Before installing solar panels, a homeowner should get their roofs accessed. If you get the go-ahead to install your panels, use best practices to ensure the health of your roof. Proper solar frame installation is the only way to ensure your roof remains intact.