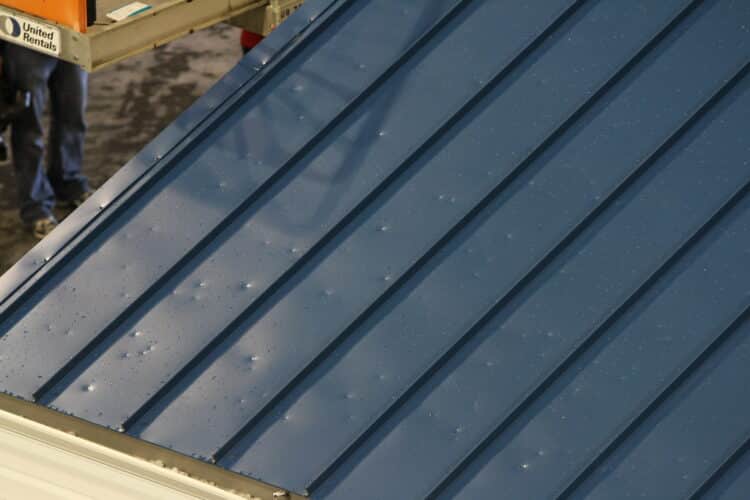 2016 began the start of the Tesla Solar Roof vs Metal roof battle. Which is the superior product is still in question today. Although, the Tesla solar roof seems to be dealing with some knock-out problems.
That does not mean we should discount this new Tesla solar roof yet. It is not without its merits.
So, how does the Tesla solar roof option measure against Metal roofs?
Better Aesthetics
The quality and design of these products begin to diverge right away with how they look.
When done right, the end product with metal roofs is pleasant to see. They have a neat finish.
But, the Tesla solar roof does not only have a neat finish. It is a glass tile roof with a look of luxury. Compare images of the metal roof and the Tesla Solar Roof, and the difference is plain to see.
Easy Cleaning
Keeping your roof clean is necessary. Not only for the way it looks, but a well-kept roof goes a long way for property value. So which of these roofs is easier to clean?
Neither one is self-cleaning. Do not believe these claims.
For metal roofs, you need a light cleaning solution. Soap and water will do. If you do not know what you are doing, get a professional to do it for you. Rust sometimes builds up on metal roofs, but you can scrub those stains away.
You may think that because the Tesla Solar roof is glass, it will break underfoot. Tesla Support assures us, it will not. But they do advise hiring a professional to climb on and do the cleaning for you. The tiles are smooth glass. They get extra slippery when wet.
Some Tesla Solar Roof users say they stand in their yards to hose the gunk and grime away. And because the Tesla Solar Roof was made with tempered glass, rust will never be a problem.
Professional cleaning should cost about $0.20 to $0.70 per square footage for both of these options.
Energy efficiency
Because Metal roofs reflect UV rays from the sun, they reduce cooling costs by up to 25%. They are recyclable and, you can install solar panels on metal roofs. Thus, you add to your contribution to preserving the environment.
You may worry about damaging your roof by drilling holes to attach solar panels. The Standing seam metal roof has mounting clips designed to keep this from happening. Secure solar panels to the raised seams of your roof with standing seam metal roof solar panel mounting clips.
If it is a Tesla product you want, Tesla also makes solar panels. You can have the best of both worlds by installing Tesla solar panels on metal roofs.
The Tesla Solar Roof tiles have a 2 in 1 function. They double as solar panels and the material of your roof. So, there is no need to add regular solar panels. The solar roof tiles generate power for your home.
Because the Tesla Solar Roof is new, not enough data exists to confirm how energy efficient it is in the long run. But, so far, the few Tesla Solar Roof users are happy with the way it works.
One user said that before getting these solar roof tiles, his electricity bill in the summer was $450. Now, he only pays $40 a month.
But how much does the Tesla Solar Roof Cost?
Cost-Efficiency and Installation
The California customer mentioned above also said that his Tesla Solar Roof came at a hefty price. $100,000, to be exact. The price includes installation. Installation took two whole weeks to complete.
Customers who install solar panels hope to see returns on their investment. The same goes for the Tesla Solar Roof. But, at that price, it will take at least 20 years to start seeing those returns.
The other issue with installation is the wait. For years, Tesla Solar Roof hopefuls have been depositing $1,000 to get in line for their solar roofs. Many of them are still waiting with no clue when it will happen.
Experts say as the Tesla solar roof technology improves, the cost should decrease. Give it three more years, they said. That was three years ago. What we have seen is an increase in prices as they try to perfect this technology.
They also said that they would ramp up production to install more roofs. Instead, they are ironing out more kinks from this product.
For the average joe, cost drives almost every decision we make. So it is a good thing that there are durable, cost-effective roofing and solar options out there.
One of these is metal roofs. They are a smart alternative to many roof materials.
Metal roofs are more expensive than the asphalt roof but last longer. They are also cheaper than other roof alternatives like clay tiles.
It is easier and safer to install solar panels on standing seam metal roofs. Plus, mounting clips ensure your roof suffers no damage during installation. Installation of a moderate-sized metal roof takes a few days in good weather. The solar panels take only a few hours. Plus, getting a new metal roof, solar panels and installing them costs half as much as the Tesla Solar Roof.
Let's hope the Tesla Solar Roof makes up for its price with its durability.
Better Durability
One of the selling points of the Tesla Solar Roof is the material used to make it. The tempered glass is supposed to be unbreakable. But, 2016 marked the unveiling of this product. There is not enough data to support those claims. For this reason, investing thousands of dollars in the Tesla Solar Roof might be risky.
But, the tiles come with a 25-year warranty and are said to be suitable for every weather situation.
As we said earlier, Metal roofs are tested, tried, and true. Their durability ranges from 40-70 years. With proper care, solar panels have a life span of 30 years.
If you take care of your standing seam metal roof and solar panels, it will be a long time before you need to get repairs or do a replacement.
Conclusion
Metal roofs have been around for a long time. Not only are they more cost and energy-efficient, but they are tried, true, and durable.
For the average joe, the Tesla Solar Roof might not be the right fit. For others, I guess it is worth it.
In the Tesla Solar Roof .vs. Metal roof battle, the winner is yours to decide.