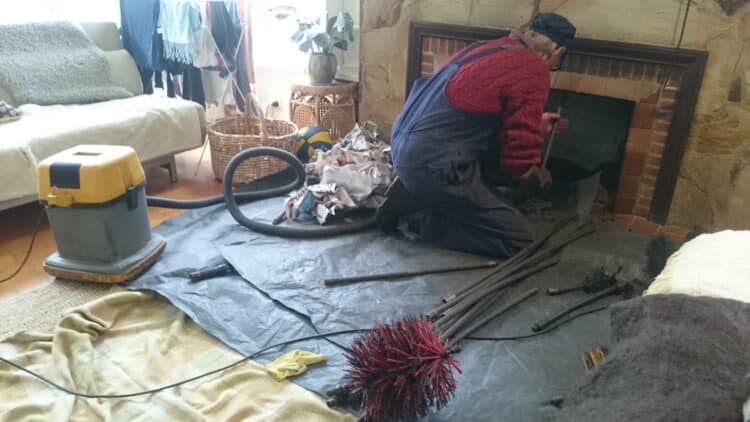 Don't you just love cozying up in front of your fireplace – with your furry slippers on, hot chocolate in hand, and your significant other by your side? Nothing could be more romantic than a warm and inviting fireside!
While you're gazing into crackling flames, it may not have crossed your mind that soot and other flammable residue builds up inside your chimney.
And on that note, we apologize for dampening the romantic air! But choosing to ignore chimney flue maintenance can lead to some seriously dangerous hazards.
Before you start collecting firewood in time for winter, do your part as a responsible homeowner by giving some thought to your chimney maintenance. That includes having it inspected and cleaned.
Regularly maintaining your chimney will save you some costly repairs and *knock on wood* a possible home fire. Did you know that as many as 25,000 home fires are a result of chimney failure?
We hope that we've got your attention now.
To protect your home from potential fire, you'll need expert knowledge of chimney maintenance. You'll also have to invest in some chimney cleaning tools.
Fireplace chimney sweeping services is a dangerous job that is best left to the professionals.
Do I need to clean my chimney?
If you're wondering if a chimney sweep is necessary, there's no arguing about the answer. All homeowners need to clean their chimneys to prevent house fires.
The main reason why you need to clean your chimney is for your safety.
As you're enjoying the warm fireside, soot and other debris start to build up in your chimney. Creosote, a thick and oily residue, also starts to contaminate your chimney interior.
While soot and other debris are easier to remove, creosote adheres quite strongly to the chimney. This can be dangerous because creosote is highly flammable, which puts your home at greater risk of fire.
Creosote is a huge fire hazard that can immediately ignite at around 400 degrees Fahrenheit. Once it catches fire, flames will easily spread and build up to at least 2,000 degrees Fahrenheit.
This is enough to engulf not only your fireplace but your entire house.
How often should I clean my chimney
You'll need to evaluate a few things before you get an answer to these questions, mostly about creosote buildup.
Here are the factors you should consider to monitor creosote buildup:
Wood selection

Consider the density and water content of your firewood.
Aged firewood burns hotter and produces a cleaner flame. Examples of dry and seasoned hardwoods are birch and oak.

It's recommended to inspect and clean your chimney after 70 burns of dry and aged firewood.

On the other hand, green and fresh firewood burns quicker and is likely to have creosote buildup. Green and wet logs don't burn as cleanly as seasoned firewood.

This means that green firewood sends a lot of smoke up the chimney, where it builds up as soot and creosote. It's recommended to have your chimney cleaner after 50 burns of green firewood.

Burning Frequency

Consider how often you use your chimney and how long you expose it to open fire.
This will have a significant impact on the quality of your fireside and chimney.

Overall condition of chimney

One reason why homeowners often choose to hire professional fireplace chimney sweeps is to get a thorough inspection and evaluation of the condition of your chimney system.
They'll consider the structural integrity, age, and signs of internal damage and degradation when inspecting your chimney.
Regardless of burning frequency, The National Fire Protection Association requires homeowners to have annual maintenance checks of their chimney. This includes inspection and cleaning.
Is it possible to do DIY chimney cleaning?
You can't answer this question in black and white.
If you're looking to save some extra cash from chimney maintenance, you can opt for a DIY chimney sweep process. We can't really say that this is the best choice, especially for newbie DIY-ers.
Chimney cleaning is one of the more dangerous and complicated DIY projects. It usually requires a professional chimney and fireside maintenance team to get involved.
After all, you'll be exposed to highly toxic and flammable substances, and you'll also have to work on the roof!
If creosote buildup is present in your chimney liner, the best choice would be to let the pros clean your chimney.
You can save up a lot of time and money in protecting your home by doing a proper DIY chimney inspection and cleaning with chimney sweep equipment.
Remember to take the necessary steps to protect your home by:
Wearing the appropriate protective gear
Preparing the materials to protect the inside of your home,/li>
Buying the right kind of chimney brushes
If you're one of those ambitious and seasoned DIY-enthusiasts, know about the chimney sweep tools you need and follow our step-by-step guide to cleaning your own chimney.
How to clean a chimney with a fireplace?
Now that you've decided to go DIY with your chimney cleaning process, you'll need to learn about the safe and proper method of chimney maintenance.
You might be wondering how the pros sweep chimney and fireplace fixtures. They use professional chimney cleaning tools like chimney sweep vacuum systems and the industry's best chimney sweep brushes.
The most basic chimney sweep tool is the chimney brush.
Before you start climbing your roof, get to know the chimney cleaning equipment you'll need.
It's not as simple as buying the best chimney sweep brush in the industry. There are different chimney cleaning tools for specific purposes.
Chimney cleaning tools
The reason why most homeowners choose to hire a professional chimney sweep is because of the complexity of chimney sweep materials.
With enough knowledge, skills, and the right chimney cleaning tools, a seasoned DIY-enthusiast can inspect and clean their own chimney!
Chimney brush
The most important thing in your chimney sweep kit is your handy-dandy chimney brush.
To find the best chimney sweep brush for you, you'll need to take some measurements of your chimney flue.
Make sure to get a chimney brush that fits the shape and size of your chimney. You'll also need some extension rods long enough to clean the entire length of your chimney flue.
Extension rods for chimney flue maintenance usually come in 4-6 foot lengths.
Match your chimney brush to your chimney flue liner
For stainless steel flues, use a poly brush or a brush with plastic bristles. For masonry and clay flues, a metal brush is best.
Other important tools in your chimney sweep kit
The basic chimney sweep brush isn't the only thing you'll need to achieve that professional chimney sweep kit.
Invest in these necessary chimney cleaning equipment to work like a pro:
Noodle brush

The noodle brush is another chimney sweep tool that makes chimney sweep professional's jobs easier.

A noodle brush is bendable and can clean tough to reach spots like the smoke shelf.

Long-handled brush

Use a long-handled brush to thoroughly clean chimney dust from your firebox and the smoke chamber.

Chimney sweep vacuum system

Invest in good quality and HEPA-rated chimney vacuum.

Vacuum cleaners for chimney sweep ensure dust control and effectively collect all soot, creosote, and debris removed from the fireplace chimney flue.

Good quality flashlight or spot lights

We don't need to tell you that the chimney flue is a dark and dangerous place.

To thoroughly clean and inspect your fireplace flue, you'll need to invest in some powerful and bright flashlights or spotlights.

Ladder

Unless you can fly, you'll need to invest in a safe and reliable ladder.

Working from a great height is one reason why chimney sweeping is dangerous.

The job is not worth the risk if you haven't invested in safety equipment.
To avoid personal injury
A seasoned DIY-er knows that safety should always come first in your home projects.
Remember that chimney sweeping is a dangerous profession that usually requires expert and professional knowledge and skill. Make sure to wear PPE each time you clean and take a look at your chimney.
PPE for chimney sweeping includes:
Protective goggles
Respirator dust mask
Gloves
Hooded long-sleeved work shirt
Since you'll also be working on the roof, it'll be best to buy or rent a safety harness.
For your safety, make sure that the room has good airflow before you start working.
To protect the inside of your home
After a tiring day cleaning your chimney flue, you'd probably want to relax a little in your living room.
When you gen in your house, you might be surprised by all the soot and chimney dust all over your carpet and furniture!
Remember to protect your home from chimney soot and debris by using these tools:
Drop cloths
Plastic sheeting
Duct tape or painter's tape
Now that you have an idea of the chimney sweep tools you'll need let's get to the basics of chimney cleaning maintenance.
Guide to DIY-chimney maintenance
Even if you're a highly experienced DIY-er, the first thing you have to keep in mind is that not all chimney cleaning solutions can be done by an amateur.
Cleaning soot and chimney dust is pretty simple, but if there's some creosote buildup, especially in hard to reach areas, you'll need to hire a professional chimney sweep,
Read on to find how you can inspect your chimney to see if it qualifies as a DIY project.
DIY chimney flue inspection
There are several types of chimneys: brick and mortar, stovepipe, or even combination chimneys.
Make sure to know what kind of chimney you have at home. Check for the specific signs and symptoms of internal flue damage before and during the cleaning process:
Brick and mortar – Loose and crumbling mortar, rusted damper
Stovepipe – for galvanized material, look for signs of rust in damper and metal flakes; loose or slipping pipe connections
Combination Stovepipe and Brick – shows signs of either brick and mortar and stovepipe damage; water intrusion
In the case of internal damage, call a professional immediately to do an inspection.
If there are no signs of damage, you can continue your chimney flue inspection.
The quickest way to find out if your chimney needs cleaning is to check the amount of soot on your chimney walls. Run your finger along with the chimney liner.
If you observe less than an eighth-inch of soot and debris on your chimney, you can consider doing a DIY job. If the buildup is thicker and has an oily appearance similar to tar, it might be a sign of creosote.
In this case, you should be extremely cautious and stop lighting up your fireplace immediately. This is no job for a DIY-er.
Call a professional chimney sweep.
DIY chimney cleaning
If your chimney passed the DIY test, read on to find out how you can clean your chimney:
Set drop cloths around the fireplace and cover your furniture with plastic sheeting for easy clean-up.
Climb onto your roof and remove the chimney cap with pliers/screw
Begin fireplace sweeping with your chimney brush. Add extension rods as needed.
Use you flashlight to check your progress before moving to the next section.
It's time to start working in the firebox. Use a long-handled brush to clean the smoke chamber.
Use a noodle brush to clean the smoke shelf.
Use the long-handled brush again to clean the sides of the firebox.
Finish up with a chimney vacuum in the firebox. Clear-up the drop cloths and plastic sheeting.
Now that you know the basics of chimney sweeping protect your home by inspecting your chimney fixtures!
You wouldn't want to tell your kids that Santa couldn't come down the chimney because of all the soot, would you?