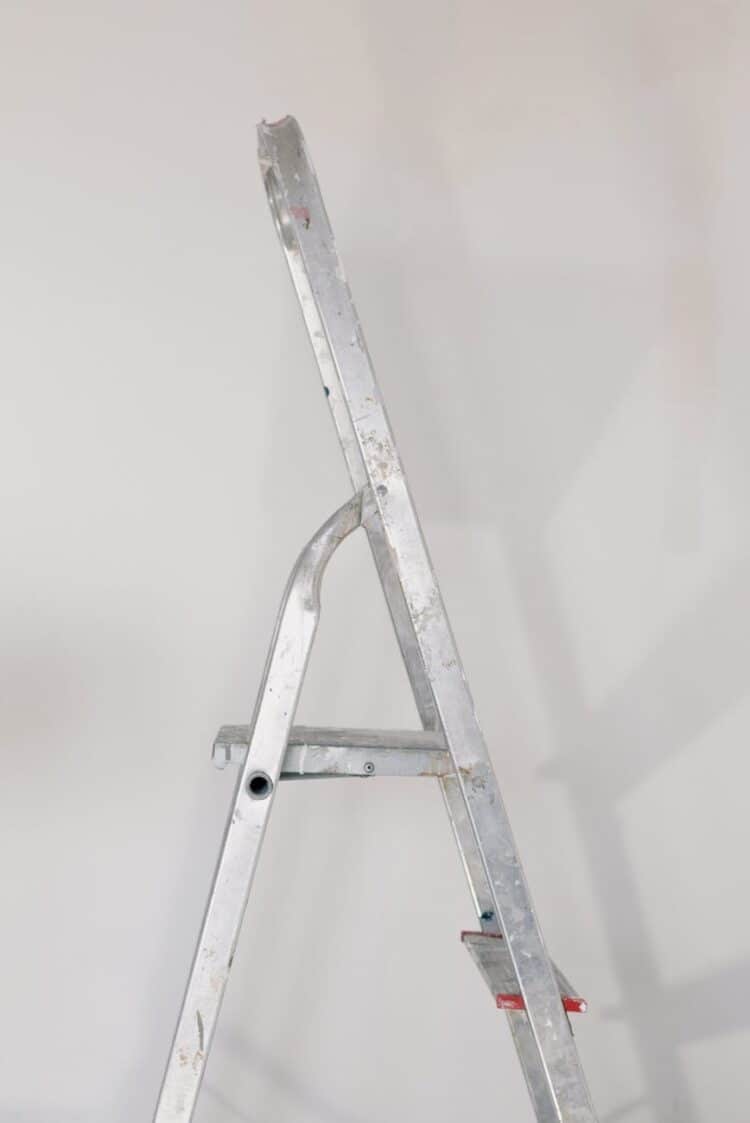 Knowing how to put a ladder on a sloped roof is essential if you are planning to fix that area in your home.
However, it is generally not a good idea to get on a roof if you do not know the proper safety procedures, especially if it is an inclined one.
The roof is one of the hardest spots to work on, and going up there presents a challenge. More so if your roof has a very steep incline, which makes even standing up quite difficult.
You will find out that putting a ladder on top of your roof is an excellent and safer way to work on it. And some circumstances require it above all other safety measures.
How to put a ladder on a sloped roof: What are the situations that require it?
If you are a homeowner that often prefers to do all the house repairs on your own, you have to be at least aware of most of the safety guidelines in working with potentially dangerous tools and carpentry in general.
A ladder is one of those tools that, if improperly used, can lead to accidents. But with proper understanding and know-how, a ladder can be quite useful in many tasks in your home, especially in difficult-to-reach spots like the roof.
Here are some circumstances that you might need a ladder on a roof:
Adjusting the hard-to-reach antenna
Painting a fairly slanted roof
Cleaning the outside portion of difficult to reach window
Replacing or fixing the roof
Working on an elevated and inclined area like a rooftop poses many dangers and difficulties. You will need a special kind of ladder that will make it safer for you to be working on a roof.
You will need a roof or multipurpose ladder to do the type of job on your rooftop.
Is it difficult to put a ladder on a steep roof?
Climbing a ladder comes with many considerations and puts focus on the climber's abilities and the status of the ladder itself. If either one is compromised, accidents will happen.
Placing the ladder on top of the roof and using it as a foothold for your roof tasks takes agility and intimate roofing knowledge. You have to be careful at all times since one wrong move might cause unwanted mishaps.
The steepness of the roof is an essential factor in using the ladder. If it is too inclined, it increases the risk of accidental slip-ups or falling.
Any sloped surface tends to be slippery, and if your roof has that consistency, it will make it especially difficult to work.
To make the ladder stable on the roof, you need to follow proper guidelines and have the necessary accessories and tools to make your roof work safe and secure.
What are the guidelines in placing ladder on a steep roof?
The steepness of your roof will play an important role in the exact placement of the ladder in a way that will be safe for you to get on. It is important to note that it is different in putting it on level ground.
Learning how to put a ladder on a sloped roof and in the proper way can potentially save your life.
This way, any work you will be doing on your roof would not be as difficult as you might have thought.
Check first on the status of your roof
Before starting the tasks on your roof, you need to inspect it if it can support you and the ladder's weight. You also have to be aware of the kind of roof material you have. Also, check on the framework underneath if it is strong enough or if there are any cracks.
Roofs made of metal, ceramics, or tile are suitable materials to carry the heavy load.
Check on your attic or the area nearest to your roof to see if you can find any damage. If you have binoculars, you can use them by going outside and look for possible issues like cracks or fractures.
If you have a remote-controlled drone, you can also use it to check on your roof's status.
Select the right kind of ladder
In using a ladder to do any work on your roof, you need the right one to do the tasks properly. As mentioned, a multipurpose ladder will work, but an extension ladder is better.
An extension ladder is particularly designed for climbing imposing heights like a very tall roof. It also has one practical asset that makes it useful: it can be extended to become longer to reach higher areas.
To make the extension ladder effective in your roof tasks, you should take measurements on how tall the side of your house is. Once you have those, you can adjust the ladder to cover the roof's dimensions.
Check also on the duty rating of your ladder, which is usually labeled on the ladder itself. You will probably need a ladder that can carry about two-hundred twenty-five pounds, which is a Type Two medium-duty ladder.
A Type One or a Type One-A will also work for you, and both are heavy-duty ladders. These can carry two-hundred-fifty and three-hundred pounds respectively.
Also, look for an ANSI or American National Standards Institute sticker on the ladder itself. It will inform you that the ladder is made of top-quality material that can hold the weight it is supposed to carry.
Get necessary accessories
After selecting the proper ladder that fits the task at hand, you can go ahead by getting other accessories that you will need to get the job done. Each item serves a distinct purpose that will make the work you will be doing much easier and safer.
Ladder hook – The most important tool next to the ladder is the ladder hook. You will need to make your ladder more secure and can potentially save you from accidents.
You can either create one out of wood or metal, which can be done with relative ease. Or you can buy one if you do not have the time to make it.
But various ladder hooks can only fit the same branded ladders, and some come with a hefty price. Making a DIY ladder hook might be an excellent alternative for you.
A ladder hook should fit the dimensions of the apex of your roof. It is not necessarily the exact measurements, as long as the hook is stable enough to grasp the peak.
Ladder stabilizer – A ladder stabilizer is next to the ladder hook in the level of importance. You would not need it on the roof itself, but it is necessary for setting up the ladder from the ground going upwards.
It comes in the form of mount guards, steel bars, and mitts, which you can attach to the side of your house or on the ladder itself.
You will need it to make the ladder more steady and to prevent scratches from getting on the walls of your home.
Ladder leash – A ladder leash serves the same function as the ladder stabilizer, wherein it adds more stability to your ladder. But it has a different way of attaching itself.
In using it, you have to enwrap one end to one ladder leg, and the other end you will nail to the surface the ladder is inclining on. To get better stability, you can use it along with a ladder stabilizer.
Pivit ladder tool – It is a type of extension ladder leveler and quite handy for sloped rooftops or even stairwells.
It works by creating a level surface for both legs of the ladder. You only have to attach it in one leg and adjust it to get that even ladder footing.
Roof boot – A roof boot has other functionalities for your home, but it can also work as a stopper for the ladder base.
As you attach the ladder hook on the elevated end of the ladder and fastens it on the roof apex, the below end is firmly placed on the roof boot. It will make the ladder more secure.
Get someone to help you
You should not do potentially dangerous tasks like roof repairs on your own. You will need someone that can act as a spotter who watches over you or an assistant that can hold the ladder while you climb up.
Having someone else with you will make the job faster and can aid in avoiding potential accidents to happen.
Check for electrical wiring
Your home might be close to power lines, so you have to be aware of them at all times to avoid electrical accidents. Also, your roof might have additional wiring for interior usage, so always be vigilant of that.
Follow the 4:1 rule
Also known as the angle rule, which means your ladder should be situated one meter out for every four meters upward. You will know you have done it correctly id legs will make a seventy-five-degree angle with the roof.
Frequently asked questions
How can you make a ladder stable on a hill?
Working anywhere outdoors will not be easy and particularly tricky. The ground may not be even and sometimes slippery. More in setting up a ladder against a hill or a hillock.
The best way to make it stable is to have someone else hold the ladder while you climb it. You can also shift your body weight by standing on one leg to the other, and this can make the ladder more stable.
How can you shield the roof shingles from damage from a ladder?
Any kind of roof shingles, be it tile, steel, asphalt, etc., can be damaged by a ladder if you are not careful. To protect your roof, you can attach a ladder stabilizer as protection, which would not inflict unwanted damage on your roofing.
What is the angle a ladder should have when put up against a wall?
Having the right angle can enable the ladder to be secure and stable when up against a wall. It would make your work on the roof safer and avoid any mishaps.
The exact angle is immaterial since it depends on how high the ladder is and the heaviness of the person climbing. As long as the bottom is one-fourth length away from the wall, and will create a suitable angle to get the greatest stability.
What is the most frequent reason for ladder mishaps?
Human error is the main cause of many accidents happening on a ladder, to no surprise. A person needs to be physically adept and careful enough to climb it, without any prior height phobias or vertigo.
This person also needs to know safety procedures while using the proper safety tools and accessories to make climbing not difficult and safe.
What are the proper safety tools and accessories that you need to make climbing a ladder safer?
As mentioned earlier, there are tools that you need that you can attach to yourself or the ladder to make climbing safer. Safety gear like a harness, ladder hook, ladder stabilizer, extension level, roof boot, etc.
If you can only choose one, the Pivit ladder tool is the best because it is especially adaptable to any sloped surface and can adjust to suit it.
How can you safely place a ladder on an inclined area, like a roof?
The best way is to stretch out the ladder as much as you can, look for stable footing for the ladder to stand on and a strong spot to place it up against.
Can you go up a ladder on an inclined roof?
As mentioned earlier, you need a friend to hold the ladder while you climb. Along with the right tools and accessories like a ladder hook and stabilizers, you can go up with ease.
Conclusion
Any place with an inclined area poses a lot of dangers, and if you intend to place a ladder on it to gain footing, bad things are bound to happen.
However, if you know how to put a ladder on a sloped roof, you can avoid any potential dangers from happening to anyone.
If you still find it difficult to climb it with those conditions, you still have the option of getting professional help.