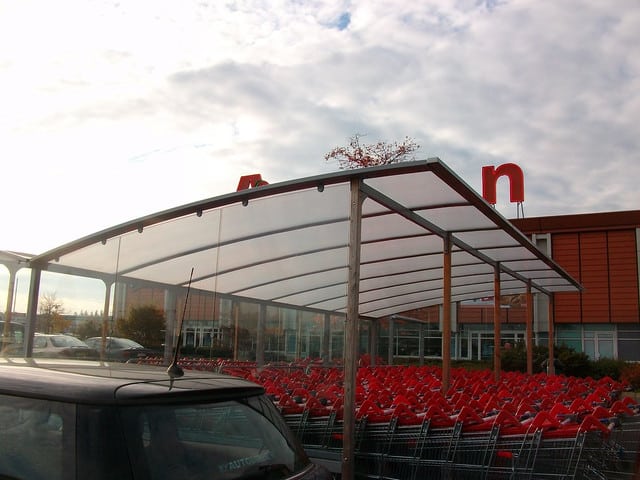 Are you interested to learn about how to install corrugated plastic roofing?
If you are a homeowner looking for the best type of roof for your home and auxiliary structures like patios, decks, or greenhouses, corrugated plastic roofing might be the one you need.
Corrugated plastic roofing has become popular in many residential and commercial structures, chosen because of its translucent nature.
It is also ideal for replacing currently damaged or broken sheets; since it is regarded as an affordable, easy to install, lightweight, and durable roofing material.
If properly installed, corrugated plastic roofing can last for many years to come compared to other roofing materials.
Corrugated plastic roofing comes from polypropylene copolymer, which is twin-wall, high-impact sheets. It is also known as fluted plastic board or corrugated plastic board.
It is comprised of three layers: two outer layers are the twin-wall plastic and the third ribbed center layer.
How to install corrugated plastic roofing
You have to take utmost care upon the installation of the corrugated plastic sheets. If you accidentally chip it at one corner, it can turn into a large crack and further damage the whole sheet.
It will prove as a challenge if you intend to install it all by yourself. However, the positives still outweigh these challenges and having corrugated plastic roofing sheets are worth the risks.
The tools and materials that you need
Corrugated plastic roofing sheets
Roofing fasteners
Saw
Ladder
Drill
Silicone sealant
Round molding strips
Corrugated molding strips
Nail gun
Galvanized roofing nails
Flashing, optional
Preparing your roofBefore installing the corrugated plastic roofing, you need to clean the roof for any dirt and debris. Also, make sure it is dry to prevent disastrous issues from occurring.To enable proper drainage, make sure your roof has at least one inch per foot terrain. In case it has a shallow surface, you can use additional measures for waterproofing.To enable your roof to get a secure and appealing finish, utilize molding strips on the rafters, and it has to be on the rounded strips on the vertical rafters and the horizontal cross-braces.

Use galvanized roofing nails to fasten the moldings, which will prevent leakages and lead to corrosion. Use a nail gun to hammer down the nails to make the process faster.

How to cut corrugated plastic roofing into sizeCorrugated plastic sheets are quite strong but can be easily cut to the preferred side. Use a sharp pair of sheers, or a fine-toothed saw or utility knife is the best cutting tool to use.If the corrugated plastic sheets you have purchased are of top quality, they will be easier to cut and resize, which leaves cleaner lines.
Pre-drill the holes on the sheetsDrilling holes before installing the corrugated plastic roofing sheets will make the installation process easier and quicker.You have to place the fastenings at a high portion of every fourth corrugation. The holes should be about two millimeters wide, with a diameter of about ten millimeters.The holes should be bigger than the fastenings you are using to allow the roof to expand as heat is exposed to it. Use a hole-drilled stick as a reference when drilling the holes, which will be the roof base.
Fastening the sheetsPlace the ladder against a sturdy wall in your home so you can climb up safely to the roof. Get someone to help you hold the ladder steady to prohibit any accident from occurring.Below the heads of the corrugated roofing sheets, there are waterproof seals that prevent leaks. Instead of using regular screws, use specialized roofing fastenings to secure the sheets.Use silicone sealant when adjoining the sheets beside the vertical length. Make sure to overlap them with each other after the third wave crest.

Then apply a sealant to cover any gaps so that no possible leaks will happen.

FinishingTo enable an appealing finish and an additional layer of protection, attach flashing. It will prove to be practicable when heavy rain arrives or if your roof links up to another housing structure.
How can you maintain and clean corrugated plastic roofing sheets?
Once installed, the corrugated plastic roofing has to be cleaned often, and this will pose a massive challenge for you.
Special care has to be undertaken in cleaning plastic roofs, and particularly corrugated plastic roofing sheets. And never use chemicals to clean them since some may have a nasty effect on plastic.
Most homeowners use power washers to clean their plastic roofs, but you would not need them for your corrugated plastic roof.
You will only need a mild cleaner from a solution of cold water and acetic acid, which is recommended by corrugated plastic manufacturers.
The mixture can remove mold, mildew, and other grimy deposits and make it look good as new.
A corrugated plastic roof is suitable for safeguarding against heavy rains.
It is ideal for walkways and greenhouses since it can still let in sunlight and make the insides brighter.
FAQ
Where are corrugated plastic roofing sheets used for?
Corrugated plastic roofing is usually chosen because of its semitransparent capabilities, which allow sunlight to pass through without the harmful glare of ultraviolet rays.
Here are the structures that use corrugated plastic roofing sheets:
Greenhouse
Patio
Shed
Walkway
Sunroom
Deck
Conservatory
Garage
Outhouse
Carport
What are the benefits of corrugated plastic roofing?
Ideal for building structuresIt was recently discovered that corrugated plastic roofing is a suitable material for storm shutters; since it is five times lighter than plywood and two-hundred times stronger than glass.You do need to paint corrugated plastic sheets since their color does not fade. It also does not rot and is translucent. Sunrooms utilize it due to its lightweight, rigidness, and insulating attributes.Greenrooms, sheds, and other small structures also prefer corrugated plastic roofing since it provides the right amount of air, which is a necessary insulation layer.
For humanitarian purposesSince corrugated plastic roofing sheets are lightweight and durable, it is an ideal material for temporary shelters. Of which can e used after weather disasters like floods, tornados, earthquakes, etc.Corrugated plastic roofing sheets are also easy to transport by air, land, or sea. It can be brought to difficult-to-reach places without any issues and can be installed quicker than tarps or other roofing metal sheets.
For packagingSince corrugated plastic sheets are flexible and resistant to impact, they are suitable material for packaging sensitive items and even are suitable for agricultural products.It is also ecologically safe than other packaging materials, which are not recyclable. It is also ductile enough to be stapled and cut into shape by a cutting tool.
For signageSince corrugated plastic sheets come in various colors, they can be used as signage.
It is also easily printable by UV printing and can be cut into the preferred look and design.
For pet enclosuresCorrugated plastic sheets have great diversity and can even be used for pet enclosures.It is malleable enough to be made a rabbit hutch or a doghouse. You can easily cut it into shape, attach hinges and bolts.It provides low maintenance and is also non-absorbent. This way, pet owners can easily clean it without any fuss.
For hobbiesHobbyists and miniature model makers especially like corrugated plastic to create model planes and other craftwork.
The material is both rigid and flexible whenever necessary, which is ideal to construct intricate designs with it.
For medical purposesSince corrugated plastic sheets are pliant, they can be used as a temporary splint for a broken limb.
It can be taped into place, which also retains the person's body heat and provides protection from impact.
What are a few things you need to think about before purchasing the corrugated plastic roofing sheets?
If you are looking for excellent roofing sheets to buy that are also affordable, look no further. Corrugated plastic sheets are the ones you need, which work on the above-mentioned structures.
The best thing about it is its translucence, which provides excellent coverage against rainfall and still allows what little sunlight to come in and give luminance.
If you are looking to get one for your home, you should consider these few aspects:
Its reputation – Do a bit of research before buying and find out the most reputable and trustworthy corrugated plastic roofing sheets.
It will prove to be useful once it requires maintenance or you need to replace it apart.
Warranty – Check with its warranty before buying the sheets. Others provide five years warranty, and some offer a lifetime one.
If you want to select an excellent warranty, check with manufacturers first, and if you are willing to pay extra cash for an extended warranty.
Check online reviews – An excellent way to find out which is the most suitable roofing product for you is to look at internet reviews.
There are dedicated websites for this information, or you can do a simple Google search. Look for roofing products with positive feedback from different customers and read what they are saying.
This way, you can match what they are saying with your goals in getting the best type of roofing for your home.
Review the supplier details – You should make sure you are getting the sheets from a local distributor or supplier. This way, when the time will come if you need to fix, replace, or purchase new sheets, it will be easier.
What are the other roofing sheets aside from corrugated plastic roofing sheets?
Corrugated metal roofing sheetsCorrugated metal roofing sheets are a type of roofing that is made by a roll-forming machine. It is particularly shaped and designed into alternating grooves and ridges to achieve maximum strength.The shape of corrugated roofing is the chief reason for its durability.It needs support strips to make it stable since the screws go through the rib peaks. And the curve of the valleys and ribs keeps the screws from properly sealing.

Due to its corrugated shape, fragile and light materials like aluminum can be made to be resilient from years of harsh weather conditions.

The most common and popular one is galvanized steel, with is often used as a base roofing material. Also, corrugated roofing is available in the tin form.

These roofing sheets are mostly utilized for sheds, garages, and porches.

AC roofing sheetsAC or asbestos cement roofing sheets are made from a material that contains fifteen percent asbestos fibers dispersed and pressed with cement.Its composition makes it durable, strong, and easy to install. It is an ideal roofing material for massive structures like factories and warehouses. And also work well with homes and any other entity that requires a roof.Unlike other roofing materials made of metal, AC roofing sheets do not disintegrate from weather elements and the passage of time.

After the AC sheets have been installed on the roof, they do not need to be maintained or replaced because no erosion will occur, thus enabling them to be cost-effective.

PVC roofing sheetsPVC or polyvinyl chloride roofing sheets is resistant to corrosion, abrasion, chemical rotting, shock, and weathering.PVC sheets have been a popular roofing choice for construction and building materials due to their technical and physical features. Thus, making it cost-effective in its performance.It is also quite durable, long-lasting, and has a low maintenance level.

It is also lightweight, tough, and has excellent mechanical strength, which makes it ideal for construction and building purposes.

GRP/FRP roofing sheetsFRP or fiber-reinforced plastics and GRP or glass-reinforced plastics mean the same thing. The only difference is that FRP is a term used in the USA and GRP in Asia and Europe.It is a cost-effective option besides other roofing materials like steel, concrete, timber, and aluminum. While these are tough materials and can withstand weather elements, GRP is stronger since it has many advantages.Fiberglass roofing is a sustainable roofing material since it provides the strength of steel but utilizes one-fourth of its density. It is also lighter than aluminum due to its low density.

FRP is also resistant to harmful alkalis, liquids, and chemicals. These advantages make it suitable for swimming pools, waste treatment plants, or any highly corrosive structure.

FRP roofing sheets are mostly utilized in skylights, architectural roofing, covered walkways, and many more.

Sandwich PIR/PUF roofing sheetsPIR (polyisocyanurate or rigid polyiso foam) and PUF (polyurethane foam) panels have excellent insulation properties. They have specially-designed joints that ensure a suitable fit and achieve maximum integrity.When sandwiched together, the sheet will have a high load-bearing capacity that can connect to wide spans.Polyurethane sandwich panels that are metal-faced are utilized in massive industrial structures like schools, refrigerated warehouses, office buildings, etc.
GI roofing sheetsGI or galvanized iron sheets are made to be rust-free. It also has a distinct metallurgic structure that protects against mechanical damage and abrasion.This feature makes it particularly useful whenever being transported since its composition prevents it from being damaged.
Cladding metal roofing sheets
Cladding metal roofing sheets have aesthetic and practical benefits, wherein it functions as protective layering, and these are usually made of steel or aluminum.These sheets add to the structure's mechanical stability and provide a covering for the internal building materials from damaging elements.The cladding shields the structure from temperature changes, pollution, water absorption, and many harmful conditions. These can be damaging to the aesthetic appeal and structural integrity.These are mostly used in structures for storage like warehouses.
Bitumen roofing sheetsBitumen is a naturally-occurring hydrocarbon mixture utilized as a roofing material and designed to protect residential and commercial buildings.Bitumen roofing sheets are among the most long-lasting flat roofing materials that can last for about twenty years.These come in rolls and can be applied as a self-adhesive, cold-applied adhesive, or hot-mopped asphalt.

Bitumen roofing is very durable, and the seams and melted together to protect it from water leaks.

Bio-composite roofing sheetsThe advantage of composite or synthetic roofing is that they are stronger and have a long lifespan since they are designed to be that way.The good thing about natural fiber composites or bio-composites is that they are ecologically friendly since their base materials come from renewable resources.Bio-composite sheets are made from resin and reinforced by natural fibers. It enables the sheets from degradation and damage and makes them have a powerful load-bearing capacity.
Bamboo roofing sheetsAs the name establishes, bamboo roofing sheets are made from bamboo. They are designed to look and function like corrugated roofing sheets.These sheets are usually made for animal sheds making the environment cooler and quieter when the rain comes.
Conclusion
Have you learned all the practical information about how to install corrugated plastic roofing?
As you have already determined from all the information above, corrugated plastic roofing has lots of advantages.
To get the best and most ideal one for your home that suits your needs, always select from a reputable manufacturer. This way, you can take the utmost benefit from these fantastic roofing sheets.