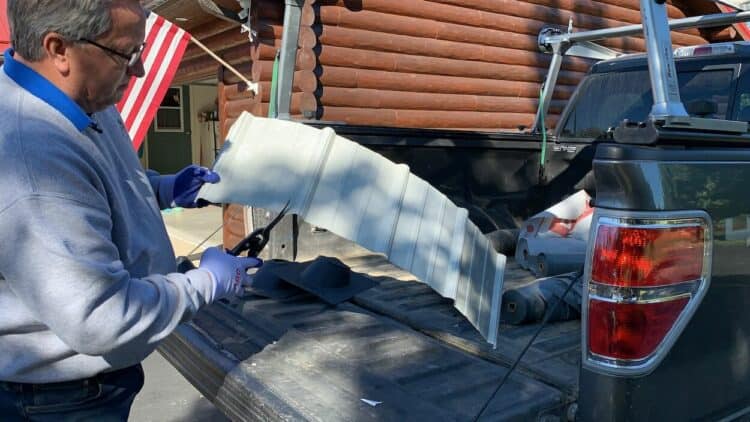 Metal roofs have a lightweight design. Still, they boast robust and high-density materials for utmost durability. For this reason, cutting metal roofing can be quite a complex task for homeowners.
However, this doesn't have to be the case. Metal roof cutting can be a very easy task with the right tools, and you will make it seem easy. Also, you need to take precautions into consideration while doing metal using. This is because it may end up cutting you self.
There is more to metal roof cutting than what meets the eye. In this article, we will guide you and ensure that you get the best results.
Safety Precautions to Note Down in cutting Metal Roofing
Before moving ahead, let's discuss some safety precautions for cutting metal roofing.
Of course, it is pretty easy to cut yourself when handling a metal roof. There are lots of sharp edges that pose a risk to your body parts.
Thus, it would be best if you had a good pair of gloves. They should not be resistant to impact but be able to prevent your hands from cuts.
Securing your hand with such kind of gear is critical whenever you deal with metal roofing.
More Safety Tips and Measures
Here's what you should know:
Know the different types of metal roofing used and their properties. They include: Zinc roof, Aluminum roof, Galvanized roof, and Copper roof
Get the right equipment for the task
Understand the importance of every tool
Practice proper maintenance of the tools
Determine the type of roofing material need to cutting
Best Way to Cut Metal Roofing
For you to cut metal roofing properly, you'll need an excellent pair of metal shears. They can cut through a 26-gauge or 29-gauge metal, including any metal panel you're working with.
They'll cut through the metal like how scissors cut through a piece of paper.
They are also handy in that they can form an attachment that serves as a cordless drill. Plus, the extension will make your sniping pretty easy and fast.
Let's learn how to cut metal roofing by yourself.
Wear your Safety gear
Cutting metal roofing can result in risky metal fragments and dust. So, it is vital to stay safe by following safety precautions regardless of what tool you intend to use.
Protect your eyes with safety goggles, wear good pair of gloves, and have a dust mask on. Besides, if you use equipment that produces noise, keep yourself safe by having earplugs.
Cover your upper arm using a long-sleeved shirt. Be in long pants and excellent pair of boots for extra safety.
Place the Roofing Sheets on a level surface
Get a stable and flat surface like a workbench where you'll cut the metal roof without moving them. Then turn them so that the lower side facing up. Once you finish, secure the metal roofs in place using adjustable clamps.
With a flatter underside, cutting across the metal becomes easier.
Determine how many panels you need for the roof
If you don't know how big or small the metal panels should be, you'll need to know the roof measurements. You can measure the roof's length and width and make estimates.
Besides, know the size of metal roofing you have to make them fit together. Try to divide the roof area by the average sheet size. It will help you determine the total number needed to complete the project.
Measure and mark the outlines to cut
With a tape measure, plot the parts you want to begin and end the cut. Use your roofing calculations to see how large the metal planes need to be. After that, mark the spots using a permanent marker.
Make sure you get the markings accurately on the sections you want to cut. In case of any errors, the roof metal will have gaps which could cause annoying leakage problems.
Use a combination square
A combination square is an oversized ruler that you can attach to the sheet's side. Secure the adjustable section of the ruler on the sheet's edge and stretch the part of the ruler across it.
Start linking the starting point to the last ones using a permanent marker. Accuracy is paramount at this stage. In case of any mistake, the metal will start rusting in no time. So, make sure your cutting lines are as accurate as possible.
Cut the metal panels
The next painful yet easy step is cutting the metal panels. All you need to know is that you must be at your best and cut it with utmost quality. If anything goes wrong, the metal will have blemishes that usually make the roofing weak.
Before you start the cutting process, you need to have the right cutting tools. And as stated earlier, the power shears are a perfect choice for this stage.
You'll need to align it aligns with your measurements perfectly. Keep in mind that any tiny mistake could cause severe damage to your metal roofing. Once you ascertain the sizes and alignment, begin the cutting process.
Cut steady to the end
The final step involves cutting the metal roofing panels. Move the power shear at a slow and steady motion along with the metal panel. This may seem an easy task, but sometimes the cutter hits a dead end.
In such a case, push the blade at a different angle and cut the metal. Don't force your way forward. You are doing this with utmost patience and care results in a perfectly straight line. Plus, it gives you flawless metal roofing for your building.
Cutting a Corrugated Metal Roofing
Corrugated metal sheets often have a unique wavy shape that makes it hard for some people to cut through. But, you'll find it quite surprising how easy it is to do so.
All you need to do is prepare well before cutting metal roofing, use apt tools, and snug in safety gear. Primarily, tin sheets are super lightweight and effortless to maneuver.
They are also soft and flexible. So, you can use electric cutters such as nibblers, grinders, or turbo shears. Or, you may decide to cut the corrugated metal roofing using snips.
Best way to cut corrugated Metal Roofing
How do you cut corrugated metal roofing and get clean, quick, and efficient cuts with smooth edges? This section will give you the answers you are looking for.
Wear your safety gear
Of course, the first thing is to put on the appropriate protective gear. It's the first safety precaution to take when handling any metal roofing. Use suitable safety gloves to protect your hands from raised burrs or sharp metal edges.
Have your safety goggles, face shield, and roofing boots on. Also, use ear protection and wear long-sleeved clothes.
Have a Plan and Prepare
Here, you'll need a tape measure, a 2-by-4 or a carpenter's square, and a permanent marker.
Start by taking measurements of your roofing and find suitable yet fitting sheets. If you are ready to cut, lay the metal sheet on a flat, wide, solid, and stable surface.
For an easy cutting process, ensuring the working is pretty broad. This gives you adequate space to move and deal with the material with ease.
Then use a tape measure to determine the appropriate sizes for your roofing needs. Create markings on the roof's sides you want to cut.
Select the Proper Cutting Tools
Below are the most suitable tools for cutting corrugated metal roofing:
Nibblers
Nibblers offer a great way to cut corrugated metal roofing. They tend to create clean, fast, and safe cuts. You'll find these cutters easy to use. They can easily and quickly cut along the metal sheet and even around the corners.
How to use nibblers
This cutter works by nibbling through the sheet. What it means is, the tool thumps small metal pieces at high speed. It leaves behind waste particles in the form of small metal chips.
This roof-cutting method keeps the edges safe from corrosion.
It also doesn't cause damage to the metal sheet, the protective coating, or the paint. And that's what makes these tools more professional, safer, and cleanest method.
Pros of using nibblers
Quick
It gives clean, safe, and neat cuts
It's professional
Best for cutting curves around corners and straight lines
Offers a controlled and reliable cutting
Cons of using nibblers
Expensive
Creates annoying nibbles that may scratch the metal sheet's surface
Tin Snips
Tin snips are the best choice for handling any corrugated roofing cutting project. That's when cutting softer metal roofing like tin sheets. Additionally, it's the most affordable way of handling and cutting corrugated tin metal roofing.
Tin roofs are naturally soft and lightweight. So, cutting them by hand using snips is the best option.
You'll find many types of snips out there made to give straight or curved cuts. The common ones include the following:
Straight cut snips
Left offset snips
Right offset snips
Do you want to cut plastic, galvanized, or stainless steel? Well, these cutters do it well.
Though they're pretty slow, snips give you clean and well-controlled cuts. They are also perfect for creating tiny cuts and still give you detailed work.
Pros of using tin snips
Quiet
Affordable
Gives clean cuts
Best for small cuts and roofing tasks
Excellent for tiding up
Cons of using tin snips
Incredibly slow
Can be tiresome
Dual cut electric shears and attachments
Using electric shears is yet another efficient method to cut corrugated metal roofing. Many people opt for double-cut shears rather than the single counterparts.
Unlike single-cut shears, units with dual-cut designs provide clean and soft edges. Plus, they don't result in lots of waste fragments.
You can choose shear attachments if you're looking for a non-standalone electric shear. They tend to be more affordable than the single shear tool.
Pros of using dual cut electric shears and attachments
Gives fast cutting
Clean and smooth cuts
Shear attachments make them cheaper
Cons of using dual cut electric shears and attachments
Standalone models are expensive
Requires practice
Results in small metal pieces
Circular saws and grinders
Any professional metal cutting worker can confirm the same thing. It is messy, destructive, and unprofessional to cut a corrugated metal roofing using a tool that produces heat.
As a result, we don't tell you to use this method.
That's because the process could make the warranty offered by your manufacturer void. It may also cause permanent damage, including rusting to your metal roofing sheets.
Both the circular saw and angle grinder produce heat which destroys the edges. Plus, the shower of hot sparks can damage the layer of protective coating. It also burns up the sheet's paint finish.
But, if you intend to use a grinder or a saw, be sure to use top-quality blades. Though they are costly, they guarantee utmost durability and give smoother edges.
You'll find them highly efficient than their cheap counterpart steel-tooth blades. Even if the steel is thicker, grinders and circular saws cut through this metal roof pretty fast.
Pros of using circular saws and grinders
Pretty fast
Cuts easily through thicker corrugate sheets
Cons of using circular saws and grinders
It's a messy process
Gives louder noises
Demands a whole set of safety gear, from head to toe
Results in sharp and risky edges
Pretty dangerous and destroys the finish
Forms hot sparks that fly everywhere and damage the metal paint
Conclusion
If you want to get the best results in your building projects, you must ensure the roof is excellent. This involves mostly fine-tuning it. It includes measuring and cutting the metal roofing panels for a perfect fit.
Our guide above comes in handy to help you know how to cut metal roofing safely and adequately. To this end, we believe that we have achieved our goal.
Remember that practice makes perfect. So, don't expect to become perfect in cutting metal roofing on the first day. Be sure to practice and use the right tools to become an expert in making smooth, clean, and straight cuts as you want.