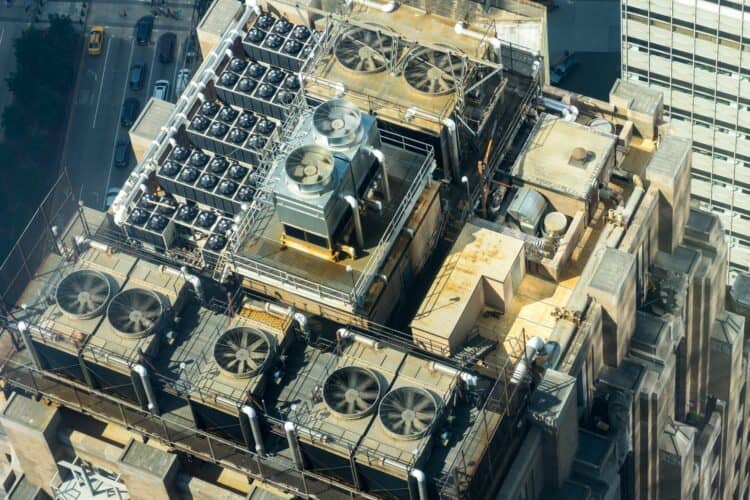 Are you eager to learn: what is a roof curb? You might not be aware of this particular term if you are only a regular person, not a professional roofer or contractor.
But if you are a new homeowner and looking to add a few improvements to your home, you might want to install a roof curb.
But what is roof curb anyway, and why is it essential to your home?
What is a roof curb, and why do you need it?
A roof curb is a metal frame that is particularly made to mount mechanical equipment like HVAC units, exhaust fans, exhaust ducts, etc. Or architectural applications like roof hatches, skylights, heat vents, and many more.
It is usually installed on top of the roof and adorned with flashing, which keeps water seepage from happening from the membrane of the roof.
An ideal roof curb will assist in supporting the weight of the equipment and enables suitable access to any duct or wirework.
What do you use a roof curb for?
As mentioned, a roof curb has architectural and mechanical applications. The most common one that are used in households and offices are:
Roof hatches
Smoke vents
Heat vents
Structural skylights
Monument skylights
Expansion joints
Satellite dish systems
HVAC units
Exhaust ducts
Electrical generators
Vent pipe
Refrigeration lines
What are the materials roof curbs made of?
Galvanized steel
Galvalume
Aluminum
What are the different kinds of roof curbs?
As you might have surmised, there is not one roof curb that can fit any type of equipment or application. A professional roofer should know how to incorporate various roof curbs into different applications.
Here are various types of roof curbs:
Pipe curbs – These types are usually fourteen inches tall that sometimes include structured boot pipe penetrating systems.
Vibration-isolating roof curbs – These are used to suppress the vibrations produced by massive industrial HVAC units. These types also have specially made suspension systems the lower rattling and noise transmissions.
Metal roof specific curbs – These types are particularly designed for metal roofs. These are made of Galvalume material that can be easily installed onto the metal roof.
Insulated roof curbs – These often utilize three-pound insulation that protects from cold in the winter month and heat in hotter months.
Platform roof curbs – Also called catwalk roof curbs, they are used to support heavy equipment like power transformers. An example of this type is a gusseted roof curb with enough load rating.
How is a roof curb installed?
The best way to set up roof curbs is the time when a house or a building is still under construction. Contractors will install them to fit HVAC units or other equipment.
Contractors will have to create holes on the roof, set up the roof curbs, and build around the openings with roofing material.
After the roof curbs are set up properly on the rooftop, all the necessary wirings and ductwork are connected through them and properly sealed airtight to make everything secure in place.
Steps in installing a roof curb
Prepare the area – Set the roof curb in position and put markings on the area that will be removed later. Cut the opening on the roof and trim back the roof seams to accommodate the seat. Clean out and remove any remaining particles.
Set down the roof curb – Apply adhesive material like double-stick butyl tape on the perimeter surrounding the curb. Remove the excess tape and check if it is secure in place. Take out the backing layer of the tape and properly align it.
Position the roof curb – Situate the roof curb in place along with the tape. Secure it further with mechanical fasteners.
Clean and finish – Clean the area of any remaining debris and loose particles. To seal everything tightly, apply caulk around the perimeter.
What are the different roof curb styles?
There are many styles you can choose from when it comes to roof curbs. Contractors will let the homeowners know the appropriate style for their home, which are:
Pitched roof curbs
Insulated canted curbs
Self-flashing pitched curbs
Customized roof curbs
You and your contractor must converse about the various installation needs before selecting a roof curb style or an HVAC system. This way, it will ensure which suits your home or building.
Can roof curbs be changed after a while?
Everything wears down as time passes, even roof curbs. They will have to be replaced, one way or another.
Another situation that will necessitate roof curb replacement is when changing the HVAC system to a new one.
Home or building owners may want to upgrade their HVAC units to newer and advanced models, so everything related to it will also require changing.
Whenever roof curbs need to change, the ductwork and wiring have to be replaced to accommodate newer mechanical models.
In some situations, the mechanical systems may be smaller or bigger than the roof curb. In this case, the home or building owner has to choose between two options:
A new roof curb has to be constructed, along with new ductwork to adapt to the new HVAC unit, then install the unit itself.
Buy roof curb adapter and install it to the new HVAC unit without doing anything to the roof curb.
One is choice is cheaper than the other, but it will depend on the preference of the owner.
Besides a roof curb, what else will you need?
If you have a new up-blast exhaust fan that you want to install in your home, you need to have a roof curb to accommodate it. Along with it, you also need grease containment and hinge kits used for commercial exhaust fans.
Conclusion
Roof curbs can save you time and money since they can protect your roof and mechanical equipment. They also make space for wiring and ductwork in your home, which usually has a difficult time accommodating them in the small area provided.
As a home or building owner, you do need roof curbs. It not only improves the quality of your home life, but it also makes you live comfortably.
If you are looking to do some improvements on your home or building, install roof curbs now!