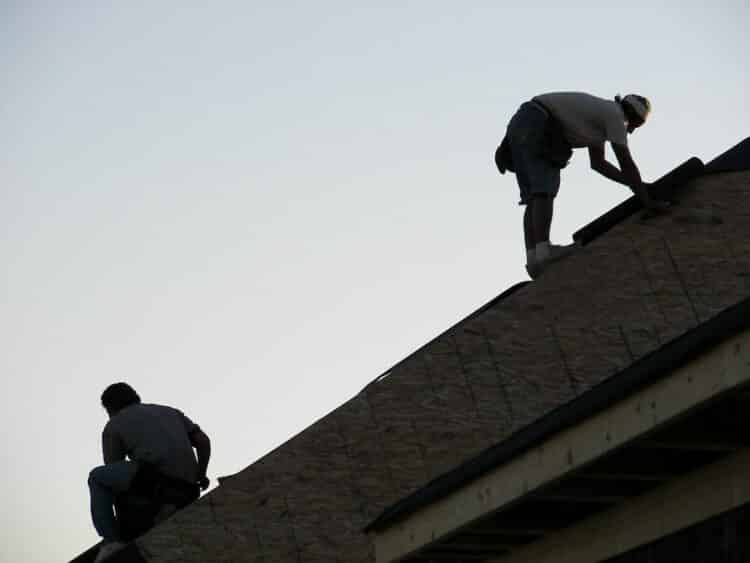 Are you planning to handle a roofing task, but you don't know how to secure yourself on the roof? Well, you are surfing into the right site. We have done intensive research and come up with seven key roof safety equipment you need.
OSHA notes that putting on a PFAS (personal fall arrest system) is a requirement by law. That is if the roof operator gets exposed to a height of 6 feet and above.
Do you want to set up a suitable personal fall arrest system? The following are the three main things you need:
Anchor Points
Body Wear (harness)
Connectors like Hooks, Roofing Ropes, Buckles, Lanyard, Rope-Grabs, etc.
Proper roof safety equipment is vital for helping you perform your roof tasks safely. Besides that, you must have the knowledge and skills for using roofing safety gear.
More importantly, understand ways and handy tips for keeping yourself hazard-free.
7 Key Roof Safety Equipment you absolutely Need
Let's now see what key roof safety equipment you must have in hand before going to the roof.
Roof Anchors
Roof anchors are one of the essential gear you need for a great roof fall protection mechanism. It is ideal for handling new constructions, re-roofing, or any roof repair projects.
You should install a roof safety anchor onto a tie-up, mainly over the roof's peak. This often provides a strong linking point for other roof safety systems like lanyards, ropes, and harnesses.
OSHA also demands that roof anchors must have 5000 pounds weight per person ratings. So, be sure to check that out before purchasing a new anchor critically.
For proper roof anchor installation, use enough nails. They should pass through the sheathing into the rafter or truss.
Similarly, hit many fasteners about 16 penny nails and follow the anchor's guide. Create roofing work instructions. Use the guideline holes to help you know where exactly the pins should fit.
Use a hammer instead of a nailgun to help you tell if the nails have a secure fit. Also, use a hammer to pound the roof area and listen to the parts where the sound is more solid to spot the trusses.
Types of Roof Safety Anchors
There are two main types of roof anchors you should always consider. They are as follows:
Temporary Anchors
These anchors have a great design that makes them easy to remove, reuse, and relocate. They have a D-Ring on their top parts, which tends to be unpleasant to the eye. It may also be invisible from the ground surface.
However, they less resistant to corrosion. This means that they are susceptible to rust or damage when permanently left on the roof.
If you want to repair your current asphalt shingled roof, install the primary anchor beneath the shingles.
Remove any old or rusty nails and ensure you're the area you want to install the anchor is visible. Once you do that, identify the truss by inspection. Also, pound on the roof using a hammer as you look to hear a solid sound.
Permanent Anchors
As the name suggests, these anchors will stay in one place for a long time. You'll find them attached to a roof structure or installed beneath the shingles.
Some have a single D-Ring for installing on any part or side of the roof. Others have two D-Rings to allow installation on both ends or over the roof pitch.
Installing them is pretty easy and, of course, difficult to remove. That's because most of the installation occurs under the shingles.
Another thing is, they are resistant to corrosion and weather. But, the discrete design makes it hard for them to stand out from far.
Roof Safety Harness
A full-body safety harness is another vital piece of equipment you need to secure yourself on a roof. Typically, a roof safety harness must feel comfortable on your body. This means that it should not be so tight to enable you to move on the roof with complete freedom.
Yet, they are sometimes preferred the least as they help stop a fall when you're already falling. Usually, these equipment require training and a lot of practice for proper use.
The safety harness systems are usually helpful when you want to access the roof for repair. To some workers, these devices are ideal, while others won't use them.
Still, using a roof harness anchor will increase your safety levels.
Tips on How to Use a Roofing Harness
Below are some of the handy tips you need to know when using a roofing safety harness.
Check if the roof safety harness has any damage
Wear the harness and fine-tune the shoulder belts for snug fit
Ensure the D-Ring is on the shoulder's upper middle part
Adjust the chest straps and leg straps
Make the last adjustment to get a comfortable fit and still enjoy a complete range of movement
Connection Equipment
Connection elements come to help keep you safe while working on the roof. They exist in different types and work in different ways. The common connection elements include:
Lanyard
Even with a safety harness on, you may likely fall. The harsh impact due to a sudden stop may cause you severe injuries. A lanyard comes as a perfect solution as it reduces the speed of a fall and cushions the impact.
It is a vital connection element for attaching to your harness' D-Ring. Therefore, you can work on your roof without fear of back injuries in the event of a fall. But, how exactly does this element work?
Well, the lanyard has well-sewed strong materials. If an impact happens, the stitching detaches and lowers the effect of force. In short, it acts as a shock absorber.
Roofing Rope Grab
This critical connection element locks itself onto the rope and serves as a break. As a result, it allows you to fine-tune the rope length the way you want.
What it means is that you must decide how long the rope should take you. Ensure it is not too long to block you from going far away as it can be dangerous. The rope grab will also help prevent undesired movements while working.
Sturdy Safety Roofing Rope: Must meet OSHA Requirements
Getting a top-quality and reliable roofing rope is critical for your safety on the roof. It should be very sturdy to resist cuts and abrasion while using it and withstand the fall's impact.
Most roofing ropes come with extra components for excellent performance. They include the lanyard, dual snap hooks, and a shock absorber. Double-check to ensure the safety rope is OSHA compliant for convenient use.
Roof Safety Planks and Brackets
It is never easy to walk on top of high slanting roofs. You may need anti-slip roofing shoes for excellent traction. Besides, the surface has to be robust, flat, and safe to walk or stand on while working on the roof.
You can install the roof brackets on the roof without causing any damage to the roof surface. It also provides a flat yet safe surface to step on. If you need a larger area to work on, consider putting planks on top of at least two roof brackets.
Extension Ladder
A ladder offers an excellent way to access the rooftop. So, it must be robust yet lightweight for easy climbing and descending from the rooftop.
Make sure you secure the ladder to the roof about one meter above the gutter. Also, tie it to the top firmly and be sure it is stable to prevent swinging.
While there are plenty of types of ladders, it is critical to look for these characteristics:
Maximum Load Capacity: It must be able to support heavy weights
OSHA Compliant: For reliable and efficient performance
Suitable Extension Length: It should be able to help you reach your rooftop with ease
Fiberglass ladders provide electric protection, making them ideal for use around electricity. Though they are relatively heavier and you'll need help from a friend or nearby person to set it up in place.
Plus, be sure the ladder stands on flat ground. Use a ladder leveler wedge in case the ground surface isn't flat.
How to Use a Ladder
Using a ladder to access your roof or get down to the ground can be risky and scary. The following tips will help you gain confidence in your safety any time you use a ladder.
First and foremost, inspect your ladder for damage before setting it up. If you realize it's not in good shape, address the problem right away. But if it's in great condition for safe use, make it stand well on the ground.
Ladder stability is essential for preventing a fall when using it. So, it's worth checking it twice and confirm that the ladder is stable enough on the ground. When doing so, have the following tips in mind:
Place the ladder on a solid surface. Put squares of plywood underneath one of the ladder's feet if the ground is not flat. After that, secure it using stakes and a wire.
Let the ladder rest on a robust backing. For additional security, reinforce the ladder's top with a wire. Ensure the ladder's feet are about one foot from your property for elevations that are 4 feet high.
After stabilizing the ladder, stretch its top at least 3 feet above your roof's edge. This offers you a firm grip while dismounting from the ladder and climbing onto the roof.
Always face the ladder when climbing it. Climb step by step using both feet and hands.
If you'll be working for several days, avoid using the ladder at night. You can either lock it on the ground or remove it. This helps protect children playing around it from the risk of injuries.
Use a ladder stabilizer to help keep it stable and safe for use.
Guardrails
Guardrails are an excellent roof safety equipment choice for preventing falls. It's best for handling roof repairs that need a larger surface area for working.
It is ideal for those looking for safety gear for large commercial roofing projects. And they are among the most cost-effective options that are pretty easy to set up.
Clothing and Accessories
Paying attention to what clothing and footwear to use in a roofing job is important for your safety. So, make sure you get the appropriate clothing that will keep you comfortable and allow you to do the job with ease.
Look for shoes or boots with excellent gripping soles for a sure and more confident walk on the roof. Other than that, using a well-fitting helmet may help prevent severe brain injuries in case of a fall.
You can also consider using sunglasses or transparent shields. It will help prevent pesky insects and particles on the fly from causing harm to your eye while on the roof.
Safety Supplies for working on a roof
Here's our handy list of other equipment supplies you need before working on the roof:
Crowbar: This helps in accessing and removing hard-to-reach nails.
Shovel: It's a practical tool for removing debris on your roof. You can also use it to detach the current roof shingles.
Chalk line: This serves to prevent laying crooked lines. Find a pattern to work on and fill it in.
Roofing Tarp: It helps protect your repairs from getting damaged by weather. This unit also blocks water from finding its way into the existing leaks.
Conclusion
Doing proper roof maintenance is vital for your building's lifespan. You don't always have to look for a roofing expert to do even minor repairs and tweaks on your roofing system.
The right roof safety equipment is vital for any roofing project, whether small or big. It helps give you the utmost confidence while working on top of the roof.
With the above tools, you can be sure to secure yourself on a roof. This ultimately reduces the risks.
More importantly, follow safety protocols when using any of the equipment above.