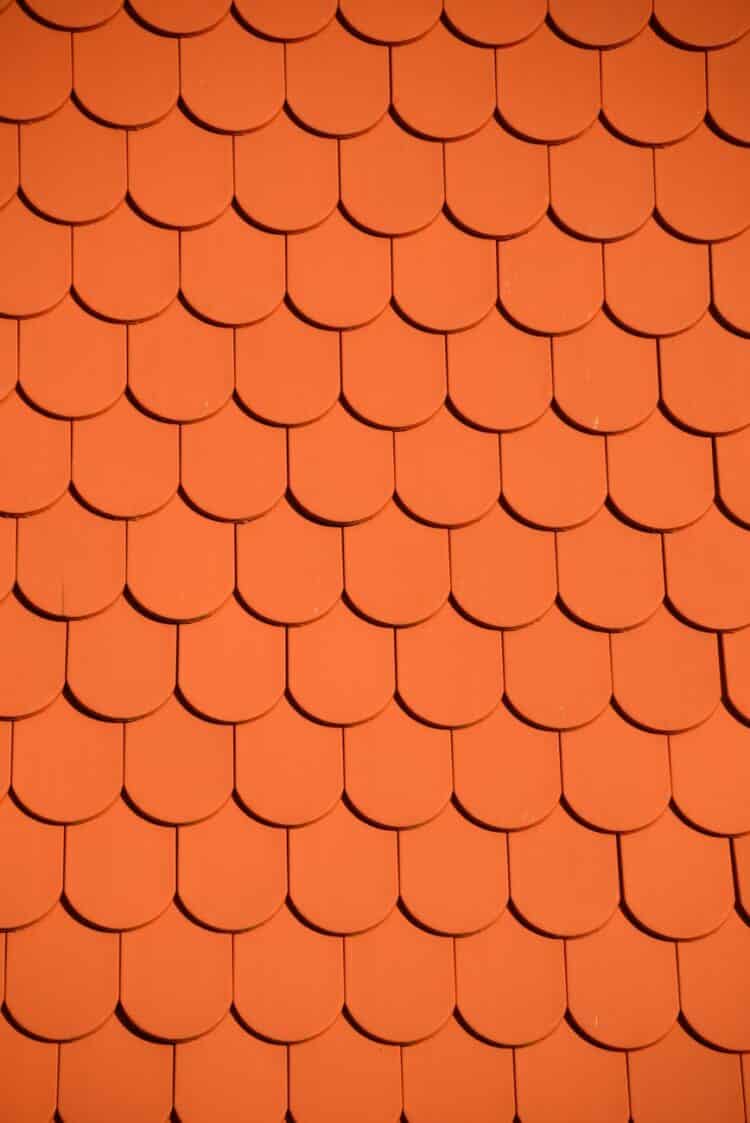 Are you an avid DIYer and curious to know if: can you paint roof shingles? The short answer is yes, but it comes with complications.
As a homeowner, you hardly think about the status of your roof shingles since you rarely see them, and as long as it fulfills its purpose, why bother?
However, you should reconsider painting your roof shingles since you will soon learn it can be advantageous.
Can you paint roof shingles? It many advantages
As time passes and the weather elements wear down on your home's exteriors, including your roof, you need to do something to return them to their original vitality. One way is to paint them over, and it would be like putting on make-up on your face to cover up unwanted blemishes.
Your roof shingles are an essential component in your home since their main role is to protect you and your family from weather elements.
Giving your roof shingles a total makeover by painting is an excellent idea, and you will learn why:
Extending the lifespan of your roof
Paint has a way of increasing the lifespan of your roof shingles. The best kind of paint to use is an excellent one-hundred percent acrylic late, which has a flat finish. This way, your roof shingles will not only look good as new but increase the viability that will make them last for a long time.
Although the paint has no way to protect your home from tornados or cyclones, it can add more years to your roofing.
A fantastic new look
Painting over your roof shingles can be for aesthetic reasons only. It can cover up drab or faded colors and can make it look fresh and new.
With a nice coat of paint, your room will look good as new and the envy of your neighborhood. Choose a bright and unique color, and this way, your home will be remembered and might even become like a landmark in your vicinity.
It can lower energy consumption
The most advantageous element of painting your roof shingles is it can decrease your energy usage. Some paint colors can reflect the rays of the sun and not absorb them.
Black asphalt is used to pave roads as well as for roofing, and it absorbs sunlight instantly.
If you live in equatorial areas where there is constant heat, having black asphalt roofing will continually heat your household and increase the air conditioning bill.
In some North American places, where they have cold winters and hot summers, residents often use clay tiles for their roofs. And painting over them with cooler colors is an excellent way to save money and also overcome the heat.
White and all other lighter colors like different shades of blue, green, yellow, or gray will reflect sunlight as well as its heat. And black and darker colors will absorb the heat and make your household warmer.
White-painted roofs can reflect ninety percent of the heat in the sun's rays, and this will enable the HVAC system in your home to function minimally, thus cutting down on your energy costs.
Comparing it to a dark-colored roof that only reflects four percent of the heat from the sun and the remaining enters your home. And in turn, you will be cranking up the cooling system to counter the heat and increasing your electricity bill.
What are the disadvantages in painting roof shingles?
While you may think that putting paint on your roof shingles might be a good idea in some situations, there are also circumstances when it is a bad idea.
Constant maintenance
If you end up deciding to paint your roof, you have to be mindful that you also have to keep up with its look, which means you have to maintain it more than you have to.
Paint does not make your roof impervious to the weather elements and will soon fade or chip as time passes. It means to have to reapply paint to maintain its appearance.
The best time to reapply paint is once every five to six years. It is not only paint you would be applying again, and you may have to repair damaged shingles.
Each time you might be doing a lot of work: you will have to clean it, fix it, then prime and paint over it.
Also, the climate in your area will play an important factor in maintenance. If you live in an area will extreme weather conditions like too much, rain, or snow, you have to maintain it at least once a year.
Unpainted shingles do not require much maintenance since the façade will remain unchanged after the weather elements take their toll. You would spend less time maintaining it compared to painted ones.
Some paint types can create moisture issues in your roof
As mentioned earlier, the best kind of paint for your roof shingles are water-based acrylic latex paint, which is particularly made for roofing. This kind is ideal because no moisture will amass on your roof since the paint will enable them to escape.
Do not use waterproofing or elastomeric paint that can trap liquids on your roof. These paint types will enable the growth of algae and mold, which will cause rotting.
Trapped moisture is the enemy of roofs everywhere, and even asphalt or metal roofs can rot due to it. If not fixed, it might seep in and cause untoward damage to your roof.
Be sure to choose the right paint for your roof shingles, and picking the wrong one will have dire consequences.
Painting your roof is dangerous and back-breaking work
Doing anything on an elevated surface is scary and risky. If you are not accustomed to doing hard labor and are afraid of heights, you should not do it.
Some people will try painting their roof shingles themselves. It might be a bad idea if they don't know the proper procedure, don't have the right equipment, and don't know how to follow the correct safety guidelines.
Leave the maintaining, repairing, or painting duties to professionals, and doing all of these is just too much work for you.
What are the best kinds of paint to use for your roof?
May homes in the USA have asphalt roofing, which can be painted over. But you cannot just use any kind of paint. As mentioned in previous segments, the best types are one-hundred percent acrylic latex paints.
Shingles made of wood or clay can be painted with these kinds of paints. They can easily bond with the roof surface and makes them look fantastic.
Acrylic latex paint can resist many years of harsh weather elements like strong rain, extreme sunlight, or freezing snow.
If you make the mistake of selecting the wrong kind of paint for your roof, you will end up damaging it further, so be sure you are using the correct one.
As mentioned, don't use waterproof paint on your roof since it can hinder moisture from drying.
What is the cost in painting roof shingles?
If you opt to do the entire painting task yourself, you will spend about five hundred dollars for it. It will include materials and equipment like rollers, paintbrushes, primers, paints, and many others. And if your roof is quite large, then it will cost you more.
One gallon of roof paint carries a price of thirty to forty dollars and can cover about four hundred square feet. You will need excellent quality rollers for this, which are priced about sixty to one-hundred dollars.
If you prefer not to do the painting chore yourself and let professional roofers do the job for you, it will cost about two-thousand five hundred to four-thousand five-hundred dollars.
If you want to get the exact price, you have to call them first and get approximations. You will need to include aspects like roof pitch, surface area, repairs, and cleaning, along with the painting and labor costs.
What are the steps in painting roof shingles?
Along with the monetary cost, painting your roof will also cost you a lot of time. If you have opted to do the task yourself, you need to check on the weather forecast beforehand for clear weather conditions ideal for roof painting.
Preparation
Inspect your roof first – Before doing anything, you need to check on the status of your roof and what is the extent of the damage or not. You cannot paint on damaged shingles since they might come off anyway and be a complete waste.
Clear out any dirt and debris on your roof – Your roof may have a lot of debris like fallen branches or grimy materials on them from many years of neglect. If you have a pressure washer, you can use it to clean all the dirt away.
Be sure to also remove any mold, mildew, or algae that may have accumulated over the years. A clean and dry roof will add years to the lifespan of your roof.
Fix or replace damaged shingles – If your roof is still brand new, then you can skip this step. However, if you have spent many years in your home and doing next to nothing for roof maintenance, then you have many things to do.
Priming or sealing – Once your roof is clean and dry, add a sealer and primer that are water-based. Give it a few days to dry out before applying paint.
Painting
Using rollers – The best kind of rollers to use for this task are thick one-inch nap rollers, which are thicker than usual and can properly coat every portion of the shingles.
Start working from the bottom going to the top – Begin painting with rollers at the bottom portion of the roof in a vertical direction, then go left to right. Do not start from the top because the paint will drip down and create a huge mess.
Painting from top to bottom enables you to work easily, save the paint from dripping excessively, thus getting a neater and even coat.
Avoid thick painting – Even though you might think that putting thick paint on your roof will work great, it will not. Thick paint might act as a bonding agent and makes it more solid. Shingles are not supposed to be rigid and need to move around a little.
Paint on the roof shingles less than one-fourth inch thick. More than that will create problems. The paint is supposed to only cover the shingles. Thick paint will make it harder for you to replace individual shingles.
Two to three coats of paint – Be sure to apply about two to three layers of paint on your roof. Let each coat dry first after applying the next layer. It will not make the coating thickness but will make it less likely to fade easily.
Maintaining
Semi-regular inspection – You should make it a habit to inspect your roof after every powerful storm passes, and also at least once a year. This way, you can notice any damage to your roof or if the paint will be stripped out and fix it immediately.
Paint touch-ups – If you notice the paint has faded or chipped, do something about it. The best way to do it is to strip away the paint, re-prime then repaint it. If the shingles need to be replaced, then do so.
Do not ignore roof issues – If you see with your own two eyes that your roof needs to be repainted, fixed, or replaced, do something about it. The problems will start small and will soon escalate if you ignore them.
If you decide to paint your roof shingles, the time will come that you have to repaint it.
Can you alter the coloring of your roof shingles?
If you do not like the present color and style of your roof, you can recolor it to fit the general architecture of your home. Another reason maybe you want to follow a particular trend or to commemorate a festival or occasion.
The good news is, you can change the color to fit your needs. However, there are factors to consider when recoloring your roof shingles:
How old your roof is – The present state of your roofing will play a large part in deciding to repaint. If your roof has become decrepit with age, then obviously you need to replace or repair it first before repainting.
After fixing it and your roof is as good as new, then you can now paint it.
The weather in your area – As mentioned earlier, light-colored paint can deflect heat, and darker tones absorb it. Due to the prevalent weather condition in your area, some homeowners will opt to change the color of their roof paint.
For homes that are situated in hot regions, lighter-colored roofs will work wonderfully for them. And in places with heavy snows, dark-colored roofs are a great advantage.
Special paint – Only professional roofers know about these kinds of paints that would be ideal for your roof. The regular store-bought ones may not be suitable for the kind of roof you have, so it is best to consult with a professional about it.
How can you make the coloring of your roof shingles different?
Recoloring your roofing follows similar beats as the painting steps mentioned above. However, there are a few differences, and the reasoning might also be different.
Roof washing – Since you will be repainting and changing the color of your roof, it needs thorough cleaning and washing. A high-pressure hose will get the job done quickly and easily.
Cover any possible openings – Put covers on chimneys, vents, and other possible entryways for paint not to get through.
Use roof mastic for the first coating – The roof mastic should be of the same brand as the new acrylic paint you are going to apply for other coats.
Apply the paint – You can either spray or use a paint roller to apply the new paint color on your roof shingles. If you want a specialized or customized paint color, consult a professional roofer about this.
How long will paint last on your roof?
Regular acrylic latex paint will last for about eight years on your roof. As it reaches five years, you notice it will begin to fade and chip away a little bit.
Asphalt shingles have small granules on the surface and will fall off as time passes. It will result in blotchiness as time and weather take their toll on your roof.
Make it a habit to repaint your roof shingles once a year or after a powerful storm passes. If you notice that your roof has begun to fade, paint over it immediately.
As mentioned, the paint on your roof will last for eight years. You can apply a new coat of paint around that time.
Conclusion
Can you paint your roof shingles? Yes, you can, and in some situations, you have to. If you live in an area with a hot climate, you should repaint your roof with a lighter toned color, which makes your home cooler, thus saving on electricity.
As you have found out, there are also disadvantages. Yet, for most homeowners, the advantages far outweigh whatever disadvantages there have.
Painting your roof is always a good idea, and it will not only make your house better-looking, but it can also alter your living conditions to be more comfortable.